Discover the magic of Myanmar in this 8-day itinerary that covers two charming cities: Mandalay & Bagan along the legend Irrawaddy River. Start in Mandalay – the city of cultural heritage, our Myanmar tour package is expected to bring you on a cruise ship to emerging tourist attractions in Burma including Yandaboo, Salay, Pakokku etc. together with sightseeing, you will have a chance to engage with the locals and learn more about their authentic daily life.
Start/End: Mandalay/Mandalay
Tour Route: Mandalay – Mingun – Sagaing – Yandabo – Bagan – Salay –Mt Popa – Bagan – Mandalay
Tour Date: Not fixed, up to your schedule
Tour Type: River Cruise, In depth-culture & history, Nature & Landscape Discovery
Tour Category: Bagan tours, Mandalay tours
Tour Highlights:
Learn how to make traditional pottery from the locals in Yandaboo village
Unlock the hidden beauty of Bagan within a full day Bagan temple tour
Enjoy stunning scenery of Burma from the Irrawaddy River Cruise
Experience authentic Burmese life and trading at the local market
Hike up to the top of the spectacular Mt. Popa and learn about the Nats (Natural Spirit) of Burmese in Taung Kalat Monastery
Brief Itinerary:
Day 1: Mandalay Arrival (L)
Day 2: Mandalay – Mingun – Sagaing  (B)
Day 3: Sagaing – Yandabo Sightseeing (B)
Day 4: Yandabo – Bagan  (B)
Day 5: Bagan Discovery (B)
Day 6: Bagan – Salay – Mt Popa (B)
Day 7: Bagan & Villages (B)
Day 8: Bagan – Mandalay Departure (B)
Experience the best of Bagan & Mandalay With:

Guides: hand-picked best tour guides with deep knowledge, humor, profession (English speaking guides, other languages upon request)
Drivers: polite,  friendly, responsible, reliable with many years of driving experience
 Vehicles: comfortable, spacious, air-conditioned, big window
Meals: meals are arranged at local restaurants so you can taste authentic Burmese cuisine
Accommodation: well-chosen hotels are listed below. Besides, various types of accommodation are available, from 5-star hotels, 4-star hotels in the best location, good value 3-star hotels, to boutique hotels reflect the style of the region
Please note that every element of the tour below can be tailored. Tell us your specific interest and we will be happy to make adjustments for you. This inquiry is totally free and you are under no obligation!  
Full Itinerary
Price & Inclusion
Accommodation
Photos
Day 1: Mandalay Arrival (L)
Mingalaba! Welcome to Myanmar! Your 8-day tour starts in Mandalay – the second largest city of Myanmar and the religious center of Burmese culture. Today, meet and greeted by our tour guide at Mandalay Airport, then the driver will transfer you to the ship for lunch. After that, check-in at the hotel and enjoy your own free time in the rest of the day.
Overnight in Mandalay.
Day 2: Mandalay 
– 
Mingun – Sagaing  (B)
Wake up in the sound of light swaying wind this morning and ready for a boat trip down the Irrawaddy River to Mingun, the sleeping town where will enchant you with numerous interesting destinations. Along your way, our local guide will be pleased to introduce you about the daily life of Burmese people along the Irrawaddy River.
Upon arrival at Mingun, we will start our first visit to Mingun Bell, the second largest ringing bell in the world which plays a significant role in religious affairs. From here, proceed to the unfinished Mingun Paya, a magnificent ruin built by King Bodawpaya of Amarapura in 1970 intended to be the largest religious pagoda in the world. Then we also make a visit to the Hsinbyume Temple to admire a white-washed temple built in the shape of the Mt Meru.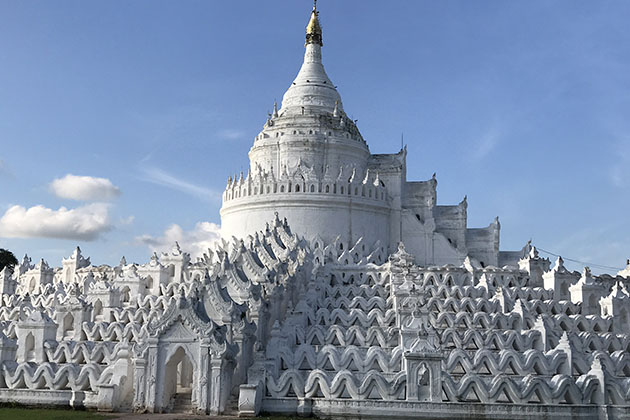 In the afternoon, we proceed to Sagaing – a beautiful religious center of Myanmar where is far-famed for a great number of monasteries and stupas. A highlight of the visit to Sagaing today is climbing up to the top of the hill to Soon U Pon Nya Shin Pagoda, one of the oldest and reachest pagodas in Sagaing region.
Overnight in Sagaing.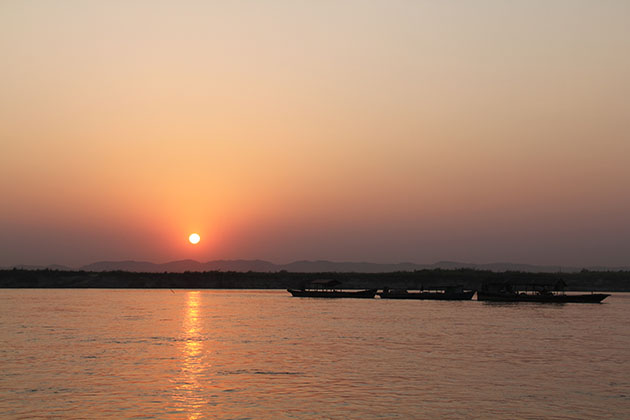 Day 3: Sagaing 
– 
Yandabo Sightseeing (B)
Today is a full day sightseeing in Yandabo, a tranquil village lies on the bank of Irrawaddy River. After breakfast at the hotel, our guide will take you to the village where is well-known for traditional pottery making. There are thirty in 400 households in the village making pottery. Once visiting a local pottery workshop, you will be astonished by the way woman create a perfect pot by hand completely. Spending time to chat with the local villagers about their traditional way of making a pot try your hand on making one on your own!
Overnight in Mandalay.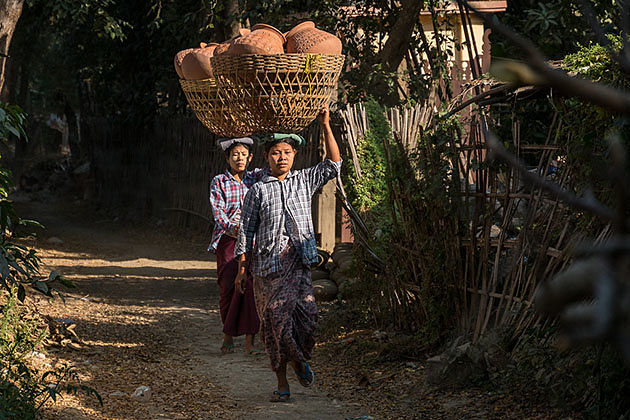 Day 4: Yandabo Village – Bagan (B)
After breakfast at the hotel, ready for a scenic drive to Bagan – the charming temple town of Myanmar where possesses over 2000 ancient temples, ruins, and pagodas.
Upon arrival, Today is a fantastic day to unlock the hidden charm of Bagan. This early morning, make your first visit to the local Nyaung U Market to gaze out at the daily trading of Burmese people. Then get the first-hand experience in a local lacquerware workshop where people create many beautiful items every day. Take this opportunity to interact with the local artisans before continuing your visit to the Shwe San Daw Pagoda, the first monument in Bagan featuring the architecture of stairways.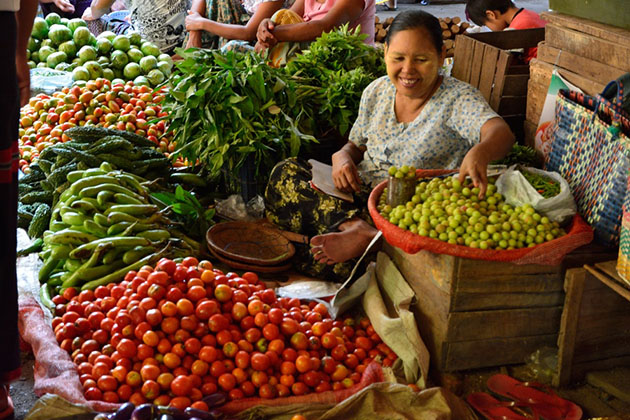 We then head to the Shwezigon Pagoda to visit the most impressive gold plated pagoda in Bagan that experienced a long historical journey. Continue your sightseeing in Bagan as you take a visit to That Byin Nyu, Dhammayan Gyi, Gubyauk Gyi Pagoda. There, listen to your guide about its distinctive architecture as well as the history of the construction to gain a deep understanding of Bagan.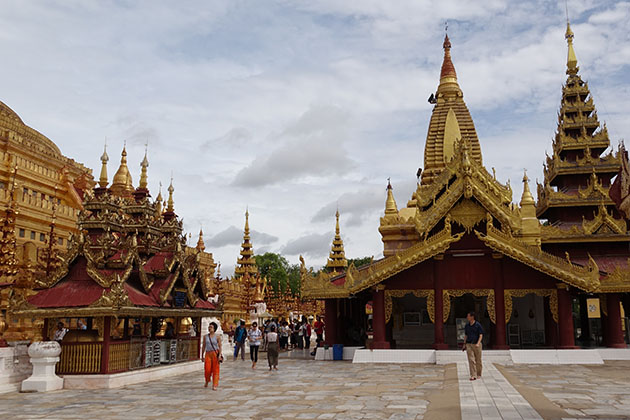 Day 5: Bagan Discovery (by horse cart) 
(B)
Rise before dawn this morning to capture the gorgeous sunrise of Bagan. We promise this would be one of the best sunrises in the world. As the sun flickers across the sky, marvel at its magical beauty which is dotted with the colorful hot air balloon in the sky.
After that, return to the hotel and enjoy your breakfast. Then join in an exotic horse cart ride to Nanpaya Temple, a unique sandstone cave temple in Bagan, where is said to be the residence of the captivate Mon King. Continue sightseeing at Minkaba Gubyau Gyi Temple, a temple of the everlasting ancientness; Myazedi Pagoda, the oldest surviving stone inscription of the Burmese. Keep following your guide to Manuha Temple, a Buddhist temple enshrining 4  large Buddha image of Bagan.
Finally, head to Ananda Temple, one of the most impressive and finest temples in Bagan built by the third King of Bagan dynasty in the 12th century. Afterward, transfer to the hotel and enjoy your own time in the rest of the day
Overnight in Bagan.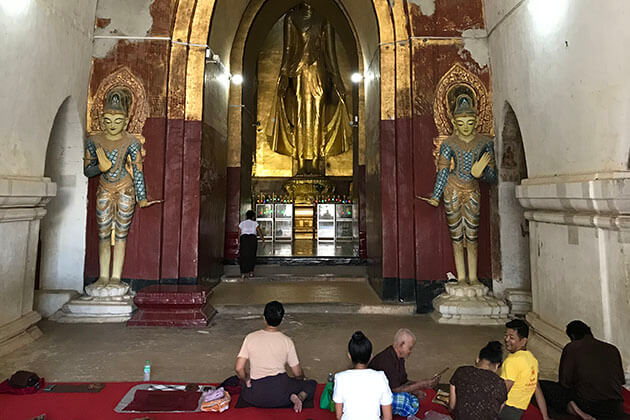 Day 6: Bagan – Salay 
– Mt. Popa 
(B)

This morning take a scenic drive to Tant Chi Taung Mountain where you will gain a panoramic view over Bagan and visit the hilltop stupa. Afterward, enjoy an exhilarating elephant dance performance by the villagers before sailing to Salay. If you have ever wondered about the change of time, Salay is the one that gives you the most vivid picture. Upon arrival at Salay, join in a walking tour to Yoke Sone Kyaung to admire one of the most intricated teak carved monasteries in Myanmar.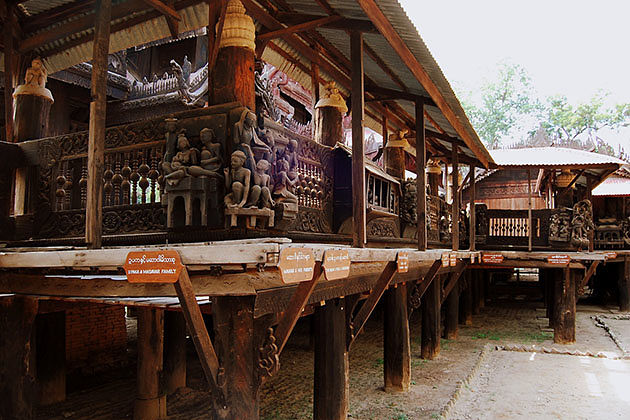 After that, take a 45-minute drive to Mt Popa, an extinct volcano which is one of the most important religious sites in Myanmar. To reach the top of the mountain where the fabulous Taung Kalat Monastery is perched, you will have to hike up to 777 steps. The way leads up to the top ensures to provide you with many scenic views and interesting meet with the monkeys. Inside the monastery is where you will learn about the Nats (natural spirits) of Burmese. Keep listening to your guide to know more about that!
Overnight in Bagan.
Day 7: Bagan & Villages (B)
Today is a full day for you to discover the rural life of Bagan in the surrounding villages. After breakfast, head to Minanthu village, a small tranquil village where provide you an authentic taste of the villagers. It's where you will have a chance to learn about the traditional cotton weaving and silversmiths. Then your guide also takes you to Myinkaba village to discover the traditional lacquerware, the most famous item in Bagan.
In the afternoon, transfer to one of the sunset hills in the region where you will have a seat to marvel at one of the best sunsets in the world.
Overnight in Bagan.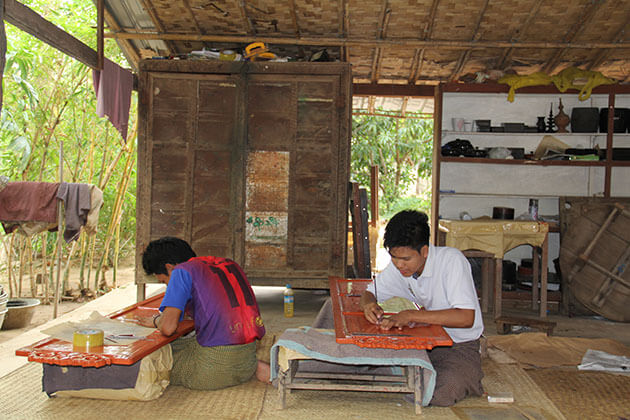 Day 8: Bagan 
– 
Mandalay Departure (B)
Enjoy your last day in Bagan until the driver comes to pick you up for a drive to Mandalay to take a departure flight. Trip ends. We hope you will love the itinerary for this 8-day Myanmar tour package we offer. Thank you for making your trip with Go Myanmar Tours! Meet you in Myanmar!
Price: Please contact us for the detailed price.
What's included?
7-night accommodation with breakfast
1 lunch of the first day
All transfer and sightseeing by private air-conditioned car
all entrance fees & all zone fees
Experienced English speaking local tour guide in each city
Government tax & Service charges
What's Excluded?
Meals & Drinks (Lunch & Dinner)
10 US$ for international airport tax
Visa arrangement and services
Other personal expenses
Notes:
Please be aware that hotels and all other logistics, services and days of travel are subject to availability. Where flights are canceled or delayed Go Myanmar Tour will endeavor to secure alternative arrangements of similar value as noted in our booking conditions.
The traveling times mentioned within this dossier are approximations only. These times will vary according to weather, road, traffic or any other prevailing conditions.
This itinerary and supplementary information has been compiled in good faith and was accurate at the time of writing. However, it DOES NOT form part of a contract between the client and Go Myanmar Tours.