Set about over 1000 km toward the northeast of Yangon, Kengtung, Myanmar also known as Kyaing Tong, is the most pleasant town in Shan State. In history, Kengtung was the town made up of myths and legend. When it comes to culture and appearance, Kengtung is much closer to the hill towns of Thailand rather than other cities in the region. To be home of many vibrant ethnic communities such as Tai Ly, Tai Nuea, and Tai Khun, Kengtung attracts more and more tourists to discover its amazing culture. Moreover, it also offer a fantastic location for trekking where has yet to be overrun with tourists. In this article, Go Myanmar Tours provides you with everything you need before traveling to Kengtung – the mecca of black-teeth women and tattooed faces.
Things to Do & See in Kengtung
Traveling to Kengtung, you will be rewarded with mesmerizing scenery and a quaint town surrounded by a picturesque lake. One of the greatest highlights that makes people itching to go there is trek to the local villages near the town to get a glimpse at their life, getting to know their culture and tradition. Below are the best things to do in Kengtung.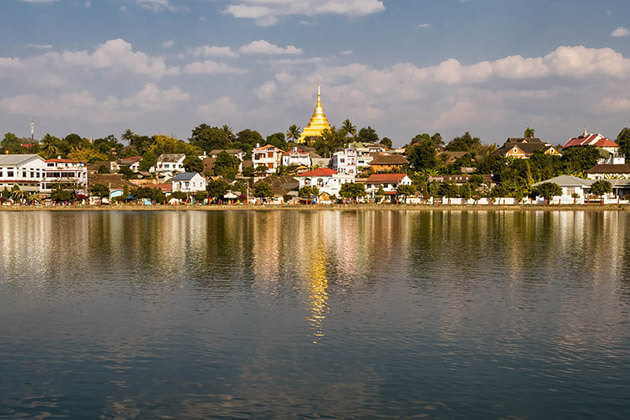 Visit the Local Main Maket
If this is the first time you travel to Kengtung, we highlight recommend you visit it first to get a glimpse at the life and trading of the local tribes. The Main market in Kengtung is well-known for local street food and interesting mix of Shan, Indian, and Chinese products. The market opens in the early morning so will ensure to bring up a fresh moment as you visit.
Admire the Standing Buddha Image
This enormous standing Buddha image is perhaps the most prominent that hits your eyes when coming to the town. It is a one of the famous attractions in Kengtung that you won't be able to miss. Located on the top of the hill with 18 meter high, the Buddha dominates the sky and can be seen from almost parts of the town. Nevertheless, it's worth to come up close to admire the Buddha.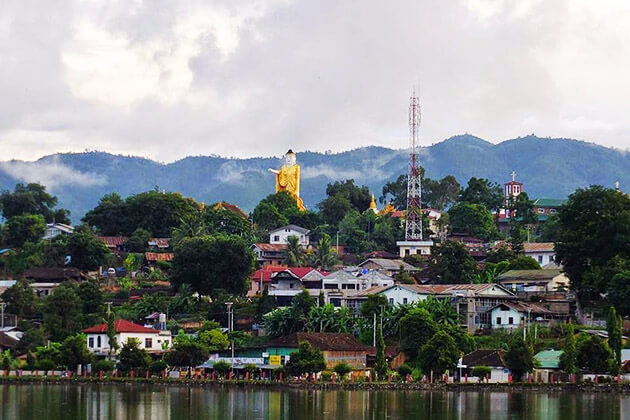 Trekking to the Remote Tribe Villages
Once again, I would like to emphasize that trekking in Kengtung is the main reason that more and more people visit the town. Undoubtedly, this is one of the best things to do in Kengtung. Hiking in the surrounding area of Kengtung is an interesting experience. The tribe villages are amazing. That's home to several ethnic minorities, each with their own way of doing things. You can take a trip outskirt of the town to visit some of the local tribe villages such as Wa, Akha, Sha, and Lahu villages to see how different ethnic groups in Kengtung live and work. Moreover, that's a great chance for you to meet the distinctive black teeth women who known locally as the "Black Tooth tribe". Let's talk with them to find out their method using a black lipstick made from charred tree bark.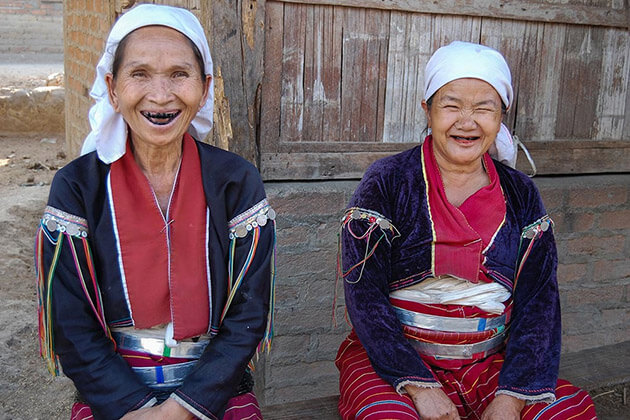 Visit Wat Pha Jao Lung
Staying in the heart of Kengtung town, Wat Pha Jao Lung is one of the most famous temples that you should visit while touring the town. The temple sits at the conjunction of five little dirt roads, noted for its ornate red outside. Inside the pagoda houses many ornate Buddhist paintings on the walls. The main Buddha image in the pagoda is said to be the replica of the Maha Myar Muni Buddha image in Mandalay.
Bath in Kengtung Hot Springs
Hot springs is one of the greatest attractions in Kengtung. It can be reach after 1.5 hour by car. That's a top location for picnicking so you can bring some food and snack to chill out at the hot springs.
Climb up to the Lone Tree Hill and Watch the Beautiful Sunset
The name Lone Tree Hill might sound a bit strange to every person, but it is an exactly name to describe this beautiful destination in Kengtung. The tree sit alone on the top of the hill and is said to have been planted over 250 years ago. Tourists visiting the tree can also sit back on the top of the hill to wait for the late moment in the afternoon when the gorgeous sunset is slowly going dowing with the reddish hue embraces the whole area.
Savor the local Shan Food
Well-known as the mecca of diverse ethnic tribes, nowadays, Kengtung is filled with the Shan people making it the majority in the region. The Shan cuisine is wonderful and worth to try. With that in mind, make sure you spend time to try the local delights such as Khiw Soi Shan noodle soup, salad, pizza, and many more.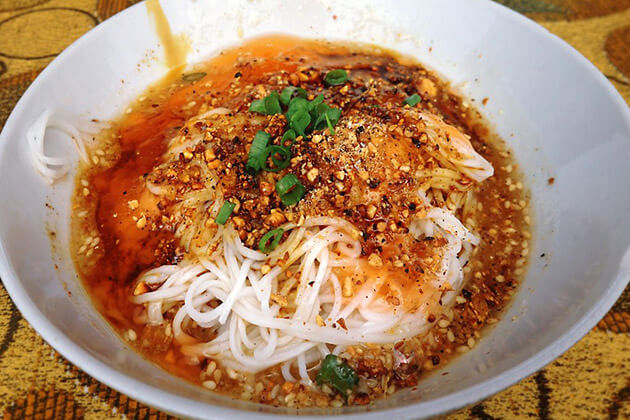 Playing Golf in the Triangle Golf Club
If you want to mix your Kengtung tour with some exotic experience, golfing is a good idea. Located outskirt of Kying Tong, the golf course has 18 holes with the total area of 6556 yards creating a great place to play your favorite game.
Kengtung Travel Guide
Kengtung Weather – best time to travel to Kengtung
Like many other parts in the country, Kengtung can be visit in all year round. The coolest month last from November to February with the average temperature at 20oC. This time, the weather is dry and pleasant. April is the warmest month of the year with the highest temperature can climb up to 34oC.
How to Get to Kengtung
To date, we can access Kengtung by air from Yangon International airport and Heho airport. The ticket arranges from 145 – 180$ depends on the company you chose.
From Yangon, Myanmar National Airlines operates the most flights with five flights a week on Monday, Wednesday, Thursday, Friday, Saturday, and Sunday. Yangon Airways offers three flights a week on Wednesday, Friday, and Sunday. Mann Yadanarpon Airlines offers one flight only on Tuesday.
From Heho, Myanmar National Airlines operates three flights a week on Monday, Wednesday, and Wednesday. Mann Yadanarpon Airlines offers two flights on Tuesday and Thursday. Yangon Airways offers three flights a week on Wednesday, Friday, and Sunday.
Best hotels in Kengtung
Princess Hotel Kengtung
3* hotel located in the downtown Kengtung near by some restaurants, bus station. Mini marts and banks.
5 minute walk to Kengtung Central Market
Free wifi, continental breakfast or local breakfast upon request
Tel: +95 (84)21319, + 95 (84) 22159
Email: [email protected], [email protected]
Adress: No.21, Zaydankalay Rd, Kengtung, Myanmar
Amazing Kengtung Resort
4* hotel with 108 rooms offers tranquil environment for relax
Large swimming pool
Free breakfast for 2
2 kids under 3 years staying free
Tel: +951 203500. 203503, 203565, 9010270
Email: [email protected], [email protected]
Adress: Mineyan Road, Kyaing Tong 00958, Myanmar
Golden World Hotel
One of the best bed and breakfast in Kengtung
Free wifi, swimming pool, mini bar and restaurant are available
Address: 26 Zay Dan Loang, Keng Tung, Myanmar
Explore Kengtung With Go Myanmar Tours
If you want to make your adventure to Kengtung memorable with full of delight and authentic experience. Let us, Go Myanmar Tours, be your companion. As a local Myanmar tour operator, we master every corner of the charming Kengtung, including the most popular attractions as well as the hidden beauty. Have a look at our suggested itinerary below and choose your favorite one. If none of them satisfy your need, feel free to contact us, we are happy to make adjustment for you!
Kengtung Hill Tribe Explorer – 4 days
Myanmar in Your Eyes – 15 days