Get a taste of majestic Myanmar on this Irrawaddy cruise downstream from Mandalay to Bagan on the luxurious Anawrahta. During 5 days, we will take you through the great sites along the backbone of the country to discover its sacred temples, dignified soul, and the authentic local life. Be amazed by the beautiful landscape, be warmed by the friendly locals, and be satisfied with our 5-star service on the classy vessel.
Duration: 5 days/4 nights
Start/End: Mandalay/Bagan
Tour Route: Mandalay – Sagaing – Ava – Yandabo – Pakkoku – Bagan
Tour Category: Irrawaddy river cruise
Cruise Ship: Anawrahta
Tour Highlights:

4-night stay on the luxurious Anawrahta cruise ship
Interesting interaction with the local people
Explore Bagan – the magnificent UNESCO Heritage Site
Visit Sagaing – a breathtaking hill of Burma where is home to over 800 monasteries
Note: This itinerary is available with three options:
5 days/4 nights Mandalay Bagan Cruise
4 days/3 nights Mandalay Bagan Cruise
3 days/2 nights Mandalay Bagan Cruise
Time Table:
Year/Month

Jan

Feb

Mar

Apr

May

Jun

Jul

Aug

Sep

Otc

Nov

Dec

2019
04
23 31
08 24
02 10
18 28
2020
05 13
21 29
14 22
01 09
17 25
02 10
04 12
23 31
24
01 09
25
03 11
19 29
Brief itinerary:
Day 1: Mandalay – Sagaing & Inwa (L, D)
Day 2: Ava – Yandabo (B, L, D)
Day 3: Pakkoku – Bagan (B, L, D)
Day 4: Bagan Discovery (B, L, D)
Day 5: Bagan Disembarkation (B)
Full Itinerary
Price & Inclusion
Accommodation
Photos
Day 1: Mandalay – Sagaing & Inwa (L, D)
Mingalabar! Welcome to majestic Myanmar!
Today, our guide will take you to the quay of Mandalay riverside to get on the grand Anawrahta cruise ship. After being welcomed by the staff, start sailing to Sagaing, a significant religious center in the southwest of Mandalay.
On arrival, visit a monastic school on the hill to learn more about the monks' education and observe their daily life. After that, follow your guide to Ava, the former royal capital of Burma. Get on a local horse carriage to discover the charm of Ava. Visit Nanmyint Watch Tower, the building remained in King Bagyidaw's palace. We then also head to Maha Aungmye Bonzan Monastery, an impressive Buddhist monastery which is the finest example of the great Burmese architecture on the 19th century. Finally, visit Bargayar Monastery to marvel at its impressive ornate woodcarvings and teak posts before returning to the board.
After coming back to the ship, enjoy interesting demonstrations to learn more about some Burmese traditions including Longyi (the traditional dress) and Thanaka (the traditional make-up powder which delivered from the tree bark). Besides, get more knowledge about the culture and history of Myanmar on a presentation while enjoying a cocktail.
Dinner rounds off in the evening.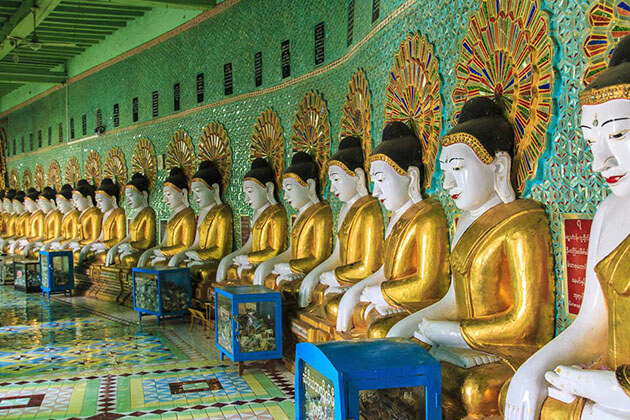 Day 2: Ava – Yandabo (B, L, D)
Rise before dawn today to capture the breathtaking sunrise on the tranquil river. After that, why don't join in a yoga session on the sundeck to strengthen your muscle and power up for a new day sightseeing. Today, we will continue sailing to Yandabo, a small village where is famous for the clay pot making.
Enjoy your time at leisure this morning. After breakfast, learn more about the history of Bagan – one of the most important historical sites in Southeast Asia on a lecture performed at the Mandalay Lounge. Then you can lie on the sundeck and enjoy the breathtaking atmosphere, listen to the wind swaying and breathe the fresh air on the river. Then you can also go to the spa for the pampering treatment.
On arrival at Yandaboo, we will disembark from the ship to visit the historic town which was used to be the place to sign the Peace Treaty putting an end to the first Anglo Burmese war. Spend your time to observe how the local artisan using traditional methods to make the pots. An interesting option for you today: why don't try your hand on making a clay pot on your own?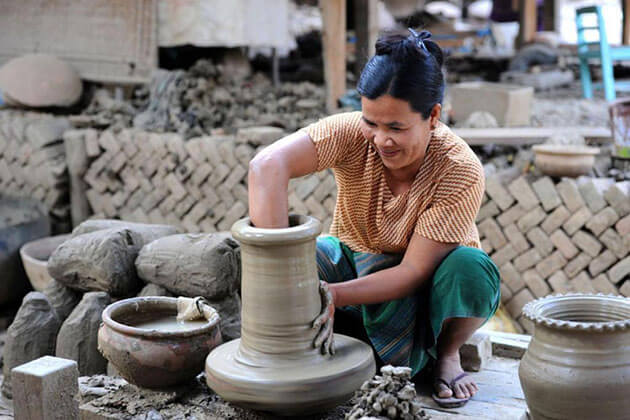 Back to the board, enjoy a delightful tea party while our ship keeps sailing to Pakkoku, a quaint township on the west bank of Irrawaddy River. As the sun immerse everything in a golden light, dress up in style and ready to take part in a special event "A toast to the past" at the Kipling's Bar. Indulge in the mesmerizing atmosphere, sip on a delicious glass of cocktails and share some stories about the old British – Burmese days.
Next up, enjoy a luxury dinner at Hintha Hall. If the weather permits, join in the cinema under the starry night on the sundeck to watch classic movies.
Overnight on the board.
Day 3: Pakkoku – Bagan (B, L, D)
Enjoy the morning scene from your balcony and take part in the yoga class on the sundeck to refresh your mental and physical health. While you enjoying your breakfast, the ship continues sailing to Pakkoku. As we approach the town, marveling at the longest bridge in Myanmar – Pakkoku Bridge.
After disembarking from the board, we will spend the whole morning to explore the area. You will first visit a cheroot-rolling factory and a Burmese slipper workshop to gaze out at the local production. Take leisure walk to the local market to observe the local trade and the daily life of the people in the region. The market is a good place to purchase some Burmese cigars and souvenirs for your friends and family.
Visit Shwegu Temple, an ancient pagoda with wonderful and dexterous arts. Admire the stunning and incredible Yamanei wood carvings and marvelous seated Buddha image. Lunch will be served on the board and then we will continue sailing southwards to reach Bagan.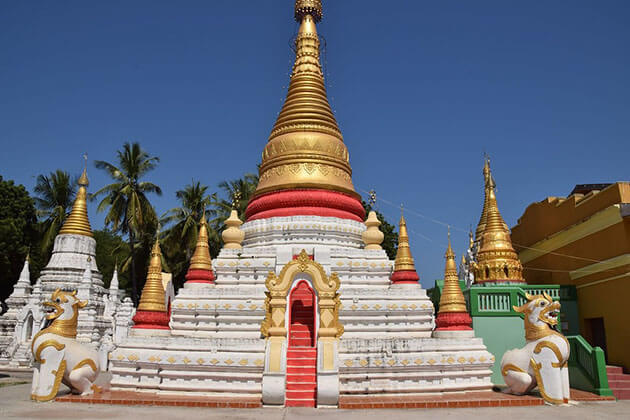 * Note: At this time, say goodbye to our passengers of 3 day/2 night cruise
We will spend this afternoon to explore Bagan, the paradise of sun and magnificent temples. Follow your guide to Ananda temple, one of the most beautiful Buddhist temples in Bagan dating back to the 12th century. We also head to Sulamani Pagoda, an elegant multi-storey structure built from the late Bagan period.
Later on, don't miss a chance to contemplate the gorgeous sunset in the ancient city from a vantage point.
Afterward, returning to the board and watch a traditional Bagan dance performance at Mandalay Lounge.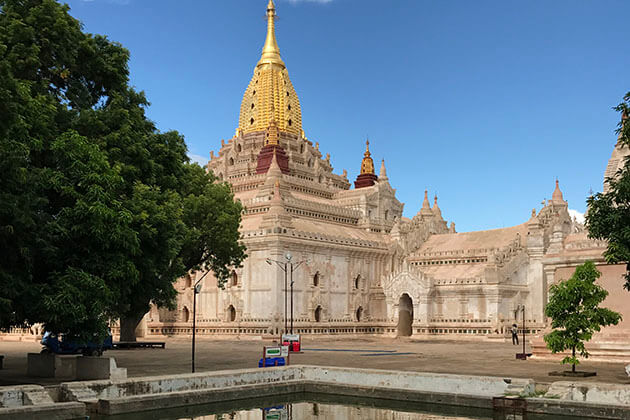 Day 4: Bagan Discovery (B, L, D)
Be an early bird today to take an incredible hot air balloon trip (optional, required to book in advance). With over 3000 temples dotted on the plain, there is no better way to enjoy the fascinating of Bagan than floating on the hot air balloon.
* Note: At this time, say goodbye to our passengers of 3 day/2 night cruise
After having breakfast on the board, start your Bagan exploration with the first visit to Nyaung U Market. This is the best place to experience the real Myanmar and gain more insights into local life and culture. Proceed to Shwezigon Pagoda, the imposing gold plated stupa where is said to house sacred relics of the Buddha. Then we visit a local workshop to see the ancient technique of lacquerware. Spend your time to chat and learn how artisan creates their beautiful items. After that, make your way to Wetkyi – In to visit Gubyaukgyi Pagoda, a great cave ancient temple shows Indian influence.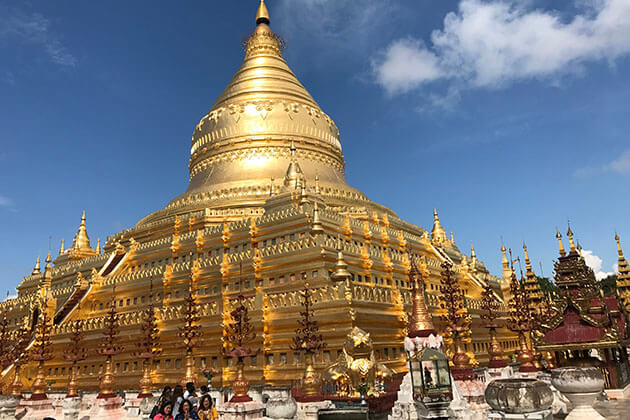 In the afternoon, there are two options for you to choose:
Option 1: Take a drive to Mt Popa – a spectacular extinct volcano where is home to the Nat worship.
At 1150 meters above sea level, Mt Popa is a dramatic volcano providing a stunning view to a large region. On the top of the mountain is Taung Kalat monastery, famed for being home to 37 Nats (Burmese natural spirits). Climb up to the top and learn more about nat worship and gain a panoramic view of the region will give you a memorable experience.
Option 2: Discover the rural life in Bagan
You will continue to discover other beautiful pagodas in Bagan including Manuha and Gubyaugyi Pagoda in Myinkaba Village. Then see the real life of Burmese people as you take an excursion to Minnanthu Village. Take this chance to interact with the villagers and share your own culture.
Day 5: Bagan Disembarkation (B)
After breakfast, disembark the ship and finish your 5-day journey with Anawrahta cruise ship. We hope that you love the itinerary and services. Thank you for making your journey with Go Myanmar Tours!
Please contact us for the price of this package
What's Included?
Entrance fees, transportation
English speaking guide (other languages upon request)
Taxes, fuel, river pilots, port dues
Mineral water, soft drink, local beer, coffee, tea
Fruit juices besides breakfast and afternoon tea
Laundry service on board
Wifi internet in public areas
Inclusion for Anawrata Suites only: Private butler service, balcony breakfast or in-suite dining, daily newspaper, complimentary mini bar, daily turndown gift, one private candlelight dinner on the balcony, fruit basket, flower and a bottle of Prosecco, spar services.
What's Excluded?
Port tax $129 per passenger, subject to change without prior notice
Crew gratuities
Fuel surcharges