Get a brief taste of Mandalay & Bagan, cities of the magnificent heritage site and cultural alluring. In this 5-day river cruise with Anawrahta ship, we bring you from the most popular attractions such as Sagaing, Nyaung market, and Shwezigon Temple to the idyllic village of Yandabo to linger in the laid-back pace of life and interact with the friendly locals. Take this tour and give your soul a break
Duration: 5 days/4 nights
Tour Routine: Mandalay – Sagaing – Ava – Yandabo – Pakokku – Bagan
Intended Travel Date: Available all the time
Start/End: Mandalay/Bagan
Tour Type: River Cruise, Nature, Landscape, In-depth Cultural
Tour Category: Irrawaddy river cruise
Cruise Ship: Anawrahta
Tour Highlights:
Must-see attractions in Bagan: Shwezigon Temple, Nyaung U Market, Ananda Temple, Mahamuni Temple
Gain local experience at Yandabo village
Hike up to Mount Popa: gain incredibly panoramic view & learn about the sacred Nat of Burma
Soak into the hustle and bustle atmosphere of the local markets
Brief itinerary:
Day 1: Mandalay Embarkation – Sagaing & Ava
Day 2: Ava – Yandabo – Pakokku
Day 3: Pakokku – Bagan – Temple Tour
Day 4: Bagan – Mt Popa
Day 5: Bagan – Disembarkation
Note: This itinerary is available for 4, 3, or 2-night stays
Full Itinerary
Price & Inclusion
Accommodation
Photos
Day 1: Mandalay Embarkation – Sagaing & Ava
Mingalabar! Welcome to Mandalay, the hidden treasure of Burma.
Today check-in at Anawrahta cruise ship in the early morning. After settling into your cabin, enjoy a short break and we set sail to Sagaing, one of the most important religious centers in Myanmar.
Next up, we disembark for an excursion to discover the highlight of Sagaing and the former royal capital of Ava. Get on a horse carriage to slowly behold the laid back pace of life in the town and ancient monasteries and fanes. We will first visit Bagaya Kyaung, a jaw-dropping teak monastery dating back to the 19 century and now continues to be a monastic school.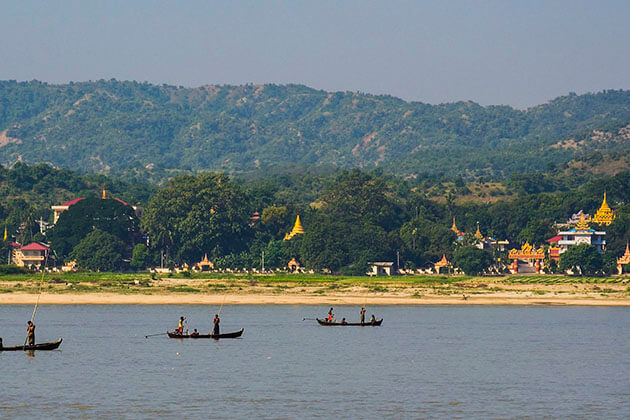 After that, visit Maha Aung Mye Bonzan Monastery, an impressive brick monastery which will show you the finest example of Burma in the 19th century. We then also gaze out at the landmark of Nanmyint Watchtower and absorb during a laid-back picnic teatime at a secret spot in the middle of the sacred place.
As you get back to the board, learn more about some of the long-lasting traditions through a longyi and Tanaka demonstration. Afterward, a fascinating presentation about Burma culture and history will provide you an overview of the country.
Before dinner, enjoy a cocktail gathering at the Kipling's Bar and enjoy the river view.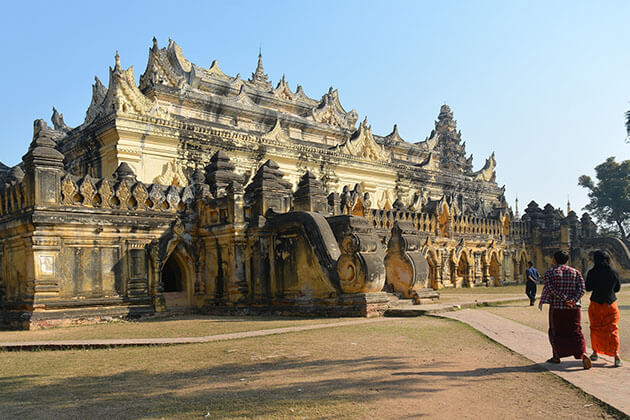 Day 2: Ava – Yandabo – Pakokku
Rise before dawn this morning to capture the stunning sunrise on the river. Then there is an opportunity to participate in a yoga session on the sundeck to strengthen your muscles and ease your mind. This morning, the cruise will lead us to Yandabo – a tiny charming village and home to the traditional pottery making.
After breakfast, take part in a lecture about the history of Bagan at Mandalay Lounge to learn more about this extraordinary landscape. Then enjoy your own free time onboard. You can lie on the deckchair to marvel at the tranquil beauty along the river or have some special treatment at the spa.
Follow your afternoon sightseeing with a trip to the quiet riverside Yandabo village. It is a fascinating gem where you will experience the real life of Burmese people. Take a stroll through the village and indulge in the peaceful aura of the rural village. If luckily, you will catch the iconic image of the local carry things on their head. We will visit a local family to learn more about the production of the region. You will quickly notice that they are immensely friendly and hospitable. If you wish, why don't try your hands on making a pot on your own?
After that, get back to the ship and enjoy an afternoon high tea while the ship sailing to Pakokku. This evening will offer you a great activity: let dress up in style and we send "A toast to the past" during a British club. Take this chance to listen to some tales of the old (British Burmese) days and meet every guest on the board and share your own story.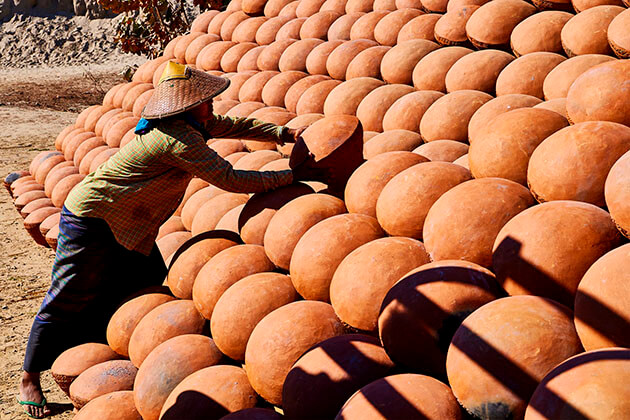 Day 3: Pakokku – Bagan – Temple Tour
Our yoga session in the morning of day 3 will bring you in shape for another day of great explorations. After that, enjoy breakfast while the ship sailing to Pakokku, a trading center for the Chindwin and Yaw river valleys. The ship will take you through Pakokku Bridge, the longest bridge of Burma. We then leave the ship to visit some small industries in the area. You might visit a cheroot-rolling factory and the producer of Burmese slippers. Highlight your trip at the local market to gain insights into the local trading practices and gaze out at the local goods. This is also the home to Tobacco production in Burmese, so if you like to buy some, let take this chance.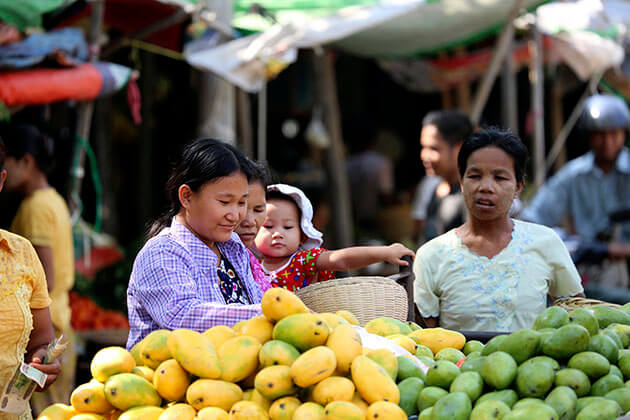 This time, we say goodbye to our guests of the 3 day/2 night cruise.
In the afternoon, take a trip to explore some of the best temples among over 2000 pagodas, temples, and stupas. We will head to Ananda Temple and Sulamani Pagoda. Before sunset, follow your guide to the sunset hill to marvel at the temple-strewn plains immersed into the golden light.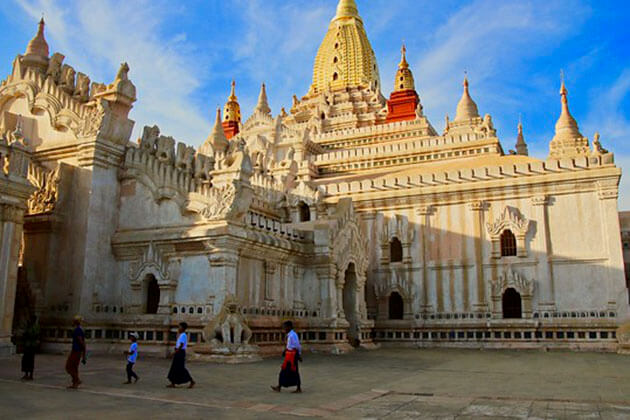 Day 4: Bagan – Mt Popa
This morning deliver you one of a lifetime opportunity, to take a sunrise balloon flight over Bagan area (on extra cost, book in advance is required, subject to season)
After breakfast, we say goodbye to our guests of the 4 day/3 night cruise
Start the day with a visit to the bustling Nyaung U market, this is an authentic market that will provide best photo moments of local life and people. Leaving the market, we head to Shwezigon Pagoda, one of the most popular attractions in Bagan. The main stupa which consists of a circular gold leaf is said to keep the sacred relic of the Buddha. Then get to know more about the local with a visit to the lacquerware workshop. Take this chance to interact with the local artisan and observe how they use their traditional methods to create unique items. Then complete our morning tour with a visit to Wetkyi-In Gubyaukgyi Pagoda to discover the fine frescoes inside.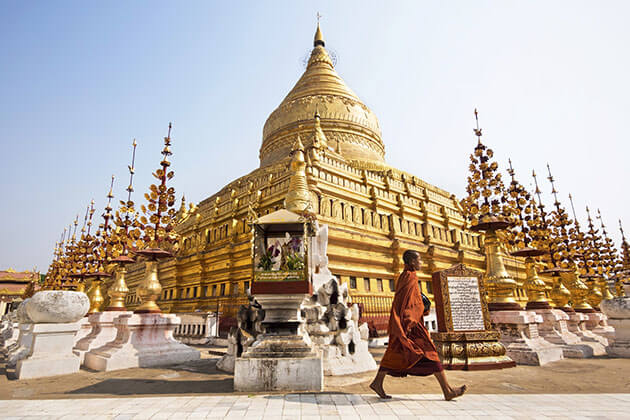 This afternoon delivers you two options:
Option 1: Take a scenic drive to Mount Popa
Mount Popa a spectacular extinct volcano where offers you a magnificent view to the area. Hike up to 777 steps to reach the pagoda on the top to learn more about the Nat worship of Burma. On the way back, stop at a palm sugar plantation to visit a local house and discover the typical local candies manufacturer.
Option 2: Bagan Village Discovery
If you want to experience the real life of the villagers in Bagan, don't pass up the chance to visit Myinkaba Village. Here we will visit Manuha Pagoda, one of the oldest temples in Bagan enshrining four large images of the Buddha. Take leisure walk to the beautiful architecture of the Gubyaukyi Temple.
Day 5: Bagan – Disembarkation
After breakfast, we say goodbye to the crew and check out at Anawrahta to get back to the land. Trip ends. We hope that you love the 5 day/4 night Myanmar vacation. Thank you for traveling with Go Myanmar Tours!
Please contact us for the price of this package
What's Included?
Entrance fees, transportation
English speaking guide (other languages upon request)
Taxes, fuel, river pilots, port dues
Mineral water, soft drink, local beer, coffee, tea
Fruit juices besides breakfast and afternoon tea
Laundry service on board
Wifi internet in public areas
Inclusion for Anawrata Suites only: Private butler service, balcony breakfast or in-suite dining, daily newspaper, complimentary mini bar, daily turndown gift, one private candlelight dinner on the balcony, fruit basket, flower and a bottle of Prosecco, spar services.
What's Excluded?
Port tax $129 per passenger, subject to change without prior notice
Crew gratuities
Fuel surcharges