Interested in discovering colorful and unique festivals around the world or especially is eager to find out more Burmese people and culture, Phaungdawoo Festival will be listed in one of the most festive festival in Myanmar, absolutely is one of your right selections.
The Phaungdawoo Pagoda Festival is organized annually for 18 days usually between September and October in Inle Lake, the Myanmar's second largest freshwater with the famous image of one-legged fishermen. Phaungdawoo Festival is held with the dates according to the Lunar Calendar of Myanmar. It begins on the first Waxing Moon day of Thadingyut and ends a couple of days after the Full Moon.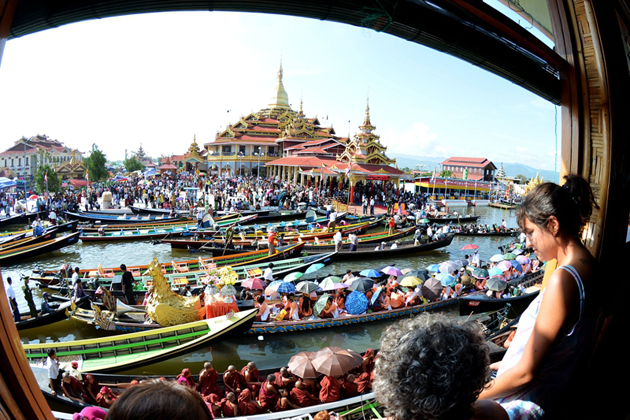 Phaungdawoo Festival is also considered as one of the most attractive festivals in Myanmar. It is true that thousands of both locals and foreign visitors descend on this well-known festival to gain merit and enjoy lively festivities every year.
Like most of life on Inle Lake, the Phaungdawoo Festival is a water bound one. The Buddha Images are ceremonially rowed around the Lake from village to village. During the festival, four of the Buddha Images are moved onto in the colorful royal barge accompanied by many other boats with one-legged rowers. The highlight of the Phaungdawoo Festival is on the day when the Buddha images arrive at Nyaung Shwe, where most pilgrims from the surrounding regions gather together to pay their respects and veneration by boats. This creates an awesome sight of hundreds of floating boats from near and far.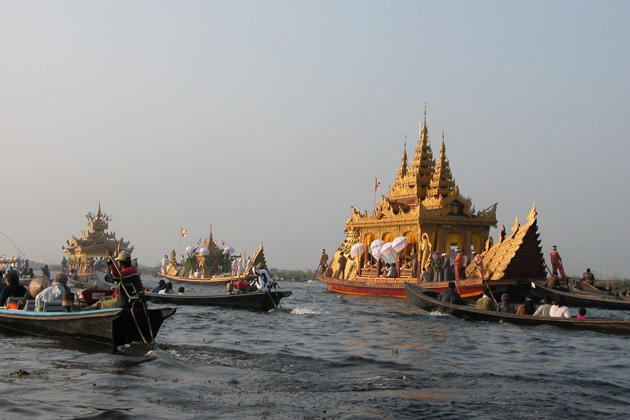 They are enthralling Shan dances and martial arts in splendid royal boats as well as appealing rowing competitions of skilled teams representing various villages around the Inle Lake.