Things to Do & See
Travel Guide
Best Things to Do in Myanmar Family Tours
Explore The Temples & Pagodas in Bagan
Since the city possessing more than 2200 old temples, pagodas, and the ruins, strolling around to explore these outstanding heritages in Bagan is one of the best things to do with your kids in Myanmar family tours. Although the classic way to get around the ancient capital is the car driving, you can choose to take a horse-cart ride to slowly indulge in the magical beauty of the area in your family tour. Along with this unique route in your Myanmar family holiday, your family can stop at any spots to gaze out at the scenery, take some nice photos, and listen to your guide about the history as well as the exceptional art and architecture of Bagan amongst these relics. Depends on your children's age that you will have a great option to take a cycling tour to get around the ruins and pass through the dusty paths to discover Bagan your own way in your Myanmar family trip.
Remark a Myanmar Family Holiday With an Amazing Boat Tour to Get Around Inle Lake
Be one of the main tourist attractions in Myanmar, Inle Lake is where you cannot skip in your Myanmar family trip. What makes your ideal family vacation in Burma outstanding is to take a long tail boat and sail around the lake to behold the incredible beauty of the largest freshwater lake in the country. During this trip, you and your kids will have a chance to meet the Intha people – the inhabitants live hundreds of year on the lake and learn about their exquisite farming techniques on the floating gardens as well as their fishing methods using conical baskets and one-legged rowing.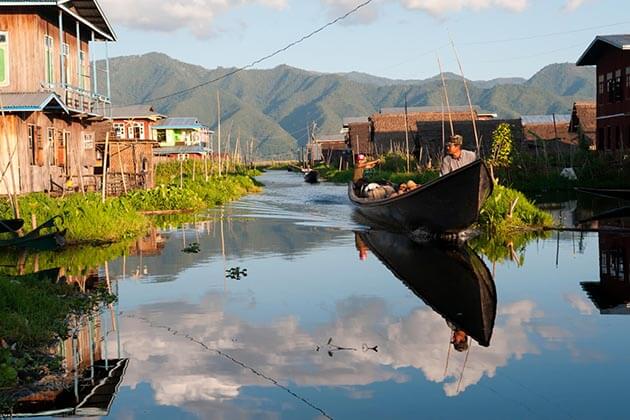 Visit Colorful Local Markets in Family Trips With Your Kids
Markets in Myanmar is not only where you can purchase products and goods but also where you can witness authentic Burmese daily lifeline and how they make their livings in Myanmar family vacation. Undoubtedly, soak into the vibrant market is one of the most amazing things to do in Myanmar family tours. Bogyoke Aung San in Yangon, Nyaung U in Bagan, Central Market i..n Pyay, floating market in Inle Lake are interesting places to discover in Myanmar family travel.
Myanmar Family Travel With a Hot-Air Balloon 
Ride 
to Marvel at the Beauty of Bagan from Above
Hot air balloon trip is one of the most highlights as you hit Bagan in your Myanmar family tour. It delivers you and your kids an unforgettable experience during your family holiday in Myanmar as you fly over thousands of temple's peak, trees, and spectacular landscapes.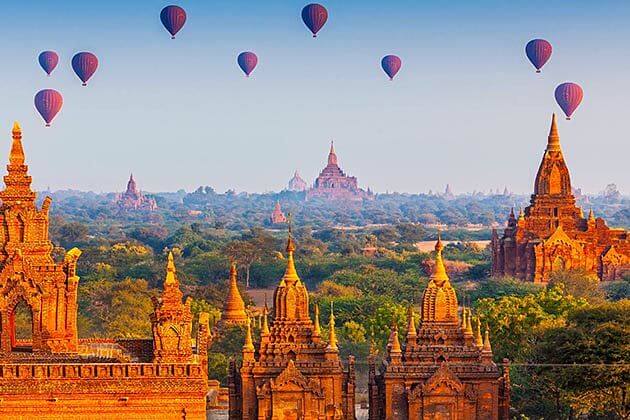 Get a Glimpse at The Legendary Golden Pagodas
For a long time, Myanmar has been well-known for people as the Land of Golden Pagodas. Unsurprisingly, visiting golden pagodas is an exciting experience in a Burma family tour. Gaze out at the Shwedagon, Shwezigon, and Shwesandon Pagoda throughout the country in your Myanmar family trip, you will discover numerous memorable experiences. Additionally, Golden Rock is also worth a visit to let your children get more knowledge about Buddhism. This ensures a breathtaking time for your family holiday in Myanmar.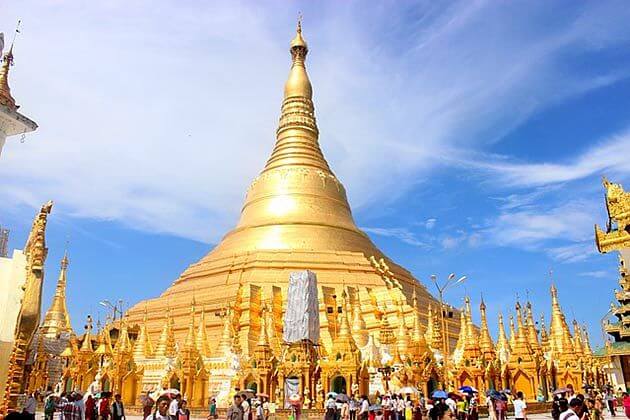 Relax on The Poetic Beaches
Reward yourself after long days sightseeing with some days on the most beautiful beaches is the thing that you cannot skip in Myanmar family tour. Feel free to lay on the white sandy beach, feel the light breeze blow through your skin, enjoy the fresh coconut water. This will fulfill your great time on your Burma family holiday.
Myanmar Family Travel Tips
Myanmar is an incredible country for family travel. If you have decided the destination to go, and now it comes to the essential tips for your family to enjoy the best of in Myanmar family tour.
Getting Around the cities in a Myanmar Family Trip
By Taxis
Traveling on a taxi in Myanmar Family tours is probably the best way because it allows visitors the greatest comfort and flexibility. However, you should highly notice that many taxis in Myanmar do not have a fixed price. Therefore, it is necessary to negotiate the price before getting on the car to avoid paying a too high price in your Myanmar family trip. Normally, you can consult the taxi price before you go, if the distance is up to 3 km, the price is currently around 1500 kyat ($ 1), if the distance is around 10 km, the price should never reach over 17 $.
By Trishaw
Perhaps Myanmar trishaw is one of the most exotic images that captivates tourists' sense while traveling to the country. So far, the traditional means of transportation in Myanmar has become a popular vehicle for visitors to get around the city with cheap price and delightful experience. If you book a cyclo tour in your Myanmar family trip, it always has something to deal with the package price. The average price of Myanmar trishaw is around 10$ - 20$ and it also depends on how far you go. Don't be shy when bargaining with the driver to get as much as the cheap cost to save the best for your Myanmar family tour
Preparing Baby Equipment for Your Myanmar Family Trip Is Necessary
Since the country opens its door to travelers, it has been more conveniently to purchase goods and products in Myanmar. However, it some rural areas, it will be hard to find a shop selling tissues. Therefore, make sure you pack tissue enough if you have a baby for your Myanmar family trip
Booking a Hotel in Advance Before Traveling
With the dramatic changes in the tourism industry, hotels in Myanmar has been widening and widening in recent year. However, in the peak season, the hotels around the country are often fully booked. As a result, booking the hotel in advance before you go for a Myanmar family trip will be a wise decision.
Other Useful Tips for a Myanmar Family Travel
When wandering around the streets with your kids in Myanmar family tour, it is better do not let your children play with any animals they encounter to protect themselves from rabies. Visiting local markets will be amazing experiences in your Myanmar family trip and you may purchase some of the Burmese fruits. Keep in mind that you should be selective with the choice of fruits. Check out the information about fruit season before you buy to ensure you choose the local one. Also, never wash it with tap water, wash with bottled water instead.