Myanmar Tours for B2B Partners
Go Myanmar Tours is an authorized local tour operator in Myanmar. If you are looking for a reliable partner in Myanmar with experiences in complex and special exotic travel services or requests for big groups, Go Myanmar Tours is a perfect choice to help you approach your customers in this new market segment.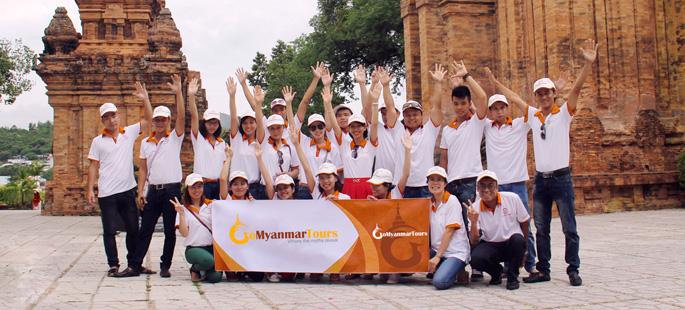 Why Choose Go Myanmar Tours?
1. We are a local operator:
We completely understand the country, the character of the travel industry in the early stage, as well as how to deal with complicated and tough situations.
2. We work your ways:
We understand that your wish is the customer's wish and customer satisfaction is the final end for both of us.
3. We respect and protect your brand name:
Your logo and name will appear on the welcome board, we will greet and solve the problem on your behalf. Never exist the problem of giving our business card or contact information. Your customers are always yours. We appreciate the fundamental rule of a win-win business.
4. We experience in our fields:
We offer private and customized Myanmar tours for foreign tourists since 2006. During 18 years working in the Myanmar tourism industry, we have faced thousands of requests even some are very strange and exotic. But we have done well and are recognized by our customers as an excellent Myanmar tour operator
5. We respond to you quickly in 24 hours:
The more details of your demands are, the better price we can refer back to you.
What Service Go Myanmar Tours Do?
Myanmar tour packages
We offer two types of tour packages for customers. One is offering the best highlights of Myanmar in a tour package but we will customize them all in many visiting orders, various service levels and/or added activities. The other is private tours with our suggestions for the best destinations but with your customers' demands different from classic itineraries.
Passengers from cruise ships
Myanmar is a new destination for big cruise ships to harbor and explores the country. Go Myanmar Tours understands the problem of cruise passengers such as the time limit, a huge amount of customers in a very short duration and some places. So we can provide services with high attention and quality and know-how to handle this problem:
Short but interesting programs with the cover of the bests places of each destination
The procedure for cruise passengers entering Myanmar
A large number of vehicles and tour guides at the same time
Excellent tour guides for the high demand of customers from such kind of luxurious cruises
And much more.
What Benefits Go Myanmar Tours Offers for B2B?
Special rates and booking conditions: we provide special rates for bookings as a long-term partner, especially for series bookings or big groups
Free services of Myanmar land tours for the tour leader or your company's staff when traveling with numbers of customers
Gain advantage from FAM trips in Myanmar that are free of charge annually
Customized added values such as welcome boards with your names and logos on all vehicles, at the hotel lobbies, boats, and restaurants, etc
*Note: Booking conditions applied depending on the booking numbers and/or group sizes.
If you still have any questions, we always welcome a business discussion via email or meetings in person at our office. We will get back with details of your needs in max 24 hours.
Best regards,
GoMyanmarTours.com's Sales Team