Myanmar Honeymoon Vacation: Romantic Tour Packages with Your Beloved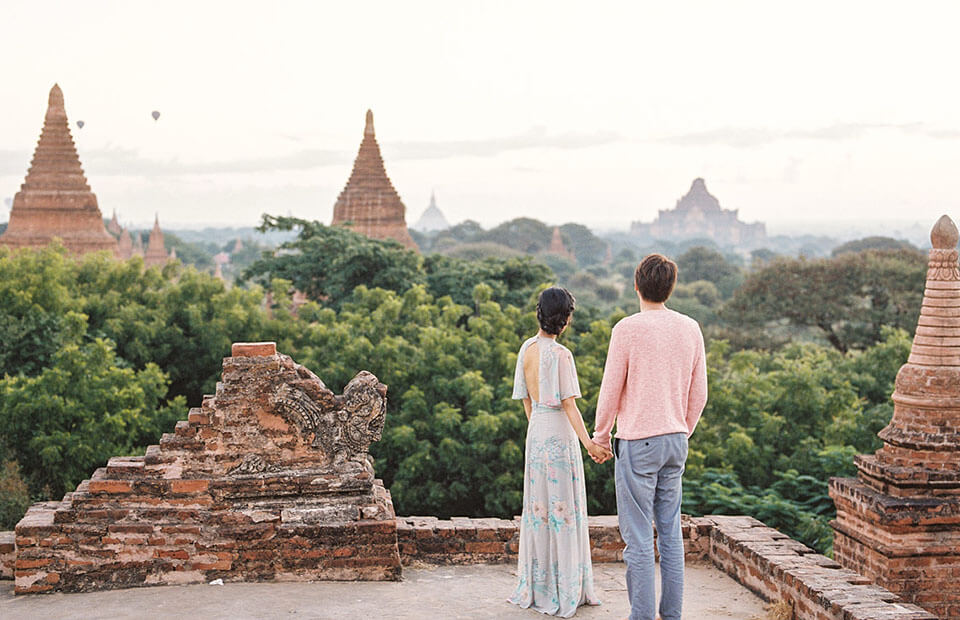 What could be more memorable than enjoying Myanmar honeymoon with full of colors and interesting experiences? Go Myanmar Tours offers you an array of Myanmar honeymoon packages for you to cherish the memory forever. Numerous honeymoon destinations have sprung up across the world in recent years, but nowhere like Myanmar. In each of our Burma honeymoon packages, we cater to different tastes to satisfy your wish to enjoy every moment of your dream vacation. Feasting on the exotic experiences in Myanmar honeymoon vacation:
Yangon – seeing the golden hue radiates from glistening temples

Mandalay – the cultural capital studded with dramatic white pagodas and Buddhist monastery
Inle Lake – a breathtaking natural beauty with spectacular mountain backdrop
Bagan – floating over 3000 magnificent temples from the hot air balloon
Ngapali Beach – soak into the blue turquoise water, strolling along the white-sand beach & traditional fishing villages
Whether you are looking for a peaceful and tranquil honeymoon vacation or you want to make it adventurous, we offer a boutique of honeymoon itineraries to cater to your varied needs.
For your lifetime honeymoon trips to Myanmar, we also offer some interesting activities such as cruises, sea diving, snorkeling, trekking, and exotic local cuisines.
Have a look at the list of Myanmar honeymoon tours in our Myanmar tours which have been carefully designed by our travel experts. If you do not find any suitable itinerary, please feel free to contact us and our travel expert will help you create your own Myanmar honeymoon vacation that suits your exact taste and interest.
Top Myanmar Honeymoon Packages
---
Best Destinations for 
Myanmar Honeymoon Vacation
Yangon - Where the Journey Begins
The gateway city and also the most interesting entertainment center of Myanmar, Yangon is an ideal place to start Myanmar honeymoon packages. Possessing the scenic landscape and stable situation with few social crimes, Yangon is one of the most ideal places for a Honeymoon trip in Myanmar. Take a stroll through the hustle and bustle city to pass the charming colonial street where features the unique British colonial architecture on the outstanding buildings and you can stop at several tea houses to enjoy Myanmar tea. In addition to the impressive architecture, don't miss your chance in your Myanmar honeymoon vacation to marvel at the legendary pagodas in the city such as Shwedagon Pagoda, Sule Pagoda, Chauk Htat Gyi Pagoda, to see the giant golden religious constructions in real.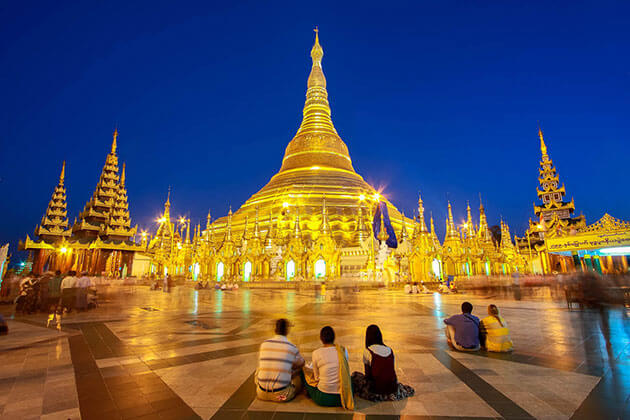 Golden Rock Pagoda - 
Highlight of your Honeymoon Trip 
From Yangon, we highly recommend you to pay a visit to the Golden Rock Pagoda in your Myanmar honeymoon vacation where almost make you thrill! Perched on a cliffside on the top of Kyaiktiyo Pagoda, the golden giant rock astonishes visitors with just a relatively small contact to the granite boulder. It has gone through a very long time that is widely known for people with the sacred story. According to legend, the rock enshrines a Buddha's hair so it can keep the rock from falling. After hiking up to the hill, the iconic beauty of the temple, as well as the majestic view surrounding would give everyone a meaningful memory.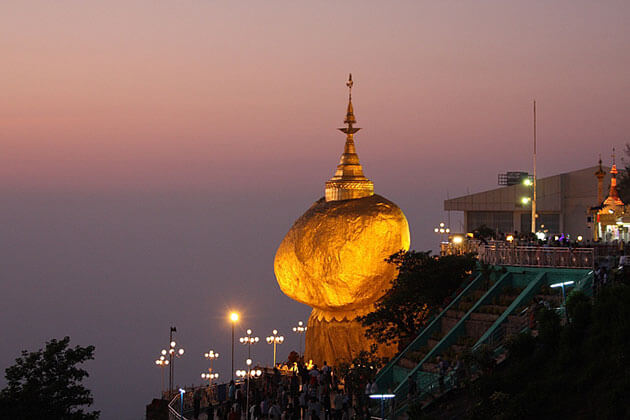 Take An Awesome Hot Air Balloon Trip in Bagan
A hot-air balloon ride is probably the dream of any visitors who come to Bagan. Therefore, in your luxury honeymoon in Myanmar, let join in a hot-air balloon trip to fly over the area covered with more than 2000 temples to capture the magnificent view of the magical land. The dust that blends with the sunlight over the bush will give you the fancy ambiance make you feel like getting lost in the wonderland in the Shangri La. However, you should notice that the hot air balloon season is available from October to the middle of April only.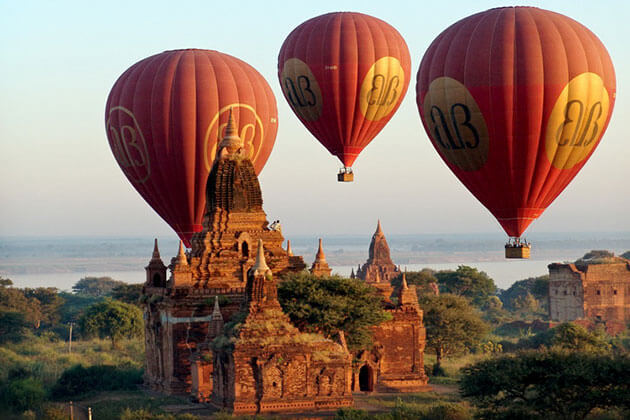 Ngapali Beach - the Gem of Asia 
Surprised? Myanmar, more than your expectation, along with the golden temple, it also offers you an amazing tour of the pristine beaches surrounding the country. Let we tailor-made Myanmar honeymoon packages for you and your beloved to choose to enjoy from the exciting diving to the meaningful trip to the fishing villages in the nearby islands, a beach tour in Myanmar will enchant your heart with the emerald water, slight wind, breathtaking scenery, and wonderful seafood. The four most poetic beaches of Myanmar are Ngapali, Ngwe Saung, Kanthaya, and Chaung Tha are waiting for you to be discovered!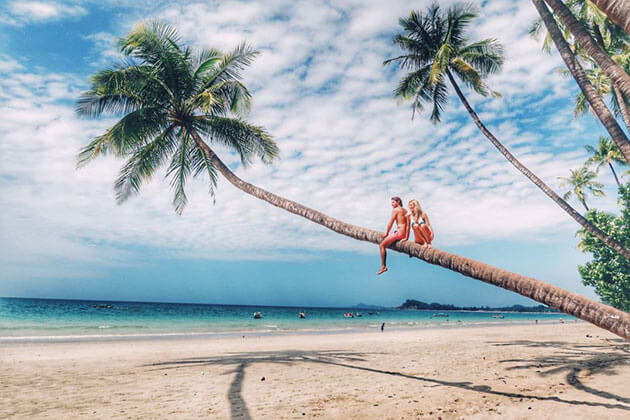 Experience 
Inle Lake 
Boat Trips
A boat trip around Inle Lake to explore life on the water is most favorite among our customers. Thus, it is definitely included in Myanmar honeymoon packages. An amazing boat tour will take you through the stunning floating garden to reach the village of Intha people who have spent their life a hundred years on the lake. Take time in Myanmar honeymoon tour to discover the lotus weaving in Inpawkhon village, learn the exceptional farm life, take the photos of iconic leg-rowing fishermen at the twilight moment. Ultimately, relax with your beloved on the top of the Red Mountain Estate Vinyard & Winery, snipper the best wine and wait for the majestic sunset moment.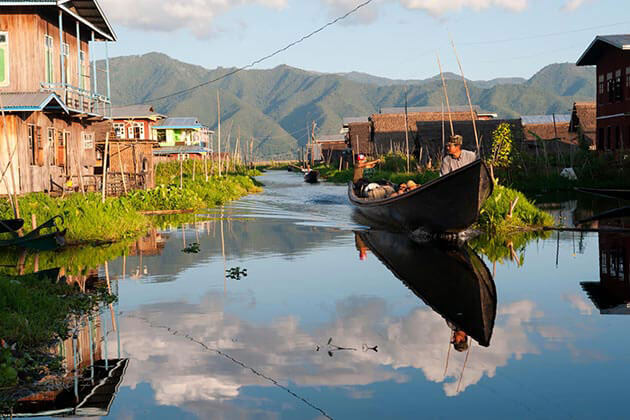 Mount Popa - Learn More About 37 Nats of Burma
Myanmar honeymoon packages will be much meaningful and challenging as a trip to hike up to Mount Popa. It is the religious center and the pride of Myanmar where attracts many visitors. Along the way climbing up to 777 steps, you will catch the fantastic view of drifting clouds blending with the wind and blue sky. Especially, you will see numerous monkeys that are relatively friendly with people. It is believed that those who can reach the sacred temple after hiking up to the steps will be blessed for good health. A panoramic view of the area appears as you reach the impressive temple in the top of the mountain.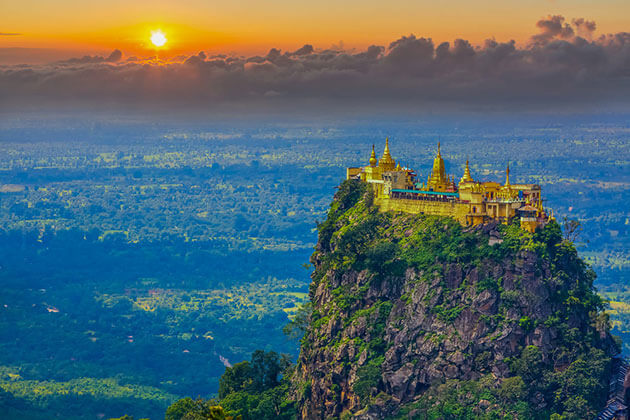 Tips for an amazing Myanmar Honeymoon 2019 202o
Go Myanmar Tours offers all travelers with the most appropriate honeymoon packages in Myanmar including Myanmar luxury honeymoon and customized honeymoon at reasonable prices which depends on your needs and demands. After you decide the destination, book your holiday and let Go Myanmar Tours help you do it at a reasonable price. Additionally, keep scrolling to some useful tips below for making your honeymoon vacation in Myanmar perfect and economical.
In order to pack smartly, don't forget to: Limit your luggage when you are planning for a honeymoon trip to Myanmar especially avoid bringing countless pieces of luggage because it is really difficult to carry all that, on airports, transfers, hotels.
 Carry a good camera. It enables you to capture the best memories during your honeymoon in Burma through a good camera. Besides, to avoid having to delete some valuable pictures in a hurry, ensure that you have sufficient empty space in the camera, and carrying an extra memory is suggested. As a result, you will save the most gorgeous images at your Myanmar honeymoon holidays 2018 to share with your friends on social networks if you want. Or even many years later, you can look back at your own pictures at your honeymoon trip in Myanmar 2018 and flashback the memories that you and your partners created together.