Inle Lake Tours & Day Trips from Inle Lake | Top 10+ Inle Tour Packages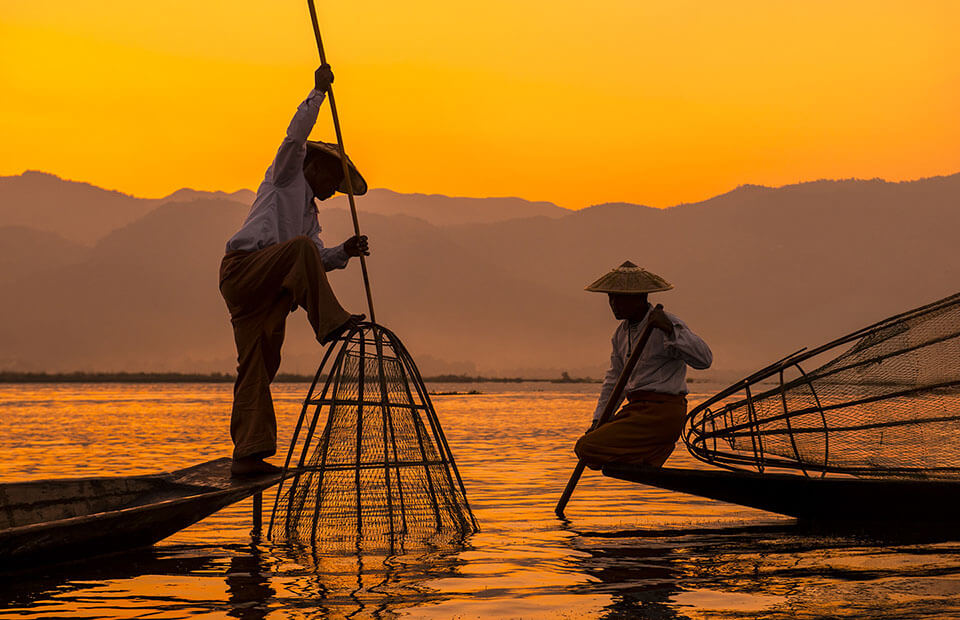 The heaven of tranquility, fancy, and breathtaking nature; the home to the unique traditional practices of floating agriculture, fishing, and leg-rowing methods. These words are all precise to describe Inle Lake, the beautiful highland lake situated in the heart of Shan plateaus. Undoubtedly, it is the perfect destination that you should never miss in Myanmar tours. Our Inle Lake tours & day trips allow you to immerse in the peaceful aura, behold the magical moment of the sunset on the sparkling lake, and feast on the local specialty tomato salad.
Taking an Inle Lake tour, visitors can enjoy many interesting activities and a collection of worth sightseeing attractions:
Phaung Daw Oo Pagoda – the most important religious site in Shan State enshrining 5 images of the Buddha
Nga Phe Chaung Monastery – 200-year-old wooden monastery
Sagar – a remote village of enigmatic "sunken" stupas
Indein village – a picturesque village and thousands of ancient stupas
Red Mountain Estate – the scenic winery with best wine tasting
Together with the heart-touching beauty, the long-lasting culture on the lake will ensure to satisfy even the most demanding one.
Go Myanmar Tours delivers you top Inle Lake tour packages, day trips and ready-made itineraries below which are designed by our local travel expert to cater to your budget and demand. Select your favorite one or contact us to tailor-make a unique Inle Lake tour that satisfies you most.
Best Things to Do in Inle Lake Tours
Visit Floating Gardens & Fishing Villages
The floating vegetable garden is the first thing that hits your eyes when coming to the lake. Undoubtedly, it is the top thing to see on every Inle Lake tour. Floating gardens in Inle Lake are the brilliant creation of the Intha made on the surface of the water. The farmers on the lake create the unique garden by hyacinth roots and seaweed. The top is the mud, using thousands of bamboo sticks to keep the garden on the lake and not drifting away. The floating gardens are home to a bunch of chilies, cucumber, peanut, tomato, etc. And even flower gardens is one of the special creation of the resident here. A boat trip in your Inle Lake tour package will allow you to discover the home of the country's tomato production and learn about these exceptional farming methods.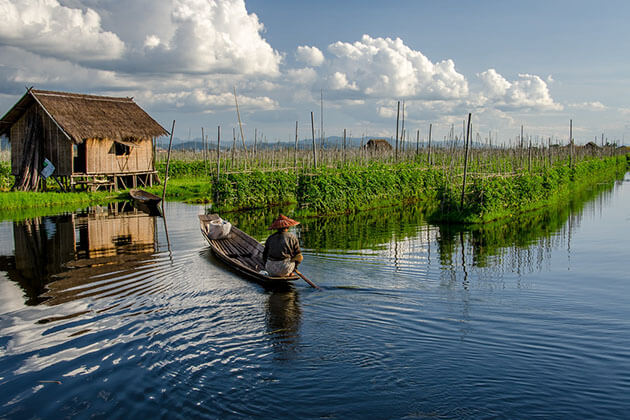 Together with the unique floating garden, the iconic leg-rowing fishermen are must-see attraction in an Inle Lake tour. Take this opportunity to save the most iconic image of leg-rowers at the fancy twilight moment. Most of the fishermen are men. Specifically, those fishermen use one leg to stand on the nose of the boat and another leg to hold a pole. They use two arms for netting and fishing. If you want to join in this experience in your Inle Lake day tour, just ask the Intha guide you how to do.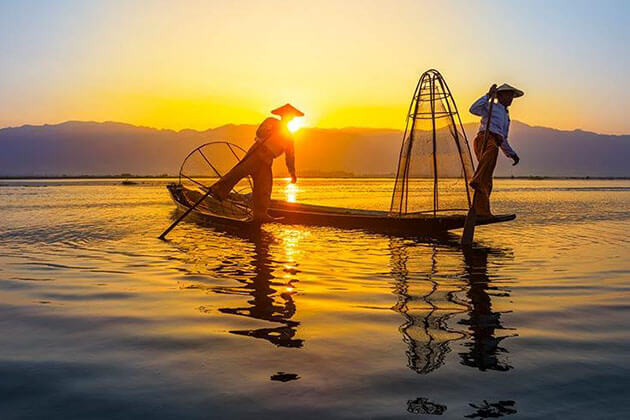 Get around some Local Handicraft Villages
In your Inle Lake tour, we highly recommend you to spend a small amount of time to visit some handicraft villages to have an insight into unique local traditions such as lotus weaving village, silverware village, cigar village… Besides, a visit to meet the Kayan people – long neck people is also worth to pay in an Inle Lake day tour. They are talented weavers in the field of making the most beautiful lotus fabric by handcraft without machines.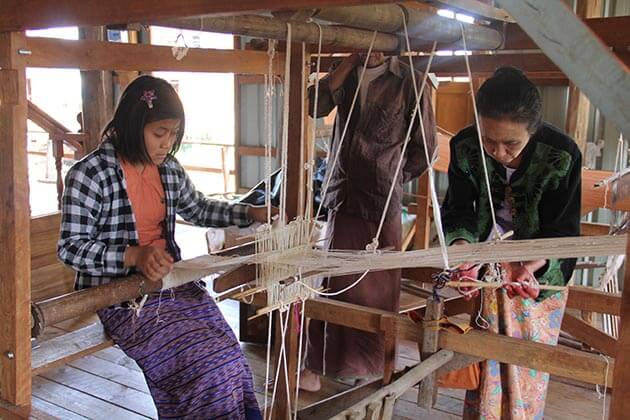 Come over Shwe Inn Thein Temple
If this is the first time you have ever been in an Inle Lake tour, Shwe Inn Thein Temple is one of the must-visit spots in your list. Well-known for its 1,000 ancient towers built with unique architecture, you might spend a day tour to visit all over small temples. The average height of the temples is about 3 meters, standing close together like serial artificial hills on the ground. The main color of those ones is gold and red brick. However, there were many accident temples destroyed over time because they built up for so long time ago. Finally, you should not miss grabbing for yourself a lot of wonderful photos right here when the sun goes down.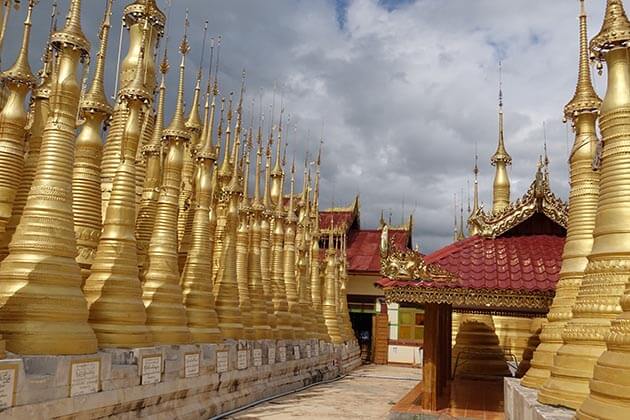 Visit Red Mountain Estate Vineyards & Winery
Along with the breathtaking experience on a boat tour around Inle Lake, an Inle Lake day tour will take you to the hidden gem high up on the Red Mountain. For many travelers, Red Mountain Winery is likely the final destination to complete their memorable Inle Lake tour. It not only attracts tourists by the wine but also the spectacular view to admire the sunset. Besides the wine, you can also taste some cheese and bread in your Inle Lake day tour upon your request. The feeling of nibbling your wine while waiting for the majestic sunset will truly blow your heart away.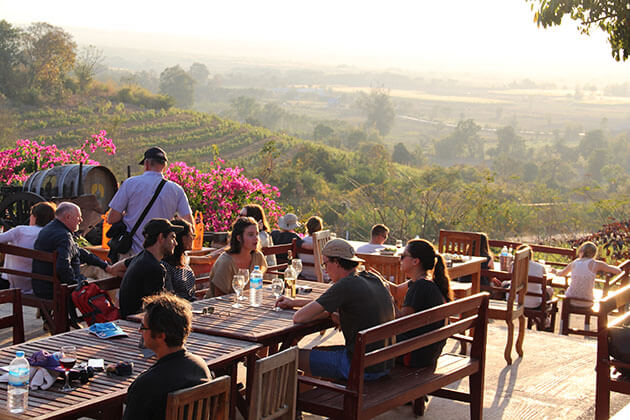 Behold the beauty of Inle Lake before Planning Inle Lake tours to Explore this Wonderful Water Land
Best Time To Visit Inle Lake
Located in the heart of Myanmar, Inle Lake weather featues the monsoon climate in Myanmar. The weather in Inle Lake is similar as other parts of the country. It is great to visit in all year round. The best time to enjoy an Inle Lake tour package is from November to February when it is less rain and the weather is cooler and more convenient to take amazing boat trip around the lake. In hot weather, the temperature can climb up to 35oC, but relatively convenient to take outdoor activities. To find out more about the best time to visit Inle Lake, keep scrolling down!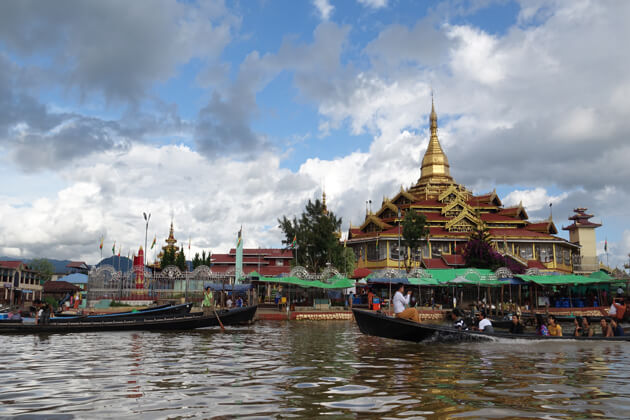 Inle Lake Tours in Cool Season | November to February
The cool (or dry) season in Inle Lake last from October to February next year. This is the most pleasant time of the year with an average temperatures of around 22 – 33oC (72-91oF). There is relatively little rain especially in January and February. Therefore, taking Inle Lake tours this time is best ever to take outdoor activities. This time, visitors to Myanmar are very crowded because of the mild climate. However, keep in mind that the weather becomes much colder in the early morning and evening. Therefore, it is necessary to bring a jacket to get warm.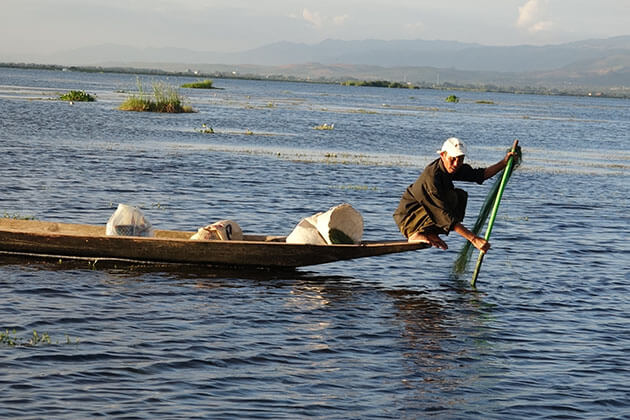 Inle Lake Tours in Hot Season | March to May
Hot season in Inle Lake lasts from March to May. The average temperature is about 24-35oC (75 – 95oF). The lake experiences strong sunlight and some rain during summer making it less visited than the cool season. Nevertheless, to be in Inle Lake means that even if in the hot season, you will still be able to experience the weather that is more comfortable than other places in Myanmar. Hence, all you need is to prepare sunscreen and hat for protection against the sunlight.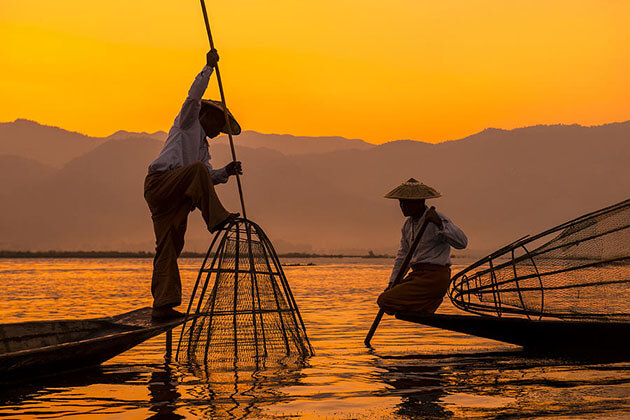 Inle Lake Tours in Rainy Season | June to October
The rainy season at Inle Lake starts from July to September. This time, it rains frequently and heavily around the lake. To many visitors, this is not a good time to take an Inle Lake tour as the weather is not suitable for outdoor activities. However, there still reasons for you to come here during the rainy season. Rainy season is the low season in Myanmar. Likewise, you can expect fewer tourists and more space to explore the area. As it rains a lot, the temperature is much cooler than summer. So, if you do not like the heat, rainy season would be a better choice.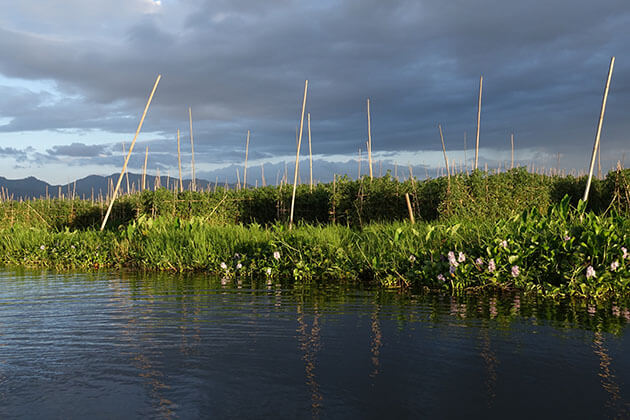 Inle Lake General Information
Location: Burma Center
Language: Burmese
Currency: Kyat Myanmar (MMK)
Time Zone: GMT +6:30
International Dialing Code: +95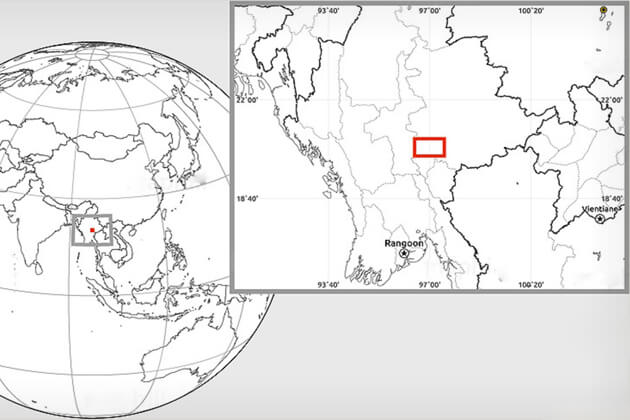 People, City & Culture of Inle Lake
People of Inle Lake
Inle Lake is home to the Inthar people – a minority of Myanmar. Inthar in Myanmar means "the people live on the lake". From thousands of years ago, Inle Lake was home to all the social activities of the Inthar people. The people here built houses and architectural works on the lake beside have lived in four cities bordering the lake, the numerous people have lived in many villages along the lake and on the lake.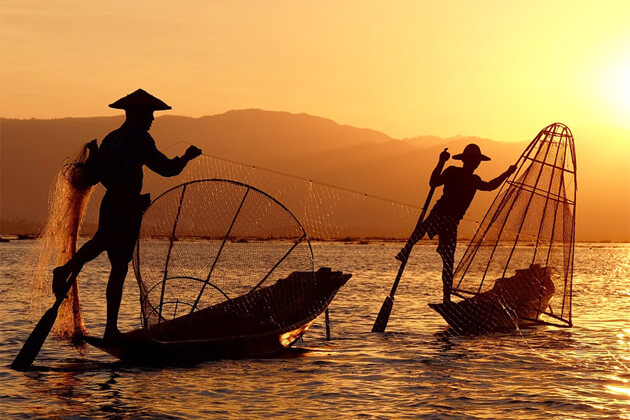 In addition, that would be a mistake when not mention to the leg-rowers of Inle Lake is famous for incredible sailing and fishing capabilities by foot, and the long-necked Kayan woman.
Inle Lake
This place is roughly 600 km from Yangon, Inle is a fresh lake located in the mountains. It is one of the two largest freshwater lakes in Myanmar with the main inhabitants living on the lake. Inle Lake has been selected by Conde Nast Traveler as one of the five new destinations in Asia that travelers should explore.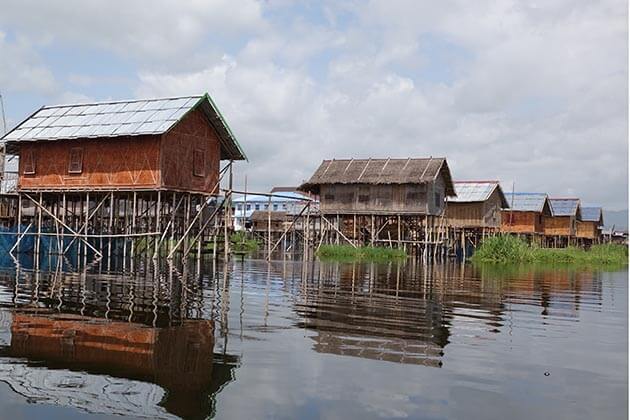 Inle Lake also means "big lake". Inle is about 889 meters above sea level, surrounded by high mountains and covers an area of 220 square kilometers. The deepest lake is about 6m. Water levels vary seasonally between the dry season and the full water season of about 1.2 m.
Culture of Inle Lake
In Inle Lake, Intha people love to plant and fish, because this is a large freshwater area. It is often said that "visit Inle without eating tomato salad is considered as never coming here". Although the inhabitants live quite sparsely, most of them live mainly around the lake with traditional villages.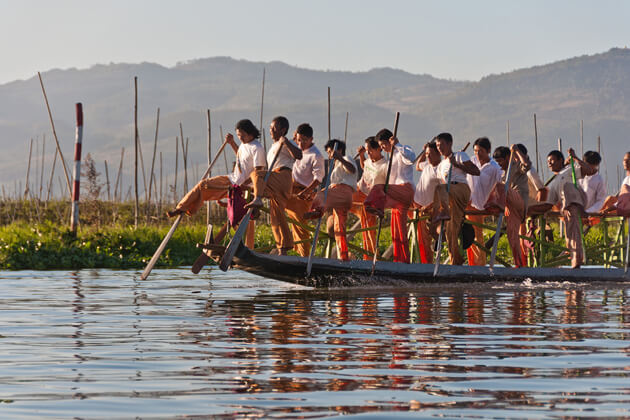 Inle Lake Travel Guides
Transportation in Inle Lake
To reach Inle Lake is effortless, you can choose the most simple and popular means such as the long-distance bus. However, you can pick up some other means to get to Inle: train, plane.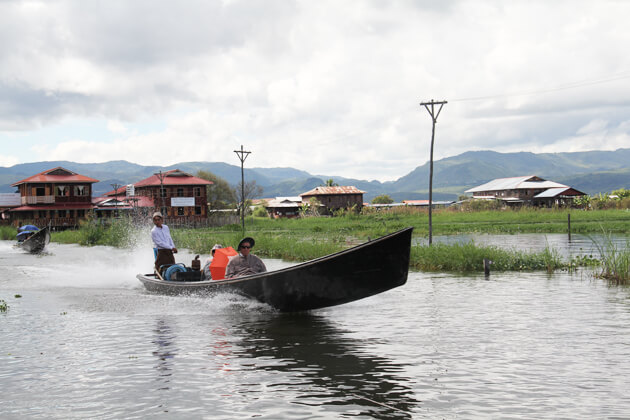 On the other hand, to explore Inle Lake, you have only one option: take a motorboat. A motorboat usually carries 4 tourists and costs about 10$ a day with life jackets and umbrellas.
Phone & Internet in Inle Lake
Although some places provide free Wi-Fi the transmission speed is sluggish and spotty. You had better buy a local sim card, it works better.