Strand Cruise Ship Myanmar Itinerary | Go Myanmar Tours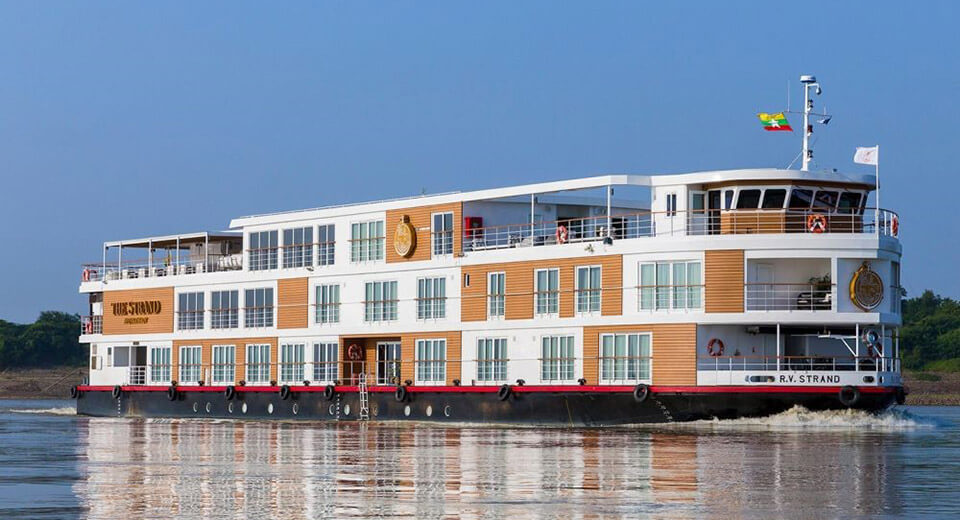 Enter the market in 2015, the Strand Cruise is the perfect cruise ship in the land of beauty and magic. At 61 meters long and with a capacity of 54 passengers, the ship takes passengers along the legendary Ayerawady River with the finest experience that a luxury cruise ship can offer.
Hopping on Myanmar river cruises with Strand Cruise, you will experience the finest journey from flawless services to modern amenities. With the unique design inspired by the extraordinary landscape of Myanmar from ancient temples to sleeping villages, the ship delivers you an authentic Burma on board.
Featured 25 cabin evokes the design of the famous Strand Hotel in Yangon and combined the latest technology with heritage, Strand Cruise Ship is the perfect choice for a lifetime adventure in Myanmar.
Together with the top-notch services, the sundeck is also a highlight. From dawn till dusk, the sundeck is the heart of the cruise. It is where to behold the ever-changing landscape while indulging in relaxing activities. There isn't more wonderful than easing tired muscles with a massage in the SPA.
Go Myanmar Tours is delighted to introduce you to Strand cruise ship itineraries as below. Pick up your favorite one or contact us to design your unique trip with Burma tours that deserves you most.