Myanmar Cycling Tours – Top Burma Cycling Holidays
Welcome to Myanmar, or Burma, the former name as you might know. Perhaps for most of you, Myanmar is still unfamiliar territory. It's amazing landscape, vivid legend, and cultural richness are things that make us itching to go there. Myanmar cycling tours give you a chance to pedal through the winding roads around the tranquil villages to explore the wonderful sites and encounter with the friendly people.
If you are a cyclist enthusiast, our Burma cycling holidays match your interest! Take this chance to cycle through the wind swaying, listen to the sound of bird-singing, and immerse yourself into the peaceful ambiance in off the beaten track destinations.
Let us bring you to the best biking routes in Burma to experience it in the most authentic way. Traveling on your bike, you can completely merge into the countless temples, breathtaking rice paddies, spot houses, the winding trails, and many more.
Gain interesting experiences in the best cycling routes for Myanmar cycling trips:
Bagan – the land of countless ancient temples & stupas
Inle Lake – cycle through winding trail & tribe villages
Hpa An – well-known for the mesmerizing natural beauty with dramatic mountain backdrop
Pyin Oo Lwin – a breathtaking hill town famous for the colonial architecture
Mandalay – discover the monks' education and the world's longest teak bridge
With our ready-made Myanmar cycling tours, it is too far easy for you to take an adventure to the mysterious country of Myanmar to indulge your soul in the serene landscape. If you do not find any appropriate Burma cycling trips below, feel free to contact us then we will together to tailor-make the finest Myanmar tour packages for you to join in.
Top Myanmar Cycling Tour Packages
---
Top 5 Best Myanmar Cycling Routes
I still remember vividly about my first day dropping myself on a bike and exploring Myanmar, my beloved country from the popular attractions to its remotest ones. And it was truly a big motivation for me to become a travel specialist like I am now. Honestly, not all the routes are pleasant, both you and I know clearly that our biking adventure can never be easy like when we travel on a car. It's a journey for intrepid people as you will sweat a lot! But why Myanmar cycling tours are still an experience that you should try at least once in your lifetime? That's because the bike will take you to any paths of Myanmar, the country which has been isolated to the outside world for decades.  Myanmar is where you can expect to discover more than you ever think of! From seeing the untouched landscape, listen to the wind swaying, to go deep to the tranquil village when you will have a chance to meet and make friend with the friendly locals, and many more. That's the reason why I recommend you, my dear customers, to have such a meaningful moment like I did. Please spend your time to get a glimpse at top 5 of the best cycling routes in Myanmar that you should put into your itinerary to have a memorable Myanmar cycling tour.
Bagan
While there are several ways such as horse carriage, e-bike, and taxi, biking around Bagan is one of the most awesome ways to discover its amazing temples and countless stupas. Cycling around Bagan leads you through sandy road and offers you interesting photo stops. With a small bicycle, you can enter any off the tourist trails you like, with your guide. Myanmar cycling tours around Bagan provides you a window to the whole area that no car can help you to achieve that. We ensure that would bring you a different feeling and make you feel like you are closer to the local area. Don't you worry about the heat of the late morning, there is always a weighted cushion put on your seat to keep it cool.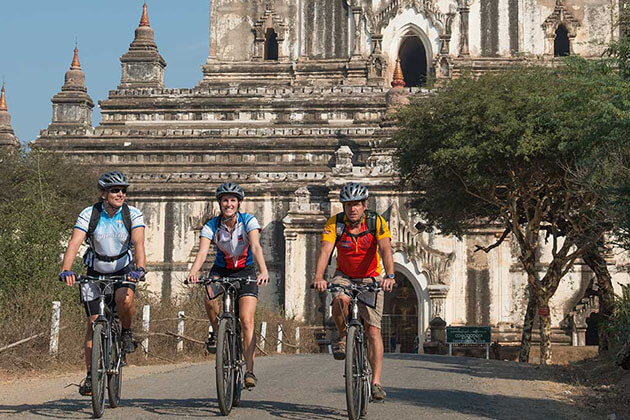 Inle Lake
If a long tail boat trip takes you around the lake to explore the floating houses, gardens, and monasteries perched above the water, then a cycling tour will fulfill your Inle Lake trip as it gives you a chance to cycle around the lakeshore to visit the rural houses and see their real way of life. In comparison to other destinations in the countries, the weather in Inle Lake is cool and pleasant in all year round thus make your Myanmar biking trip even greater. In the morning, you can head to the tribal markets to soak up the busy atmosphere, mingle among local products, and see the hill tribes who dress in colorful attires. After about several hours sightseeing, enjoy the hot spring will power up your energy for an afternoon biking trip to the Red Mountain Estate. At an altitude of 1000 meters high above sea level, it is a perfect place for you to remark your Burma cycling holiday on the top of the mountain. Sit back and keep your eyes to the majestic sunset while tasting the finest wine in the restaurant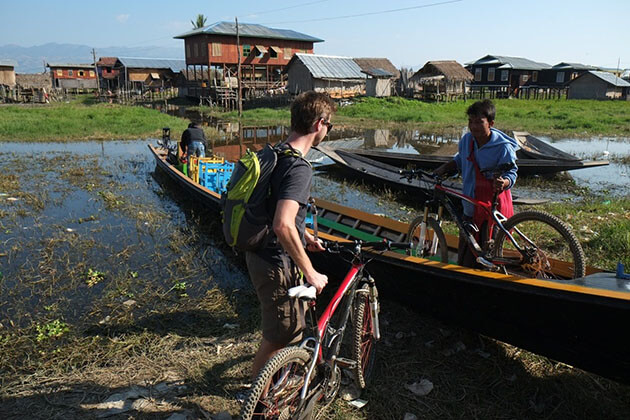 Hpa An
Stay in the south of Myanmar which is about nearly 300 km toward the east of Yangon, Hpa An is one of the best places in Myanmar to take Myanmar cycling tours. The small town of Hpa An allures the heart of travelers with its picturesque rice paddies, magnificent limestone cave, and breathtaking sceneries. Be amazed by the bustling morning market, be astonished by the incredibly limestone cave where is fill out with countless bats. Hpa An is the right place for you to stay away from the crown of Yangon and slow your mind in each paved road surrounded by the mountain scenery.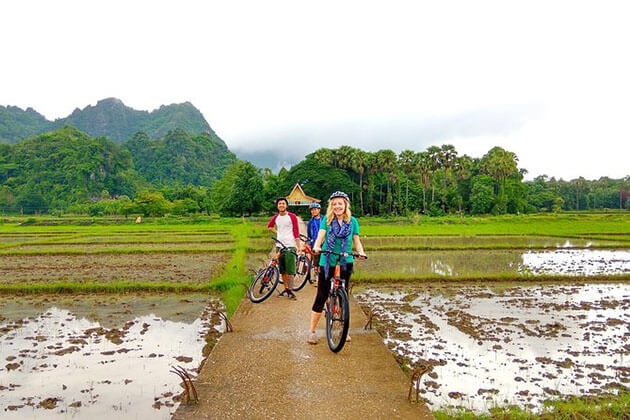 Pyin Oo Lwin
The hill station of Pyin Oo Lwin is the most beautiful town in Myanmar. Unlike other parts of the country where experience the heat constantly, Pyin Oo Lwin weather is perfectly perfect to take Myanmar cycling tours. the weather in Pyin Oo Lwin is cool in all year round making it one of the best places to escape from the heat of Burma. Around the town are colonial style houses, pine trees, eucalyptus, and silver-oak. Pyin Oo Lwin market, Pwe Kauk Falls, Dat Daw Chaing Waterfall, Kandawgyi National Botanical Garden, etc are the best attractions to discover in your biking tour.
Mandalay
Last but not least, the cultural city of Myanmar is no doubt one of the best biking routes in the country to explore the white-washed temples, learn about the monk's life, and experience the local life in traditional workshops. Your Burma cycling holidays will give you a window to the spire-fringed skylines, crumbling ruins, monks on teak bridges as well as one of the best places to enjoy the sunset.