Tour Highlights:
Witness the fascinating colonial architecture in Yangon
Get a horse carriage & explore the great treasure of Bagan
Take an amazing bike tour around the cultural city of Mandalay
Enjoy a stunning boat trip around Inle Lake, discover the life of Intha – native people who live hundred years on the lake
Experience the authentic local life of Burmese people in the countryside of Hsipaw
Visit the outstanding pagodas of Myanmar including Shwedagon Pagoda, Mahamuni Pagoda, Kuthodaw Pagoda, etc.
Experience this 21-day Myanmar Tour With:

Guides: hand-picked best tour guides with deep knowledge, humor, profession (English speaking guides, other languages upon request)
Drivers: polite,  friendly, responsible, reliable with many years of driving experience
 Vehicles: comfortable, spacious, air-conditioned & clean
Meals: meals are arranged at local restaurants so you can taste authentic Burmese cuisine
Accommodation: well-chosen hotels are listed below. Besides, various types of accommodation are available, from 5-star hotels, 4-star hotels in the best location, good value 3-star hotels, to boutique hotels reflect the style of the region
Brief Itinerary:
Day 1: Yangon Arrival – City Tour (-)
Day 2: Yangon – Hpa An (B)
Day 3: Hpa An (B)
Day 4: Hpa An – Yangon (B)
Day 5: Yangon Day Bus to Kalaw (B) (08:00 17:30)
Day 6: Kalaw City Tour (B)
Day 7: Kalaw Trekking (B, L, D)
Day 8: Kalaw Trekking (B, L,  D)
Day 9: Kalaw – Inle Lake (B, L, -)
Day 10: Inle Lake Sightseeing (B)
Day 11: Inle Lake – Fly to Bagan – Day at Leisure (B)
Day 12: Bagan Sightseeing (by Bike or Horse Cart) (B)
Day 13: Bagan – Pakokku – Mandalay (B)
Day 14: Mandalay – Pyin Oo Lwin (B)
Day 15: Pyin Oo Lwin – Hsipaw by Train (B) (8:00 – 15:00)
Day 16: Hsipaw Sightseeing (B)
Day 17: Hsipaw Boat Trip & Village Sightseeing (B, L)
Day 18: Hsipaw – Mandalay by Bus (B) 5:30 – 12:00)
Day 19: Mandalay – Sightseeing by Bike (B) (9:00 am)
Day 20: Mandalay Day at Leisure (B) (NO guide and NO car)
Day 21: Mandalay – Departure (B)
Please note that every element of the tour below can be tailored. Tell us your specific interest and we will be happy to make adjustments for you. This inquiry is totally free and you are under no obligation! 
Day 1: Yangon Arrival – Yangon City Tour
Mingalaba! Welcome to Myanmar!
Today, welcomed by our tour guide at the airport, then picked up by the driver to transfer to the hotel for check-in. Have a short rest and then start your amazing Yangon city tour as you proceed from the hotel through the historical building of the city. You will have a chance to marvel at the fascinating architecture that cannot be found anywhere in Asia.
Passing by Mahabandula Park, stop at the Sule Pagoda for a visit to the oldest pagoda in the country dating back to a thousand years ago. Afterward, head to China town, one of the most vibrant streets in Yangon where you will see many street food vendors. Stroll along the street to have an interesting talk with the local before visiting Synagogue.
Next, drive to Karaweik Hall on the beautiful Kandawgyi Lake for taking some photos at one of the most impressive landmarks in Yangon. Complete your first amazing day in Shwedagon Pagoda – the most glorious Buddhist religious site in Yangon that attracts a huge number of visitor each year for its architecture & devotion to Buddhism.
Overnight in Yangon.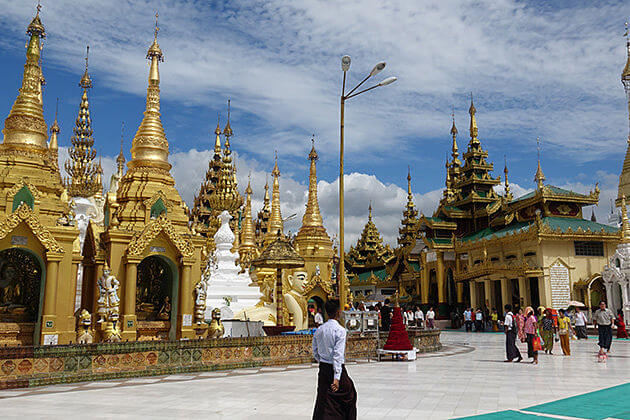 Day 2: Yangon – Hpa An (B)
Take a scenic drive this morning to Hpa An – the beautiful city where is home to the Kayin people. Lies on the bank of Thanlwin River, Hpa An is an energetic, friendly town that possesses the heart-touching attractions around the countryside. Along the way to Hpa An, approach the authentic life and culture of the local people in tranquil forest and farm.
A stop at Bayin Nyi Cave and hot spring will also include before upon Hpa An. First transfer to the hotel for check in and then ready for a trip to Shwe Yin Hmayaw Pagoda, Kyauk Kalap Monastery where the column or rock standing sheer out of the lake making this monastery become one of the most favorite photo spots in Hpa An.
Overnight in Hpa An.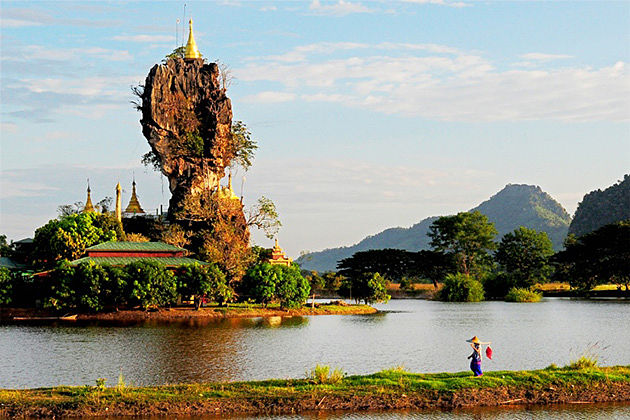 Day 3: Hpa An (B)
Today is an amazing day let you explore other attractions of Hpa An. Get up early this morning, proceed to Lumbini Garden & Mount Zwekabin to admire the tallest of a chain of limestone mountains with 2372 feet high that is crowned by a stupa. The legend said that this place enshrines a hair of the Buddha. Manage to come here before 11 am to witness the feeding of the mountain's monkeys.
Next, head to Kawgne Cave to witness the hidden gallery of the 7th-century artwork. Entering the cave, expect to be overwhelmed by thousands of Buddha images and carving on the wall. There is a headless carving of an elegant torso inside the cave that is believed to be the queen who donated some images to the pagoda. From here proceed to Saddar Cave, a breathtaking huge cave to visit a pagoda inside that contains many Buddha images. Before returning to the hotel, head to another famous cave in Kayin State for short sightseeing.
Overnight in Hpa An.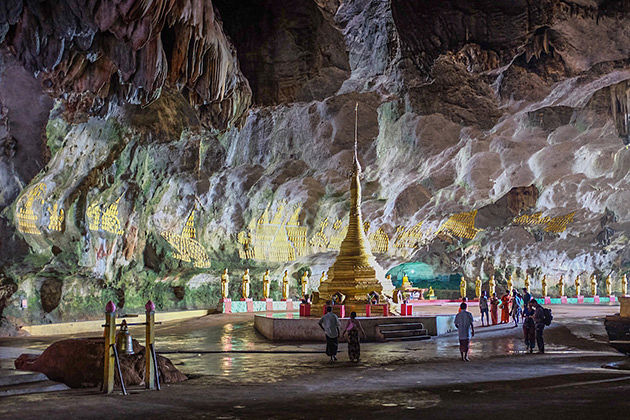 Day 4: Hpa An –Yangon (B)
Say goodbye to Hpa An this morning to return to Yangon. Then your time is at leisure at the hotel.
Day 5: Yangon Day Bus to Kalaw (B) (08:00 17:30)
This morning is free until the departure comes. Transfer to the bus station for a drive to Kalaw. Move to the hotel for check-in as you reach the town.
Day 6: Kalaw Tour (B)
Today is a full day to take a Kalaw tour. This morning, proceed to Pindaya cave where is famous for its magnificent limestone caves and thousands of golden images of Buddha. Along the way, you will have a chance to visit an ancient village to have an interesting meet with friendly locals and learn more about their traditional weaving, bamboo mats, and broom making.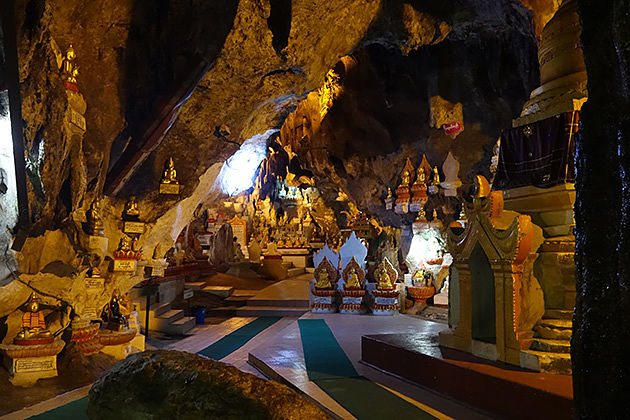 After visiting the cave, take a trip toward the west of Pindaya to visit other impressive caves. From the base of the hill, keep moving to the entrance and you will discover countless Buddha effigies. Take time to stroll around before moving back down the hill to visit a local craft shop where people make paper and umbrella from mulberry trees. Spend time to chat with them and learn more about their work before transfer back to the hotel in Kalaw.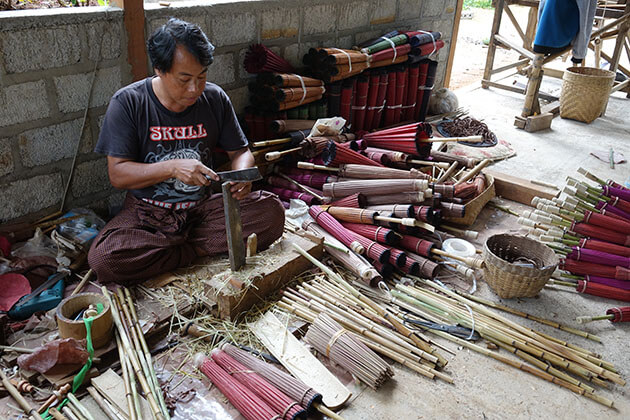 Day 7: Kalaw Trekking (B, L, D)
Day 7 delivers you an amazing experience as you spend the first day of 3 days to trek from Kalaw to Inle Lake. Get up early this morning, your trekking route begins after breakfast at the hotel. Passing through the breathtaking scenery of Palaung, Danu, Pao, and Taung Yoe village. Your guide will teach you about the interesting information about the village and show you people's traditional way of life.
Lunch will be served in Hinkhagon a Palaung village. After that, continue your trekking route through the plantation of tea leaves, coffee, cordial leaves, Mustard, Ginger, Malt Rice, etc. About late afternoon you will reach Shabin, a typical Danu village with the 12th-century old wooden monastery.
Overnight in the village.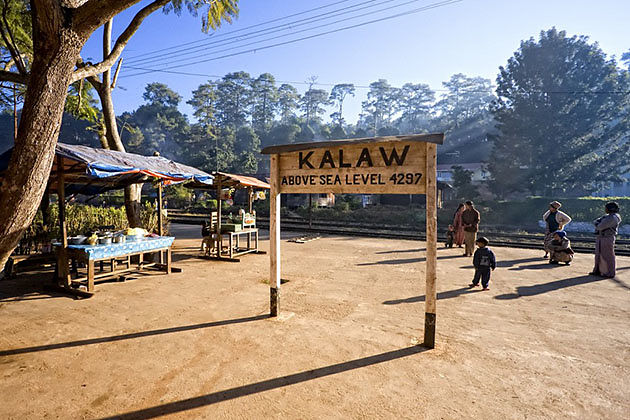 Day 8: Kalaw Trekking (B, L, D)
Today, continue your amazing journey with 7-hour trekking. Passing through the lush banana, orange, jack fruit and avocado gardens in the region. Along the route, you will have an opportunity to see the beautiful crabapple trees together with some shady Banyan trees. Enjoy a cozy lunch at Pawke a Pao village before continue taking your trekking tour to Teetain, a typical Pao village. Along the way, you will catch the image of the plantation especially ginger.
Enjoy dinner and overnight in the village.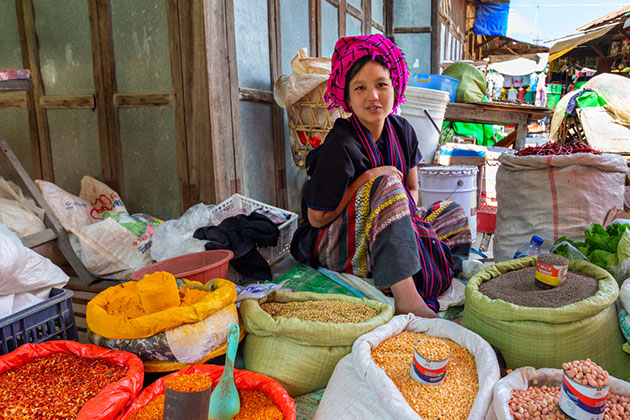 Day 9: Kalaw – Inle Lake Trekking (B, L,-)
Start your exciting morning of day 9 with 5 hours trekking to Inle Lake. Passing by a beautiful bamboo forest where you can listen to the sound of swaying wind. Continue trekking, you will reach the Thandaung village where will captivate your soul with the peaceful aura and breathtaking scenery. Enjoy a warm lunch in the village and have a short break. In the afternoon, embark on a boat trip to the hotel in Inle Lake. Upon arrival, check-in and free at the rest of the day.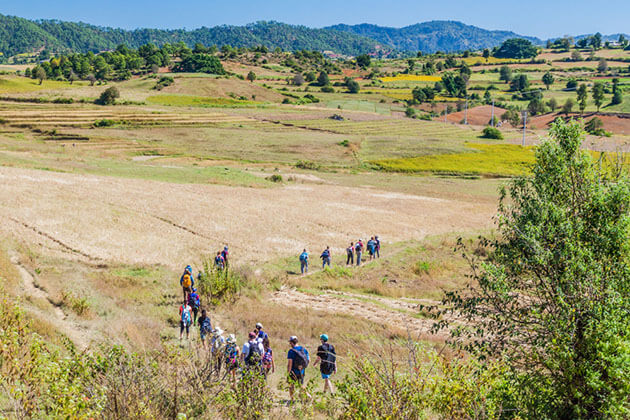 Day 10: Inle Lake Sightseeing (B)
You are staying in the second largest freshwater lake in Myanmar! Today, enjoy a stunning boat trip around Inle Lake and pass through the exotic floating houses, gardens, and monasteries. Stop and explore the lotus silk weaving in Inpawkon Village before visiting the majestic Phaung Daw Oo Pagoda. Along your way, you will catch the most iconic image of Inle Lake: the Intha fishermen who are well-known for the leg-rowing methods.
Your boat trip then takes you to the ancient village of Indein where you will have a chance to walk among thousands of ancient stupas in different sizes and colors. Some of them are said to be built from the 14th to 18th century. Take time to walk along the colonnade and gaze out at some souvenir shops before returning to the lake.
Overnight in Inle Lake.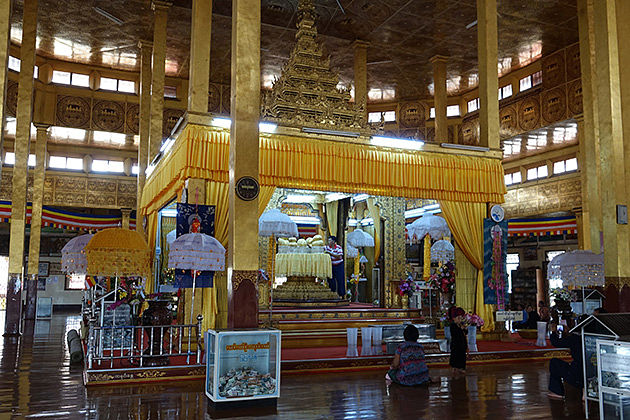 Day 11: Inle Lake – Fly to Bagan – Day at Leisure (B)
After breakfast, say goodbye to Inle Lake to board a flight to Bagan. Upon arrival, transfer to the hotel for check-in.
Overnight at the hotel in Bagan.
Day 12: Bagan Sightseeing by Bike & Horse Cart Tour (B)
Get up early this morning, the driver will come to pick you up to transfer to a temple in the region to enjoy the sunrise. Bagan sunrise is considered one of the best sunrises in the world that you should admire at least once in your lifetime. Next, there are two options for you today:
Option 1: Bagan sightseeing by bike
If you hope to explore the alluring beauty of Bagan your way, traveling on a bike is the best choice. Your biking tour will cover the most popular temples & pagodas in Bagan including Shwezigon, Anananda, Dhammayan Gyi Pagoda, etc. You can stop at any spots you want for sightseeing and taking photos.
Option 2: Bagan sightseeing on an exotic horse carriage
If you love to see Bagan from a different perspective, you can choose to get on a horse cart ride and let it take you through the dusty path and charming temples. From the horse carriage, you are able to enjoy the tranquil ambiance of the rural area your way.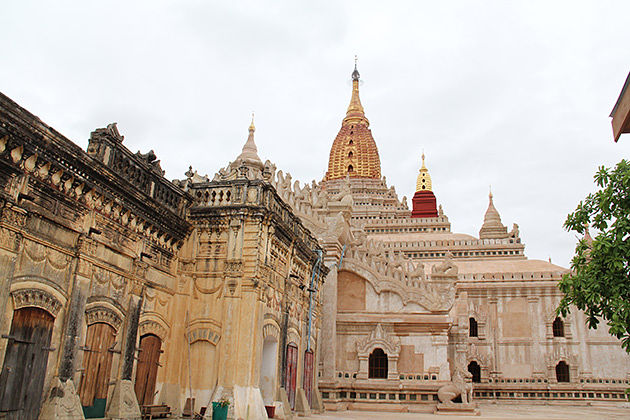 Day 13: Bagan – Pakoukku – Mandalay (B)
This early morning, transfer to the jetty to embark on a boat to reach Pakoukku. Your driver will wait for you at Pakoukku jetty as you arrive. After that, quickly moving to the hotel to check in and have a rest.
Overnight in Mandalay
Day 14: Mandalay – Pyin Oo Lwin (B)
Your exciting morning of day 14 starts with a scenic drive to Pyin Oo Lwin for a full day sightseeing. Lies at the attitude of 1000 meters above sea-level, Pyin Oo Lwin enchants the heart of visitors with the pleasant weather in all year round. The flower city has renown for its fascinating colonial buildings, eucalyptus, pine forest & silver-oak.
As you reach Pyin Oo Lwin, head to the National Landmark Garden to visit the ancient cultural edifices, caves, pagodas and temples, and the surrounding natural scenery.
Next, move toward the north to visit the Chinese Vegetarian Temple to observe the traditional Chinese architecture with ornate stucco dragons and rock gardens. Later, fulfill your first-day sightseeing in Pyin Oo Lwin with a visit to the Pwe Kauk Waterfall – a breathtaking destination where you can soak u the cool water and enjoy the cool fresh air and gaze out at the small stupa on the top of the waterfall.
Overnight in Pyin Oo Lwin.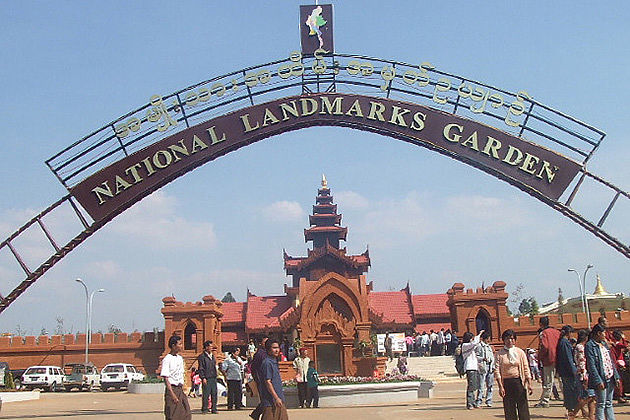 Day 15: Pyin Oo Lwin – Hsipaw by Train (B) (8 am – 15 pm)
Following your breakfast this morning by a stunning trip to Hsipaw by train. Located high on the hill of Shan State, the charming and laid-back Hsipaw draw people's attention by the tranquil ambiance, traditional buildings, and amazing trekking route. Upon arrival at Hsipaw, transfer to the hotel for check-in and the rest of the day is at leisure let you free to enjoy the peaceful aura of the region.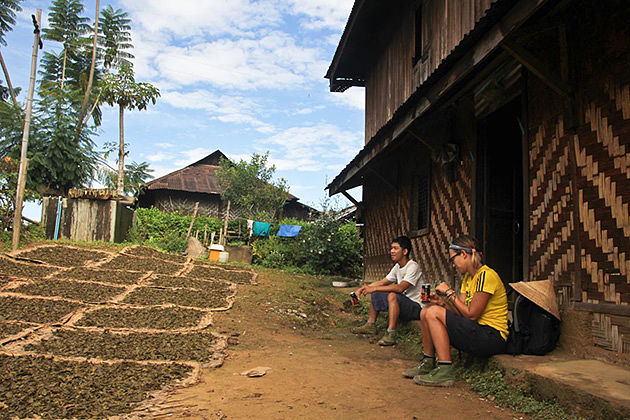 Day 16: Hsipaw Sightseeing (B)
Highlight this morning with a visit to the local market to get a glimpse at the daily life of the local and then drive to Shan shoulder bag factory.
Overnight in Hsipaw.
Day 17: Hsipaw Boat Trip & Village Sightseeing (B, L) ( No car, just boat trekking)
Power up your morning at Hsipaw with a boat trip to ride upstream for an exploration of the valley, mountain, and fruit plantation along the river. Your breathtaking boat trip will take you to the old Tai (Shan) Monastery after 45 minutes to visit a monastery which is 150 years old stay alone in the forest. Spend time to discover the monastery before return to your boat trip to continue riding up to the river confluence. Stop at a Shan village to gaze out at the typical houses that surrounded with a small verdant garden before going back to your hotel
Overnight in Hsipaw.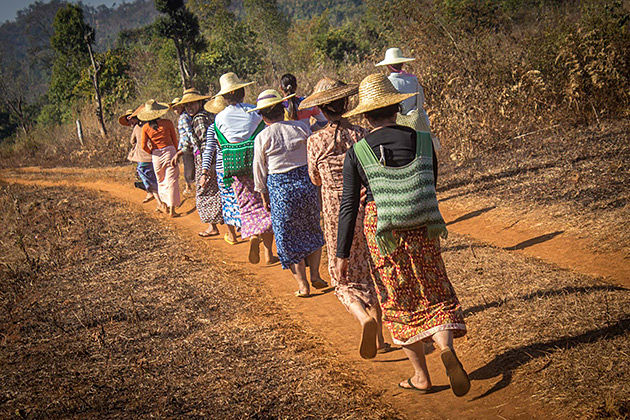 Day 18: Hsipaw – Mandalay by Bus (B) 
Say goodbye to Hsipaw this morning to take a drive to Mandalay – the city of cultural heritage where ensure to bring you with many amazing experiences. Upon arrival in Mandalay, transfer to the hotel for check-in and enjoy your leisure time at the rest of the day.
Day 19: Mandalay – Sightseeing by Bike (B)
Begin your fantastic morning with a visit to the sacred Mahamuni Pagoda where enshrines an impressive golden Buddha image that said to be the most highly revered Buddha image in the country. Afterward, learn about the production of gold leaf, wood carving, and marble carving from the local artisan at a local workshop.
Highlight your morning sightseeing with a visit to the Golden Palace Monastery (also known as the Shwesandaw Monastery where is famous for its intricated design and carving. Continue your trip to seek the largest Buddhist book in the world that carved on 729 marble slabs at Kuthodaw Pagoda. The ancient Burmese script on each stone will dare any foreigners to read!
Complete your biking tour around Mandalay with the final visit to U Bein Bridge – a unique site in Burma and also the longest teak bridge in the world.
Overnight in Mandalay.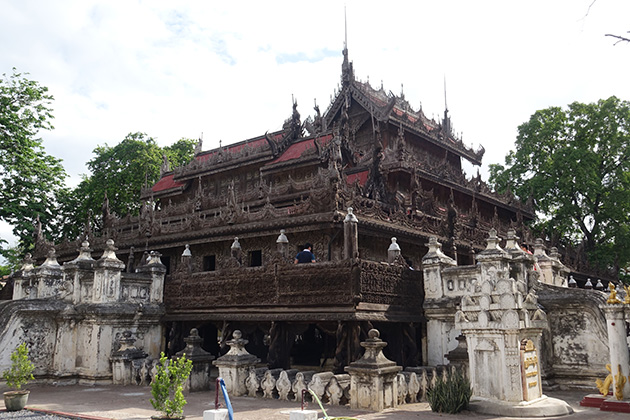 Day 20: Mandalay Day at Leisure (B) (No car, no guide)
Today, enjoy the free time on your own.
Day 21: Mandalay – Departure (B)
Enjoy your breakfast at the hotel this morning and wait until the driver comes to pick you up to transfer to the airport for a departure flight. Trip ends. We hope that you love this 21 day Myanmar vacation. Thank you for traveling with us! 
What's Included?
18 Nights' accommodation with breakfast
2-night basic accommodation at Village trekking house
Entrance Fees in all places mentioned above
Mountain bike rental fees in Bagan and Mandalay
2 VIP Bus tickets (Yangon-Kalaw and Hispaw -Mandalay)
1 train tickets from Pyin Oo Lwin to Hsibaw
All transfer and sightseeing by private air-conditioned car
1 Domestic air ticket (Inle – Bagan)
Private boat ride in Inle Lake
Experienced English speaking local tour guide in each city (except day at leisure)
Government tax & Service charges
What's Excluded?
Meals & Drinks (Lunch & Dinner)
10 US$ for international airport tax
International Flight tickets
Other personal expenses
Myanmar visa. You can apply online via this website https://evisa.moip.gov.mm/
Notes:
Please be aware that hotels and all other logistics, services and days of travel are subject to availability. Where flights are canceled or delayed Go Myanmar Tours will endeavor to secure alternative arrangements of similar value as noted in our booking conditions.
The traveling times mentioned within this dossier are approximations only. These times will vary according to weather, road, traffic or any other prevailing conditions.
This itinerary and supplementary information has been compiled in good faith and was accurate at the time of writing. However, it DOES NOT form part of a contract between the client and Go Myanmar Tours.
Recommended Hotel List:
| | |
| --- | --- |
| Location | Hotels & Ratings (3* Standard) |
| Yangon | Panorama (Superior) or Vintage Luxury Yacht (Deluxe) or Similar |
| Pyin Oo Lwin | Royal Parkview Hotel (Junior Suite) or Similar |
| Bagan | Bagan Emerald (Superior Bungalow Type) or Temple View Hotel (City View Deluxe) or Similar |
| Mandalay | (Hotel Magic Mandalay (Superior) or Yadanarbon Hotel (Mandalay) (Superior) or similar |
| Kalaw | Kalaw Heritage Hotel (Classic mountain view) or Similar |
| Inle Lake | Manor Hotel (Deluxe) or Mount Inle Hotel (Deluxe) or Similar |
| Hpa An | Zwekabin Natural Hotel (Superior) or Similar |
| Hsipaw | Mr. Charles Hotel (Superior) or Similar |