Bagan Tours & Day Trips from Bagan | Top 10+ Bagan Tour Packages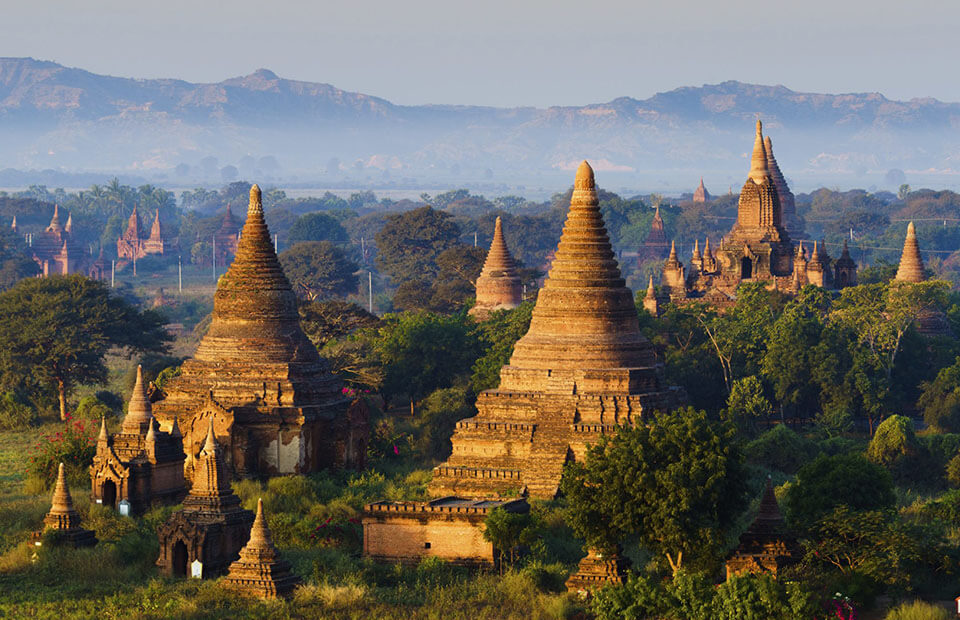 Bagan tours & day trips take you to the ancient capital of impressive temples. With over 3000 shrines dating back to thousand years ago, this is one of the most wonderful destinations in the world where dreamers can witness the magic coming to life. It's where to indulge in the laid-back vibe, witness the man-made masterpiece, and explore the great art & architectural wonders.
Known as the second UNESCO World Heritage site in Myanmar, a Bagan tour promises to bring you wonderful experiences:
A breathtaking hot-air balloon ride floating over Bagan which gives an incredible view of the magnificent pagodas
Get on an exotic horse cart and pass through the winding road dotted with countless temples and stupas
Behold the fascinating of the colonial era, see the real life of the local people along the Irrawaddy River – the lifeblood of Myanmar
Variety of shop stalls selling traditional handicrafts, lacquerware, Tanaka, and clothing at reasonable prices
Right now, let's take a step back in time to capture the magical beauty of the sprawling city before it becomes overcrowded. At Go Myanmar Tours, there is a boutique of Bagan tour packages for you to choose from. Each with its own characteristic that ensures to carter every person's demand.
All of our travel experts are locals, so we know exactly where to capture the best sunrise and sunset and where to find real traditional local families who have lived in the extraordinary landscape of Bagan for generations. Contact us now and we will tailor your own Bagan itinerary and Burma tours.
---
Best Places to Visit in Bagan
As the recorded document, there are 4446 Buddhist temples, pagodas, and monasteries in Bagan existed from the 11th to 13th century. However, many historical sites in Bagan have been badly damaged by climate through time. Nowadays, 3822 maintaining pagodas and ruins offer us one of the world's richest archaeological sites to visit in Bagan tour packages. All visitors go to Bagan wanting to see the time-honored works here. Each of the sanctuaries in Bagan has its own mark, so it is not fair to say which the temple or pagoda is the best to visit. In a 
Bagan tour, 
visitors can enjoy various activities and a collection of worth visiting Bagan attractions:
Shwesandaw Pagoda - A Historic Site with Panoramic View
Shwesandaw Pagoda is the most highlight place in Bagan to watch sunrise and sunset from the top. The pagoda contains a series of five terraces, 4 sides, topped with a cylindrical stupa. However, each side has high steep stairs so it is very convenient for tourists in Bagan day trips enjoying the scenery.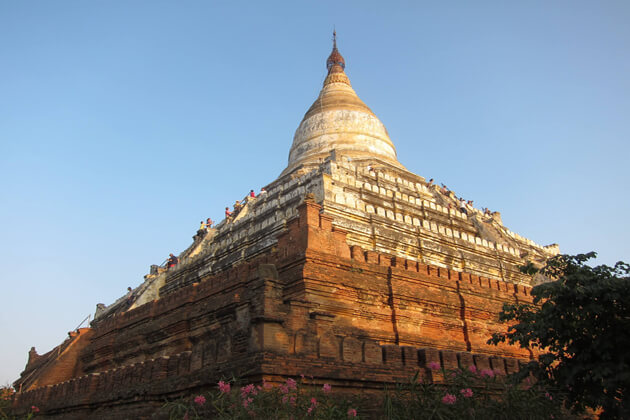 Ananda Temple - Elegant 12th Century Temple
No Bagan tour completed without visiting Ananda Temple.  Not just having been existed in a long historical process, the site is also the most important temple in Bagan. To date, it is well preserved by being repainted frequently and is the most intact temple today. If you have been on a Bagan day trip for the first time, you should never miss Ananda Temple to see the unique architecture of Bagan. It symbolizes the limitless wisdom of Buddha. Probably this is why its population has such a brilliant beauty that goes away from all the visitors who have been attracted by the temple.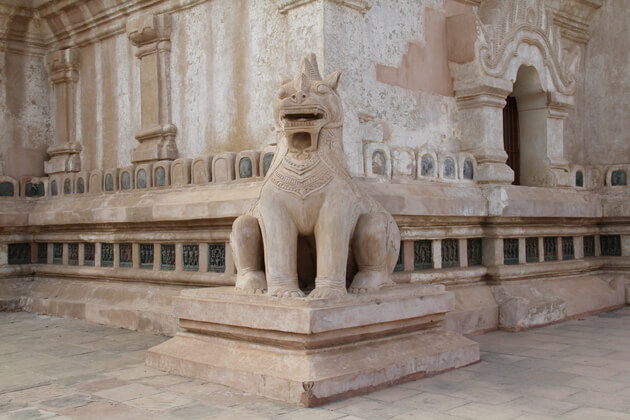 Dhammayangyi Temple - A Massive Pyramid Shaped Temple
Well known as the widest temple in Bagan and built in a plan similar to that of Ananda Temple. Dhammayangyi is one of the main attractions of Bagan. The temple took 6 million bricks to build. It has a very different architecture than other works in this area that you almost have to witness once in your Bagan tour package. It doesn't have a pointed spire in the middle hanging a wind chime as usual that it looks like a pyramid. The temple was built under the reign of King Narathu for three years. Then was left unfinished when the king was murdered so local residents often call this a "ghost temple". If you are adventurous, don't miss this pagoda in your Bagan day tour to witness the exotic images.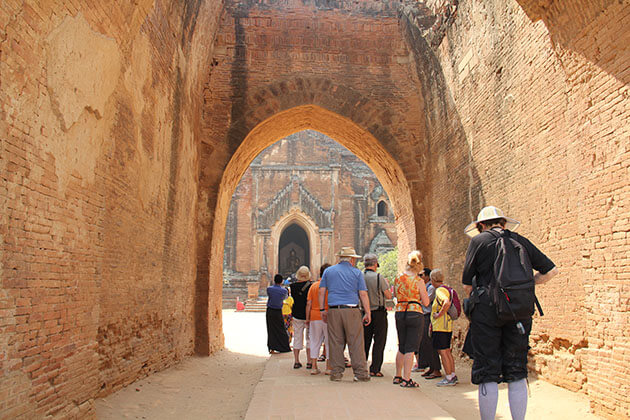 Sulamani Temple - Beautiful Multi-Storey Structure
Sulamani Temple is another spot that you should not miss in Bagan day trips. In addition to Sulamani, it also popular as "Precious Gem". It is well-known as Bagan's "precious pearl in the crown". This one, built around the 12th century, is famous as a work, complete with elaborate bricks with delicate carvings. Nowadays, Sulamani Temple is one of the most numerous surviving frescoes on the walls. Along with the historical journey, it has been damaged and restored many times. Through the renovation, the temple does not retain the sharp architectural lines but this is still a "hot" tourist attraction to visit in Bagan tours.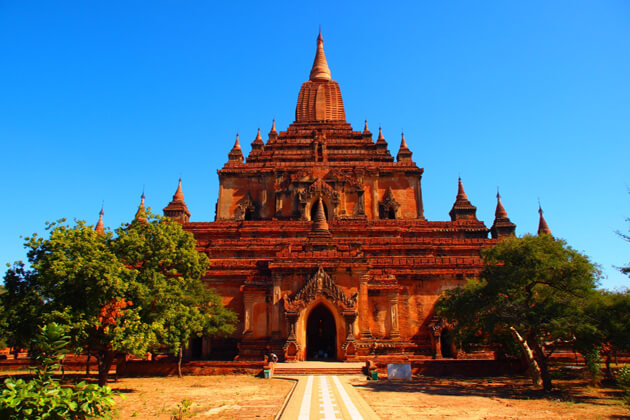 Shwezigon Pagoda - Bagan Landmark with a Golden Stupa
Among thousands of sacred ancient pagodas in Bagan, Myanmar, Shwezigon – a renowned pagoda that is most attracted to tourists while traveling to Bagan. The temple reflects the ancient religious architecture and sanctuary of Myanmar. Obviously, your Bagan day tour will not miss an opportunity to transfer you to this impressive pagoda. Built-in the 11th century, this is a model pagoda for temples built later in Myanmar. This pagoda, a Buddhist religious place, is believed to enshrine the forehead and collarbone of Gautama Buddha. For outstanding architecture, luxury and splendor, many tourists comment that Shwezigon is similar to the famous Shwedagon Pagoda in Yangon. Therefore, the charm of the pagoda will definitely captivate your soul.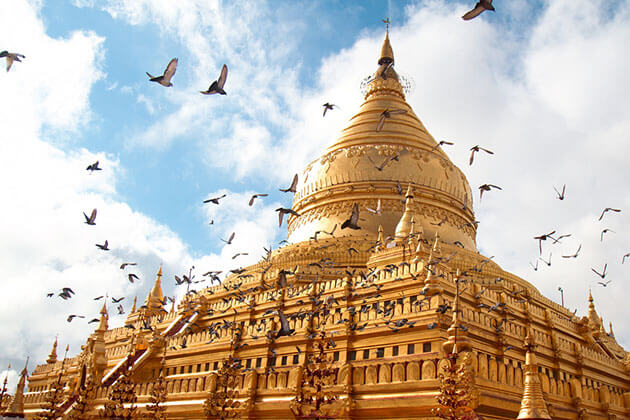 Things To Do & See in Bagan Tours
Visiting the ancient temples, cycling through the winding roads, or marveling at the majestic sunset are best ways to explore Bagan. Below is or travel guide of the best things to do and see in Bagan tours. Let take a look and ready to plan for your 
best Myanmar tours
.
Visit the Temples of Bagan
Even if you have never been in Bagan, you may see many photos of attractive Bagan temples on TV or in magazines. And even if you have shaped all the attractions of Bagan in your mind, you still have to witness it at least once in your life. As soon as you take a Bagan tour package, visit the old pagodas and temples is the first thing to experience. Some main temples visitors can visit in a Bagan day tour includes Ananda Phaya Temple, the best preserved and most intact; Dhammayan Gyi, one of the largest temples in the area and has the pyramid architecture. Besides, Shwesandaw gives you the best place to watch the sunset and sunrise in Bagan. Besides, there are many other temples are waiting for visitors to explore.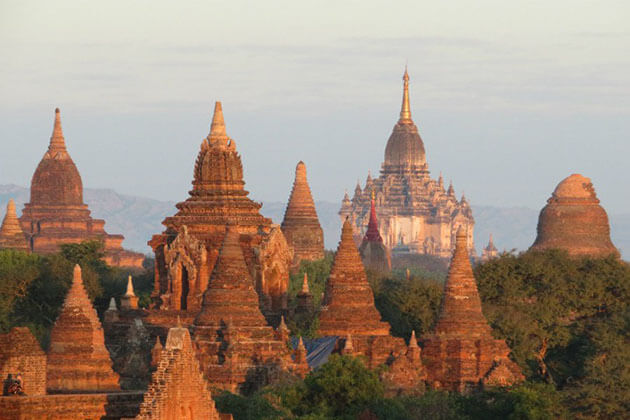 Gain Insight into the Local Life at a Lacquerware Workshop
If you want to see Bagan beyond the surface, we highlight recommend you to visit a local lacquerware workshop in your Bagan tour. It is where you will have a first-hand experience to witness the artisans creating the finest lacquerware items from wood and bamboo. All of the artisans are trained for a long time so that now can design the items without the need of any instruction. What' more, they will introduce you step by step of the procedure, so you can understand how hard it is and how clever they are.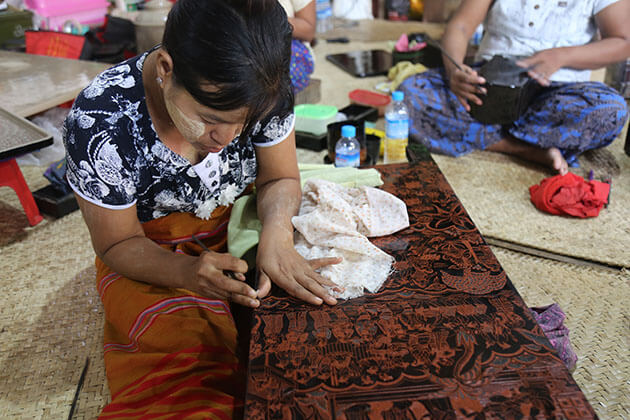 Take a Hot Air Balloon Trip
The former Bagan city attracts visitors by the beauty of hundreds of old temples. Nevertheless, the best way to see and feel the beauty of this land is to use a balloon. Take a hot air balloon ride in Bagan tour package to float over thousands of pagodas in the region is a fantastic experience. You will be overwhelmed by thousands of temples here in the most comprehensive way. This will be the best experience of visitors to Myanmar.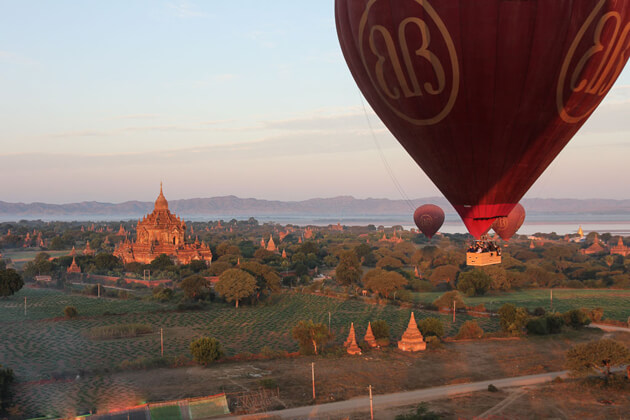 Travel Bagan by Local Transportations
The use of local transportation is one of the awesome things tourists should do in Bagan tours, in which horse carriages are the most popular transportation. Horse carriage not too fast, just slow enough so that visitors can enjoy the peaceful scenery here. Take time to indulge in a peaceful space, behold the amazing landscape and chat with local people.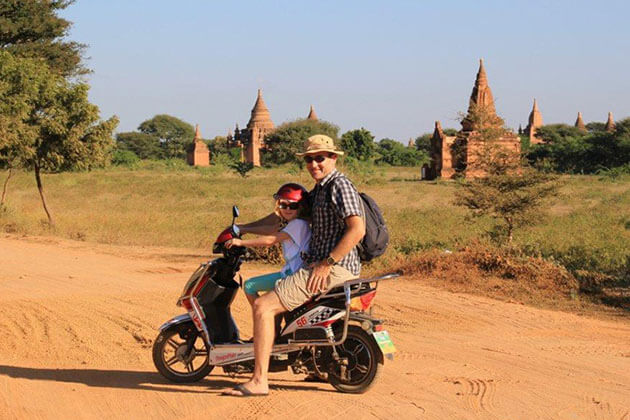 Enjoy Bagan Cuisine
Savor Bagan cuisine is another great thing to do in Bagan tour itinerary. The food in Bagan is much cheaper than other tourist destinations in Myanmar. Also, the taste is well suited to visitors from many other countries.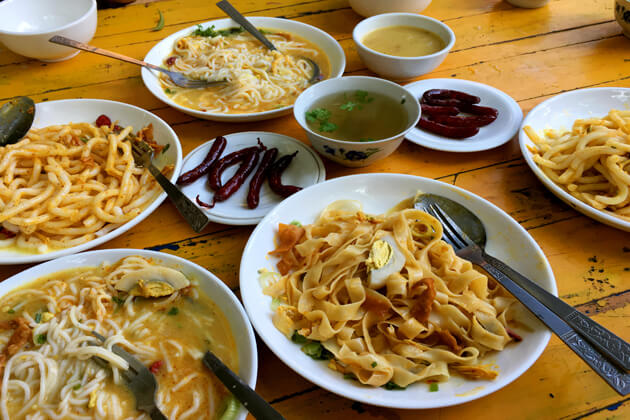 Watch a Short Video about the Charms of Bagan before Planning a Bagan Tour to this Wonderful City
Bagan Weather
Situated in the heart of Myanmar, Bagan weather features the tropical climate of Myanmar. There are three main distinctive seasons: the rainy season, dry season, and hot season. The rainy season lasts from May to September. Although Bagan receive a high range of rainfall but it rarely rain all day. Instead, it rather falls as a downpour which cool the air down. From October to February is the cool season in Bagan. There is no rain and the weather is pleasant making it the high season for tourists traveling to Bagan. From March to May are sweltering months of the year. The highest temperature can climb up to 38 degree.
Best Time To Visit Bagan
The best time to travel to Bagan is from November the previous year to February next year. However, this is also the peak time for tourism in Myanmar. Therefore, you need to book everything from air tickets or train tickets to hotel in advance.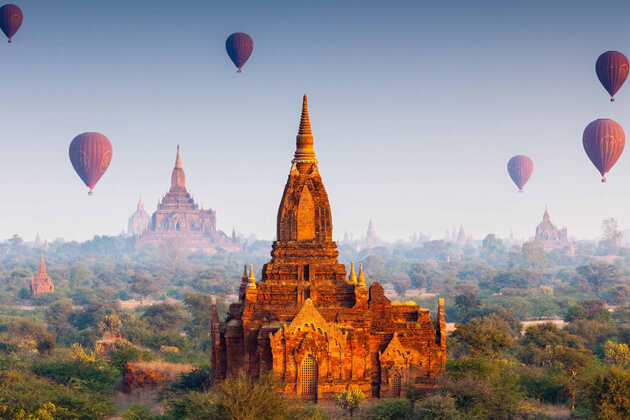 Bagan General Information
Location:
Burma Center
Language:
Burmese
Currency:
Kyat Myanmar (MMK)
Time Zone:
GMT+6:30
International Dialing Code:
+95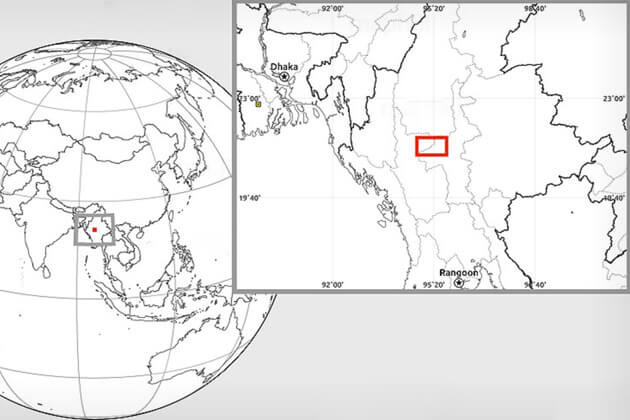 Bagan People, City & Culture
Bagan People
Most of the people in Bagan follow Buddhism. They are very nice, warm and friendly but have a little hesitation. Do not wear too revealing clothes if you want to get noticed. In places of worship, your legs and shoulders are carefully covered. You also have to take off your shoes, sock before going inside these places. In addition, Bagan is a country still quite strict with women. As a result, expressing feelings in public would become less sympathetic to the people here.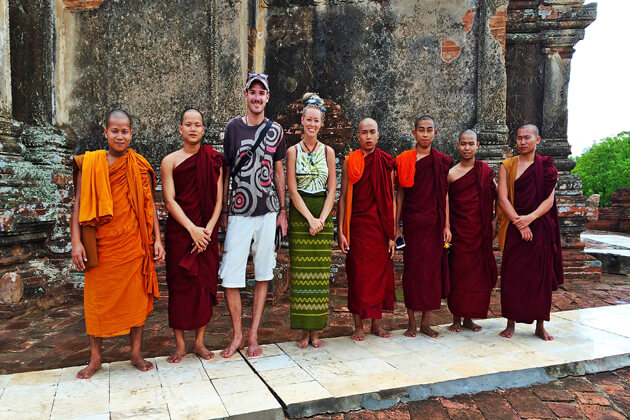 Bagan City
Bagan was an ancient city, and its former name is Pagan. This area was the capital of the Pagan Kingdom from the 9th to 13th centuries in central Myanmar today. Currently, Bagan is one of the most concentrated Buddhism temples and pagodas places in the world. There were more than 10.000 Buddhist monuments built here. Among them, there are only about 2,000 remaining til nowadays. These Buddhist works are the main reason to attract visitors to Myanmar.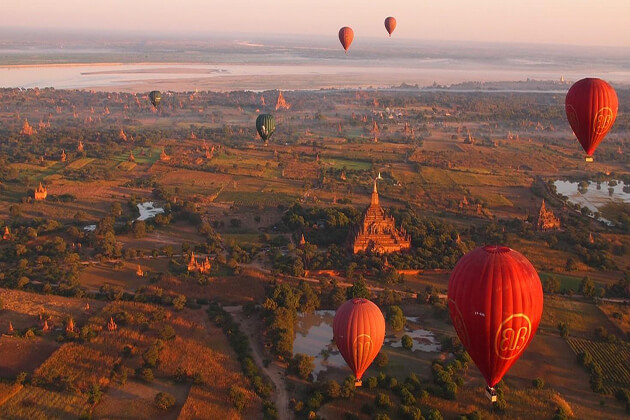 Bagan Culture
Myanmar culture is exceptional, from the language, the literature to daily living habits. In Myanmar, the main language is Burmese and it's also the mother tongue of Burmese. The main and most popular religion of Burmese is Buddhism. Therefore, Burmese literature was heavily influenced by Buddhism. In addition, this country is regarded as the longest tradition of eating betel nuts and the most one in the world. You can easily see it from the elderly to children, even men, and women.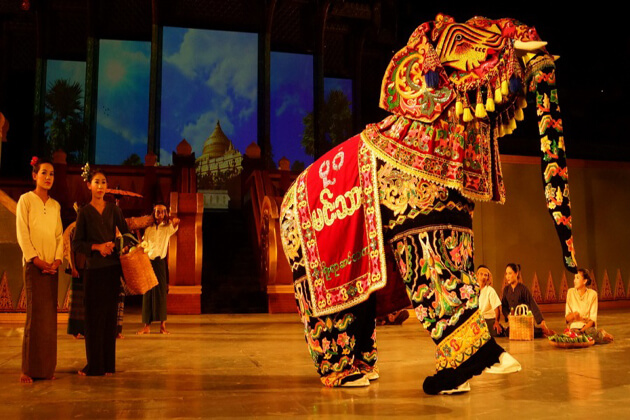 Bagan Travel Guides
Bagan Transportation
For the first timers coming here, you need to have the map immediately. Some hotels will provide the map for the guest, or you can buy with MMK1k only price. Since you've got the map in hand, you can start exploring Bagan by a variety of means such as taxis, horse cart, bicycle, electrical bike, and balloon.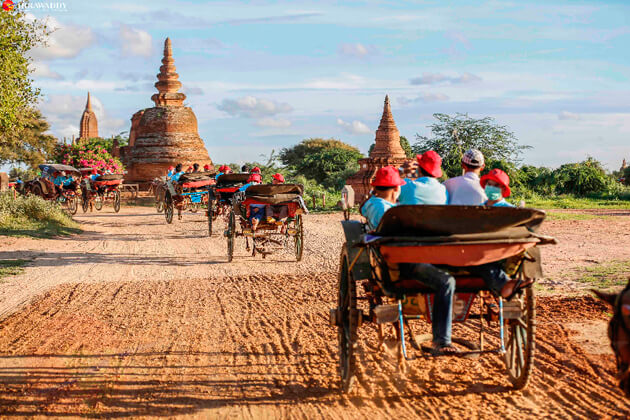 Bagan Phone & Internet
Although the hotel and restaurant have Wi-Fi, the transmission speed is sluggish!