Anawrahta Cruise Ship Myanmar Itinerary 2023-2024 | Go Myanmar Tours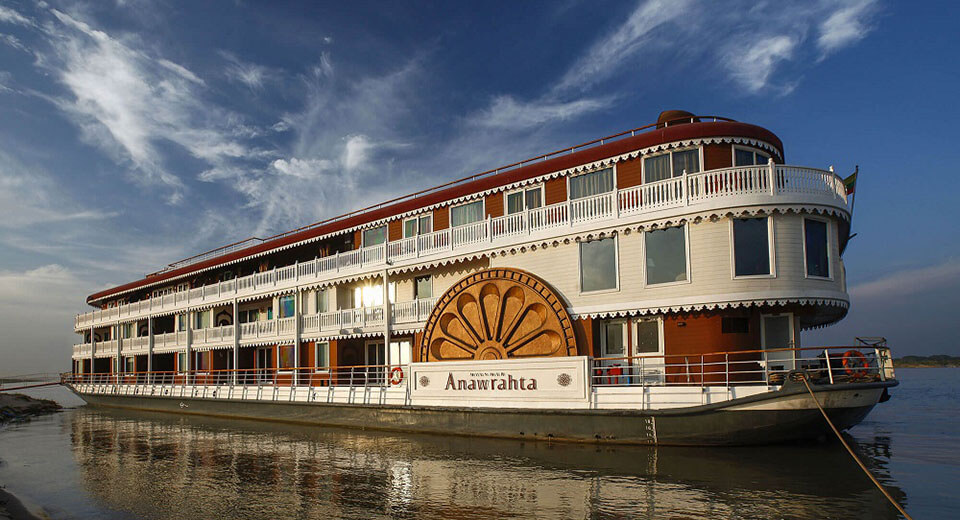 Being the largest cruise ship on the river and boarding the largest entry-level cabin, Anawrahta cruise ship delivers you the finest experience on the legendary Irrawaddy River. At 65 meters long, the luxurious cruise ship comprises 23 glorious cabins, which have a maximum capacity of 46 passengers. With a total of 4 decks including a large sundeck and the highlight – a swimming pool, you will have a 360-degree space to behold the mesmerizing beauty while sailing along the lifeblood of Burma. With premium services and 4.5/5 ratings on Trip Advisor, sailing with Anawrahta cruise ship will take your breath away!
There are 5 different types of rooms available on the Anawrahta cruise ship: Deluxe, Deluxe Executive, Junior Suite, Executive Suite, and Royal Suite. Each room is equipped with great facilities, outstanding art, furniture, and a private balcony to ensure you enjoy your river cruise with the highest satisfaction.
If you are looking for an elegant experience in Myanmar, you have come to the right place. At Anawrahta cruise ship, the 5-star experiences in the luxury bar, restaurant, lounge, and spa are always waiting for you to savor. Additionally, the super marvelous architecture of colonial brings you a step back in time to see how the country look like when it was under the British colonial. During your journey, you will have an opportunity to capture the incredible facets of Burma such as local fishermen, remote villages, ancient temples, and gentle people.
Go Myanmar Tours offers a variety of Anawrahta cruise ship itinerary below. Choose your ideal one and contact us to start planning a lifetime cruise with Burma trips. If none of our itineraries meets your need, please feel free to chat with our travel expert, we are happy to tailor your own itinerary that suits you most!
Anawrahta Cruise Ship Myanmar Itinerary