Yangon Tours & Day Trips from Yangon | Top 10+ Yangon Tour Packages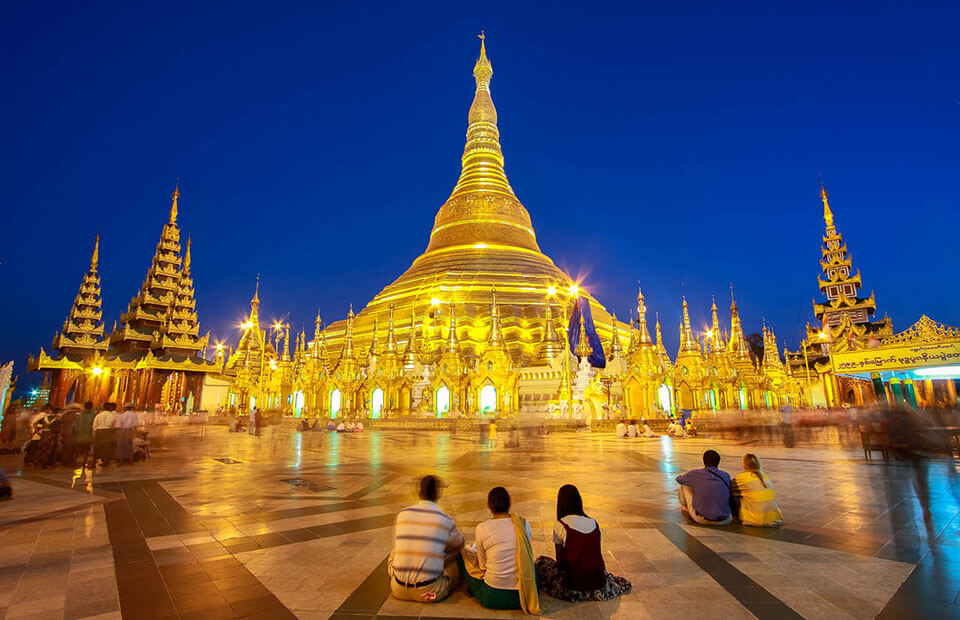 Stay in the south of Myanmar, Yangon is the largest and most impressive place in the country where your dream of Myanmar begins. Its fantastic landscapes, gorgeous historical sites, and vibrant community, all are rolled into one in our Yangon tours.
A vibrant city of great architecture, Yangon also lures the heart of visitors with the glistening temples that enshrine the sacred Buddha relics. Tourists can easily take an excursion in Yangon to explore the best sights of Yangon. There are dozens of highlight attractions to visit in Yangon tours:
Shwedagon Pagoda – one of the world's grandest pagodas
Sule Pagoda – 2500 years old golden stupa
Chauk Htat Gyi Pagoda – the massive 66 meters long reclining Buddha image
Colonial Buildings – a unique combination of Burmese & colonial architecture
Bogyoke Aungsan Market – the hustling & bustling shopping hub
Karaweik Hall – an impressive golden floating barge
National Museum – Burmese finest culture & art
Botataung Pagoda – ancient pagoda enshrining a sacred Buddha relic
At Go Myanmar Tours, we offer a variety of private, flexible, and unique Yangon tour packages at competitive prices. All of our Yangon tours, day trips from Yangon to Golden Rock, Bagan, Mandalay, and independent routes cater to meet the needs of valued guests from all over the world.
No matter what kind of traveler you are, you will get a trip to suit best from our boutique of Yangon tours ranging from half to 5 days or more. Our meticulously designed itineraries enable you to discover every corner of the city. Please remember all tours can be tailored according to your needs and likes. Feel free to contact us to tell us your ideas now! Trips to Burma are gearing up to fulfill your dream!
---
Best Things to Do & See in Yangon Tours
Yangon is one of the most highlights of
Myanmar tours
. Myanmar tours provide plenty of things and places to discover including glittering temples, bustling markets, religious sites, and landmarks. Keep scrolling to check it out!
Come over the Gilded Shwedagon Pagoda
No Yangon tours completed without visiting Shwedagon Golden Pagoda. The wonder pagoda is inlaid gold totally and decorated with thousands of gems, rubies, and diamonds sparkling. Shwedagon Pagoda is considered the most sacred pagoda of Myanmar. Thus, it is the most highlight to visit on day trips from Yangon. It owns hundreds of magnificent and splendid towers and is completely gilded.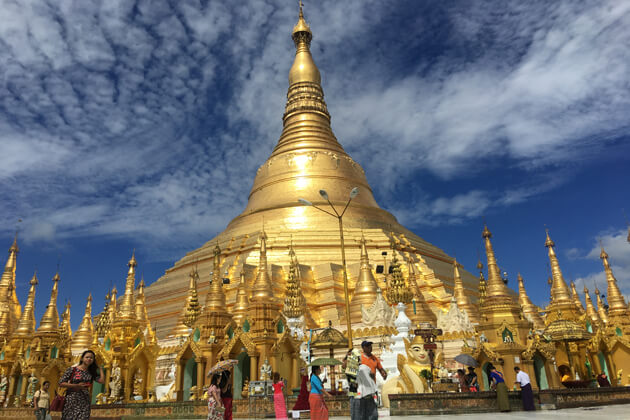 The most tourist time to visit Shwedagon pagoda in Yangon day tours is in the afternoon. This time, sunshine can definitely burn your feet when setting foot on the ceramic floor because you have to walk completely barefoot. However, it is the best time to marvel at the radiant hue of the gilded stupas merging into the sky. Upon here, you will discover four priceless treasures of Buddhism: The staff of Kakusandha, the water filter of Koṇāgamana, a piece of the robe of Kassapa, and eight strands of hair from the head of Gautama.  You will be absolutely overwhelmed by the elegance and splendor of Shwedagon Pagoda as you visit it in Yangon tours.
Bogyoke Aung San Market – the Biggest Selection of Myanmar Handicrafts & Souvenirs
Mentioning to the famous places to shop during Yangon tours, you cannot skip Bogyoke Aung San Market - the shopping paradise. Thus, soaking into the vibrant atmosphere is an exciting thing to do in Yangon day trips. This market in Yangon is not only a highlight for travelers but also very popular for Burmese people in daily life. Lined on Bo Gyoke Road, this market was formerly known as the Scott Market, a relic of British imperialism in Yangon. Come here on Yangon tours, besides admiring the architecture of the market, tourists can also buy a lot of beautiful handmade souvenirs such as jewelry, carpets, paintings, wood carvings...from over 1.641 shops and stores. The market's water festival in Bogyoke Aung San Market is taken place before the Thingyan Festival, usually held on April 11 or 12 yearly.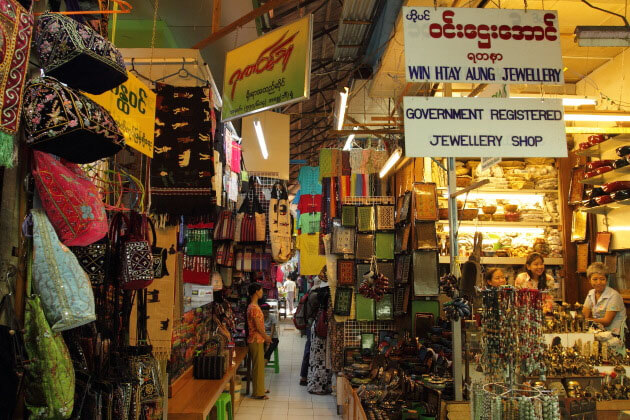 Be Impressed by the Fabulous Mix of Colonial Buildings
If you love to see a city which is in the process of stepping out from antiquity into a modern world, Yangon is right for you. Along with the glistening temples, Yangon colonial buildings will intrigue your heart by the perfect combination of Burmese and British colonial architecture. Take day trips from Yangon to stroll along the city center, you might feel like getting lost among the antique beauty which is surrounded by the humbling street in the fresh air blowing from the Yangon River.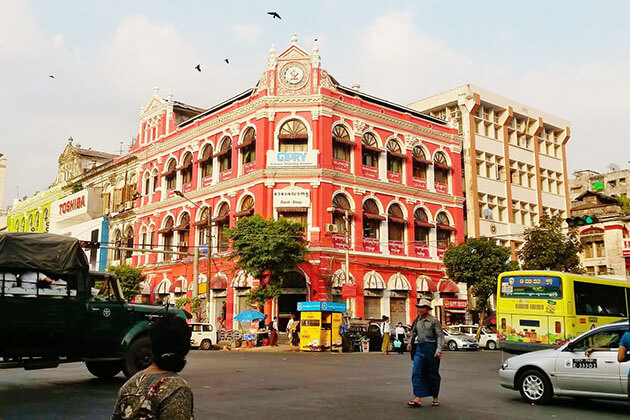 Visit Botataung Pagoda - One of the Most Distinctive Landmarks
After admiring the sacred Shwedagon Pagoda, another interesting thing to do in Yangon tours is visiting Botataung Pagoda. On the side of the riverbank, the pagoda was built up over 2.500 years ago with the name meaning of a general in the military. This pagoda has been classified as the highest pagoda of Yangon city. Like other pagodas in Myanmar, tourists visiting Botataung on Yangon tour packages will see the pagoda is gilded with gold perfectly. Inside the main stupa of the pagoda still preserves an invaluable treasure of Buddha which is the Buddha's hair.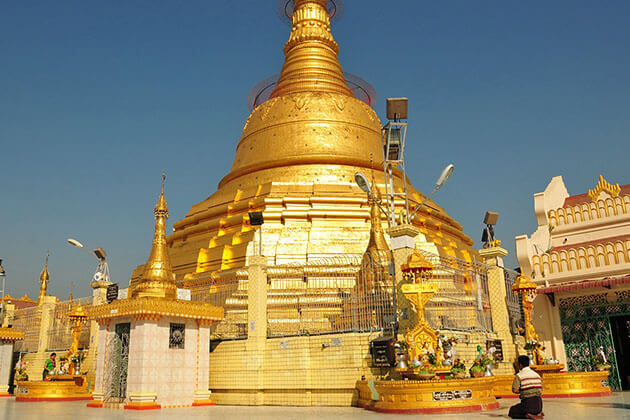 Try Wearing 
Burmese
Longyi - Myanmar Traditional Dress
Traveling to Myanmar in Yangon day trips, you can easily see men and women wearing longyi and sandals. Longyi is the traditional and modern costume of the people here. Men are wrapped in large cloth and knotted in the front, while women are folded up and sewn on the side. Wearing Myanmar traditional dress while traveling in Yangon is listed as an awesome thing to do in Yangon that ensures to bring you a great experience.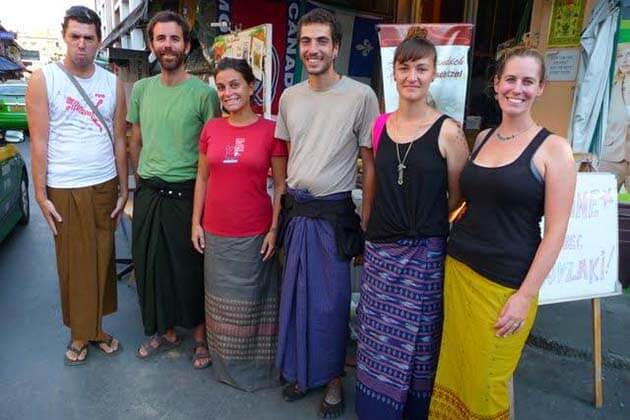 Enjoy Delicious Food & Experience Myanmar 
Traditional Culture in Yangon Tours
The food of Burmese people in Yangon is diverse and delicious. If this is your first experience in Yangon tours, do not miss Mohinga, the well-known dish considered as a national dish of Myanmar. Main ingredients of Mohinga are chickpea powder or crushed-dry rice, crushed garlic, crushed onion, lemongrass, ginger, fish sauce and catfish cooked in a rich sauce and kept hot in tin-pot.
Tip
: Beside Mohinga, other interesting dishes you should try in Yangon tours are E Kya Kway (a top choice for breakfast in Yangon), Roti, Nangyi thoke, and Samosa Salad. Also, Koh Pieh, Koh Puo,…etc are wonderful. You can find this one in many street vendors and some local markets. Additionally, you can easily catch the best street foods from a lot of temporary carts set up by street vendors in Yangon day trips. Enjoy your meal!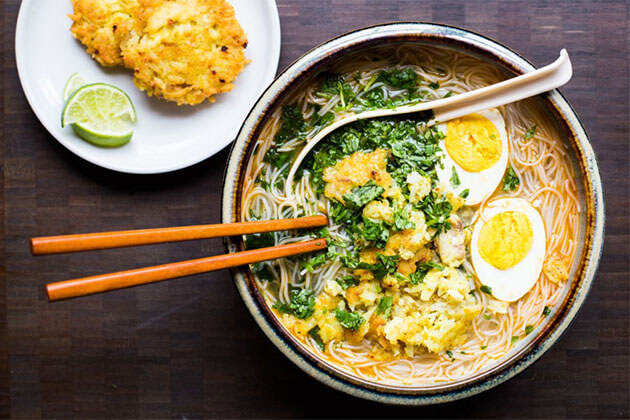 Stroll through the Bustling Chinatown 
It is a big missing if day trips from Yangon completed without visiting Chinatown. As local, we rate indulge in the vibrant atmosphere in Chinatown is the most exciting thing to do in Yangon. Visiting Chinatown in Yangon tours, you would be amazed and delighted that this one is no less than a miniature China with thousands of clothing shops, household goods, food ... in style of the Chinese people. The best time to explore this place in Yangon day trips is in the evening. This time, the streets are most lively, crowded and filled out with various streetfood stall.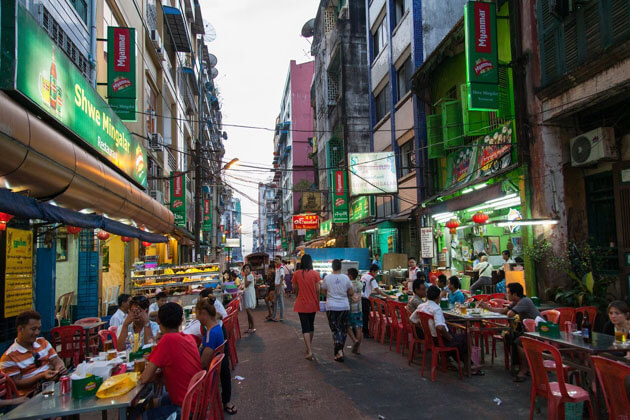 Behold the beauty of Yangon before Planning Yangon tours to Explore this Wonderful Land
Best Time To Visit Yangon
Yangon has a tropical monsoonal climate which makes it hot and humid all year round and is divided into three distinct seasons. Below is some information that can help you choose the best time to take a Yangon tour.
'Winter' – November to February
Winter in Yangon is unique and different from other countries in the planet since the temperature ranges from 19 to 33°C (66 to 91°F), especially in December and January with the average temperature is 25°C (77°F) during the day. The weather is quite warm for a "normal" winter but it is cooler than the rest of the year in hot and humid Yangon as it is much drier and that is the reason why this is the best time to take a Yangon tour. Another thing which makes this period worth a visit is that Shwedagon Festival has taken place around February or March (based on the Full Moon). You can get the chance to enjoy the traditional dancing, drama and tasty food around the golden-colored Shwedagon Pagoda – the iconic landmark of Yangon.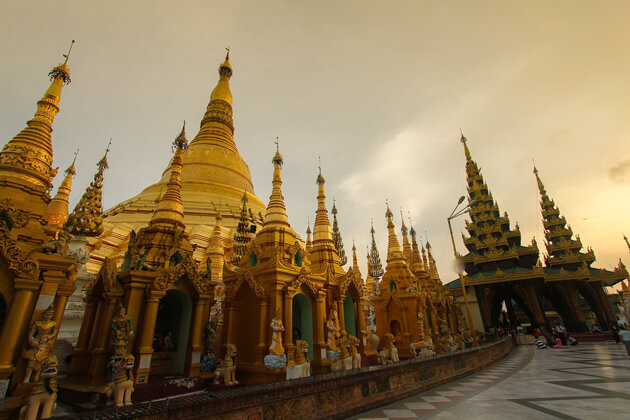 Dry Season - March to May
The dry season lasts from March to May and it is extremely hot and humid especially in April- the hottest month of the year when the temperature can reach up to 40°C (104°F). If you decide to travel to Yangon in this period, do not worry, Thingyan Water Festival can cool down your body. This festival celebrates Buddhist New Year, people rush into the streets to throw water at each other that is considered as a symbol of washing away bad luck from the previous year. You will forget the heat immediately and wallow in the funny, effervescent and laughter-filled atmosphere.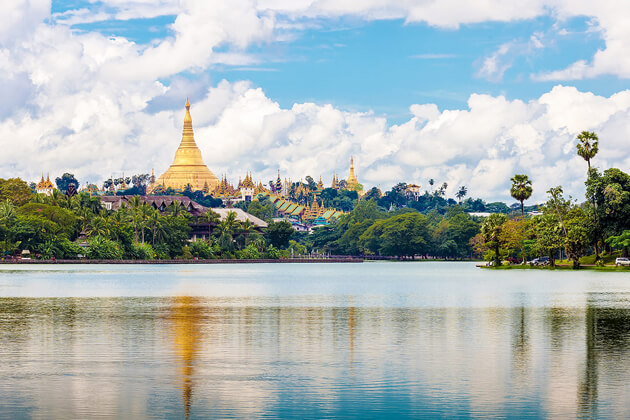 Rainy Season - June to October
Located in the south coast, that is why Yangon gets a lot of rainfall and the wettest months are July and August; as a result, the rainy season may not be the best time to explore and take part in the outdoor activities. However, the rainfall tends to occur in short showers, so it is quite easy to find a temporary shelter if it rains when you are outside. Moreover, if you want, you can still take a Yangon tour to sip a coffee or beer in a bar or walk around in a famous museum or construction while the rain is falling outside with the dripping sounds, it is a kind of romance.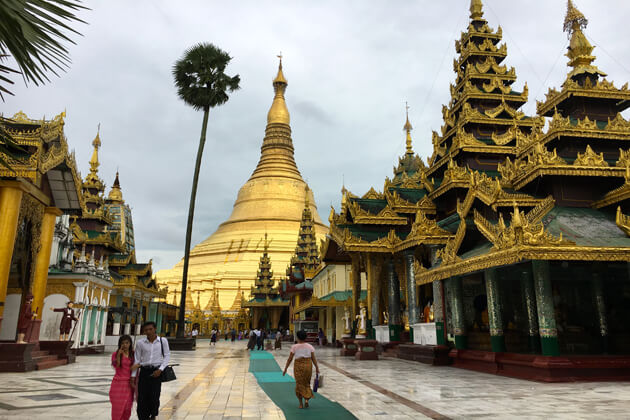 No matter you travel to Yangon in any seasons, you will find this land peaceful and gorgeous, not only in its charming landscapes but also in the lifestyles of people and the traditional values, that is the reason why makes every season is the best time to visit Yangon. Once taking Yangon tours, you will not be disappointed since this place hides many secret things that are waiting for you to explore someday.
Yangon General Information
Former Capital of Myanmar
Age:
2500 years
Area:
576 km²
Population:
over 4 million
Location:
Southern Myanmar
Temperature:
Min 16°C - Max 38°C
Formation of Yangon
Yangon is the largest and busiest city of Myanmar which is formed by 34 towns: Ahlone, Bahan, Botahtaung, Dala, Dagon, Dagon (Seikkan), Dawbon, East Dagon, Hlaing, Hlaing Tharyar, Insein, Kyeemyindaing, Kamaryut, Latha, Lanmadaw, Mingalardon, Mingalar Taung Nyunt, Mayangone, North Dagon, North Okkalapa, Pabedan, Pazundaung, Sanchaung, South Dagon, Seik Gyi Khanaung To, Seikkan, South Okkalapa, Shwe Pyi Thar, Thingangyun, Thaketa, Thanlyin, Tarmwe, Yankin
Yangon's People, City & Culture
People in Yangon
People are humble and rustic with friendly smiles on their faces all the time. Getting used to the invasion of tourists who come from all around the world, they are not strange to the multi-cultural environment. Therefore, feel free to ask them if you do not know the roads or need some help, they will wholeheartedly do you a favor without any conditions.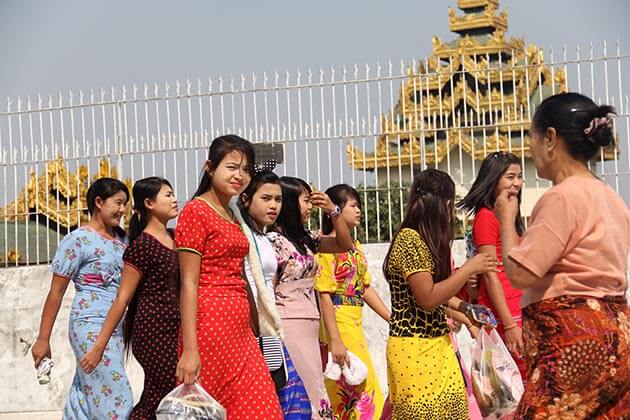 Yangon City
Nay Pyi Taw has been the new capital of Myanmar since 2005, however, Yangon (formerly known as Rangoon) is still considered as the cultural and commercial center of this country and almost all visitors admit that they often begin or end their journey to Myanmar in this city. Its irresistible charms will awaken the travel sense of anyone who once put their foot on this mysterious land.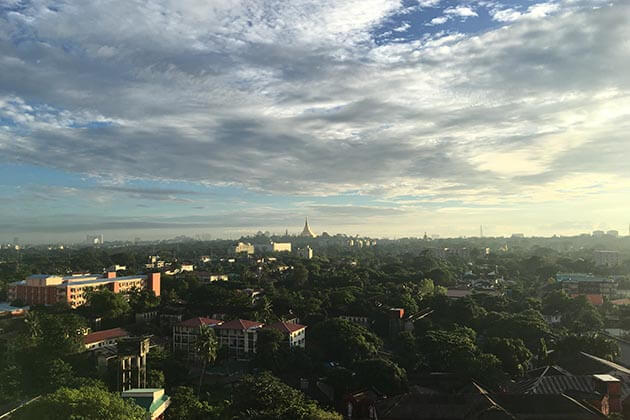 In the past, Yangon used to be the capital city since 1885 as the British invaded northern Myanmar and moved the head of government from Mandalay. The city served as a key trading post, as a result, it remains many amazing colonial buildings, presently, many of which are disintegrating and hidden down side streets. However, the biggest and most noticeable concentration is situated on the riverfront Strand Road and around the bottom of Pansodan Street and Sule Pagoda. The city also reflects the history of ethnic and religious diversity, especially presented through an out-standing monument – Shwedagon Pagoda, a golden Buddhist shrine that is considered as the most sacred and holiest place in the mind of Burmese. It holds a wide range of museums, art galleries, and markets which are characterized by cultural identities interspersed with the modernity of today world.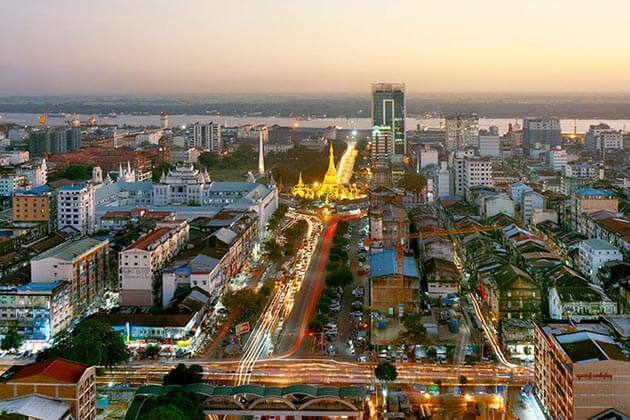 One of the highlights that makes Yangon more attractive is the superb cuisine ranging from the native dishes in the street stalls to the luxurious food showed up in the restaurants. The gastronomy is heavily influenced by some neighboring countries such as Thailand, China, and India which creates various and flavor-filled cuisine. Although Yangon is assumed as one of the safest city in Asia since the robberies seldom occur, the lack of development leads to the low-quality of roads or pavements. When walking down the street, you may be faced with a rat or cockroach passing by and there is often no electricity; however, you will quickly forget these inconvenient things because whatever you do in Yangon, you will find this city friendly and convivial because of the rusticness and hospitality of local people.
Yangon's Culture
Myanmar in general and Yangon, in particular, is a land where is strongly influenced by Buddhism with the reserved and humble lifestyles. The indispensable parts of Burmese's lives are traditional festivals, among which, Shwedagon Pagoda Festival is one of the biggest and most important local festivals of the year which is taken place in late February or early March. Besides, there are several festivals held in Yangon: • Martyr's Day, which honors sacrificed independence hero Aung San and his comrades (July 19th). • The week-long festival at Kandawgyi Lake that follows Independence Day (starts on January 4th). • The bright-colored and vivid Botataung Pagoda Festival is held at the beginning of January and there are market stalls, fairground rides with alarming human-powered Ferris wheels to attract visitors.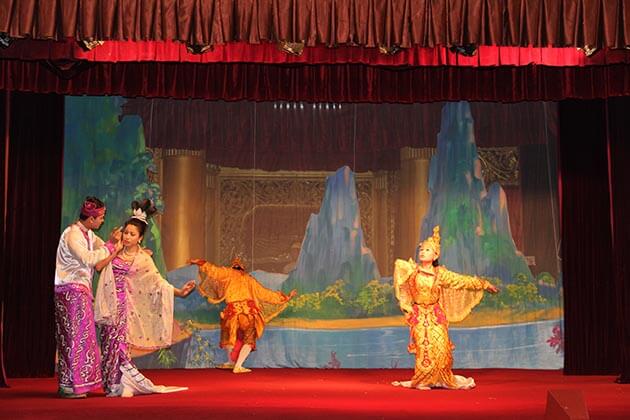 Useful Tips For Perfect Yangon Tours
Myanmar in general and Yangon, in particular, is a new land which has recently opened to the world, so it remains the practices and customs that people do not know about. It is necessary for tourists to be aware of the do's and don'ts when taking Yangon tours to avoid the conveniences and have a perfect trip. Here are some tips for travelers to follow when being in Yangon tours.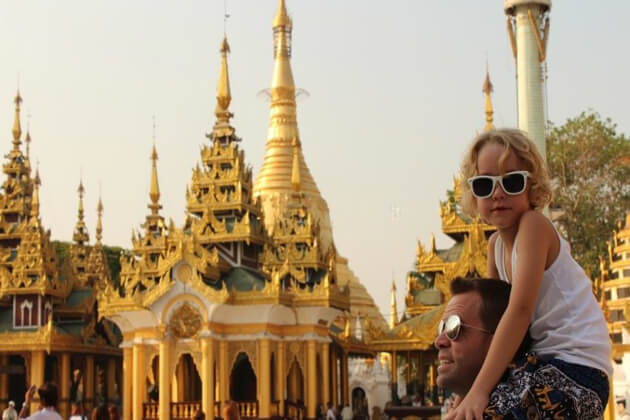 Religions in Yangon
In the city of Yangon, there are some cultural rules which should be strictly followed by both locals and foreigners especially when visiting pagodas and communicating with monks. • Remember to put off your shoes and socks before entering the religious sites • When visiting any pagodas and temples, dress modestly and politely • Do not have the disrespectful actions or behaviors with Buddhist images • Avoid shouting, laughing or loudly talking • Be polite and careful when taking photos or video • Do not point your feet at a monk or Buddhist statues • Do not play loud music as the monks are not allowed to listen to music and the religious sites need to remain the serenity and tranquility • Do not put Buddha statues or images on the floor, or in an inappropriate place • Show respect to monks, nuns, and novices • Do not offer the hand-shakings with monks • Take a seat in a lower position than monks and elders • Do not offer food to a monk, nun, or novice after the noontime • Women should not touch monks • If there is no entrance fee to a pagoda or temple, you may leave a donation at a trunk
Yangon Customs
• When visiting a home of the locals, you should put off all the footwear • Hand-shakings are not always necessary • Public displays of affection are not accepted • It would be impolite if touching an adult on the head • Avoid stepping over any part of a person • Receive and give things with your right hand or both hands
Yangon Travel Tips
• Most public bathrooms do not have toilet paper. Do not forget to bring tissue papers with you • Do not leave expensive items in your room when you are going out. Put them in a safety box • Drink only bottled water, or unopened drinks • Comprehensive travel and medical insurance is suggested and should include emergency air evacuation and cover the activities that you will take part in.
Communication Services in Yangon
Internet Services
Myanmar Posts and Telecommunication (MPT) sells email accounts and Internet access.
Cyber Café
In the center of Yangon, there are several Internet Café where visitors can sip a cup of coffee or tea while surfing the Internet to entertain. The service charges may range from 650 Ks to 1000 Ks per hour, depending on different Cyber Café.  
Express Money Order
Money Order service is offered in the capitals of each state in Myanmar, the maximum amount is 100,000 Ks per remittance.
Parcel Services
General Post Office situated in downtown of Yangon is the staple Parcel Service center in Yangon.
Fax Services
Yangon Telegraph Office provides customers with fax services to 88 overseas countries. The domestic fax lines are also widely used in Yangon.
Telephone Services
There are three main types of phone services in Yangon that are Conventional Phones or Land Phones, Mobile Phones and IP Star Phones. Abroad calls are available but quite expensive depending on the distance which the calls are made.
Transportation in Yangon
Transportation within Yangon
Taxi
You can easily catch taxis in Yangon as they are always available during the day and night. Do not forget to tell the driver the place you want to go and ask for the price before starting the journey.
Bus
Yangon has more than 250 bus lines with over 2.5 million commuters a day. Lately, a new fuel has been used to operate buses which are CNG (Compressed Natural Gas). The bus fares may range from 40 Ks to 120 Ks depending on the distance which the travelers take.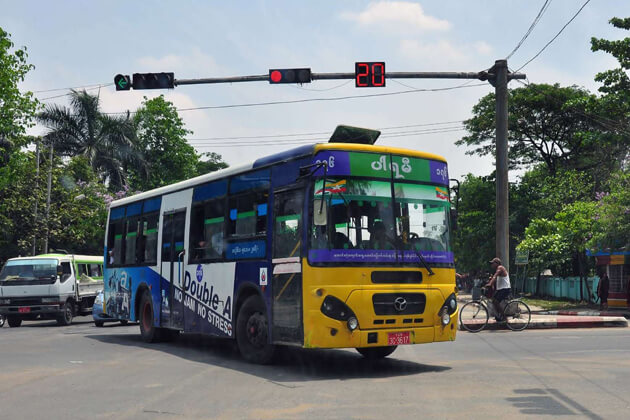 Train
There are 11 local trains which are always available for circular train services through 37 railway stations. The train fares are low-priced than the bus fares and Yangon Central Railways Station is the main one in Yangon.
Ferry Boat
If you want to depart from Dala and cross Yangon River, it takes about 10 minutes to travel by a ferry boat which steams between Pansodan Warf and Dala Warf.
Domestic Transport from Yangon
Express Bus
There are two highway bus terminals which are Dagon Ayeyar Highway Bus Terminal and Aung Mingalar Highway Bus Terminal. Dagon Ayeyar is reserved for the buses going to Ayeyarwaddy Division and Aung Mingalar is for the buses heading to the cities and towns over the country except for the Ayeyarwaddy Division.
Train
Myanmar Railways offer 40 train routes all over the country and the tickets are available at Yangon Central Railway Station.
Boat
Ayeyarwaddy Delta region is where boat services are available 24/7 and tickets are sold at Lan Thit Jetty in Seikkan Township.
Aircraft
Yangon International Airport provides travelers with both international and domestic flights accompanied by the best services and conveniences. There are 4 domestic airlines which are Myanmar Airways, Air Bagan, Air Mandalay and Yangon Airways with the same high-quality and economized fares.
Safety Travel in Yangon
Yangon is actually one of the safest cities in the world with almost no crimes against tourists. Most visitor, especially female travelers do not to be worried when taking Yangon tours. Even carrying a large sum of cash and walking down the dark and deserted streets at night, is not a problem; however, you had better be careful and take the precautions if you would carry valuable or expensive things like jewels or smartphones as there were some rare accidents happened before.
Gay Travel in Yangon
Homosexuality is illegal in Myanmar according to the law; however gay travelers do not have any special problems if they are polite and appropriately behave when taking Yangon tours. Public displays of affection are not accepted so it is necessary to be reserved and modest.