This Yangon food tour half-day allows you to savor some of the best foods in Myanmar with different tastes. From the street food vendors to the local restaurants, not just enjoying, we also attempt to give you a chance to gain local insight by learning more about the way local people prepare the dish. Ready for your feast?
General Information
Duration: 4 hours
Start/End: Yangon/Yangon
Tour Type: Culinary
Category: Yangon day trips
Experience this Yangon – Bagan Excursion With:
Guides: hand-picked best tour guides with deep knowledge, humor, profession (English speaking guides, other languages upon request)
Drivers: polite,  friendly, responsible, reliable with many years of driving experience Vehicles: comfortable, spacious, air-conditioned & clean
Meals: meals are arranged at local restaurants so you can taste authentic Burmese cuisine
Please note that every element of the tour below can be tailored. Tell us your specific interest and we will be happy to make adjustments for you. This inquiry is totally free and you are under no obligation! 
Mingalabar! Welcome to Yangon where you will spend a half-day to indulge in the feast of Burmese cuisine!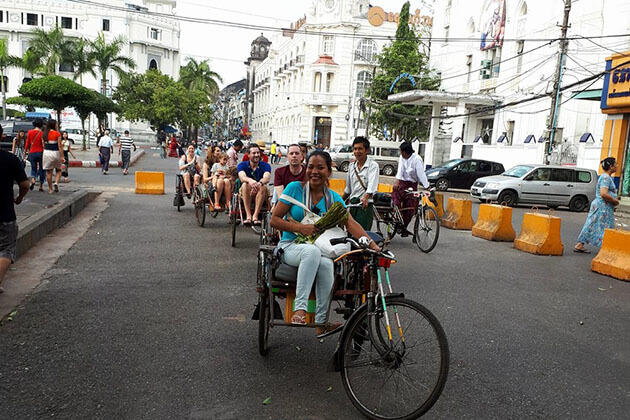 This morning, welcomed by your guide at the meeting point and then be ready for your half-day food tour around the city. First, take a stroll through the small street of food stalls, you will capture many different kinds of food. We will make our first taste with Samosa salad, a traditional dish made from dough with minced meat and spicy vegetable and fried together until they are brown.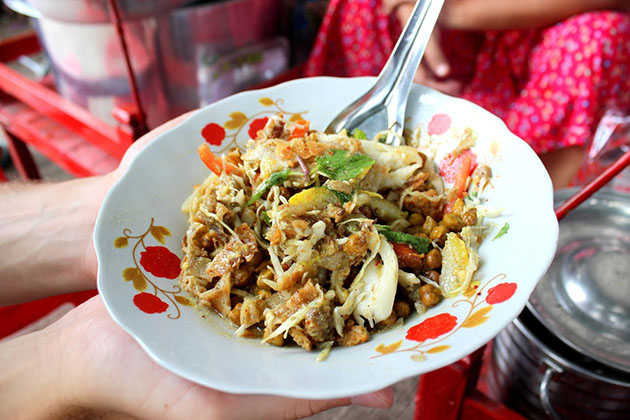 After that, highlight your food tour with a stop in one of the best teahouse in Yangon where you will have a chance to savor the best Burmese noodle with a cup of Burmese tea.
Take time for a break on the flyover to witness the charming scenery in the downtown city and save your best photos before heading for a new experience.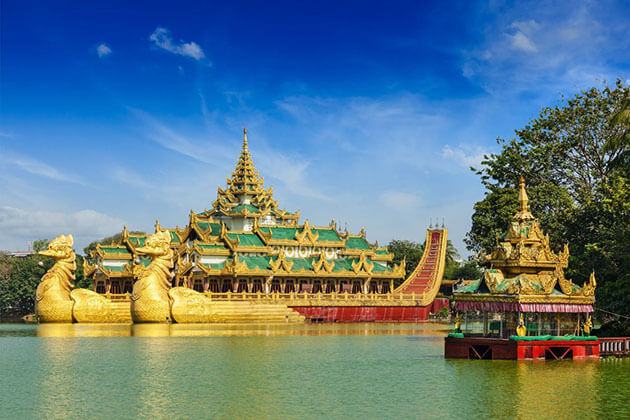 Our guide then will take you to a big Burmese curry restaurant to savor the best combination of black bean sauce meat, Burmese salad, and vegetable. The highlight of this spot is tea leaf salad, the most iconic dish in the whole country.  For each person in Myanmar, salads play an important role in traditional cuisine. Burmese salad made from a variety of ingredients to bring up the salty, sweet, sour, and spicy flavor in the mix.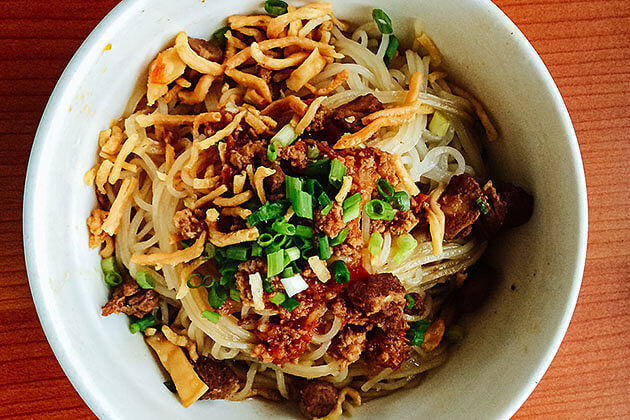 Finally, enjoy a sweet dessert with at least 10 different types of Burmese food and snacks to get the perfect taste of Burmese dinner cuisine. It might, unlike any other snacks that you have enjoyed before. The sweet flavor is created by coconut, cooked sticky rice, tapioca and fruit which will ensure to  Trip ends. We hope you would love all the dishes on the itinerary.
Thank you for making your trip with Go Myanmar Tours!