This 4-day Myanmar tour package delivers you an opportunity to explore a variety of attractive spots in Yangon and the surrounding. Visit both the popular sites in Myanmar as well as ethnic tribes at remote areas. Behold the spectacular historical heritages coupled with breathtaking landscape and deepen insight into local life, history, and custom of residents along with destinations.
General Information
Duration: 4 days/ 3 nights
Start/End: Yangon/Yangon
Location: Yangon, Myanmar
Tour route: Yangon – Golden Rock – Bago – Yangon
Tour Type: Sightseeing & Discovery, History & Culture
Tour Category: Yangon Tours
Experience this 4-day tour Myanmar with:
Guides: hand-picked best tour guides with deep knowledge and humor (English speaking guides, other languages upon request)
Drivers: polite,  friendly, responsible, reliable with many years of driving experience
Vehicles: comfortable, spacious, air-conditioned, big window
Meals: meals are arranged at local restaurants so you can taste authentic Burmese cuisine
Accommodation: listed below or various types of equivalent accommodation are available, from 5-star hotels, 4-star hotels in the best location, good value 3-star hotels, to boutique hotels reflect the style of the region
Brief Itinerary
Day 1: Yangon – Golden Rock (-)
Day 2: Golden Rock – Hpa An (B)
Day 3: Hpa An – Bago – Yangon Tour (B)
Day 4: Yangon Departure (B)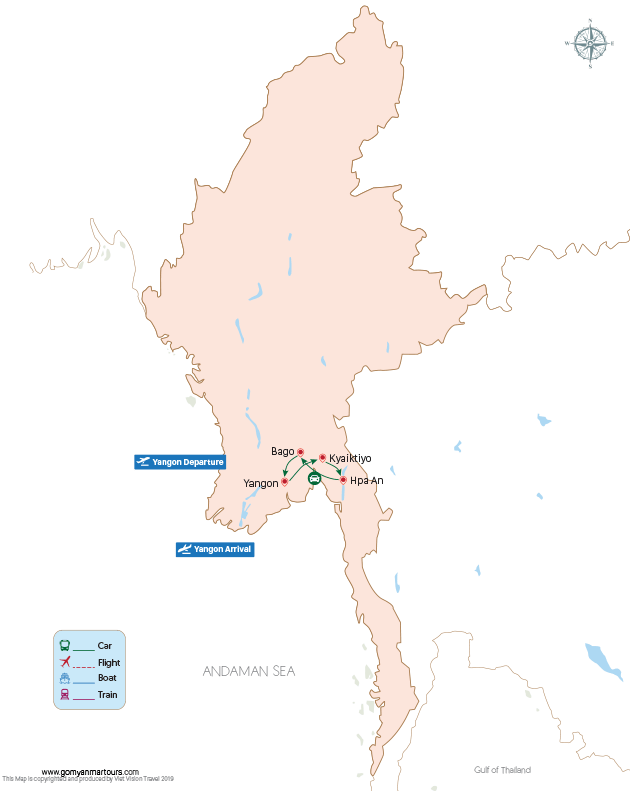 Please note that every element of the tour below can be tailored. Tell us your specific interest and we will be happy to make adjustments for you. This inquiry is totally free and you are under no obligation! 
Day 1: Yangon – Golden Rock (-)
Leaving Yangon in the morning, head to Golden Rock (drive via Bago: 194 km – 5 hours). Late morning, arrive at Golden Rock base camp and transfer to the upper area with one of the small open trucks in a one hour ride. Once at the pagoda, you can enjoy a spectacular view overlooking the beautiful valley and breathe the fresh air around you. Be tiny while standing in front of the Golden Rock in which the legend said to enshrine the sacred hair of the Buddha. Back to the hotel at the base of Golden Rock.
Overnight at the hotel in Golden Rock.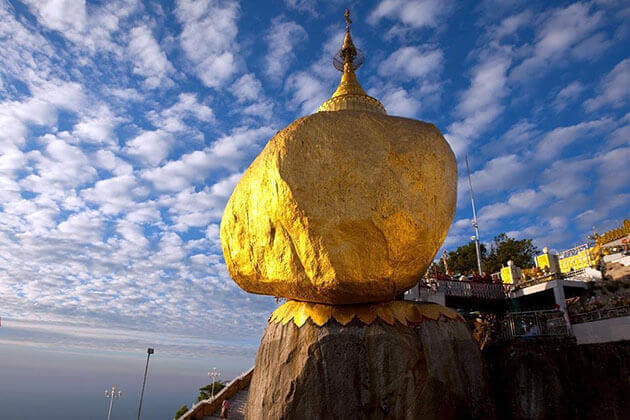 Day 2: Golden Rock – Hpa An (B)
Departing Kyaikhtiyo, in the early sunrise time, stroll around the hill sites to enjoy the tranquil scenery in the morning, then return to hotel and breakfast there. Then back to base camp by the truck. After arriving at base camp, continuous drive to Hpa An – a breathtaking small town where you will spend time to soak in the scenic beauty, vibrant market, and admire the magnificent limestone.
A stop at Kha Yon Cave outside the city, a natural cave where residents come to worship and pray for good health and prosperity. In addition to the many Buddha statues, the cave also consists of many beautiful stalagmites and stalactites formed over the centuries.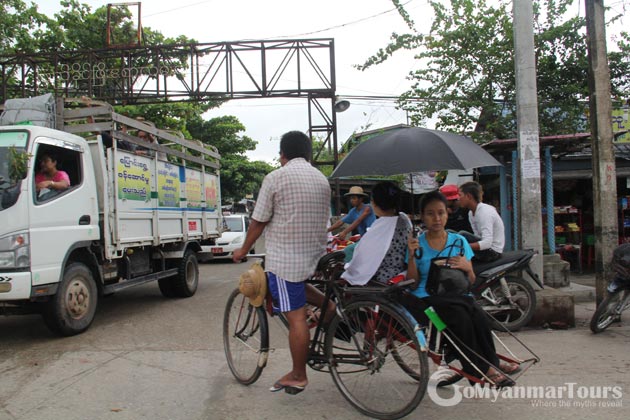 The next site will be Kadoe Kawnat village to visit Kawnat Monastery. A villager named U Nar Quat, known as a wealthy and generous man built this woodcarving monastery a century ago. Due to his donation that people had this religious site constructed nearby his village.
Upon arrival at Hpa An, head to Kyauk Kalat, a pagoda put up on layers of natural rock formations. Flanked by a lake, the scenery guarantees a great photo opportunity.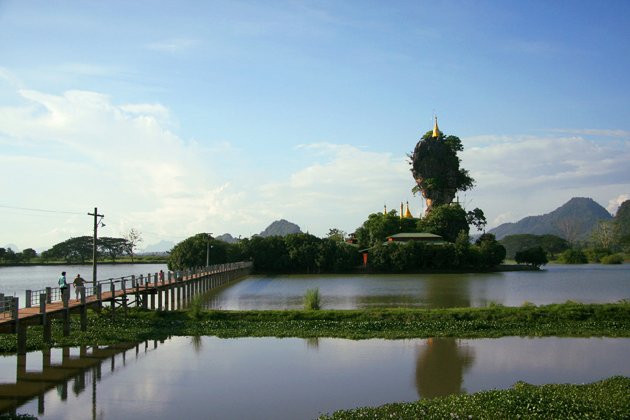 Proceed to the foothill of the 722-meter-high sacred Mt. Zwe Kabin with thousands of identical Buddha statues lined up at its base.
Kaw Gun Cave, also known as the "Cave of the Ten Thousand Buddhas" will be the next destination after lunch time. As guests walk through the cave, they will observe more than 2000 votive tablets of Lord Buddha and Mon inscriptions. One inscription is so ancient that, to this day, no scholar has been able to interpret it. Then, gaze out at Sadan Cave to explore its maverlous Buddha statues, wall carving, and golden stupas.
At the end of the day, check in to their hotel in Hpa An and take a stroll through this charming town, enjoy the nightlife. Overnight in Hpa An.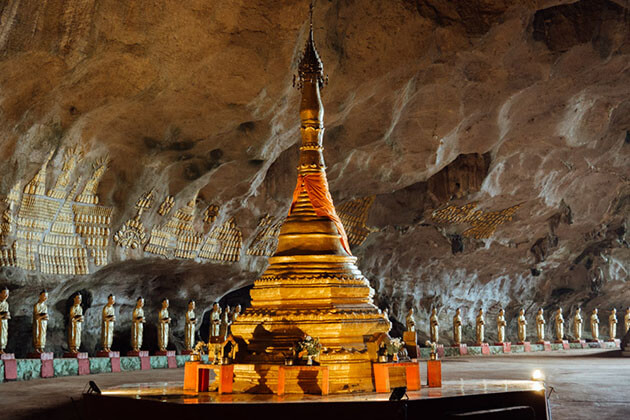 Day 3: Hpa An – Bago – Yangon tour (B)
After breakfast at hotel drive to Yangon. On the way, proceed to Bago, also known as Pegu, was the capital of the Mon Kingdom in the 15th century and is a steeped-in-legend town. The sites in Bago spread out around the town and you'll spend the whole day exploring with your guide, deepen the knowledge about the history and myths of the city. Stops include the 55-meter long reclining Shwethalyaung Buddha, the four seated Buddhas at Kyaikpun and the old palace of Kambozathadi. The Mon-style Shwemawdaw Pagoda is the most outstanding religious monument in Bago. This golden temple stands at 114 meters tall, even higher than Yangon's Shwedagon Pagoda, and can be seen from around 10 kilometers outside of the city.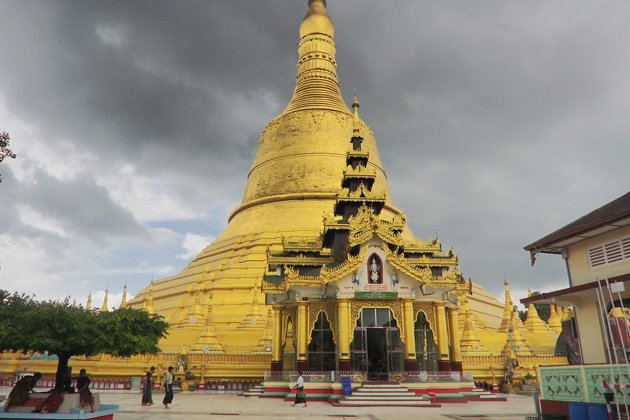 While in Bago we'll also take time to visit the city's local sites, including the town market and a Mon neighborhood where the locals produce beautiful woven textiles. Lunchtime will be at a local restaurant (with our own account) during the day's touring in Bago. From Bago, we'll return to Yangon this afternoon. Before reaching the city limits, stop in Htaukkyan township to visit the Allied War Cemetery. This beautifully landscaped, peaceful area is the final resting place for more than 27,000 Allied Soldiers having perished during the World War II campaign in Myanmar. Once in Yangon you will be transferred to your hotel.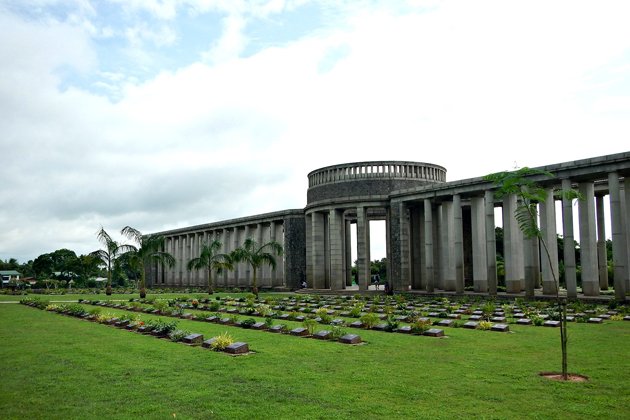 Day 4: Yangon Departure (B)
After breakfast, tourists have a day off and wait until transfer to the airport for international departure flight.
Thank you for making your trip with Go Myanmar Tours! We hope to see you again soon!