General Information
Duration: 9 days/8 nights
Start/End: Yangon/Yangon
Tour Route: Yangon – Mandalay – Mingun – Ava – Sagaing – Bagan – Mt.Popa – Inle Lake – Indein – Yangon
Tour Type: Beach, Sightseeing & Discovery, Landscape, History, Culture
Experience this Myanmar Unforgettable Wedding Tour With:

Guides: hand-picked best tour guides with deep knowledge, humor, profession (English speaking guides, other languages upon request)
Drivers: polite,  friendly, responsible, reliable with many years of driving experience
 Vehicles: comfortable, spacious, air-conditioned, big window
Meals: meals are arranged at local restaurants so you can taste authentic Burmese cuisine
Accommodation: well-chosen hotels are listed below. Besides, various types of equivalent accommodation are available, from 5-star hotels, 4-star hotels in the best location, good value 3-star hotels, to boutique hotels reflect the style of the region
Brief Itinerary
Day 1: Yangon arrival (-)
Day 2: Yangon – Mandalay – Amarapura – Mingun (B)
Day 3: Mandalay – Ava – Sagaing (B)
Day 4: Mandalay – Bagan with river cruise (06:00 AM – 05:30 PM) (B)
Day 5: Bagan (Optional Balloon flight in the morning) (B)
Day 6: Bagan – Mt. Popa (B)
Day 7: Mt.Popa – Inle Lake (B)
Day 8: Inle Lake – Indein – Yangon (B)
Day 9: Yangon – Departure (B)
Please note that every element of the tour below can be tailored. Tell us your specific interest and we will be happy to make adjustments for you. This inquiry is totally free and you are under no obligation!  
Full Itinerary
Day 1: Yangon Arrival
Mingalaba! Welcome to Yangon!
Meet and pick up by our tour guide at the airport and then quickly transfer to the hotel for check-in. After a short break, ready for the rest of the day sightseeing around the fascinating city of Yangon. From the post office, drive through the scenic street to capture a brilliant combination of Burma and British colonial architecture that you can find it nowhere in Asia featured on almost buildings of the city. Passing through the Strand Hotel, Mahabandoola Garden, and Independence Monument, you will reach the bustling Scott Market where you will find myriads of goods, products, foods, and souvenirs. (Note: the market is closed on Mondays and gazette holiday).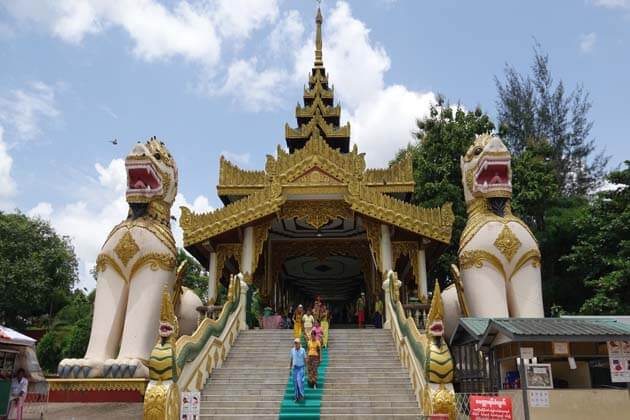 Next, head to the Chauk Htat Gyi Pagoda to admire the 66 meters long reclining Buddha image. Even more, you will have a great chance to learn about the relation to the special symbols on the feet of the statue and Burma art. Later, move to the picturesque Kandawgyi Lake to take some awesome photos at the largest golden barge in Yangon – Karawek Hall before finishing your first memorable day with a final visit to Shwedagon Pagoda – the most impressive relic of the city where the legend said that to be the home to the Buddha relics. Spend time here to enjoy the sunset view and return to the hotel in the evening. Overnight in Yangon.
Day 2: Yangon – Mandalay – Mingun (B)
Leave Yangon early this morning to board a flight to Mandalay where you will gain the heritage of a great cultural center in your honeymoon vacation. Visit Mahamuni Pagoda as you reach to Mandalay to marvel at the second largest pagoda in Myanmar and the pride of Mandalay. Next, stroll to the local artisan workshops to see the production of gold leaf, wood, and marble products.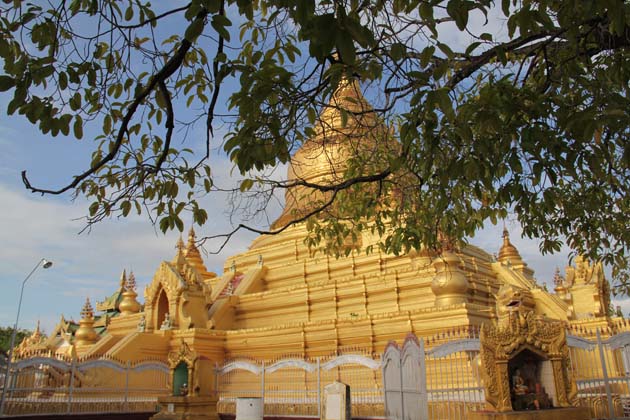 Highlight your afternoon trip in Mandalay with a visit to the Golden Palace Monastery to behold the beautiful religious relic with intricated design and woodcarving. In the afternoon, drop yourself in front of the Kuthodaw Pagoda to witness the largest Buddha book in the world that made from 729 marble slabs. In the afternoon, take a boat trip down the Irrawaddy River to set foot on Mingun – a town of fantastic relics and the world's second-largest bell. Take leisure walk to visit Mingun Pagoda, Hsinbyume Temple, and Mingun Bell, your guide will also provide you will interesting knowledge about the region.
Day 3: Mandalay – Ava – Sagaing (B)
Be an early bird this morning to take a drive through the scenic route to reach Ava (also known as Inwa) – the heart of government and royal from 14th to the 18th century. A short ferry trip will take you across the river to meet the horse carriage which will carry you to visit the old wooden Bagaya Monastery and the Royal Palace and Fort. Even more, your horse carriage also takes you through numerous small villages populated amid Ava's ruins where you can stop for a short chat with the local people.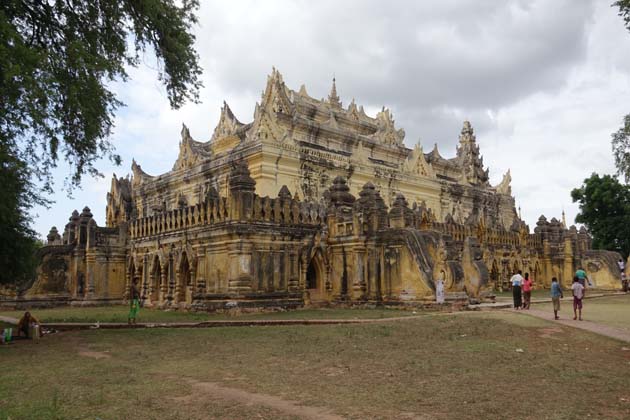 Afterward, continue passing a bridge on Irrawaddy River to reach Sagaing – a marvelous landscape covered by massive gilded and white-washed pagodas and lush forest. Head to Swan Oo Pon Nya Shin and U Min Thone Sae Pagoda to meet the monks and learn more about their life. Next, hit the local market, traditional village to gaze out at the daily life of Burmese people and learn about their way of living as well as methods of making beautiful handicrafts, pottery, and silver.
Day 4: Mandalay – Bagan with river cruise (06:00 AM – 05:30 PM) (B)
An amazing day 4 as you embark on a breathtaking cruise trip for a whole day transfer to Bagan. Breakfast will be served on the upper deck allows you to enjoy the delightful sunrise and feel the gentle light breeze. Let your soul bewitched by the poetic scenery along the river. You are free to sunbathe and relax on the sundeck. We have a great activity for you today: try wearing the beautiful traditional dress of Myanmar and putting on makeup with Thanakha (Burmese traditional make-up power). Take time to behold the gorgeous sunset before reaching to Bagan and then our driver will transfer you to the hotel. Overnight in Bagan.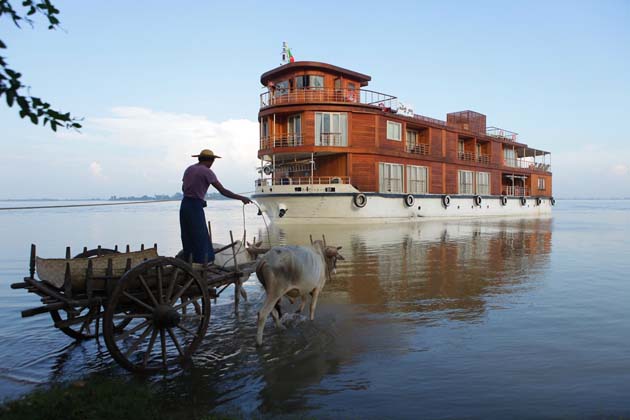 Day 5: Bagan Sightseeing (Optional Balloon flight in the morning) (B)
Your stunning day 5 begins with a visit to the Nyaung U Market to gain an insight into the local life and trading. This morning delivers you an amazing opportunity to take a hot air balloon trip to float over a thousand old temples, pagodas, and exotic ruins to enjoy the sunrise with your beloved (personal charge, required to book in advance).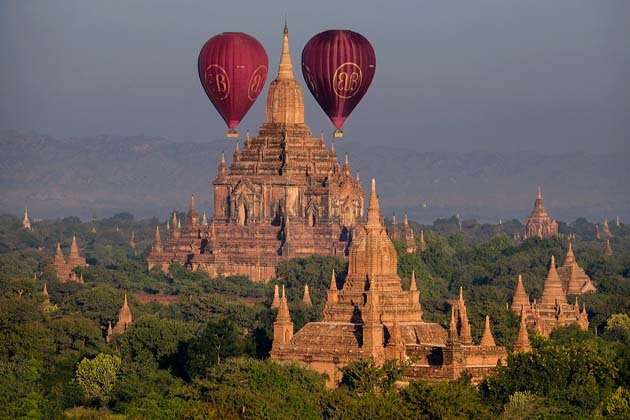 Next up, spend a full day to explore the most famous pagodas in Bagan such as Ananda, Shwezigon, Shwesandaw, Sulamani, andDhammayangyi pagoda. Each has its own charm and design that ensures to bring you a wide range of historical knowledge as well as the architectural masterpiece of the region. Fulfill your afternoon with a visit to the highest temple in Bagan to climb up to the top and marvel at the majestic sunset over the area.
Overnight in Bagan.
Day 6: Bagan – Mt.Popa (B)
Mark your wonderful day 6 with a trip to Mount Popa – a spectacular extinct volcano standing 1518 meters high. As you arrive, stop for lunch at Popa Mountain Resort, from there, you can gain a fantastic view of the surrounding area. With its dedication to the culture and history of Burma, you will have a great chance to learn about it and especially the Nat (Burmese animist spirits) as you listen to your guide as you reach to the pagoda on the top of Mt Popa. Moreover, you can expect to be overwhelmed by the incredible panoramic view of the largest area as you stand on the peak. Overnight in Popa.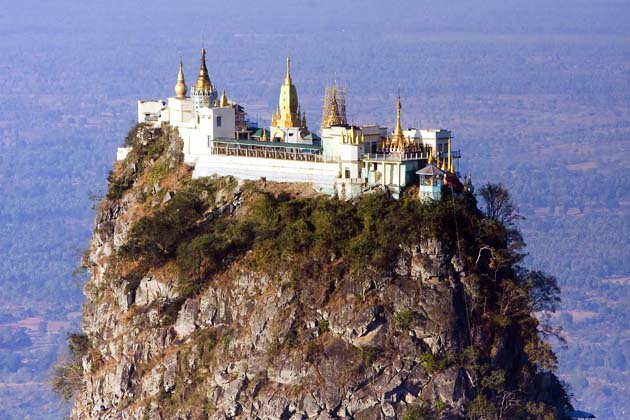 Day 7: Mt.Popa – Inle Lake (B)
This morning, say goodbye to Mt Popa and transfer to Nyaung Shwe township where you will start your exploration to Inle Lake. Enjoy your full day sightseeing around the lake with a stunning boat trip passing through the unique floating gardens and stilt houses. Your first stopover today is Phaung Daw Oo Pagoda which is the most famous religious site in southern Shan State.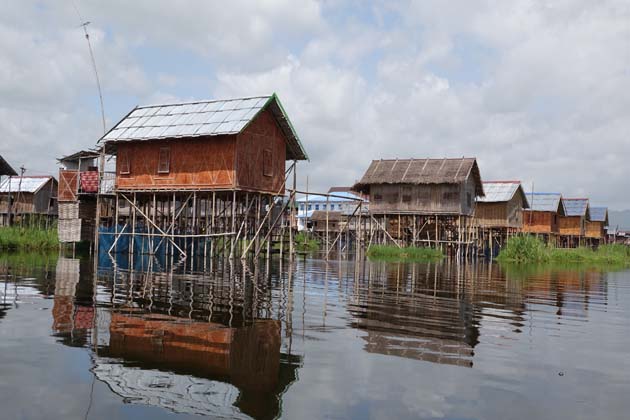 Even more, you also have great visits to the local villages to explore their traditional way of life making excellent fabric textiles, wooden handlooms, and blacksmith. Your boat trip will not miss a chance to bring you to Nga Phe Kyaung Monastery – another tourist attraction of Inle Lake that was built on stilt. From there transfer to Nam Pan village to see the local cheroot factory where is home to cigar and canoe making. Overnight in Inle.
Day 8: Inle Lake – Indein – Fly to Yangon (B)
Power up your morning with a visit to the local market to stay close with the local life and see various products as well as the hill tribe wearing traditional colorful outfits. Continue your sightseeing trip through the scenic channels to reach the fascinating Indein village to marvel at the fabulous complex of ancient stupas and shrines. Remark your trip with a visit to the nearby village to meet the special "long neck" women and have an interesting chat to learn about their daily life.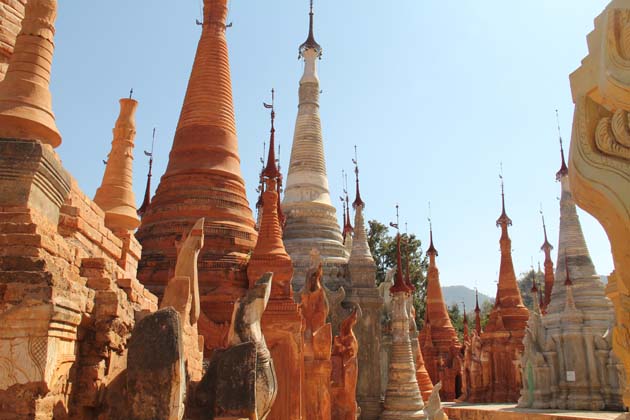 Later, come back to the Inle Lake a continue rowing to your hotel. Along your way back, you will capture the iconic attraction of leg-rowing fishermen with their exquisite rowing method using one leg to keep an oar and another leg to stand on the boat. Take time to enjoy your dream scenery. After check out at your hotel, the driver will carry you to the airport to take a late flight to transfer to Yangon.
Day 9: Yangon – Departure (B)
After your breakfast at the hotel, the day is free until the driver comes to pick you up for a drive to the airport to fly to your departure. Trip ends. We hope you have experienced a remarkable honeymoon holiday in Burma.