General Information
Duration: 11 days/ 10 nights
Start/End: Yangon/ Yangon
Tour Route: Yangon – Bagan – Pakokku – Monywa – Mandalay – Irrawaddy River – Mingun – Ava – Sagaing – Pyin Oo Lwin – Mandalay – Yangon
Tour Type: Sightseeing & Discovery, In-depth Culture & History
Experience this 11-day Myanmar Serenity Tour With:

Guides: hand-picked best tour guides with deep knowledge, humor, and profession (English speaking guides, other languages upon request)
Drivers: polite,  friendly, responsible, reliable with many years of driving experience
Vehicles: comfortable, spacious, air-conditioned & clean
Meals: meals are arranged at local restaurants so you can taste authentic Burmese cuisine
Accommodation: well-chosen accommodation is listed below. Besides, various types of accommodation are available, from 5-star hotels, 4-star hotels in the best location, good value 3-star hotels, to boutique hotels reflect the style of the region
Brief Itinerary
Day 1: Yangon Arrival (B)
Day 2: Yangon – Bagan (B)
Day 3: Bagan & Villages (B)
Day 4: Bagan – Pakokku – Monywa (B)
Day 5: Monywa – Mandalay (B)
Day 6: Mandalay – Irrawaddy River – Mingun (B)
Day 7: Mandalay – Ava – Sagaing (B)
Day 8: Mandalay – Pyin Oo Lwin (B)
Day 9: Pyin Oo Lwin – Mandalay – PM flight to Yangon (B)
Day 10: Yangon City Tour (B)
Day 11: Yangon – Departure (B)
Please note that every element of the tour below can be tailored. Tell us your specific interest and we will be happy to make adjustments for you. This inquiry is totally free and you are under no obligation!  
Full Itinerary
Day 1: Yangon Arrival (B)
Mingalabar! Welcome to Yangon. Your adventure begins after meeting our local tour guide at the airport. We then transfer you directly to the downtown city for the first glimpse of Yangon city. After settling into your hotel, have a short break to prepare for an afternoon city tour. Passing by Strand Hotel, Mahabandoola Garden, and Independence Monument, you will stop for a visit at Chauk Htat Gyi pagoda which is one of the main religious sites in Yangon. Upon arrival, you can marvel at the enormous 66 meters long reclining Buddha images that were designed with very expressive colors. Surrounded by the Buddha images is other shrines symbolizing Asian astronomy.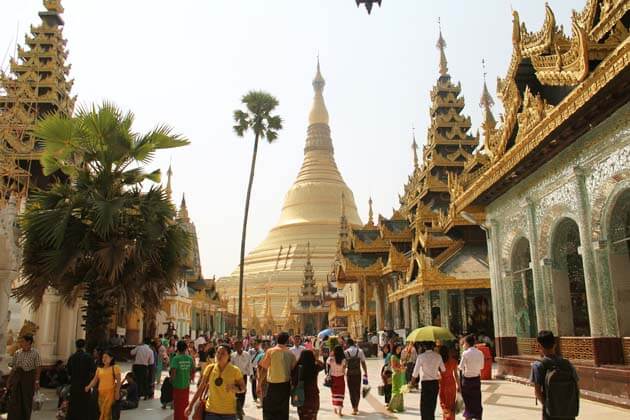 After that, drive to the beautiful Kandawgyi Lake, the best photo stop in the city overlooking Karaweik Hall, an impressive golden barge on the lake. Finally, remark on the city tour at Shwedagon pagoda to admire the symbolic beauty of Yangon where the legend said that it enshrines eight of the Buddha's hairs. Take a stroll to capture its allure and listen to history before returning to your hotel in the late afternoon. Overnight in Yangon.
Day 2: Yangon – Bagan (B)
Today you will board a flight to Bagan in the morning. Then your sightseeing starts at Nyaung U Market, the main bazaar in the region where you can capture a variety of local staples, smell the scent of foods, and vegetables, mingle with the people, and see the shining smile on the faces covered with Thanaka makeup (a traditional make-up powder of Burmese people).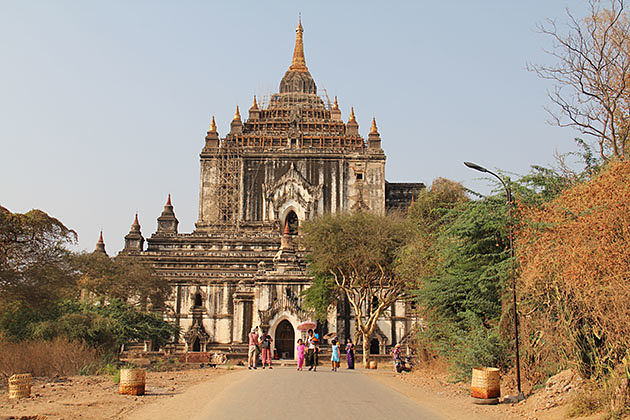 Continue your day trip to Bagan, it's time to unlock the hidden treasure of Bagan among its thousands of temples. From the market, head to some of the most outstanding pagodas and learn about the history, architecture, and devotion to the country as well as the life of people. Highlight your trip with a visit to a local lacquerware workshop after that to learn more about the handicrafts of Bagan passing from generation to generation. In the late afternoon, drive to the sunset hill in the region to watch the incredible sunset over the region. Overnight in Bagan.
Day 3: Bagan – Villages (B)
Today is an amazing day that delivers you an insight into the life of Burmese people in rural areas. After breakfast, your guide will pick up to some families for an interesting meet and interaction to learn more about their lifestyle, culture, and custom. Next, ready for an exotic horse-cart trip to linger around the dusty paths to behold the true beauty of Bagan.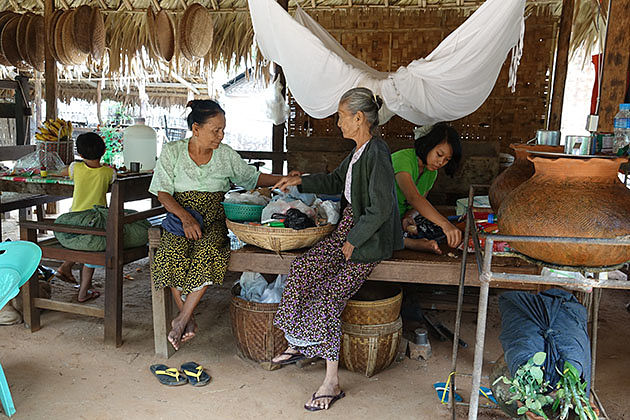 In the afternoon, transfer to the jetty to embark on a boat trip cruising along the Irrawaddy river to captivate the natural beauty along the river. The cruise trip also hopes to show you the best sunset on the river. Overnight in Bagan.
Day 4: Bagan – Pakokku – Monywa (B)
In the morning you will head to Pakokku by boat. Lying about 25 km toward the north of Bagan, Pakkoku is a small quiet town well-known for its tobacco and Thanakha trading. Upon arrival, your visit will lead you to the local tobacco trading center and weaving shop.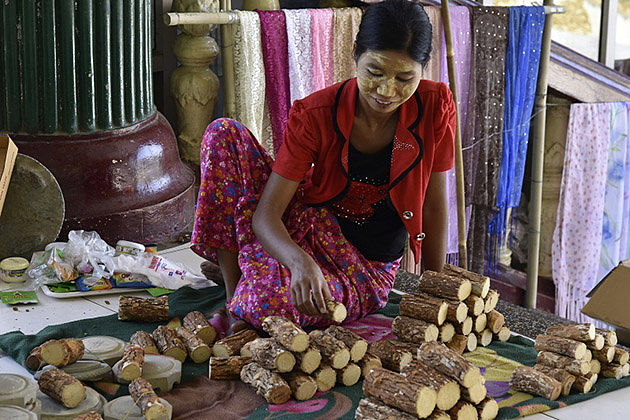 Then you continue to visit the cheroot factory, slippers workshop, and wood carving sculpture. If time permits, it is able to gaze out at the local market before moving to Monywa. Overnight in Monywa.
Day 5: Monywa – Mandalay (B)
Power up your morning with an early visit to the market after breakfast. Then we take a drive to Chindwin River. Take a ferry to cross the river and proceed to Pho Win Daung for a visit to the Buddhist cave complex. From there stroll through Shwe Ba Daung, a stunning cave filled with Buddha images featuring unique pavilions cut from the surrounding sandstone.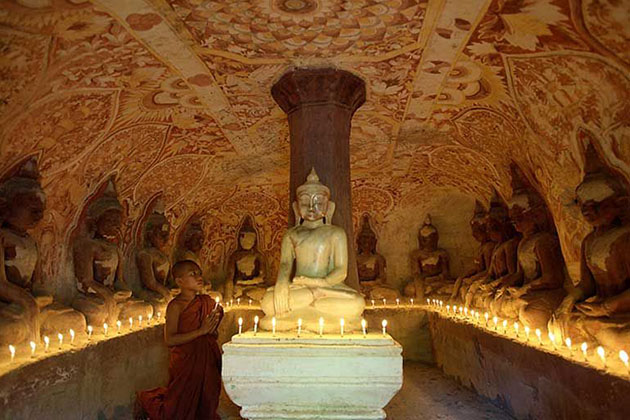 We then go back to Monywa and head to Thanboddhay Pagoda which captivates the heart of visitors with its fantastic design and thousands of stupas inside. Later, transfer to Mandalay. Overnight in Mandalay.
Day 6: Mandalay – Irrawaddy River – Mingun (B)
Following your breakfast by a boat trip up the Irrawaddy River to Mingun, a sleeping town that is home to several unique sites. Spend time looking for the foundation of the largest unfinished Buddhist pagoda in the world Mingun Paya, marvel at the gigantic bronze intact Mingun bell, and walk on the snaking terraced of the impressive Hsinbyume Temple.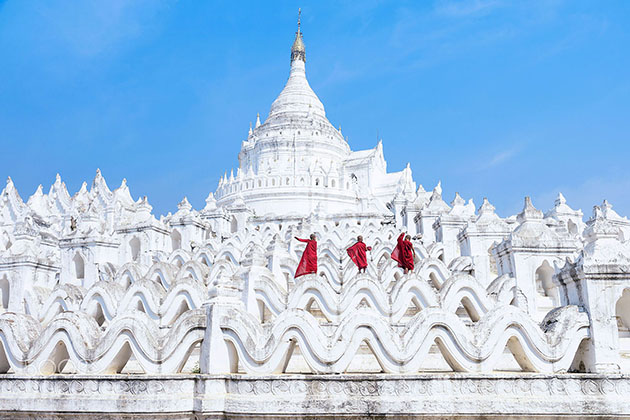 Head to the small village nearby Mingun to discover the traditional basketry from the local artisans. Back to Mandalay, visit Golden Palace Monastery to marvel at the fabulous wooden monastery noted for its intricated carving and architecture. Finally, fulfill your trip of the day as you take a drive to Mandalay Hill to gain a commanding view of the city of Mandalay.
Day 7: Mandalay – Ava – Sagaing (B)
Start the day with a visit to Ava, the magnificent ancient capital of the Burmese Kingdom which is the only place where the Irrawaddy River is bridged. You first visit the Bagaya Monastery and the remain of the Royal Palace and Fort. Then get on a horse cart and pass through small villages amid Ava's ruins and gaze out at the life of Burmese people in the countryside. After that, cross a bridge to reach Sagaing Hill, an important religious center of Myanmar studded with massive white and gold pagodas.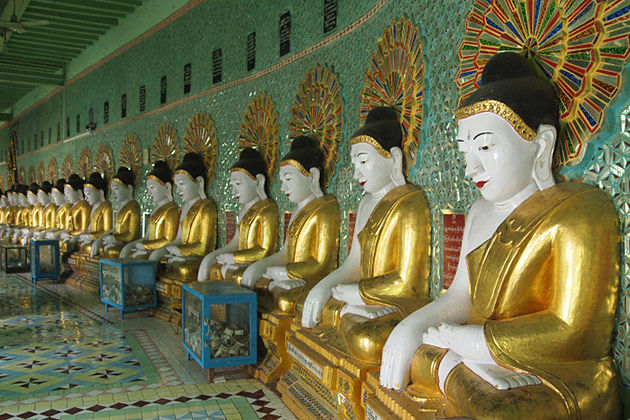 Head to Swan Oo Pon Nya Shin and U Min Thone Sae, you will see many impressive stupas and be able to learn about the life of the monks in the pagods. After that, hit the way to Sagaing local market to visit a typical Burmese market before completing your day at a small pottery village to see the process of making traditional pottery. If you wish, try your hands at making a pot on your own under the guidance of the villager. That would be an interesting experience!
Day 8: Mandalay – Pyin Oo Lwin (B)
This morning, take a scenic drive to start your day trip from Mandalay to Pyin Oo Lwin, a breathtaking colonial town to escape from the heat to visit lovely lakes, gorgeous waterfalls, botanical gardens, and charming colonial-era buildings. After settling into your hotel, make your first visit to the central market in the heart of the town for a first glimpse at the life of local people.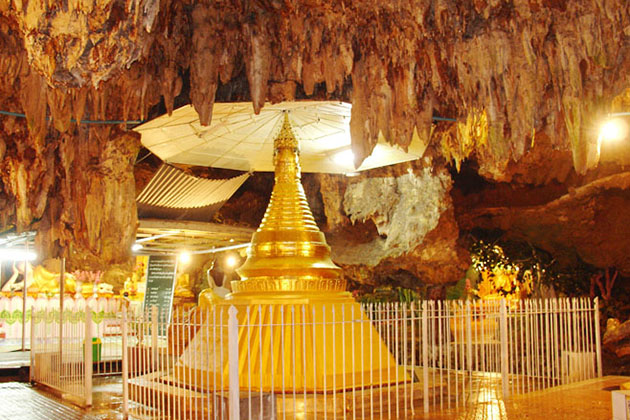 Then continue heading to National Kandawgyi Garden, the lovely botanical garden possesses 480 species of flowers, shrubs, and trees surrounding the gilded pagodas. After lunch, visit Peik Chin Myaung Cave, a massive limestone cave that stretches through 45 acres filled with many Buddha images and stalactites. Overnight in Pyin Oo Lwin.
Day 9: Pyin Oo Lwin – Mandalay – PM Flight to Yangon (B)
This morning, enjoy your free time exploring the charming town of Pyin Oo Lwin. Then the driver will pick you up to transfer you back to Mandalay for a flight to Yangon.
Overnight in Yangon.
Day 10: Yangon City Tour (B)
Enjoy your full-day Yangon city tour and soak up the hectic pace of life. Start your exciting day at Bogyoke Market, the main bazaar in Yangon to see an array of goods and products. Also, this is one of the best places in Yangon to look for gems and jewelry. (Note: the market is closed on Mondays).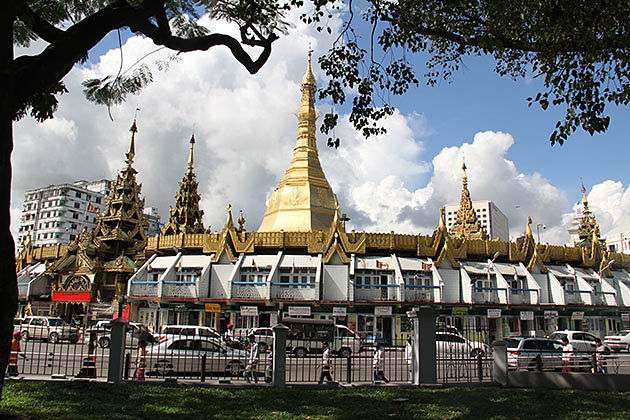 Passing through the street and see the influence of other cultures on the city's shops, teahouses, and old buildings. Stop at St Mary's Cathedral to visit a beautiful red-brick Catholic church then head to one of the most prominent landmarks of Yangon: the 250-year-old Sule Pagoda and the 100-year-old Musmeah Yeshua Synagogue where you will have a chance to meet the Trustee to learn about the Jewish life in the Pagoda. Remark your city tour at Chinatown and Little India to capture many colorful vendors selling exotic products. Take this opportunity to get to know more about the wares.
Day 11: Yangon – Departure (B)
After breakfast, wait until the driver comes to transfer you to the airport where your holiday ends. We hope this itinerary for this 11-day Myanmar tour will meet your exact interest and demand. Thank you for traveling with Go Myanmar Tours!