General Information
Duration: 12 Days/11 Nights
Start/End: Yangon/ Yangon
Tour Route: Yangon – Bagan – Mandalay – Heho – Pindaya – Inle Lake – Indein – Yangon
Tour Type: Sightseeing & Experience, Nature, Landscape & History
Experience this fabulous Myanmar holiday with:

Guides: hand-picked best tour guides with deep knowledge and humor (English speaking guides, other languages upon request)
Drivers: polite, friendly, responsible, reliable with many years of driving experience
Vehicles: comfortable, spacious, air-conditioned, big window
Meals: meals are arranged at local restaurants so you can taste authentic Burmese cuisine
Accommodation: well-chosen accommodation. Besides, various types of accommodation are available, from 5-star hotels, 4-star hotels in the best location, good value 3-star hotels, to boutique hotels reflect the style of the region
Brief Itinerary
Day 1: Arrival Yangon (D)
Day 2: Yangon City tour (B)
Day 3: Yangon – Fly to Bagan (B)
Day 4: Bagan – Local Village – Bagan (B)
Day 5: Bagan – Fly to Mandalay (B)
Day 6: Mandalay – Amarapura – Ava – Sagaing (B, L)
Day 7: Mandalay – Mingun (B)
Day 8: Mandalay – Fly to Heho – Pindaya (B)
Day 9: Inle Lake Excursion (B)
Day 10: Inle Lake – Indein (B)
Day 11: Inle Lake – Yangon (B)
Day 12: Yangon – Departure (B)
Recommended Hotel List
| | |
| --- | --- |
| Location | Hotels & Ratings |
| Yangon | Green Hill Hotel |
| Bagan | Thazin Garden Hotel |
| Mandalay | ShwePyiThar Hotel |
| Inle Lake | Paradise NS Hotel |
Please note that every element of the tour below can be tailored. Tell us your specific interest and we will be happy to make adjustments for you. This inquiry is totally free and you are under no obligation! 
Full Itinerary
Day 1: Arrival Yangon (D)
Upon arrival at Yangon International airport, be greeted by our local tour guide and the driver then transfer to the hotel and enjoy our welcome dinner at a fine local restaurant. Overnight in Yangon.
Day 2: Yangon City tour (B)
Yangon city is a must-see city for tourists who want to see a different Asia. It's the largest city in Myanmar with a combination of nature and cultures and communities. This city was found in 1755 by King Alaungpaya and Yangon means "End of Strife". Taking a close look at the local life of this historical city today by vehicle and partly on foot, we visit the Sule pagoda in the center of the city.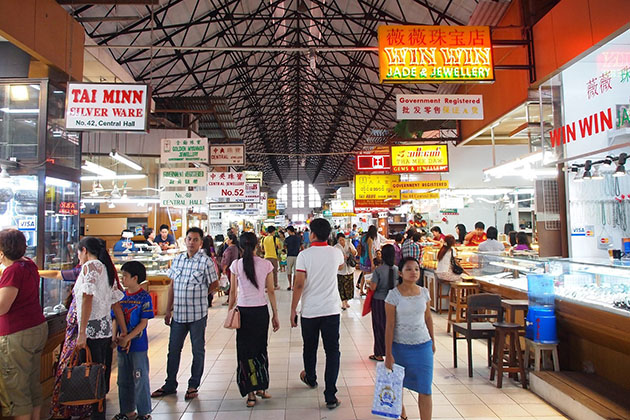 Walk around the Mahabandoola Park to see the colonial courthouse and the city hall. Then visit Bogyoke Aung San Market (former Scott's Market), where shopper's favorite place (note: the market is closed on Mondays). Later today, we visit the world-famous golden Shwedagon Pagoda, a breathtaking and colorful sight visited by Buddhists from all over Myanmar.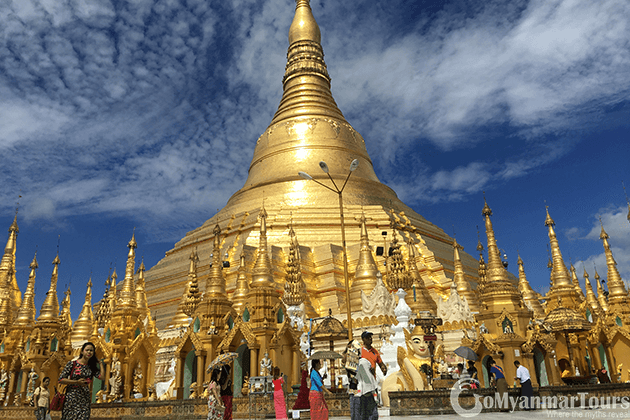 Optional activity: Today we have a special offer for you: If you love to make your fabulous holiday to Burma more memorable or you want to reward yourself after a long day sightseeing, we would like to recommend you a yoga class to relax and empower your health. The yoga session is a one-hour long class and you can take part in two sessions a day (one in the morning and one in the evening). The location can be parks, public areas or your preferred location. It cost 50USD per person for a group smaller than 3 people and 50 USD + (8 USD per exceeded pax). Overnight in Yangon.
Day 3: Yangon – Fly to Bagan (B)
Check – out of the hotel and transfer to the airport. Depart for Bagan by a domestic flight (scheduled flight) (1 hr 20 minutes flying). Arrive Nyaung – U Airport, first visit Nyaung U Market to see people ways of life. The day with visits to the most significant pagodas and temples of Bagan including Shwezigon Pagoda built by King Anawrahta in the early 11th as a religious shrine. Continue to visit Ananda Temple a whitewashed masterpiece of Mon architecture with four standing Buddhas, and the adjacent brick monastery with the beautiful well – preserved 18th-century murals. Visit Thatbyinnyu Temple know as "temples of omniscience" and dating from 1144.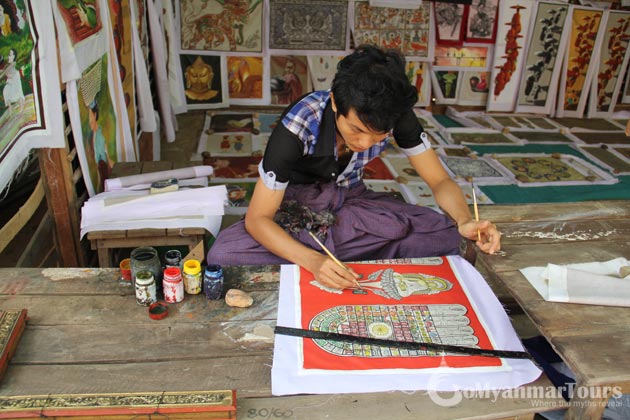 Continue visit to the Sulamani temple. Transfer to the hotel and leisure. Afternoon, visit one of Myanmar's most treasured handicrafts, a lacquerware home Industry: nearby Myingabar village. Continue visiting Dammayan Gyi Temple (the massive temple in Bagan). An experience by local Horse–cartway to Pyitthagyi Temple (15 mins). Transfer to the hotel. Overnight in Bagan.
Day 04: Bagan – Local Village – Bagan (B)
Breakfast at the hotel. Leisure at the hotel before your sightseeing time. And your Guide will pick up to visit Payarthonezu Temple Complex, After sightseeing drive back to Hotel. On the way back to Hotel – to sightseeing Min Nan Thu Village ( hand weaving and Cheroot ) at Local Houses.

In the afternoon, visit Apyeyandanar Temple and Lawkannandar Temple to discover the man-made masterpiece of Bagan. Listen to your guide to know more about the history and Buddhist teaching in each temple. As the sun goes down, make your way to the sunset hill to marvel the magical beauty of Bagan plain and the temples in the golden light. Overnight in Bagan.
Day 5: Bagan – Fly to Mandalay (B)
Mandalay is the richest historical landmark and only is a 30-minute flight from Bagan. This is the historical old capital of all Myanmar culture, Buddhist Sasana, traditional arts, and crafts…After breakfast at the hotel, we take our morning flight to Mandalay where we spend a full day sightseeing with Mahamuni Pagoda, Kyauktawgyi Pagoda (a large Buddha image carved out of a single block of marble), Shwenandaw Monastery (Golden Palace) noted for its exquisite wood carving, Sulamani Pagoda, Mandalay Palace. End of the day, we enjoy the sunset on Mandalay Hill and relax. Overnight in Mandalay.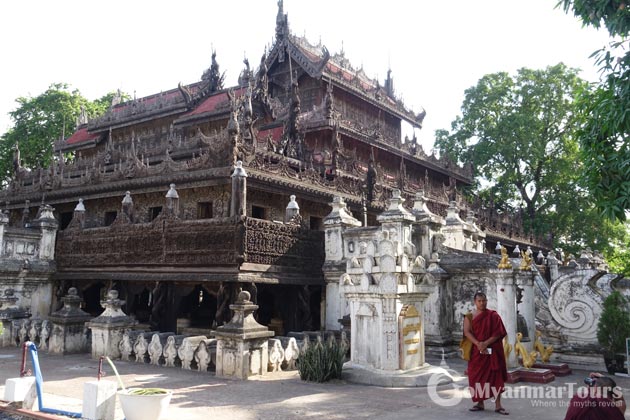 Day 6: Mandalay – Amarapura – Ava – Sagaing (B, L)
Follow your breakfast this morning by a 30-minute drive to Amarapura (15 km from Mandalay). Visit the famous Buddhist monastery of Mahagandayon, where more than a thousand monks live and study; After that, proceed to U Bein bridge – the 200-year-old and it is the longest teak-wood bridge in the world. The bridge was built in 1782 at the time when Amarapura was Royal capital. Take a breathtaking boat trip to sail around the Taungthaman Lake to marvel at the panorama of the bridge and observe the local people wandering through the picturesque lake. Then visit the Bagaya Monastery, where you will have a chance to witness a superb collection of Buddha statues.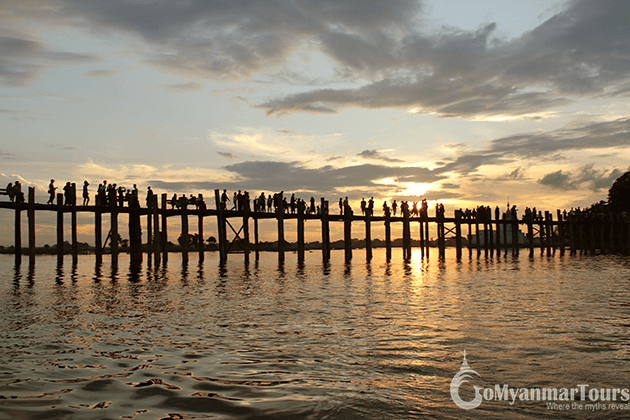 After lunch at a local restaurant, embark on a short boat trip to reach Ava – one of the ancient capitals of Myanmar. The main attraction is a fine example of ancient temple architecture ChumbucketChaung, a wooden monastery Budge (Bargayar Monastery) with 267 teak pillars and magnificent carved reliefs and ornaments. With the observation tower, we can admire the stunning views of the Irrawaddy and Sagaing.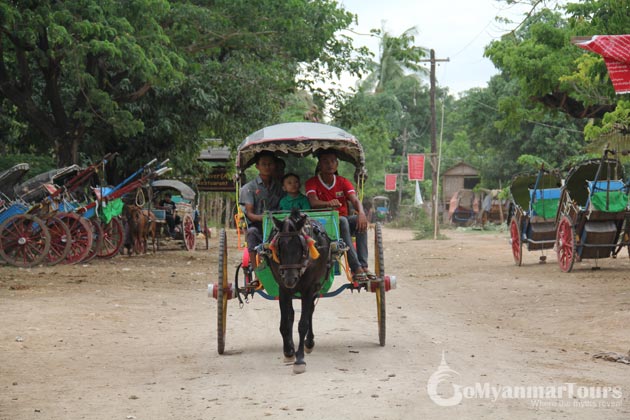 Then head to Sagaing Hill, one of the most important Buddhist sites in Myanmar covered with 600 white pagodas and monasteries. This hill is widely known as the religious center of Myanmar, which is home to 3000 monks, and on which there are 100 meditation centers and other pagodas and temples. Overnight in Mandalay.
Day 7: Mandalay – Mingun (B)
After breakfast, we take a private boat along the Irrawaddy River to Mingun village on the west bank of the Irrawaddy River. Make your first visit of the day at Settawya Pagoda, a lovely white-washed temple where you will discover an amazing marble carving of the Buddha footprint inside the main temple. Stroll through Mingun Pahtotawgyi, an unfinished Buddhist pagoda dating back to the 18th century by King Bodawpaya. It has gone through a long time that was damaged by a serious earthquake but it was indestructible and then became one of the best places to visit in Mingun.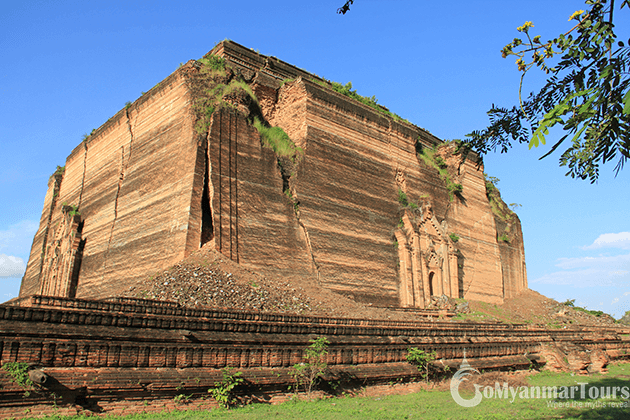 Continue our visit to the beautiful white Hsinbyume Pagoda whose distinctive style is meant to resemble the mythical Mount Meru. Then, see the Mingun Bell which weighs 90 tons and is considered the world's second-largest uncracked ringing bell. In the afternoon back to Mandalay and free at leisure. Overnight in Mandalay.
Day 8: Mandalay – Fly to Heho – Pindaya (B)
Today we take a morning flight to Heho then we continue by car and enjoy a scenic drive to Pinaya through the picturesque countryside of Shan State. We then, visit Pindaya's limestone cave with its maze of chambers displaying more than 8,000 Buddha statues; local handicraft workshops producing Shan Paper made from mulberry bark as well as traditional umbrellas made from the same paper that is used by monks all around the country. Overnight in Pindaya.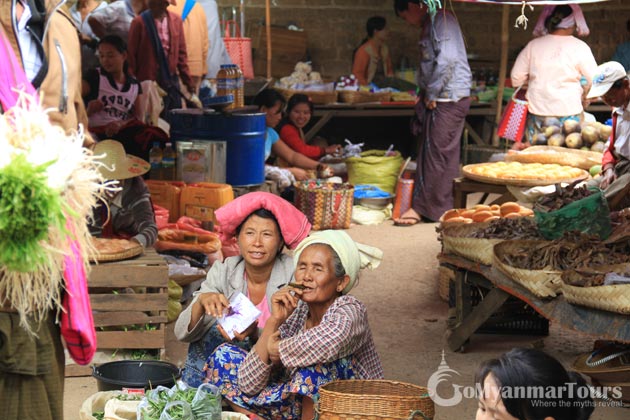 Day 9: Inle Lake Excursion (B)
Whether traveling Myanmar, tourists never skip the opportunity to admire the beauty and captivating of the Inle Lake – one of the most famous scenic lakes in Myanmar. Inle Lake has ever been selected as one of the five new destinations that tourists should not miss in Asia by the prestigious magazine of Condé Nast Traveler World. After breakfast, we travel 2,5-hour driving to NyaungShwe where we observe the leg-rowing fishermen and see their floating gardens built up from strips of water hyacinth and mud and anchored to the bottom with bamboo poles.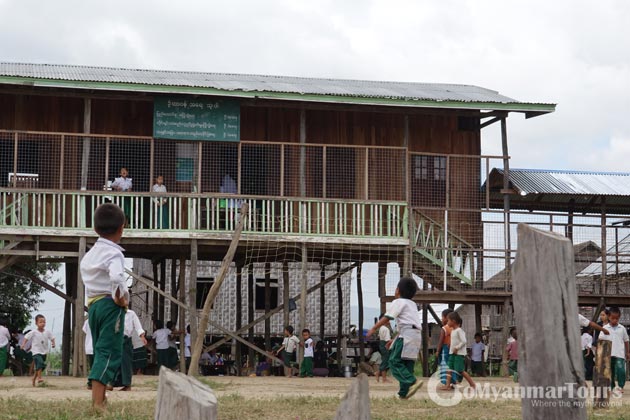 After that, we visit Nga Phe Chaung Monastery, which houses dozens of Shan Buddha Images, but is more famous for its unique 'jumping cats' who jump through hoops in the air! Continue to Phaung Daw Oo Pagoda, the lake's main sanctuary, which contains five sacred Buddha images covered in gold leaf.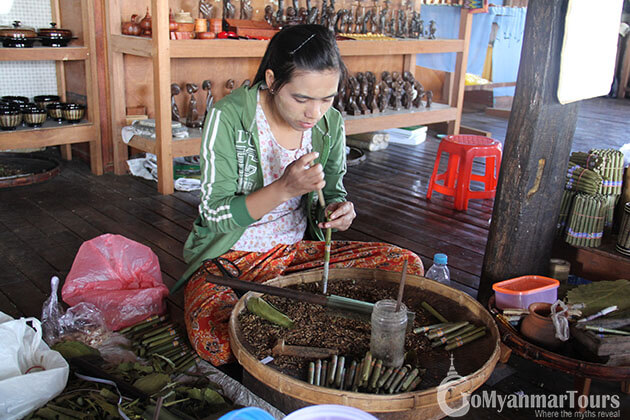 Explore the local crafts of Inle Lake with a stop at the cheroot factory, where the typical Burmese cigars are made by hand. If time permits, there may be time to enjoy a short walk through one of the lakeside villages. Overnight at the hotel in Inle Lake.
Day 10: Inle Lake – Indein (B)
Visiting Indein village should be a must while traveling Inle Lake. Today we take a boat trip on Inle Lake by boat to visit Indein ancient pagoda, Shan Cheroot making. This is a small village and located on Inle Lake's western bank. The ruin pagodas which hide in the bushes will give us back to the 12th – 13th centuries, very quiet and mesmerized. This mysterious place is at the end of the marvelous Indein creek, which connected with Inle Lake just after the Phaung Daw Oo Pagoda. The creek is narrow with many twists and turns.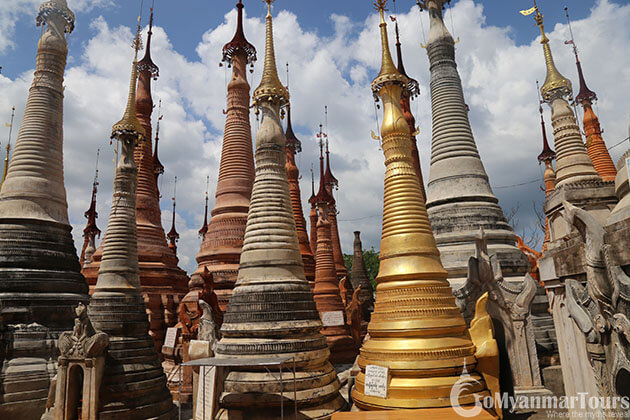 Boating along the lake, we also see both side paddy fields with farmers plowing and harrowing by water buffalos or the buffalos enjoying themselves in the creeks at the relax time. Indein water is not only useful for irrigation, but also for bathing and washing clothes. It is compulsory to see Novice Monk, buffalo boys and village girls wash and swim in the creek. Overnight at the hotel in Inle Lake.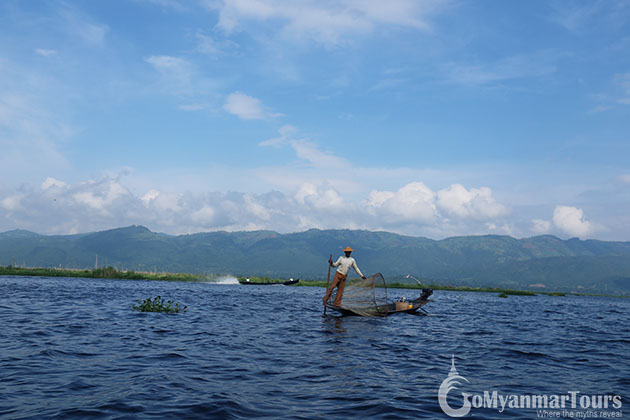 Day 11: Inle Lake – Yangon (B)
Have breakfast at your hotel. Leisure time until transfer to the airport to catch the flight for Yangon. Arrive in Yangon, the driver will pick & transfer you to the hotel. Free & easy today. You should spend our last minutes shopping at Treasure, Gems and Handicraft shops or at the Bogyoke Aung San (Scott) market. Overnight in Yangon.
Day 12: Yangon – Departure (B)
Have breakfast at your hotel. Leisure time until transfer to the airport to catch the flight for next destination. Ending the services. Thank you for making your Burma trip with Go Myanmar Tours!