Nestled in the heart of the Yaw Min Gyi Ward, north of downtown Yangon, The Press Office Cafe offers an excellent space for one and all. Situated along Bo Yar Nyunt road, the cafe is one of top recommended coffee shops in Yangon, just a five to ten min walk from the iconic Bogyoke Aung San Market (Scott's Market) and international hotel chains like Parkroyal Yangon and the Sule Shangri-la Hotel.
One might be fooled by the plain facet of the cafe, beyond its glass doors however, lie a truly unique offering. Espresso based drinks are derived from a blend of locally grown and imported coffee beans while cakes and pastries such as the lemon loaf and choco-cinnamon rolls are classic all time western favorites produced with locally sourced ingredients, showcasing the best of Western and Local flavors.
In addition to good coffee and food, the clean and whitish feel of the cafe interior coupled with the lounge area on the second floor makes it a great hideout for those in need of an unwind away from the hustle and bustle of downtown Yangon. Well-varnished teak-made tables and chairs also makes the cafe an ideal set up for business meetings. Finally, high tables and bar stools allow for individuals who may need some quiet and space to themselves.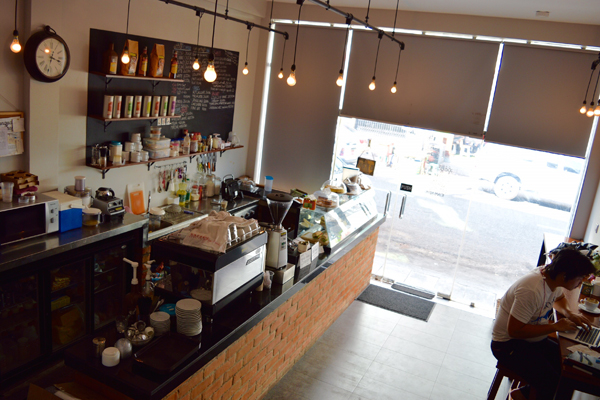 On your lucky evenings, you might even catch live performances/showcases of music and artworks by budding artists. More than that, the friendly local staff will ensure that your caffeine needs will be promptly met and that you will never go hungry. There is something for everyone at the Press Office Cafe – certainly a cafe not to be missed!