You may be familiar with exploring a new land by car or boat. Nevertheless, in this Myanmar adventure tour, you will capture the excellent experience that you have never done before. With just a motorbike, head off a dramatic adventure to feel the slight breeze, the tranquility, and beautiful magic land. Since some remote parts in Myanmar are relatively hard to access by car, a motorbike will take you to anywhere you want. The Golden Land of Myanmar offers hundreds of wonderful places to explore by motorbike. Don't hesitate! Join with us in this motorbike tour to kick off this amazing journey.
Duration: 10 days/ 9 nights
Start/End: Tamu – Kalaywa/Ganggaw – Tamu
Tour Type: Motorbike & Boat Ride, Adventure & Discovery, Nature, Landscape
Tour Category: Myanmar adventure tours
Experience this Myanmar Motobike Adventure Tour With:

Guides: hand-picked best tour guides with deep knowledge, humor, profession (English speaking guides, other languages upon request)
Drivers: polite,  friendly, responsible, reliable with many years of driving experience
 Vehicles: comfortable, spacious, air-conditioned, big window
Meals: meals are arranged at local restaurants so you can taste authentic Burmese cuisine
Accommodation: well-chosen hotel are listed below. Beside, various types of equivalent accommodation are available, from 5-star hotels, 4-star hotels in the best location, good value 3-star hotels, to boutique hotels reflect the style of the region
Brief Itinerary
Day 1: Tamu – Kalaywa (Through border gate )
Day 2: Kalay – Yargyi – Monywa ( 230 Km ) by motorbike and car (B)
Day 3: Monywa – Mandalay ( 140 KM ) by motorbike and car
Day 4: Mandalay – Mingun – Mandalay by private boat and car (B)
Day 5: Mandalay – Pindaya – Inle by motorbike and car (B)
Day 6: Inle sightseeing by boat (B)
Day 7: Inle – Kalaw – Yin Mar Bin – Thar Zi – Meikhtilar – Bagan ( 200 Km ) by motorbike and car (B)
Day 8: Bagan by car (B)
Day 9: Bagan – Gangaw ( 260 km ) by motorbike and car (B)
Day 10: Ganggaw – Tamu ( 320 km ) by motorbike and car (B)
Please note that every element of the tour below can be tailored. Tell us your specific interest and we will be happy to make adjustments for you. This inquiry is totally free and you are under no obligation!  
Full Itinerary
Price & Inclusion
Accommodation
Photos
Day 1: Tamu – Kalaywa (Through border gate)
On your arrival, after being escorted by guide and government officer from Ministry of hotel and tourism, to border gate of Tamu, you will meet our team in Tamu Moreh border check-point and Tamu one will finish at around 10:00 am and around 12:00 (or) 13:00 pm respectively. Then head down to Kalay and end the day with an overnight stay at Majestic Hotel in Kalay Myo.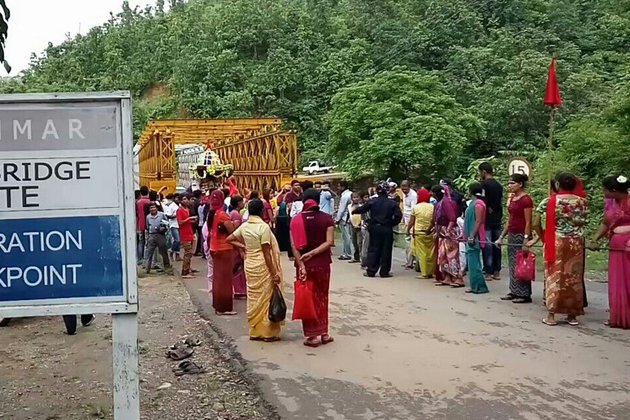 Day 2: Kalay – Yargyi – Monywa (230 Km) by motorbike and car (B)
Start our second day with breakfast and then we take a 4-5-hour drive to get Monywa through Yargyi. However, the bumpy and muggy road condition in this remote is might be a problem. Along the roads in return, there is nothing quite like spending time exploring the local tribe village scenery. In the afternoon, we will get access to Monywa to take in the stunning view of the beautiful sunset over the Chindwin River. After that, check-in your hotel and have a rest as well as an overnight stay at the Jade Royal Hotel in Monywa.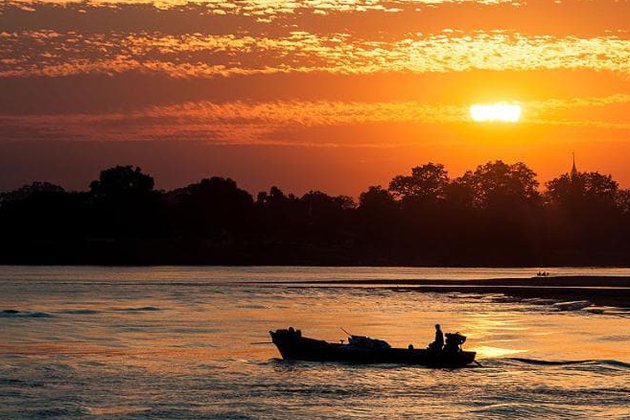 Day 3: Monywa-Mandalay (140 KM) by motorbike and car
Check out from the hotel after having breakfast to make our way to Bagan en route Pakkoku, which would take around a 3-hour drive with a length of 130km. Continue our visit to Monywa, we're about to explore such highlights as the well-known Thamboddhay temple which is also renowned for half million Buddha images and Bawdi Tahtaung – a reclining and standing Buddha at the site.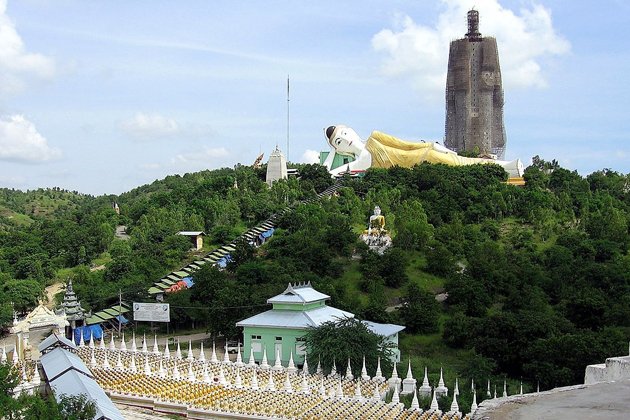 After finishing Monywa exploration, we then carry on visiting Mandalay with loads of highlights in Sagaing encompassing the KaungMudaw Pagoda where you can enjoy the giant white dome and its 800 stone pillars at its base as well as long-established Sagaing's pottery village. Right after that, we have a break for lunch to get prepared for the afternoon tour to Departure for Amarapura and the 200-year-old U Bein Bridge which was erected in 1782 and mainly from teakwood. Here, there is no more great way than enjoy the sunset from U Bein Bridge to get all the sights, sounds and tastes of the region. We then return to Mandalay and have an overnight stay at Mandalay City Hotel.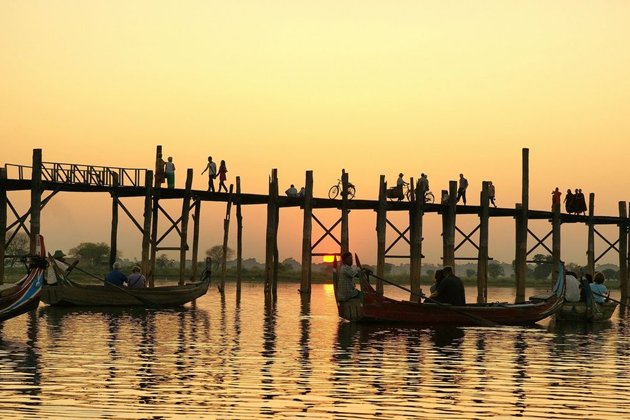 Note: Mandalay Hotel is our choice as the hotel provides a large private parking space for clients' motorbike; whereas there exists no parking space and large hotel compound in most of the three star rated hotels in Mandalay.
Day 4: Mandalay – Mingun 
– 
Mandalay by private boat and car (B)
The highlight of the fourth-day tour is a boat ride to delve into the little tranquil rural area of Mandalay. After breakfast in the early morning, we move to Mayangyan Jetty. On the way leading to Jetty, we will pay a short visit to the street market of Mandalay to know more about local people's everyday lives in Mandalay. Continue our trip with a visit to jetty for an excursion to Mingun by taking a boat ride on Ayeyarwaddy River which would take you approximately 45 minutes. Within the day, we are about to explore Mingun Bell, Hsinbyume Paya – one of the world's largest bell, weighing 90 tons and featuring unique architectural design. Along with that, unfinished Mingun Paya world's biggest pile of brick in height of 50 meters is another highlight of our tour.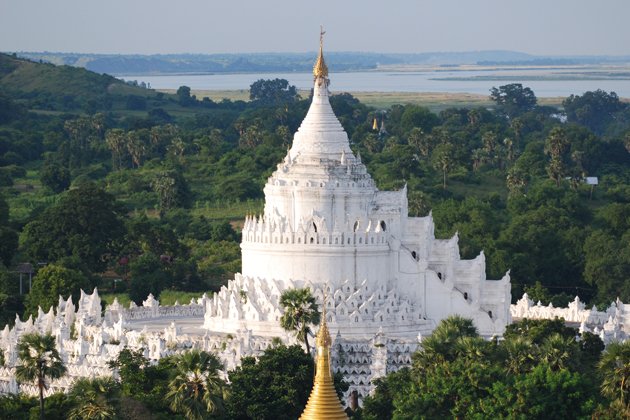 In return to Mandalay, we also take a boat ride. On arrival, we'll have a lunch break before returning to the hotel for a short rest.
We start our afternoon sightseeing with a visit to the Shwenandaw monastery (or Golden Palace monastery) – an outstanding example of traditional work. Out afternoon highlight also includes Kuthodaw Pagoda which is best-known as the world's largest book with a huge collection of 729 marble slabs engraved with Buddhist scriptures. Then Mandalay Hill will be our next stop. Here, you grab a chance to watch the stunning sunset as well as take in a panoramic view of the whole Mandalay from the top of the hill. We then drive back to the hotel and take an overnight stay at Mandalay City Hotel.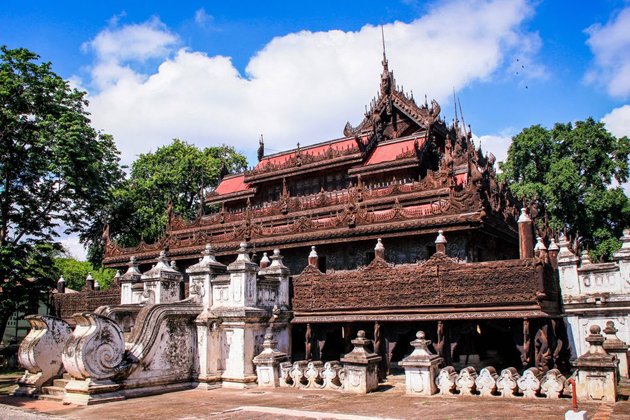 Day 5: Mandalay – Pindaya – Inle by motorbike and car (B)
We start the day with breakfast and then move out of the crowded city towards " Han Myint Moe Town ". We then keep driving to Myo Gyi, which would take another 30 to 40-minute drive. A drive to Myo Gyi offers you a chance to have a little break tea shop before proceeding to the hill of Shan state and until you get to Ywa Ngan which is popularly known as the biggest village of Southern Shan state on the way to Pindaya (Distance between Myo Gyi & Ywa Ngan is 68 Km ).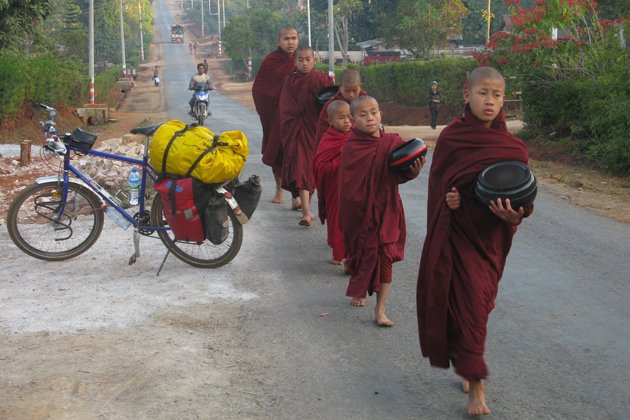 Continue our tour with a drive up straight to Pindaya where a lunch break is waiting for us. We then keep visiting Natural Cave of Pindaya – Shwe Oo Hmin Pagoda then proceeds to Inle (another 50 Km) via Baw Sai road. Here, do not miss the chance to travel by motorbike – a great experience to help you enjoy pleasant and relaxing moments as you can take in spectacular views of the countryside. We enjoy such authenticity of the countryside by passing ethnic villages which are off the beaten track that is hardly seen. On arrival at Nyaung Shwe, we will drive up to Inle Resort & Spa for an overnight stay.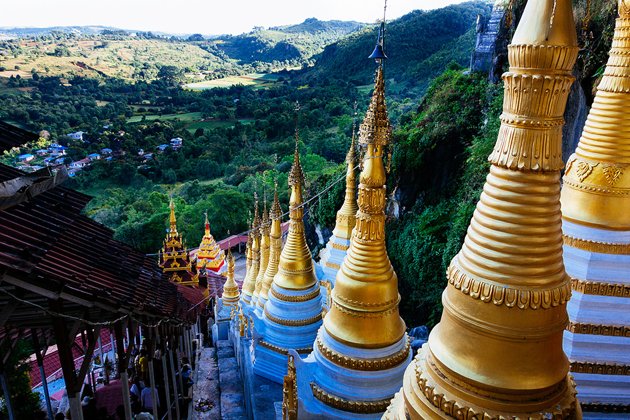 Day 6: Inle sightseeing by boat (B)
The sixth-day highlight is Inle sightseeing by boat. After having breakfast, we will be transferred to jetty and we grab a chance to take a full-day boat ride touring around Inle Lake. First, we head to one of the local five-day markets ( If the market day falls on the same day you stay in Inle Lake and the highlights encompass Phaung Daw Oo Pagoda, featuring the famous five Buddha statues covered by gold and lost their shapes, the unique leg rowers and floating gardens, silk weaving village.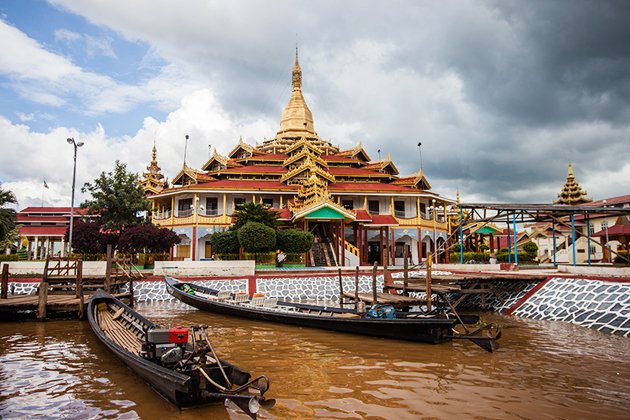 For the lunch break, we will have a mouth-watering meal at a nice local restaurant in Inle Lake.
After a great lunch, we then proceed to Hand rolled cigar making factory and Blacksmith factory. Moreover, a visit to Nga Phae Chaung monastery would provide us a chance to see long-established Buddha images made of teak, bamboo, and lacquer. It is best known for the nickname "Jumping Cats Monastery". Also, we are about to explore stilt houses to know more the lifestyle of the water dweller, coupled with floating gardens corner of Inle Lake. Coming back to your hotel and finish our day tour with an overnight stay at Inle Resort and Spa.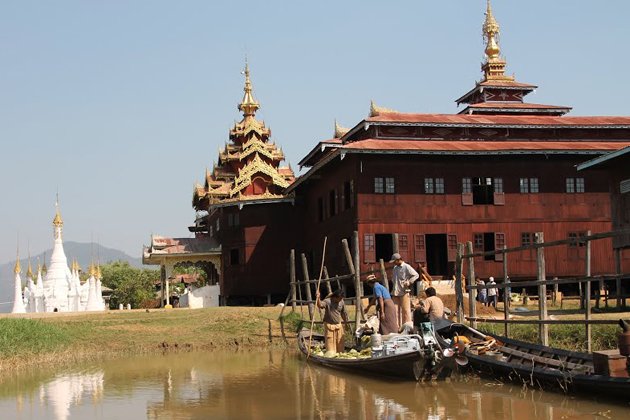 Day 7: Inle – Kalaw – Yin Mar Bin – Thar Zi – Meikhtilar – Bagan (200 Km) by motorbike and car (B)
The today menu would include a breakfast before starting driving down to Bagan. We begin our today journey with all sealed roads to Bagan en route Meikthila. We then keep moving down winding roads until we are back to the lowlands of middle Myanmar. Until we reach Meikhtila for a lunch break, we will carry on passing through the arid rolling hills as well as plains to be on time to arrive Bagan. Here, there is nothing quite like enjoying the beautiful sunset from either our hotel or the volcanic mountain itself. An overnight stay for today will be at Bawgatheddhi Hotel in Bagan.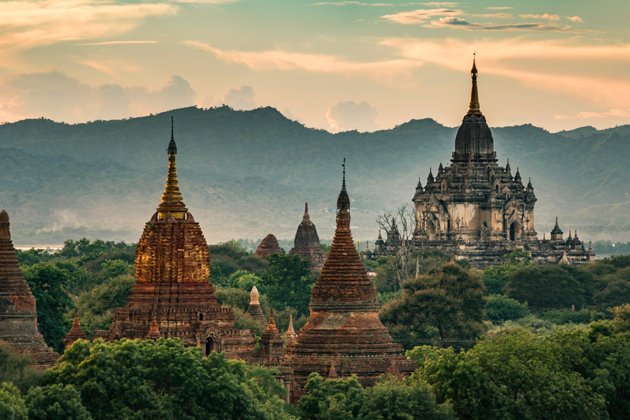 Day 8: Bagan by car (B)
Begin today journey with a breakfast at the hotel before discovering Bagan which is best known as an extraordinary archaeological site with a collection of over 2,000 temples. A Bagan sightseeing starts with a visit to Nyaung Oo Colorful Market in Nyaung Oo region, coupled with myriad temples and pagodas such as Shwezigon Pagoda, erected by King Anawrahta in the early 11th century, Wetkyi Inn Gubyaukgyi which is renowned for its fine mural paintings of Jataka scenes and Htilominlo Pagoda where we can view its plaster curving, Ananda Temple, the best-preserved masterpieces of Mon architecture and the Tharaba gate.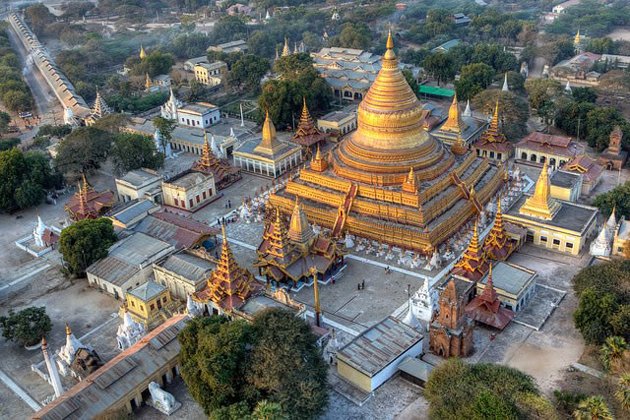 We will have a lunch break before returning to the hotel for a rest to get prepared for the afternoon sightseeing.
Our afternoon sightseeing would begin with a visit to a lacquerware workshop before transferring to Dhammayangyi – a giant temple of the 12th century, featuring a unique architectural style with a pyramid-like temple. Continue our journey to Sularmuni Temple from the 12th century. Actually, it is a perfect place to stop for a photo opportunity. Moreover, there is also a chance that you can travel on dirt roads by horse carriage. With this experience, you are able to pass through not easily accessed areas by car or bus. After that, let's enjoy sunset Pyathat Gyi Temple as well as capture a panoramic view of Bagan. Finish our Bagan sightseeing with a drive back to the hotel, accompanied by an overnight stay at Bawgatheddhi Hotel Bagan.
Note: Today we are going to do sightseeing together in the same coach and we do not ride.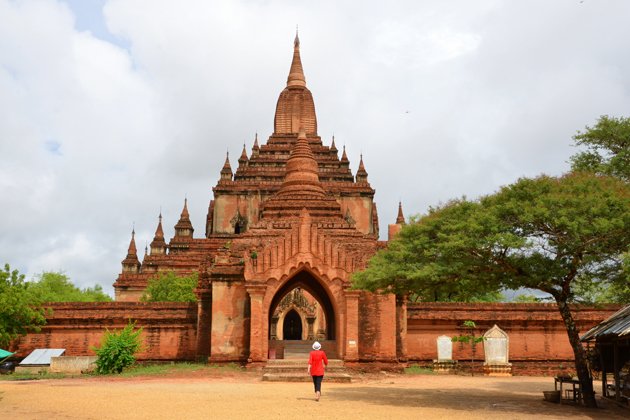 Day 9: Bagan – Gangaw (260 km) by motorbike and car (B)
The ninth day starts includes a drive straight to a small peaceful town of Gangaw known as the Yaw Region which belongs to Magaway division of Myanmar. Kaung Myat Thu Motel will be where you have an overnight stay.
Day 10: Ganggaw – Tamu (320 km) by motorbike and car (B)
After a break at the motel in Gangaw, our tour is going to end with a drive straight to Tamu –Imphal Boarder gate to helps clients to clear all government procedures to leave Myanmar.
What's Included?
14 seat ground transport through the trip
English Speaking Guide throughout the trip
Hotels as per mentioned in the table below
Entrance fees as per mentioned on program
Private boat for excursion in Inle and Mingun
What's Excluded?
Visa Fees
Items not mentioned in the services inclusion
Early check in and check out
Any fuel consumption ( Gasoline consumption ) for clients motorbike
Road Taxes and Bridge Taxes during the trip
Any repairing fess on damages of clients' motorbike during the trip
Tips to driver and local guide
Recommended Hotel List:
| | |
| --- | --- |
| Location | Accommodation |
| Kalay | Min Gyi  Hotel |
| Monywa | Jade Royal Hotel |
| Mandalay | Eastern Palace Hotel |
| Inle Lake | Inle Resort |
| Bagan | Bawgatheddhi Hotel |
| Gangaw | Kaung Myat Thu Motel |