Get an authentic taste of the Golden Land with Go Myanmar Tours in this 12-day river cruise on the legend Irrawaddy River. Indulge in the tranquil villages on the riversides to see the real-life of the locals, admire the man-made masterpiece in elegant temples dating back to thousands of years ago. From dawn til' dusk, there are myriads of things to discover. Myanmar, with the untouched beauty and hidden treasure, is waiting to enchant and intrigue your soul.
General Information
Duration: 12 days/11 nights
Tour Route: Mandalay – Mingun – New Nyein – Kyar Nyet – Kan Ni – Katha – Shwe Gu – Bhamo Sin Khan – Moeda – Kyar Nyat – Sin Kyn – Sagaing – Bagan
Start/End: Mandalay/ Bagan
Tour Guide: hand-picked best tour guides with deep knowledge, humor, profession (English speaking guides, other languages upon request)
Tour Category: Myanmar river cruise
Cruise Ship: Sanctuary Ananda
Brief Itinerary
Day 1: Mandalay – Mingun – New Nyein
Day 2: New Nyein – Kyar Nyet
Day 3: Kyar Nyet – Kan Ni
Day 4: Katha – Shwe Gu
Day 5: Shwe Gu – Bhamo
Day 6: Sin Khan – Moeda
Day 7: Moeda – Kyar Nyat
Day 8: Kyar Nyat – Sin Kyn
Day 9: Sin Kyn – Sagaing
Day 10: Mandalay – Yandabo
Day 11: Bagan
Day 12: Bagan
Day 1: Mandalay – Mingun – New Nyein
Mingalabar! Welcome to Mandalay, the city of cultural alluring.
Today, check out at Sanctuary Ananda at 8.45 am and we will start our 12-day journey to Bagan. Enjoy your very first moment on the luxurious vessel. As the ship sails to New Nyein, a charming pottery village where we moor for an overnight, why don't enjoy the services and facilities onboard such as spa treatments with special offers?
Today, we also have welcoming briefing with champagne and canapes at Kandsi Panorama Lounge and a welcome dinner on board.
Overnight in New Nyein.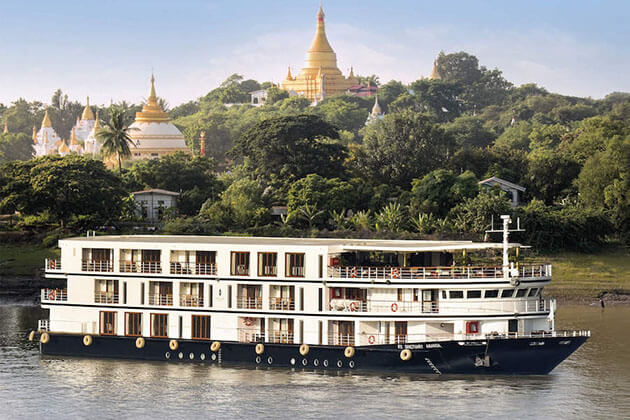 Day 2: New Nyein – Kyar Nyet
Following your breakfast with a visit to the pottery factory in New Nyein Village. Take leisure walk to explore the tranquil village and observe the daily life of the local people. You will have a great opportunity to interact with the artisans and learn how they create beautiful pots.
Back to the ship, we continue gliding down the river. Enjoy a talk and demonstration to get more knowledge about Myanmar culture and tradition. You will learn how to wear longyi (Myanmar traditional costume) and how to put on Thanaka (traditional makeup powder).
This afternoon, relax on the board and behold the stunning scenery while we sail to Kyar Nyet.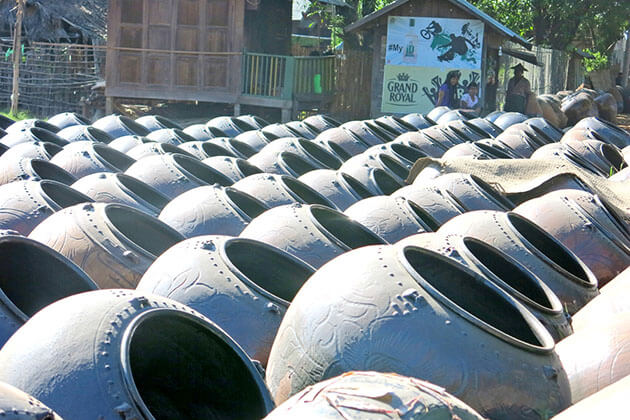 Day 3: Kyar Nyet – Kan Ni
This early morning, leave Kyar Nyet to get to Tagaung. After breakfast, take a short excursion to the ancient Tagaung, the cradle of Myanmar civilization tracing back to Pyu Dynasty. The great ancient ruins and artifacts of Tagaung city have been extremely well preserved til now. Spend your time to venture around the town to explore the sites and immerse into the hectic pace of life. Next up, we continue sailing upstream to Katha, a charming and remote riverside town.
This afternoon, enjoy your leisure time onboard. You can choose either sitting on your private balcony or have some tea in the bar and enjoy the view along the way.
After dinner, join in the lecture on board to learn more about the past, present, and future of Myanmar.
Day 4: Katha – Shwe Gu
Start the day with a meditation taking place on the sundeck to release your mental health. Then if you want to learn how to prepare Asian delicacies, the chef will be delighted to show you.
After enjoying a delicious lunch on board, your guide will take you to visit the fascinating town of Katha. Once inspired Kyauktada, the fictional setting of George Orwell's Burmese Days, there are lots of things to discover in the wooden colonial buildings and the highlight British Clubhouse. Today, get on an exotic tuk-tuk to sightseeing around the charming town.
After that, we sail upstream to Shwe Gu where we will moor for overnight. This evening, you can enjoy a movie about Aung San Suu Kyi, The Lady who is a famous politician, author, and Nobel Peace Prize laureate.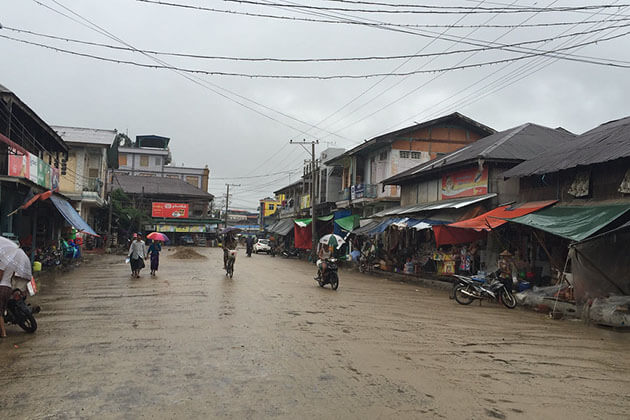 Day 5: Shwe Gu – Bhamo
Today will be a long day of sailing to Bhamo, a peaceful town on the bank of Irrawaddy River. Enjoy the day at leisure on board. This morning, why don't you swim in the pool on the sundeck to soak into the cool water? From the deck of Sanctuary Ananda, you will capture the fantastic sceneries as the ship passing through many stunning sites.
This evening, enjoy Kachin traditional dance before having dinner.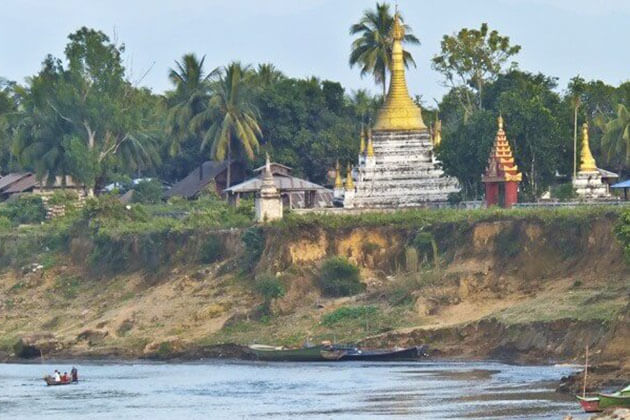 Day 6: Sin Khan – Moeda
This morning, enjoy the mesmerizing scenery of the riversides before the ship docks. We then disembark to explore the market and downtown Bhamo to taste the authentic local flavor. Then we also visit Shwe Kyi Na Pagoda, noted for two gold-topped stupas and historical Catholic churches.
After that, back to the board and continue sailing to Moeda village. Along the river, we will pass the notable "spirit rock" which has been sculpted into the shape of a parrot. Get your camera ready to capture the image of this unique scenery.
Following your afternoon with a visit to the elephant logging camp to see how elephants and local people work in harmony.
After dinner, enjoy a cocktail demonstration and you can learn how to make Golden Land and Chindwin cocktails.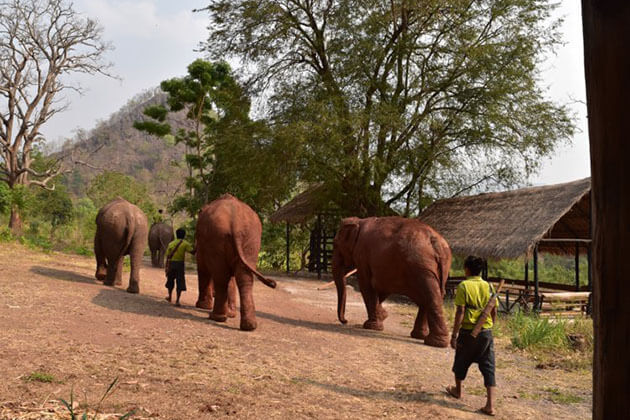 Day 7: Moeda – Kyar Nyat
Be an early bird this morning to capture the fresh aura of the morning on the river. Then join in a meditation session to strengthen your mental health or just relax during a leisurely cruise to Kyar Nyat. Before lunch, watch a lecture to learn more about the country's culture and tradition in the Kansi Panorama Lounge.
In the late afternoon, leave the board for a short walking tour to the small village of Kyar Nyat to discover archaeological treasures and get an authentic taste of the local life.
Day 8: Kyar Nyat – Sin Kyun
This morning takes you on a river cruise towards the south of Irrawaddy River. Today, learn more about the traditional Asian cuisine on a demonstration by the chef. The ship then will provide you a great view to several beautiful sites such as the dramatic Anya Thi Ha Taw Pagoda on its island. As we arrive at Sin Kyun, we will disembark to visit the village and observe the simple life of people. Take this chance to visit some families to interact with the villagers, see their traditional handicrafts and share your own cultural experience.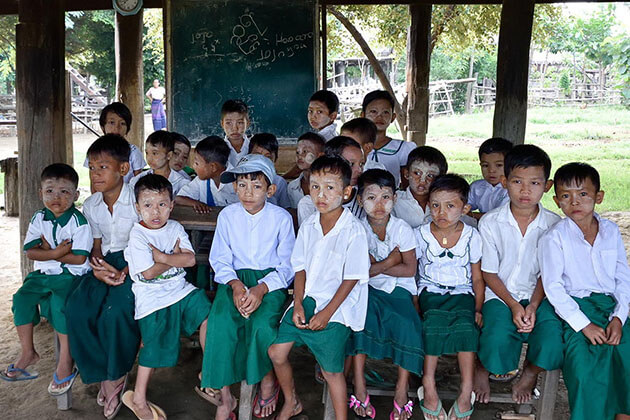 Day 9: Sin Kyun – Sagaing
The morning of day 9 leads you southwards to Mingun, a small charming village where numerous magnificent sites are waiting for you to discover. Make your way to witness Mingun bell, the world's second-largest ringing bell. From here, take a leisure walk to Mingun Pahtodawgyi, the ruin of the world's largest unfinished pagoda which was initially intended to be built as the largest pagoda in the world. Your guide then will take you to Hsinbyume Pagoda, a gorgeous white temple noted for elegant terraces.
In the afternoon, we visit Amarapura, the former royal capital of Burma, which is far-famed as the city of Immortality. Make your way to U Bein Bridge, the longest and oldest teak bridge in the world which stretch through 1.2 km across the serene Taungthaman Lake. For a long time, the gentle bridge has created a fantastic spot for visitors to behold the majestic sunset. Take your time to enjoy the view.
Tonight, enjoy a marionette show on Sanctuary Ananda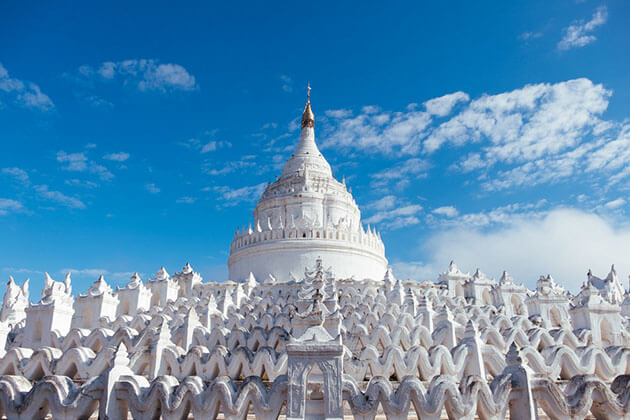 Day 10: Mandalay – Yandabo
The morning of day 10 offers you an opportunity to discover the hidden treasure of Mandalay. Start the day with a visit to Mahamuni Pagoda, the most important pilgrimage site for local people. Take this chance to admire the giant Buddha image which is considered one of the most highly revered images in the country. Afterward, observe the intricated wood design as you visit Shwenandaw Monastery, the former part of Mandalay Royal Palace. Then highlight your morning visit at Kuthodaw Pagoda, here, witness the world's largest book that carved on 729 marble slabs.
After lunch, we spend the whole afternoon to sail downstream to Bagan. Enjoy your free time with luxury services on the board. We highly recommend you to have spa treatments or relax by the pool with a book or get to know other guests. Then this afternoon also delivers you a chance to learn more about the work of Sanctuary Ananda behind the scenes, from the engine control room to the wheelhouse.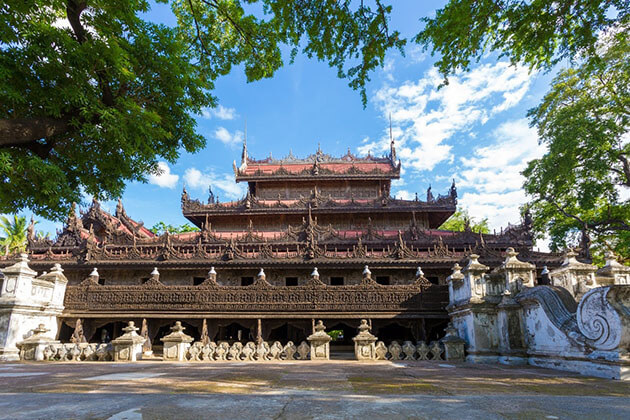 Day 11: Bagan Discovery
A full day to discover Bagan, the charming temple town. After breakfast, indulge in the lively atmosphere of Nyaung U Market. Venturing around the market area, you will capture an array of fresh vegetables, fruits, and flowers. Then proceed to Shwezigon Pagoda, one of the most famous attractions in Bagan housing a sacred hair of the Buddha. Listen to your guide to know more about seven wonders of the pagoda before moving to the next stop. Visit Ananda Temple, the finest example of the 12th century Mon architecture style. Then we also visit Pyathadar Temple, an impressive brick temple with massive structure.
In the late afternoon, fulfill your memorable day at a sunset hill to behold the most wonderful moment: sunset in Bagan. Sit back and admire the reddish glow of the sun closely filling the sky and embrace everything around you.
This evening, enjoy a romantic sandbank dinner with a local performance on board.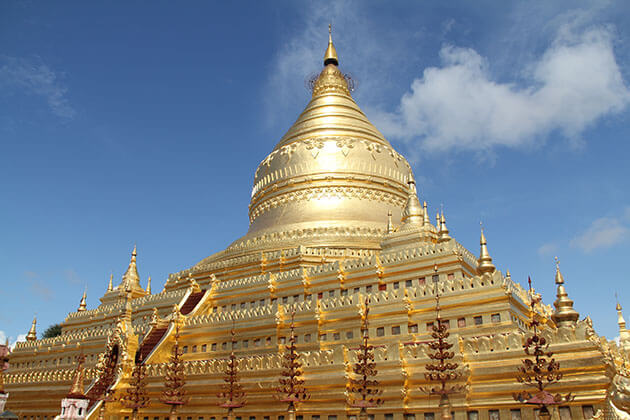 Day 12: Bagan Disembarkation
Enjoy your breakfast and then check out at 9 am. You then say goodbye to Sanctuary Ananda crew and get back to the land.
For those who take late flights, you can join in a short excursion to explore the rural life of Bagan. A scenic drive will take you deep into the heart of Bagan where you will have a chance to meet and interact with the local people. Then we also visit a local lacquerware workshop to learn more about the production in Bagan. Tour ends. Thank you for making your expedition with Go Myanmar Tours!