Take a step back in time to wander around the charming landscape of Burma by cruising around the mesmerizing river. From the untouched scenery to the magical world, from the hustle and bustle atmosphere in the local market to the dignified aura in majestic temples. All interesting thing included in this river cruise will definitely bring you unforgettable memories!
General Information
Duration: 4 days/3 nights
Start/End: Yangon/Bagan
Tour Route: Yangon – Prome –  Thayet Myo – Salay – Bagan
Tour Category: Myanmar river cruise
Cruise Ship: Irrawaddy Explorer
Brief Itinerary
Day 1: Yangon – Prome (L, D)
Day 2: Thayet Myo (B, L, D)
Day 3: Magwe (B, L, D)
Day 4: Salay – Bagan (B, L)
Day 1: Yangon – Prome (L, D)
Mingalaba! Welcome to Yangon, the city of the timeless charm.
Today, our guide will pick you up at Sule Shangrila Hotel at 7:00 am. Take a scenic drive to Prome, one of Myanmar's old capital which draws tourists sense with the quiet scenery (about 7-hour drive).
In the afternoon, kick off a tour to explore the charming town of Prome (Pyay). Visit Sri Ksetra, the ancient capital of Pyu Kingdom from the 5th to 9th century to learn about its flourish history and archaeological sites. Take this chance to visit the Sri Ksetra museum to observe a collection of age-old artifacts such as Buddha statues, Pyu beads and silver coins.
Back to the ship, join in a welcome reception and safety briefing between 6:30 pm and 7:30 pm.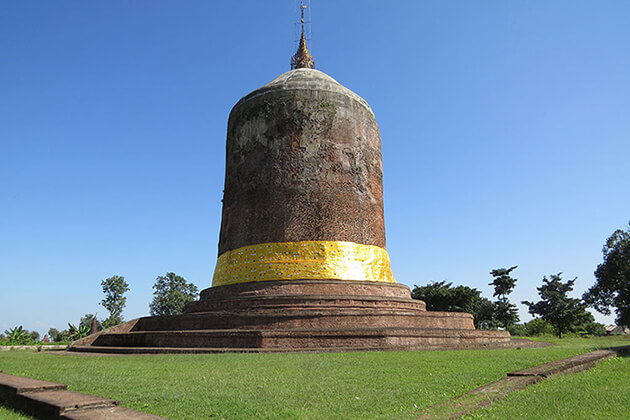 Day 2: Thayet Myo (B, L, D)
Rise early this morning to enjoy the soft and sweet morning sunshine on the board. Then leave the ship to take a tuk-tuk to get a glimpse at the beautiful town of Thayet Myo. Make your way to visit the oldest golf course in Myanmar. Listen to your guide to learn more about its history through the ups and downs of Myanmar's historical journey. After that, passing through some colonial building to reach the local market. Soak up into the lively atmosphere and observe the local pace of life before returning to the board.
After that, we continue cruising to Magwe. Along the way, watch a BBC documentary named "The Life of the Buddha" to get more knowledge about Buddhism in Asian spirit.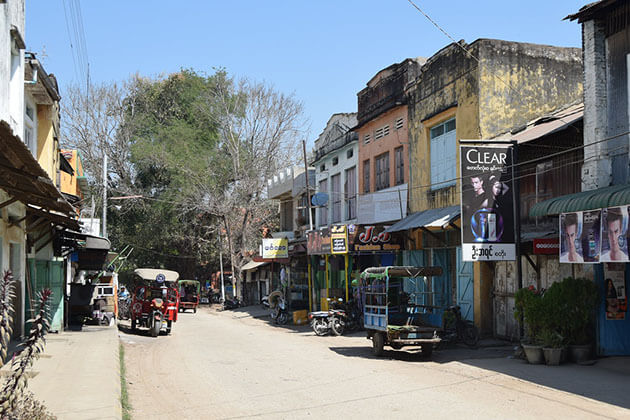 Day 3: Magwe (B, L, D)
The morning of day 3 gives you a great chance to explore Magwe on a trishaw – Burmese special kind of bicycle with three-wheeled. Crossing through bustling streets to reach the local markets where you will find an array of Burmese souvenirs. If you like to buy some for your friends and family, our guide is happy to assist you. After a short break, make your way to Mya Tha Lun pagoda, the largest site in the region. Take your time to marvel at the gleaming gilded stupa and the scenic beauty overlooking riverbank.
After returning to the ship, enjoy the interesting performance to learn more about longyi (the traditional dress of Burma) and Thanaka (Burmese special makeup powder).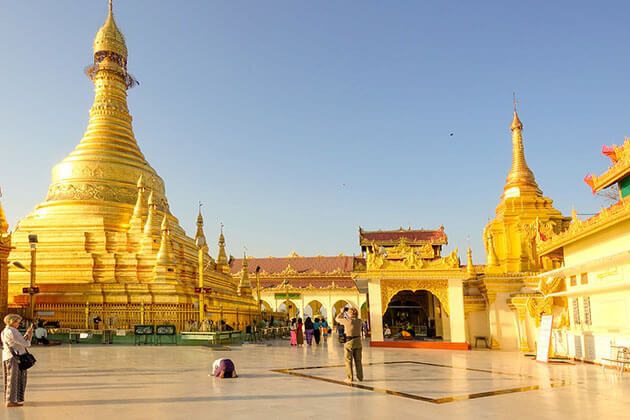 Day 4: Salay – Bagan (B, L)
After breakfast, we keep sailing to Salay, an active religious center which boasts many charming temples and pagodas. Today enjoy a cozy lunch at Salay House.
In the afternoon, take a walking tour around Salay to gaze out at the fascinating teak monasteries and buildings with British colonial style. Take a stroll through the main Strand Street and get a glimpse at the local trade and life of the people at the market. Highlight your trip at the beautiful Yoke Sone Kyaung monastery to observe an abundance of wood carvings and an ancient Buddha image. Along the way, you might explore Mann Paya, a modern pagoda housing an impressive golden Buddha image made of straw lacquer.
Later on, our driver will transfer you to the hotel in Bagan around 4: 00 pm on a 2-hour drive. Trip ends. Thank you for making your short excursion with Go Myanmar Tours!