General Information
Duration: 14 days/13 nights
Start/End: Yangon/Yangon
Tour Route: Yangon – Hlawga Wildlife Park – Bagan – Mt. Victoria National Park – Kalaw – Inle Lake – Yangon
Tour Type: Trekking, Bird Watching, Nature, Landscape, History
Experience this Myanmar Bird Watching Tour With:

Guides: hand-picked best tour guides with deep knowledge, humor, and profession (English speaking guides, other languages upon request)
Drivers: polite,  friendly, responsible, reliable with many years of driving experience
Vehicles: comfortable, spacious, air-conditioned, big window
Meals: meals are arranged at local restaurants so you can taste authentic Burmese cuisine
Accommodation: well-chosen hotels are listed below. Besides, various types of equivalent accommodation are available, from 5-star hotels, 4-star hotels in the best location, good value 3-star hotels, to boutique hotels reflect the style of the region
Brief Itinerary
Day 1: Yangon arrival
Day 2: Yangon – Hlawga Wildlife Park – Yangon (B)
Day 3: Yangon – Bagan (B)
Day 4: Bagan Birding (B)
Day 5: Bagan – Ayeyarwady River – Mt. Victoria (Natmataung) National Park (B)
Day 6, 7, 8: Mt. Victoria (Natmataung) National Park Discovery (B)
Day 9: Mt. Victoria (Natmataung) National Park – Bagan (B)
Day 10: Bagan – Kalaw (B)
Day 11: Kalaw – Inle Lake (B)
Day 12: Inle Lake Birding (B)
Day 13: Inle Lake – Yangon (B)
Day 14:  Yangon Departure (B)
Please note that every element of the tour below can be tailored. Tell us your specific interest and we will be happy to make adjustments for you. This inquiry is totally free and you are under no obligation!  
Full Itinerary
Day 1: Yangon arrival
Upon arrival at Yangon International Airport, meet your local tour guide and transfer to the hotel for check-in. The rest of the day is at leisure and you are free to wander around the city. Overnight in Yangon.
Day 2: Yangon – Hlawga Wildlife Park – Yangon (B)
This morning drive north to the Hlawaga Wildlife Park for a full day of bird watching. This birding adventure is accompanied by your knowledgeable local guide to ensure you have a deep knowledge of all bird species in the park.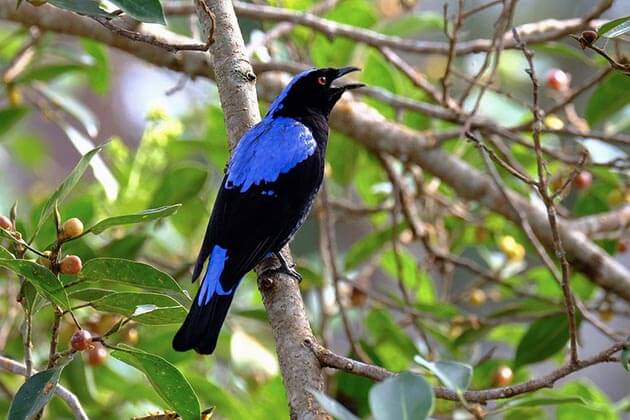 During this tour, gaze out at a large number of bird species in the park such as the Asian Fairy Bluebird, Racket-tailed Treepie, the Oriental Darter, and especially the Stripe-throated Bulbul. Furthermore, today's trip provides you with an unforgettable experience to appreciate the very rare Brow Antlered Deer.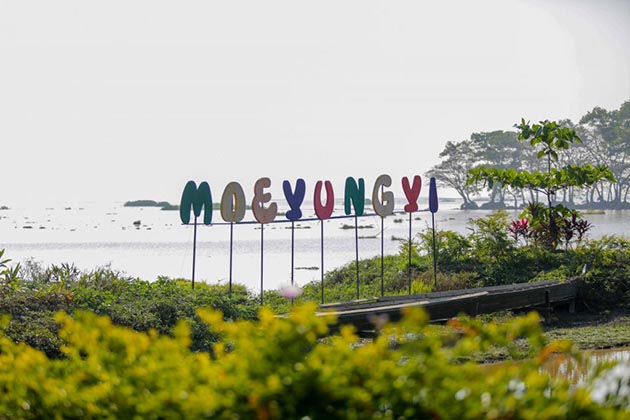 After lunchtime, transfer to the Moe Yun Gyi Wetland Wildlife Sanctuary (2hour drive). There join in the natural expedition to admire over 42 waterbird species and 33 shorebird species, more than 20 aquatic grass and herb species while taking a boat trip. Return to Yangon in the late afternoon for overnight.
Day 3:  Yangon – Bagan (B)
Day 3 begins with a short flight to Bagan. Upon Bagan, you are free until taking an afternoon excursion to glimpse at the abundant shorebirds with 4 main endemic birds including the Burmese Bush Lark, Hooded Treepie and Jerdon's Minivet, and White-throated Babbler. Besides, look for the lovely and colorful Indian Roller, Jungle and Gret Manas, and Yellow-eyed Babble.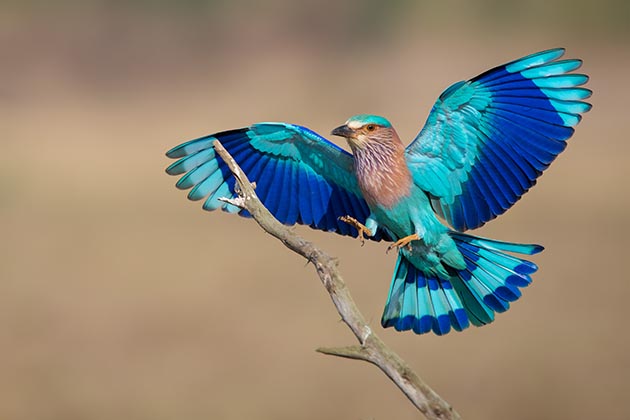 In the afternoon, head on an exciting boat trip to capture the riverine bird species with Common Kingfish, Temminck's Stint, River Lawing, Indian Spot-billed Duck, wading birds, geese, and ducks. If we are lucky, we are even able to witness the graceful Pied Harrier.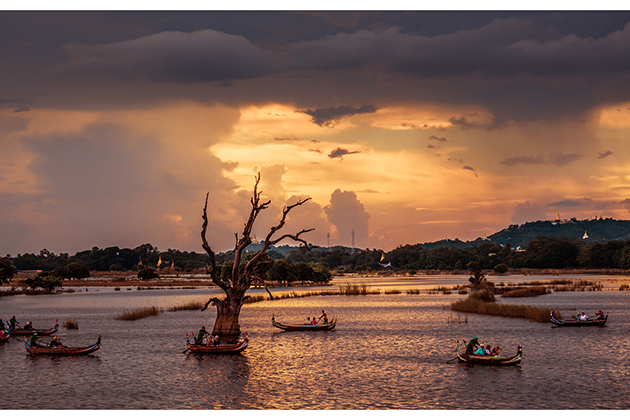 In the late afternoon, be amazed by the serene beauty along the Ayeyarwaddy River at sunset time. Overnight in Bagan.
Day 4: Bagan Birding (B)
Continue your unforgettable birding journey with a full day to enjoy the magnificent Bagan. The fancy landscape will captivate your soul as you go. Take the scenic route this morning through ancient temples for a visit to glance at Myanmar's endemic birds include of Jerdon's Minivet and Hooded Treepie. Additionally, Bagan surrounding fields witnesses many tiny birds such as Grey-breasted, Rain Quail, Plain, and Brown Prinias, Chinese Francolin, Scaly-breasted Mynia and long-billed, Richard's and Paddyfied Pipits.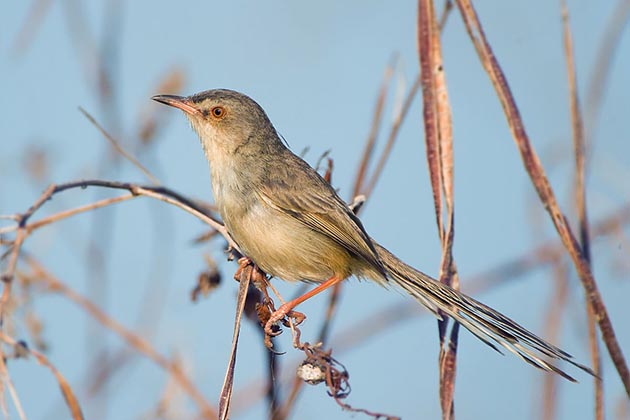 Along the way back, gaze out at several outstanding pagodas in the region such as Ananda Pagoda which is believed to be the most beautiful pagoda in Bagan owning 4 golden Buddhist statues, Shwezigon Pagoda which is built in the early 11th century by King Anawrahta, if there is time, visit Ku Byanuk Gyi the temple and Khay Min Ga Temple to admire the majestic historical sites and get to know more about Bagan architecture. Overnight in Bagan.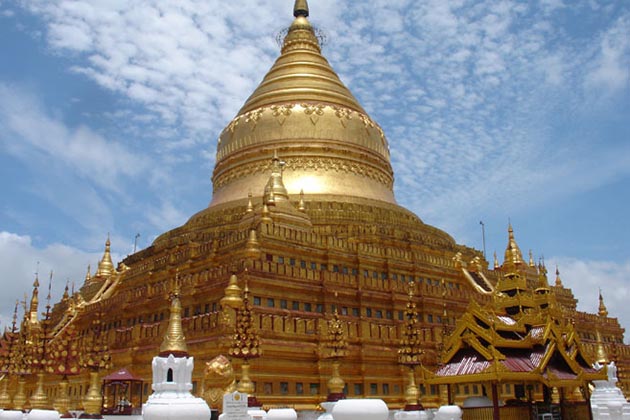 Day 5: Bagan – Victoria (Natmataung) National Park (B)
Leave Bagan this morning and head southwest to Chin Hill toward the Ayeyarwaddy River. Today's drive through the semi-desert and deciduous forests then birding stops along the route before arriving at the resort on the slope of Mt. Victoria for an overnight. This day is highlighted by the special scarce and habitat-specific White-rumped Falcon.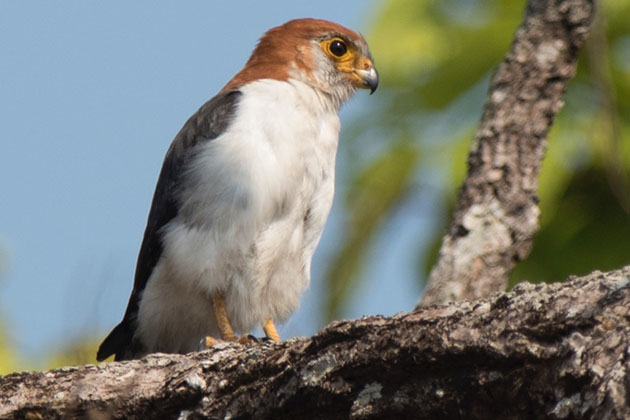 Day 6, 7, 8: Mt. Victoria (Natmataung) National Park Discovery (B)
During these full 4 days, join in an amazing trekking tour to explore Myanmar ecotourism in the 470 square kilometers in one of the most interesting birdwatching destinations in Asia – Natmataung National Park, and observe beautiful birds, the highest peak in Chin State and the third highest of Myanmar to be captivated by the breathtaking natural wildlife. Mt. Victoria is where you can expect to see one of the most famous endemics White-browed Nuthatch.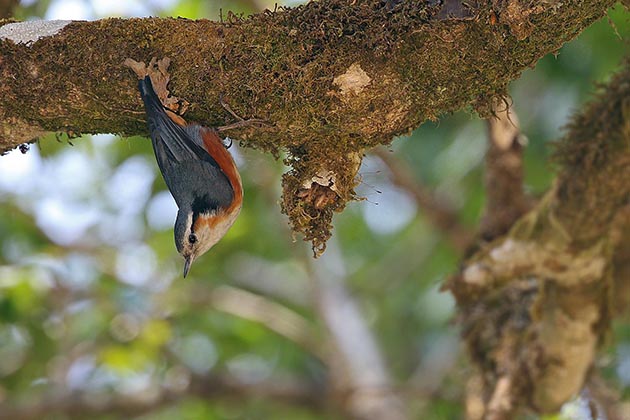 Each day, you will take an 8 km trek through the forest and explore the extremely scarce and beautiful Yellow-bellied Flowerpecker, Blyth's, and rare Black-headed Shrike-Babblers. As you hike up to the higher altitude, you will see the Blue-fronted Redstart, Brown-flanked Bush Warbler, Black-throated Prinia, Spot-winged Grosbeak, and the exquisite Fire-tailed Sunbird. If you find yourself here between November and February, you will capture an opportunity to admire the rhododendron trees blooming in delightful colors of red, white, and yellow.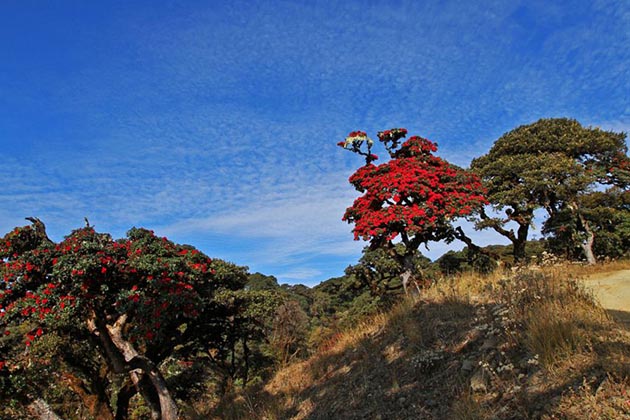 Ultimately, on the way back to the lower slopes of Mt. Victoria, a splendor of attractive species as you see such as Blue-winged, Spotted Laughingthrushes, Red-faced Liocichla, Hume's Treecreeper, Nepal Fulvettas, Crested Finchbill, and Green-backed Tit. In the evening, you are able to choose between rewarding yourself after an exciting day in a camp or a local homestay.
Day 9: Mt. Victoria (Natmataung) National Park – Bagan (B)
This morning returned to Bagan. on the way back, birding stop at several locations en route as you wish. The rest of the day is free. Overnight in Bagan.
Day 10: Bagan – Kalaw (B)
An exciting birding tour today as you travel to Kalaw. This morning take a flight to Heho then transfer to the hotel to check in. The rest of the day is at leisure let you are free to take horse riding to take a glimpse of the town. Overnight in Kalaw.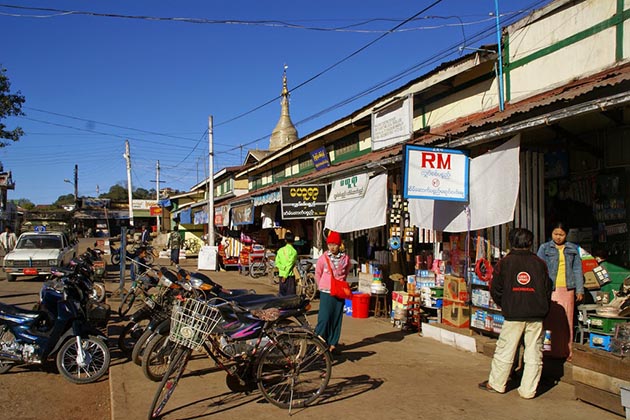 Day 11: Kalaw Birding (B)
As you cross through the peaceful landscape of Kalaw, the hill station located at 1320 meters high and covered by the evergreen forest, and bamboo groves, you will reach the best birding site in Kalaw – Yay where you will see the charming hotspot with myriads of beautiful species such as Silver-eared Laughingthrush, near-endemics Burmese Yuhina, Indochinese cuckoo-shrike, White-browed Laughingthrush, White-browed Shrike Babbler, White-browed Scimitar Babblers, Grey-cheeked Fulvetta, and other birds.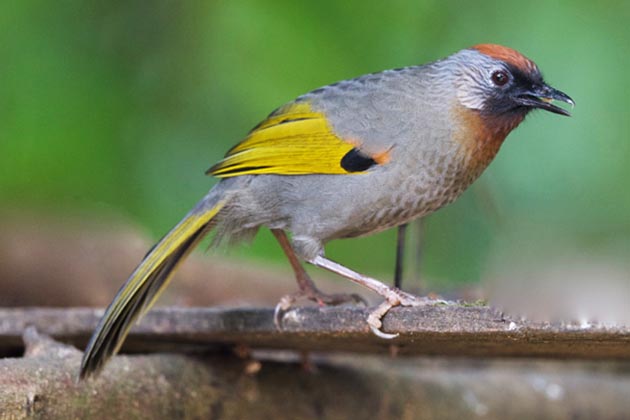 This morning highlights the trek into a beautiful grove of the hill forest to capture the extremely elusive Burmese Yuhina. Along will the rare bird is other delightful species such as Streaked Spiderhunter, Blak-throat Sunbird, Golden Babblers, Rufous-capped, and Orange-bellied Leafbird. In the afternoon continue to this wonderful birding spot to be mesmerized by other impressive species such as Mountain and Puff-throated Bulbul, Grey-crowned Warbler, and Spot-throated Babbler. Overnight in Kalaw.
Day 12: Kalaw – Inle Lake (B)
Say goodbye and leave Kalaw early this morning to transfer to Inle Lake. From Kalaw to Inle Lake drive through the fantastic pine forests, stop at several birding spots, and be captivated by the Redbirds Blue Magpie, Hill Prinia, Oriental Turtle Dove, White-rumped Munias, Eurasian Jay, Greater Flameback, Slender-billed Oriole.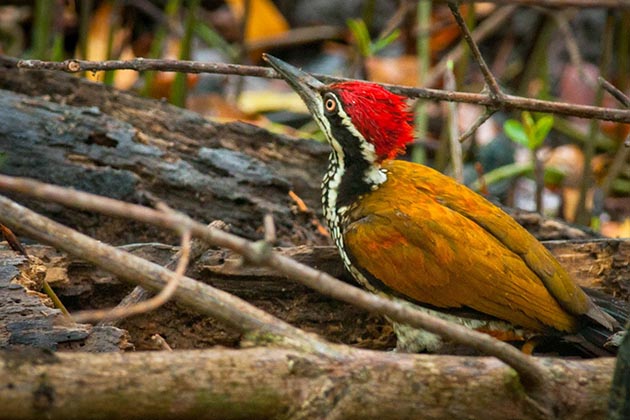 Continue your birding trip through the luscious forest to the head of a monastery and start to walk to the Yay Aye Kan Reservoir to seek the exceptional species such as Black-crested, Maroon Oriole, Silver-eared Mesia, Yellow-cheeked Tit, and Black-throated Bushtit. Next, celebrate your lunch with an exciting picnic and enjoy the breathtaking aura next to the forest reservoir. Manage to stay here till the mid-afternoon and return to the monastery to drive to Inle Lake. Along the route, some other birding stops offer as time permits. Overnight in Inle.
Day 13: Inle Lake – Yangon (B)
Embark on a boat trip in the early morning of day 13 to explore the largest freshwater lake of Myanmar to let your soul deep into the tranquility of the nature surrounding. Here you will capture the image of exquisite leg-rowing fishermen around the lake and continue to look for the localized Collared Myna. In addition, some noteworthy species-area also include such as Oriental, Striated Grassbird, Yellow-bellied Prinia, and Black-browed. At lunchtime, move on to the hotel for a cozy lunch before the driver picks up to transfer to Heho Airport for a flight to Yangon.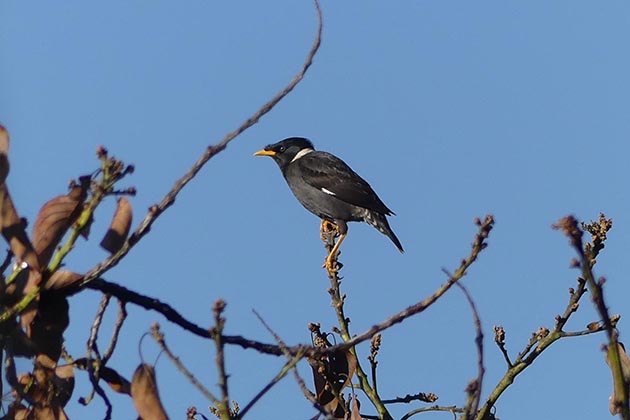 Day 14: Departure (B)
Your holiday ends with the final birding trip nearby Hlawaga Park in the morning. Go to watch the beautiful Puff-throated Babbler, shy Racket-tailed Treepie, Tickell's Blue Flycatcher, Dark-necked Tailorbird, and many other beautiful species. Moving to the hotel at lunchtime. After the final lunch in Yangon, you are free until transfer to the airport. Trip ends. We hope that you would love the itinerary we design for this 16-day Myanmar tour package. Thank you for traveling with us!