Tour Code: MRC 01
Duration: 8 Days / 7 Nights
Start/End: Bagan/Mandalay – Mandalay/Bagan
Tour Category: Myanmar river cruise
Tour Guides: hand-picked best tour guides with deep knowledge, humor, profession (English speaking guides, other languages upon request
Brief Itinerary:
Day 1: Bagan Arrival
Day 2: Bagan – Mount Popa
Day 3: Bagan – River Village
Day 4: Bagan – Yandabo
Day 5: Monywa (Hpowindaung and Shwebadaung Caves) – Sagaing
Day 6: Sagaing – Ava – Amarapura
Day 7: Mingun – Central Mandalay
Day 8: Mandalay Departure
Please note that every element of the tour below can be tailored. Tell us your specific interest and we will be happy to make adjustments for you. This inquiry is totally free and you are under no obligation!  
Day 1: Bagan Arrival
Mingalabar! Welcome to Bagan, the town of magnificent temples and pagodas. When your ships moor at Ayeyar Jetty (11.30-12.00 hrs), get yourself rewarded with cocktail and lunch. Our journey will give you a short visit to 2,000 listed pagodas and temples. Tonight, we will enjoy dinner and have sleep on board.
Day 2: Bagan  & Villages
Our trip today will give you a different experience. A short visit will introduce you to discover the local Nyaung U market showcasing wood carvings, fabric, longyis and rattan products. Enrich your knowledge about the processing procedure of lacquer and get your horizon opened with a drop at a workshop. Alternatively, guests can hire a horse cart or a bicycle and discover the site on their own (or) have a splendid Balloon Flight over Bagan (surcharge applied – optional). Enjoy a worry-free trip while the cruise brings you to the upstream all day. Our next destination would be Shwe Pyi Thar village, where we could have leisure time to enjoy a walk. After feasting your eyes with a fascinating Puppet Show performance in the village or sundeck, all of your 5 senses will be feasted with a savory dinner followed by a Puppet Show performance. Overnight midstream near the mouth of Chindwin.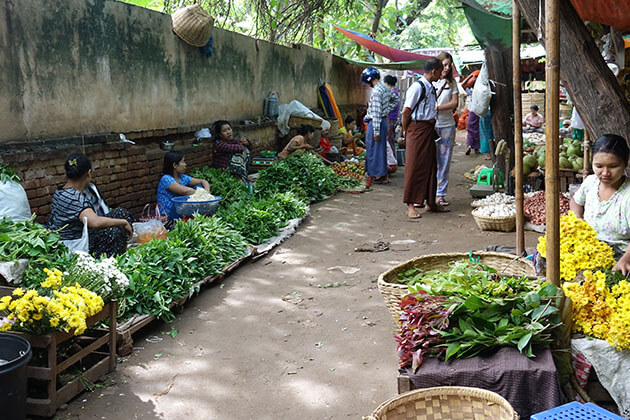 Day 3: Bagan – Mount Popa
This morning, your guide will take you on the way to Mt Popa, a magnificent extinct volcano on a 45-minute drive. Endowed with hot, dry weather and the well-positioned area, it dominates as one of the all-round preserved National parks in the plain region of middle Myanmar. It is believed that the interest of sacred and mystical beliefs as an abode of spirits, "Nats" has given Mt. Popa the popularity. One of the must-try activity during this trip would be a climb to the Taungkalat, believed to be the part of the main volcano blown apart and plugged at the current location, to absorb the glimpse of the whole area. Today, we will dine on lunch at the Popa Mountain Resort. While heading back to Bagan we will idle our time on discovering the toddy palm producing home cottage.
At night, meal and accommodation will be offered onboard.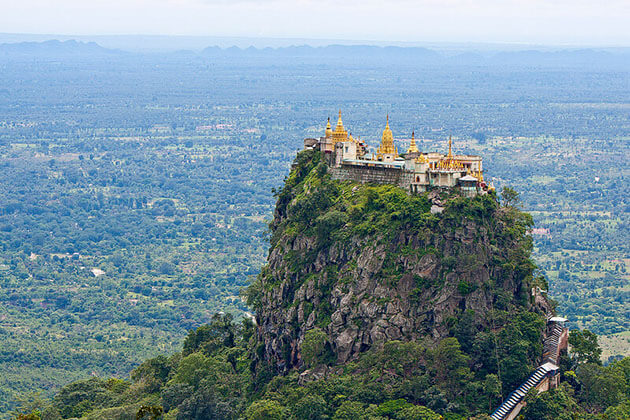 Day 4: Bagan – Yandabo
Upon your arrival at Yandabo, our included visit today will bring you to a picturesque river village specializing in Pot-Making. Yandabo is also the place where the peace treaty of the First Anglo-Burmese war signed on Feb. 24, 1826. We go ashore, then we will make our way to some pot-making workshops and the school and the monastery, which is reached after some minute walking. The rest of the day, your cruise will take you upstream, moor overnight near Ava.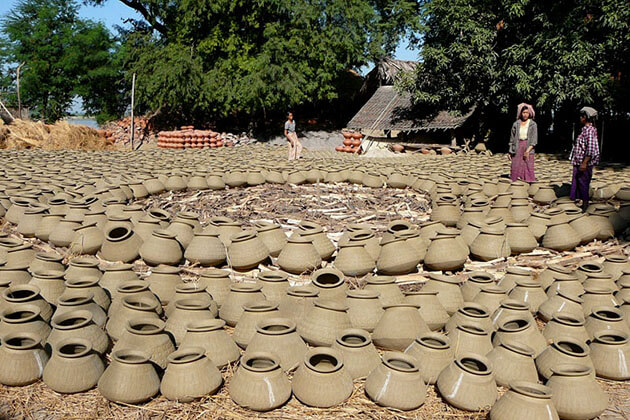 Day 5: Monywa (Hpowindaung and Shwebadaung Caves) – Sagaing
Your new journey today will start off with a 1 and a haft hour coach drive. Your destination is Monywa where you could explore the Hpowindaung and Shwebadaung caves. Inside these cases are placed hundreds of Buddha statues, and a number of wonderful mural paintings which have thousands year of history. After pampering yourself with lunch at a local restaurant in Win Unity Hotel in Monywa, tourists will be able to visit the splendid Sambuddhai Kat Kyaw pagoda which features more than 500,000 Buddha images. End of the day, we drive to Sagaing to embark on the ship.
Overnight at Sagaing.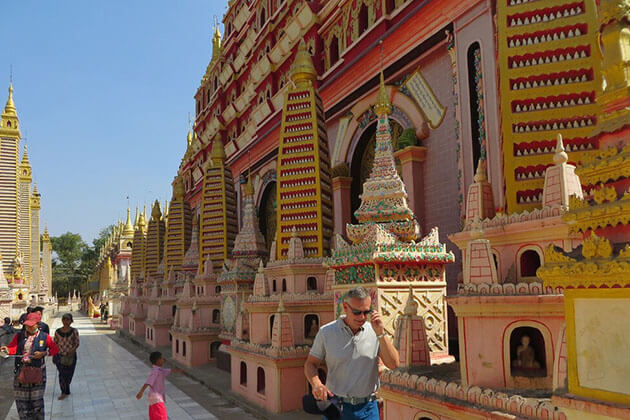 Day 6: Sagaing – Ava – Amarapura
Today, our trip will allow you to explore Sagaing, a hill studded with a countless number of pagodas and monasteries rich in wood carving and religious art. Afterward, you will be able to discover Ava, which is reached by horse-cart. This place is endowed with beautiful 200-year-old teak Bagaya Kyaung Monastery, Nanmyin watchtower (27mt. high) and the Me Nu Ok Kyaung monastery. (After disembarking at Sagaing Jetty, the ship will sail to SinKyone Fort Jetty in Ava where all clients will embark after sightseeing). Then, hop on sampan and coach, which will transfer you to Amarapura, the penultimate Burmese Royal Capital (1783) to visit a traditional silk weaving workshop followed by U-Bein Bridge, the world's longest wooden bridge (1.2 km) and take in the sunset there.
Dinner and overnight on board.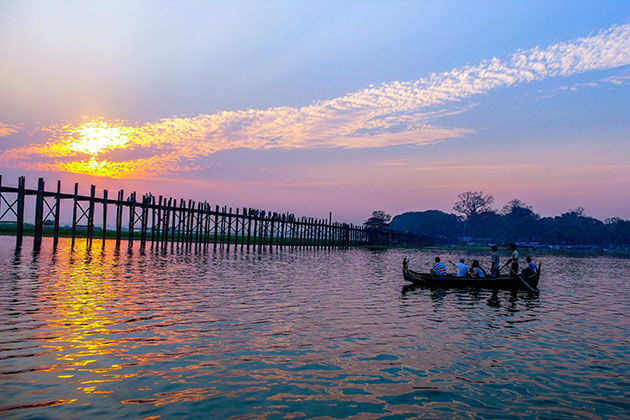 Day 7: Mingun – Central Mandalay
In the morning, you will get the chances to discover Mingun where we admire the unfinished pagoda, the world's largest working bell and the "home for the aged". After a lunch on board, there will be time for you to set foot in central Mandalay: Mahamuni Pagoda, where keeps the most highly revered Buddha image of Burma; Kuthodaw Paya, which boasts the world's biggest book, the workshops of gold leave making, tapestry making, woodcarving, marble carving, and bronze casting. Finally, take this one in a lifetime chance to absorb the sunset at Mandalay Hill, which is considered a remarkable experience. Dinner on board.
Overnight at Mandalay.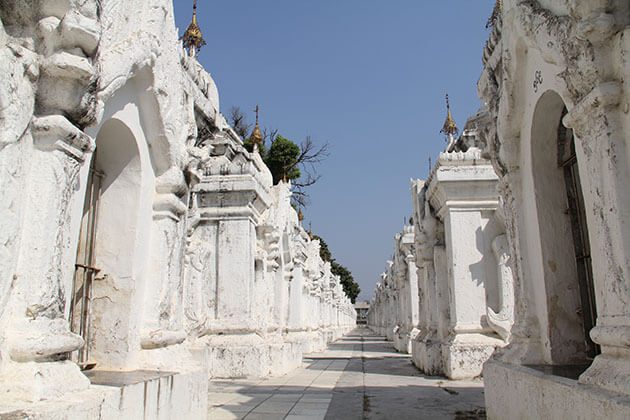 Day 8: Mandalay (Disembark)
Morning disembarks at Gawein Jetty around 9:00 am. Trip ends. Thank you for traveling with Go Myanmar Tours!