Duration: 17 days/16 nights 
Tour Route: Yangon – Bago – Bagan – Mt.Popa – Monywa – Mandalay – Amarapura – Ava – Sagaing – Mingun – Heho – Inle Lake – Kakku – Yangon – Thanlyin – Yangon
Tour Date: Not fixed, up to your schedule
Tour Type: In-depth Culture & History, Nature & Landscape Discovery, Sightseeing & Experience
Tour Category: Myanmar classic tours
Tour Highlights:
Witness the fascinating as well as the charm of Yangon
Admire one of the most glittering Buddhist heritage in the world: Shwedagon Pagoda
Gain an insight into the local life of Burmese people on idyllic villages of Bagan
Set foot on magical Bagan – the land of magnificent temples and pagodas
Learn about the art, architecture, and history of Myanmar
Explore the exceptional life of the people above the water in Inle Lake, learn about their unique farming methods on the floating gardens
Visit the Bago where is once described as the wonderland of Burma and admire the giant reclining Buddha images
Experience this 17-day Myanmar Insight With:

Guides: hand-picked best tour guides with deep knowledge, humor, profession (English speaking guides, other languages upon request)
Drivers: polite,  friendly, responsible, reliable with many years of driving experience
 Vehicles: comfortable, spacious, air-conditioned & clean
Meals: meals are arranged at local restaurants so you can taste authentic Burmese cuisine
Accommodation: well-chosen accommodation are listed below. Besides, various types of accommodation are available, from 5-star hotels, 4-star hotels in the best location, good value 3-star hotels, to boutique hotels reflect the style of the region
Brief Itinerary:
Day 1: Arrival Yangon
Day 2: Yangon City tour (B)
Day 3: Yangon – Bago Day Trip (B)
Day 4: Yangon – Bagan (B)
Day 5: Bagan & Villages (Balloon Over Bagan in the early morning) (B)
Day 6: Bagan – Mt. Popa – evening electric bike (B)
Day 7: Bagan –Monywa (B)
Day 8: Monywa – Mandalay (B)
Day 9: Mandalay – Amarapura – Ava – Sagaing (B)
Day 10: Mingun day trip (B)
Day 11: Mandalay – Heho – Kakku (B)
Day 12: Inle Lake – Sightseeing – Yangon (B)
Day 13: Yangon – Sittwe – Mrauk U (B)
Day 14: Mrauk U Sightseeing (B)
Day 15: Mrauk U – Sittwe –Yangon (B)
Day 16: Yangon – Thanlyin Day Tour (B)
Day 17: Yangon – Departure (B)
Please note that every element of the tour below can be tailored. Tell us your specific interest and we will be happy to make adjustments for you. This inquiry is totally free and you are under no obligation! 
Day 1: Yangon 
Arrival
Upon arrival at Yangon, welcome and greet by your local tour guide who will transfer you directly to the hotel for check-in. After settling into your hotel, enjoy the rest of the day at leisure.
Overnight in Yangon.
Day 2: Yangon City Tour (B)
You are staying in the largest and most vibrant city in Myanmar! Today, your guide will head you on a full day city tour around Yangon to explore the fascinating as well as the charm of the city. From your hotel, proceed to Kyauk Taw Gyi Pagoda where enshrines the largest marble Buddha image in Myanmar. Then we also bring you to Swai Taw Pagoda and KabAye Pagoda before driving to Chauk Htat Gyi Pagoda to marvel at the 66 meters long reclining Buddha image.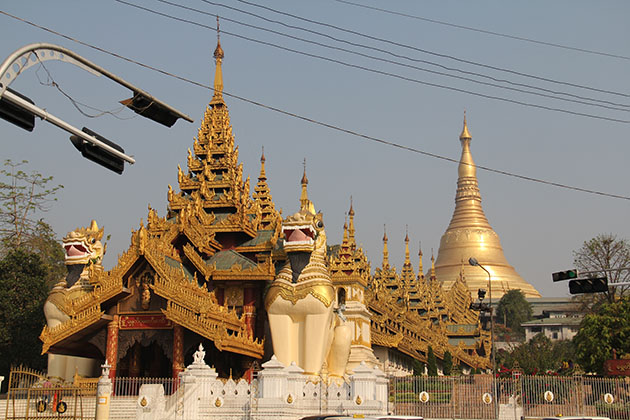 Stroll through the Nga Htat Gyi Pagoda and Botatung Pagoda to admire the impressive design and architecture. Continue your city tour to the 2500-year-old Sule Pagoda staying in the heart of Yangon. A drive to the Kandawgyi Lake then will feast your eye with the scenic beauty of the park and the massive Karaweik Palace – one of the most attractive landmarks of Myanmar. Take time to save your best photo on the lakeshore before heading to the Maha Wizaya Pagoda, an elegant pagoda with hollow stupa containing Buddha relics. Perhaps Shwedagon Pagoda is the most expected destination to visit in this city tour today. Before sunset, transfer to the pagoda to admire the glistening and learn more about its devotion to Buddhism from your tour guide.
Overnight in Yangon.
Day 3: Yangon – Bago Day Trip (B)
Leave Yangon early this morning and take a scenic drive toward the northeast to reach Bago, the beautiful former capital of Mon Kingdom. We will make our first visit of the day at the 2000-year-old Shwe Maw Daw Pagoda – one of the most venerated pagodas in Myanmar. Your amazing Bago day trip then leads you to the Hintha Gon Pagoda-a popular tourist attraction of Bago which was named after the mythological Hintha bird, a symbol of the Mon people. Here, listen to your guide about the Cult of the Burmese people. Next, transfer to Kanbawzathardi Palace Site to visit the famous palace dating back to the time of King Bayint Naung of the 15th century. Lunch will be served at Hanthawady Restaurant.
Follow your lunch with a visit to the Shwe Thar Lyaung Pagoda where possesses one of the largest reclining Buddha image more than 1000 years old. Later, complete your memorable sightseeing in Bago with visits to Mya Thar Lyaung and Kyaik Pu-the four faces Buddha image before returning to Yangon for an overnight.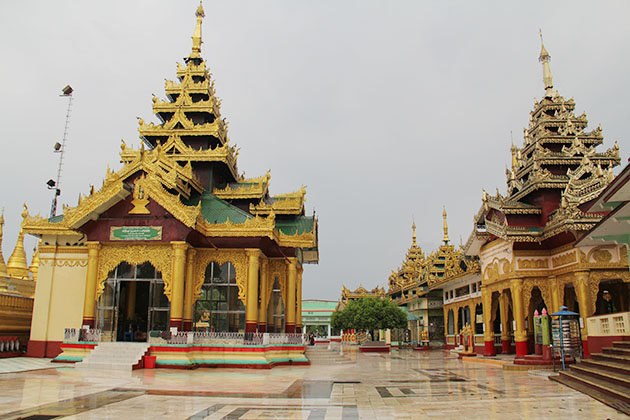 Day 4: Yangon – Bagan (B)
This early morning, say goodbye to Yangon to board a domestic flight to Bagan – a paradise of the sun and pagodas. As you reach to Bagan, be ready for a full day temple tour to visit seven outstanding pagodas in the area. Ananda Temple is your first stop today. Through the ups and downs of the historical journey, it has remained as one of the most beautiful and well preserved.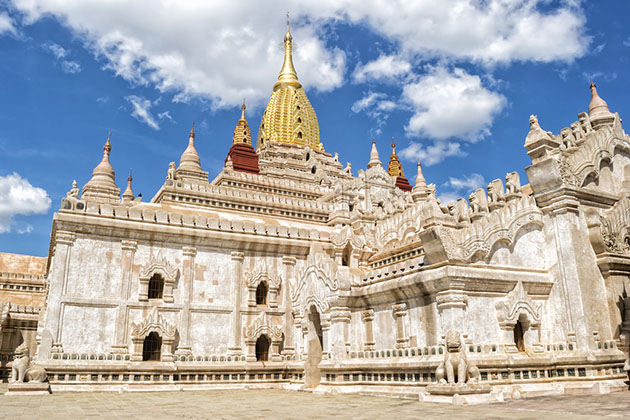 Afterward, your visit including Nat Taung Kyaung Monastery, Tharabar Gate, Thatbyinyu Tempe, Sulamani Temple, and Gawdawpalin Temple. Take time to explore the unique art and architecture of Bagan on each pagoda you visit. In the late afternoon, if you wish, head to the Shwe Sandaw Pagoda to capture the magical sunset view to the area.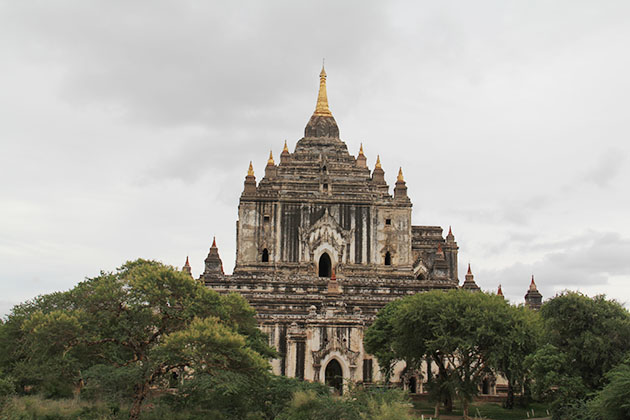 Day 5: Bagan & Village (Morning 
Balloon Over Bagan
) (B)
Wake up early in the sound of light swaying this morning and ready to take a fantastic experience a with hot air balloon. Expect to be mesmerized by the stunning landscape, thousands of old temples appear in and out the lush trees. After marveling at the magnificent view of Bagan from above, embark on your private car and then transfer to the villages near Bagan to engage with the locals and learn about their daily life.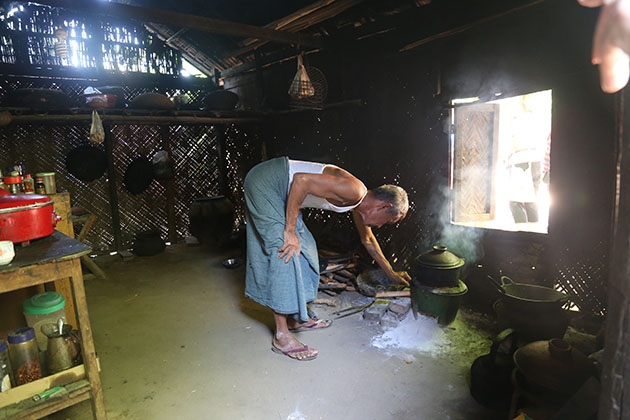 In the afternoon, gain more insight into the local production of Bagan with a visit to the local lacquerware workshop. Take this chance to interact with the local artisan to learn more about the way people create the finest items from bamboo and lacquer tree. Before sunset, make your way to the sunset hill of Bagan to marvel at one of the most magical sunsets in the world.
Overnight in Bagan.
Day 6: Bagan – Mt Popa – Afternoon Electric Bike Tour (B)
This morning delivers you two interesting options: you can choose to continue sightseeing temples and pagodas, exploring the villages nearby or take an excursion to Mt Popa – an extinct volcano is about 45 km drive from Bagan. 777 steps up to the top of the mountain will lead you through the monkeys filled all the stopover. There is a temple located on the top of the mountain that provides you an opportunity to learn more about the Nat (spirit) of the Burmese people.
In the middle of the afternoon, take an electric bike and slowly pass through the dusty road of Bagan and behold the landscape from a different perspective. You are free to stop at any spot you like to take photos and enjoy the scenery.
Overnight in Bagan.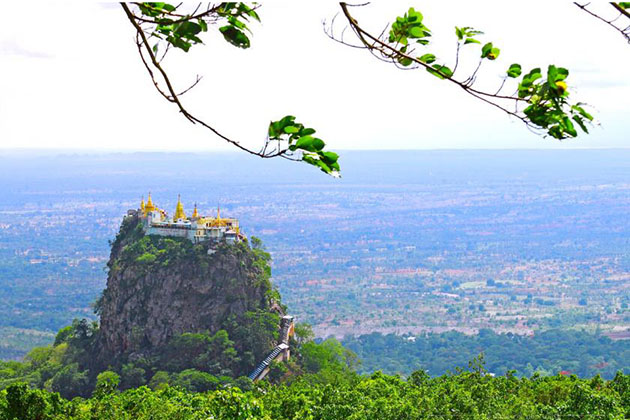 Day 7: Bagan – Monywa (B)
Say goodbye to Bagan this morning and take a scenic drive toward the north to reach Monywa – a city in Sagaing Region where offers you with myriads of interesting places to visit. Upon arrival after 3-4 hours drive, head to the Thanboddhay Pagoda to witness the unique temple in Burma housing over 500000 Buddha images. Your trip in Monywa also includes Shwe Gu Ni Pagoda where is famous for the 33 meters high golden standing Buddha statue and Monywa Bodhi Tataung – a massive pagoda with a 130 meter high Buddha image above the surrounding area.
Overnight in Monywa.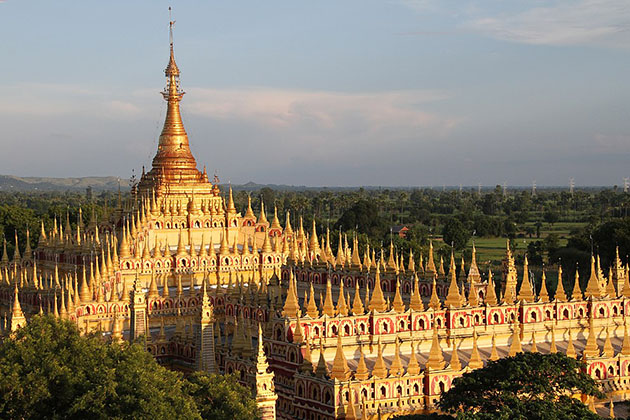 Day 8: Monywa – Mandalay (B)
The morning of day 8 begins with a drive to the Chindwin River where you will embark on a local ferry to ride across the river to Po Win Hill. Head to the sandstone cave as you reach the hill to explore the impressive cave system including Po Win Daung with hundreds of Buddha statues and mural. We also visit the Shwe Ba Daung where you will see the unique pavilions filled with Buddha images cut from the surrounding sandstone. Later, return to Monywa and depart to Mandalay for overnight.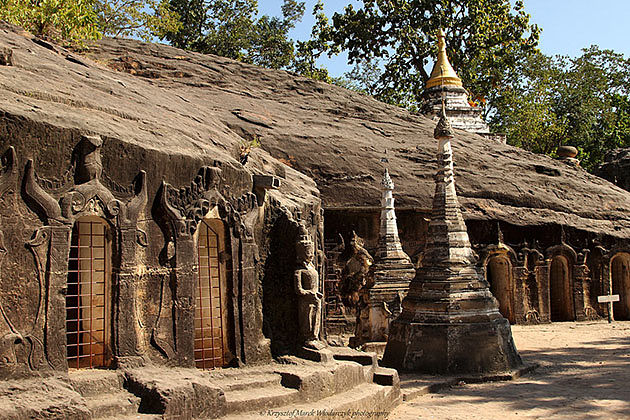 Day 9: Mandalay – Amarapura – Ava – Sagaing (B)
Your amazing sightseeing tour in Mandalay starts with a visit to the Mahamuni Pagoda – an impressive Buddhist construction in Mandalay housing the glittering Buddha image. Next, continue to the Golden Palace Monastery to marvel at the intricated woodcarvings. Highlight your morning with a trip to Kuthodaw Pagoda to marvel at the largest Buddhist book in the world carved on 729 marble slabs. Afternoon activities will include a visit to the longest teak bridge in the world – U Bein Bridge.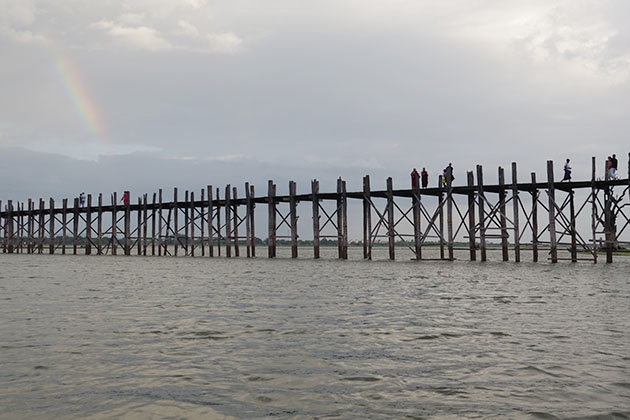 Then your guide will take you to the city of Ava – an ancient city of Burma lies of the left bank of Irrawaddy River. Here you will have an opportunity to visit Bagaya Monastery and the remainder of the Royal Palace and Fort for a first glimpse at the city attractions. Passing by the idyllic villages located amid Ava, you will cross a bridge to reach Sagaing. Take time to visit Swan Oo Pon Nya Shin and U Min Thone Sae where is famous for its crescent-shaped building and fantastic Buddha images. Later, return to Mandalay for overnight.
Day 10: Mingun Day Trip (B)
Rise for a very early start today to take a private car to Mingun, where is well-known for its gigantic and the unfinished pagoda. We will make our first visit today at Mingun Bell – the second-largest intact bell in the world. Afterward, head to the unfinished Mingun Paya – the massive ruin of the pagoda once intended to be built as the largest pagoda in the world. Then, stop at the Hisnbyume Pagoda and take some awesome photos at the white-washed temple before leaving to head to ruined remains of the Royal Palace. Finally, finish your memorable day this evening by a drive to Mandalay Hill to gain a panoramic view of the region.
Overnight in Mandalay.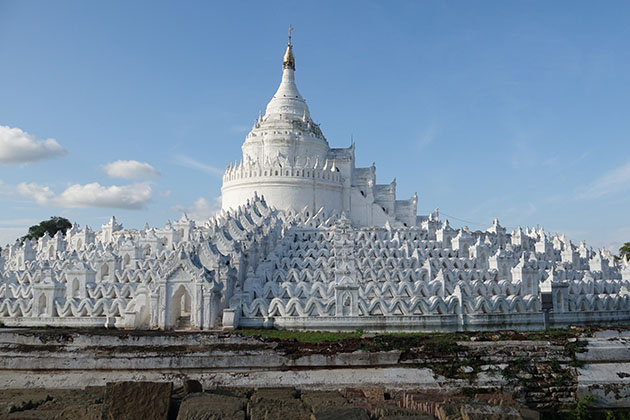 Day 11: Mandalay – Heho – Kaku (B)
Say goodbye to Mandalay to take a morning flight to Heho. On arrival, drive to Kakku and visit Kakku Pagoda in the heart of Shan State where you will be mesmerized by hundreds of ancient stupas once visiting it. In the afternoon, drive back to Taunggyi for a visit to the outstanding relics in the region including Shwebonpwint Pagoda and Sulamuni Pagoda. Later, the driver will pick you at the hotel for a late flight to Yangon.
Overnight in Yangon.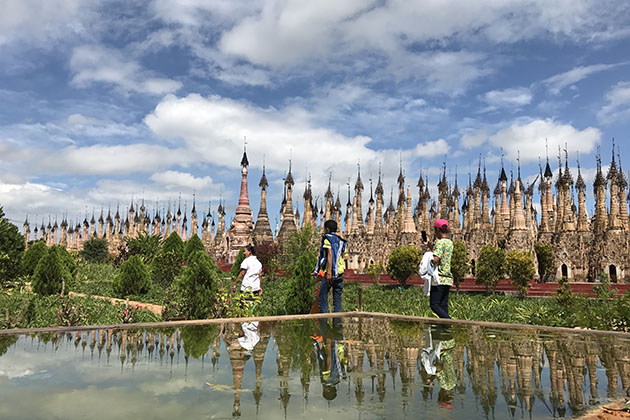 Day 12: Inle Lake 
– 
Sightseeing – Yangon (B)
After breakfast at the hotel, board a domestic flight to Heho where you will proceed to Inle Lake – the second largest freshwater lake in Myanmar. After check-in at the hotel, we first visit Phaung Daw Oo Pagoda – the most highly revered religious site in southern Shan State. Continue your visit to Nga Phe Chaung Monastery to witness the oldest and largest monastery in Inle Lake built on stilts. Later, go back to your boat trip and row back to the hotel. Along your way, you may capture the breathtaking scenery as you pass through the floating gardens and houses.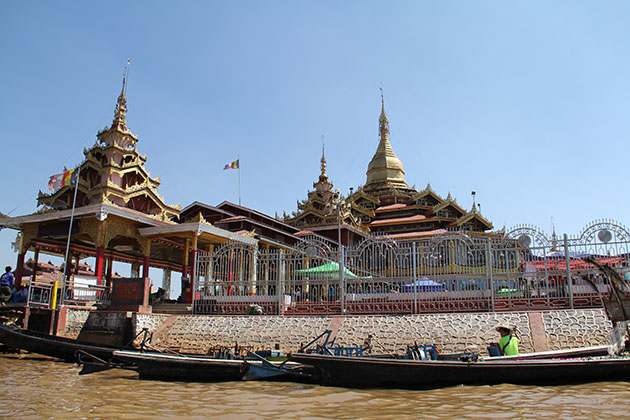 Day 13: Yangon – Sittwe – Mrauk U (B)
Today will be a long day of driving to Mrauk U – an abandoned city with ancient cities and pagodas. First board a flight to Sittwe this morning, from there transfer to Mrauk U for about 4 – 5 hours drive. Along your way, it is able to stop at Mahamuni Pagoda for a short visit. Overnight in Mrauk U.
Day 14: Mrauk U Sightseeing (B)
This morning ready for a full day sightseeing in Mrauk U. Your highlights this morning including Pharaouk Pagoda, Mong-Khong- Shwe Du Stupa, Pesi Paya, Koe Thaung Temple (a shrine of 90000 Buddha images), and Latt-Say Lake (artificial lake with the city wall and a gate). Manage to visit Mahabandola Monastery before lunch to get a glimpse at the fantastic construction like a museum.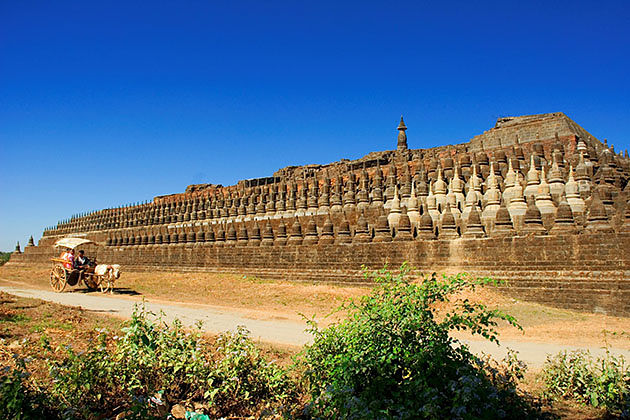 Following your afternoon sightseeing with a first visit to the fantastic Shit-Thaung Temple where enchants visitors with 8000 Buddha images and its reliefs. Continue to Htaukkhan-Thein Temple, Andaw temple, Ratanabon Stupa, Laymyathanar temple where is renowned as the four-sided temple), Laungbanprauk Pagoda locally known as "Plate Pagoda", Pitakataik (a small library). Later, transfer to Harritaung hill to marvel at the sunset and then return to the hotel for overnight.
Day 15: Mrauk U – Sittwe – Yangon (B)
Rise before dawn in the morning of day 15 and head to the Payagyi Temple in Sittwe to visit the golden face Buddha image. Continue to Mahakuthala monastery and Lawkarnandar pagoda. If your time permits, we recommend visiting the Sakyamuni Buddha image. Later, transfer to the airport to board a domestic flight to Yangon. Upon arrival at Yangon, check-in at the hotel and the rest of the day is free on your own.
Overnight in Yangon.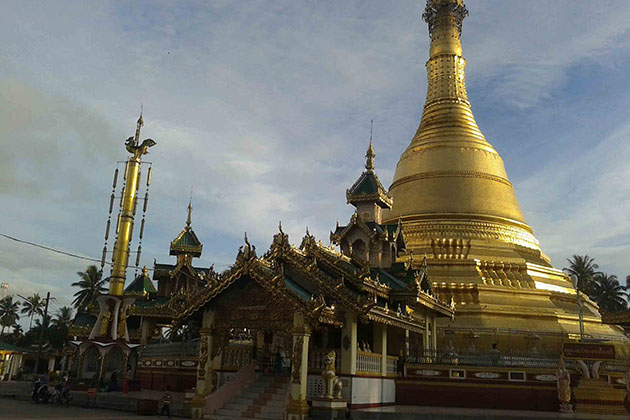 Day 16: Yangon – Thanlyin Day Tour (B)
This morning, your tour guide will lead you to Thanlyin via Bago River. about 45 minutes' drive from Yangon, Thanlyin is a peaceful town for visitors to escape from the hectic and vibrant atmosphere of the busy city. Visit Kyaik Khauk Pagoda – a beautiful pagoda dating back to the 2000 year ago possessing the same style as Shwedagon Pagoda. After that, head to Kyauk Tan pagoda for short sightseeing before visiting Bada-Gyi village to admire the 100 years old Seated Buddha image with 41 feet high. Next, return to Yangon and complete your day tour at the Botahtaung Pagoda, a 2500-year-old golden pagoda, and the Yele Kyauk Tan, a "floating pagoda".
Overnight in Yangon.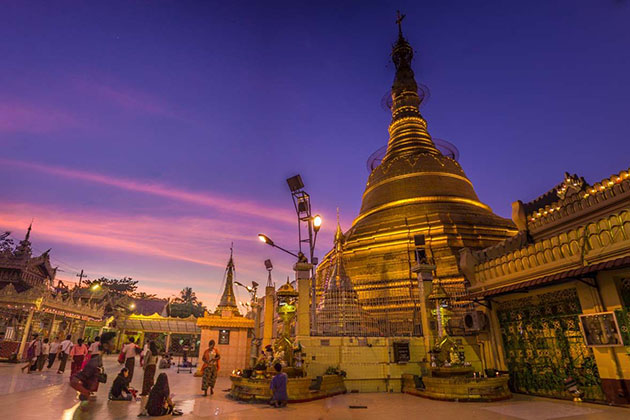 Day 17: Yangon – Departure (B)
After breakfast at the hotel, enjoy your free time until the driver picks you up to the airport for a flight to your departure. Trip ends. We hope that you'll love the itinerary we offer. Thank you for traveling with us!
Price: Please contact us for the detailed price of this package
What's Included?
16-Night Stay at Hotels with breakfast
English speaking local tour guide
5 domestic flight tickets (Yangon- Bagan and Mandalay-Inle-Yangon-Mrauk U- Yangon)
Mountain bike rental fees in Bagan
Entrance fees and zone fees
Transfers and sightseeing by private car (airport transfer is not included)
What's Excluded?
Meals & Drinks (Lunch & Dinner)
All entrance fees & all zone fees
10 US$ for international airport tax
Other personal expenses
Myanmar Visa. You can apply online via this website: https://evisa.moip.gov.mm/
Notes:
Please be aware that hotels and all other logistics, services and days of travel are subject to availability. Where flights are canceled or delayed Go Myanmar Tours will endeavor to secure alternative arrangements of similar value as noted in our booking conditions.
The traveling times mentioned within this dossier are approximations only. These times will vary according to weather, road, traffic or any other prevailing conditions.
This itinerary and supplementary information has been compiled in good faith and was accurate at the time of writing. However, it DOES NOT form part of a contract between the client and Go Myanmar Tours.
Recommended Hotel List:
| | |
| --- | --- |
| Location | Hotels & Ratings (4* Standard) |
| Yangon | Esperado Lake view Hotel (Deluxe) or Similar |
| Bagan | Heritage Bagan (Grand Deluxe) or Similar |
| Inle | The serenity Inle (Deluxe) or Similar |
| Mandalay | Triumph Hotel (Villa) or Similar |
| Monywa | Win Unity (Superior Bungalow) no gym at Monywa hotel or Similar |
| Mrauk U | Shwe Tha Zin (no gym at Murak-U hotel (Deluxe)) or Similar |