General Information
Duration: 16 days/ 15 nights
Start/End: Chiang Mai/Yangon
Tour Route: Chiang Mai – Mae Sa Pok Hike – Golden Triangle – Chiang Rai – Chiang Mai – Mandalay – Mingun – Bagan – Mt Popa – Heho – Pindaya – Inle Lake – Indein –Yangon
Tour Date: Not fixed, up to your schedule
Tour Highlights:
Savor the sight, sound, and flavor of Chiang Mai which is known as the "rose of Thailand"
Feed and bath the giant elephants in Chiang Mai Happy Elephant House
Try hand on cooking in authentic Thai cuisine
Join in a walk through the jungle and pass through the scenic landscape of Chiang Mai
Step back in time and discover the fascinating architecture in the city of Yangon
Engage with the friendly locals, learn about their daily life
Embark on a stunning boat trip around Inle Lake, enjoy the breathtaking scenery and see the unique leg-rowing fishermen
Unlock the magical beauty of Bagan and get to know about the great architecture dating back to thousand years ago
Savor authentic Burmese and Thai cuisine
Learn to make traditional handicrafts from the local artisans in a lacquerware workshop in Bagan
Experience this 15-day Myanmar and Thailand Tour With:
Guides: hand-picked best tour guides with deep knowledge, humor, and profession (English speaking guides, other languages upon request)
Drivers: polite, friendly, responsible, reliable with many years of driving experience
Vehicles: comfortable, spacious, air-conditioned & clean
Meals: meals are arranged at local restaurants so you can taste authentic Burmese cuisine
Accommodation: various types of accommodation are available, from 5-star hotels, 4-star hotels in the best location, good value 3-star hotels, to boutique hotels reflect the style of the region
Brief Itinerary
Thailand Itinerary 7 Nights
Day 1: Arrival in Chiang Mai (B)
Day 2: Chiang Mai – City tour – Dinner at Kantoke (B, D)
Day 3: Chiang Mai – Mae Taeng (B, L, D)
Day 4: Chiang Mai – Mae Sa Pok Hike – Chiang Mai (B, L)
Day 5: Chiang Mai – Golden Triangle (B)
Day 6: Golden Triangle – Chiang Rai (B)
Day 7: Chiang Rai Tour – Chiang Mai (B)
Day 8: Chiang Mai – Mandalay (B)
Myanmar Itinerary 7 Nights
Day 9: Mandalay – Mingun Excursion – Amarapura – Sagaing (B, L)
Day 10: Mandalay – Day Boat to Bagan (B, L)
Day 11: Bagan Discovery (B)
Day 12: Bagan – Mt Popa – Bagan (B, L)
Day 13: Bagan – Inle Lake (B, L)
Day 14: Inle Lake & Indein (B, L)
Day 15: Inle Lake – Yangon (B, L)
Day 16: Yangon Departure (B)
Please note that every element of the tour below can be tailored. Tell us your specific interest and we will be happy to make adjustments for you. This inquiry is totally free and you are under no obligation!
Full Itinerary
Day 1: Arrival in Chiang Mai (B)
Sah wah dee krab! Welcome to Chiang Mai, a laid-back city in Thailand where you will enjoy the peaceful pace of life. Today met and were welcomed by our guide at the airport. We understand there will be a bit tired after the flight so we will direct transfer you to the hotel for check-in and then relax on your own.
Overnight in Chiang Mai.
Day 2: Chiang Mai City tour – Dinner at Kantoke (B, D)
Today delivers you a full day to savor the sound, sight, and flavor of Chiang Mai. Following your breakfast this morning visit Wat Phra That Doi Suthep, the most famous pagoda in Chiang Mai that possesses the legendary story learned by the school kids day by day. After hiking a staircase of 306 steps, you will find a great construction of the temple overlooking the city from its mountain throne. After lunch, head to Wat Prah Singh Temple, Wat Phan Tao Temple, and Wat Chedi Luang where you will be feasted on the unique architecture of the Thai. From there take a stroll along the street to get a glimpse at the daily life of the Thai people.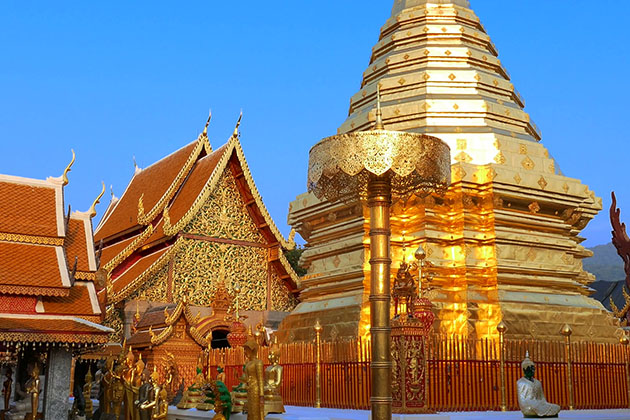 Highlight your sightseeing by getting a cyclo to slowly capture the allure of the city through beautiful streets. Stop at Great Market Warorot, the oldest market in Chiang Mai to connect with the Thai soul and see a wide range of food and product. This evening, transferred by an exotic tuk-tuk for a dinner at Kantoke. Here you will not only have a chance to savor the typical cuisine of the north but also enjoy mountaineers dancing and singing as well. Find yourself at the night market to gaze out at the nightlife in Chiang Mai before returning to the hotel. Overnight in Chiang Mai.
Day 3: Chaing Mai – Mae Taeng (B, L)
Rise early this morning, prepare your towel, swimsuit, camera, spray anti-insect, and suncream. Then begin your amazing day 3 with a drive toward the north to reach Mea Tang – an undiscovered gem of Chiang Mai. Join in an exciting river rafting on the river and experience some of the most adrenaline-boosting rides in the region. After an exciting journey, disembark the raft and spend some time relaxing and refreshing along the scenic riverbanks before heading back to the hotel and taking a short rest. Overnight in Chiang Mai.
Day 4: Chiang Mai – Mae Sa Pok Hike – Chaing Mai (B, L)
The morning of day 4 will transfer you to a trekking tour in the villages of the tribe Karen White. Start with a jungle walk to reach the village to meet and interact with the villagers. Continue walking, you will reach a beautiful waterfall where you are free to swim and enjoy the fresh atmosphere around you.
In the afternoon, drop yourself on a bamboo raft to float along the river. Overnight in Chiang Mai.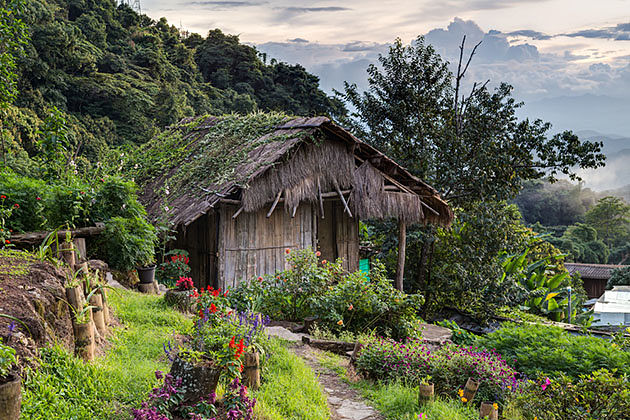 Day 5: Chiang Mai – Golden Triangle (B)
Hit the road to Doi Mae Salong this morning where you will spend the time climbing and hurtling down the green hills covered with tea plantations. You also enjoy authentic delicious tea produced from the plantations in the region. Keep going, you will reach Doi Mae Salong, there visit two ethnic minority villages in Ban Haygo to know more about the life of the people here.
Day 6: Golden Triangle – Chiang Rai (B)
Make the first visit this morning to the Museum of Opium for a glimpse at the exhibition of opium and learn the history of the Golden Triangle. From there you will take a scenic drive toward the south to Chiang Rai, a sleepy provincial town in Thailand. Afterward, board a long-tail boat to transfer to the Lao side. From there, you will gain an interesting view of the triangle of Laos Thailand, and Myanmar. On the way back to Chiang Mai, discover the interesting tribes of Yao and Khao where you will meet the special "long-neck women". Overnight in Chiang Rai.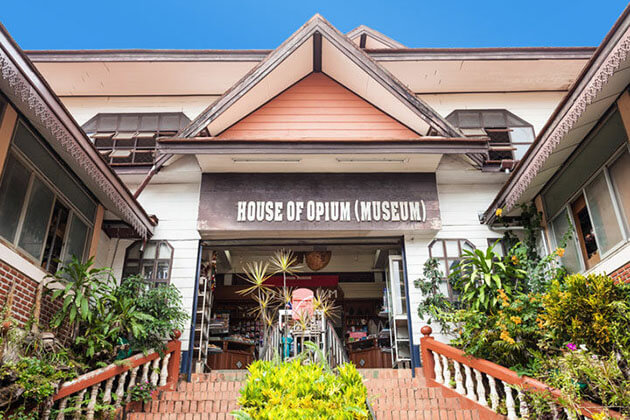 Day 7: Chiang Rai – Chiang Mai
Wake up to the sound of bird-singing this morning and then follow your breakfast at the hotel with a full day sightseeing in Chiang Rai, a wooden, mountainous, and beautiful town. A short drive will take you into the heart of Chiang Rai which will fill your eyes with a vibrant local market full of local people selling and buying vegetables, food, and products.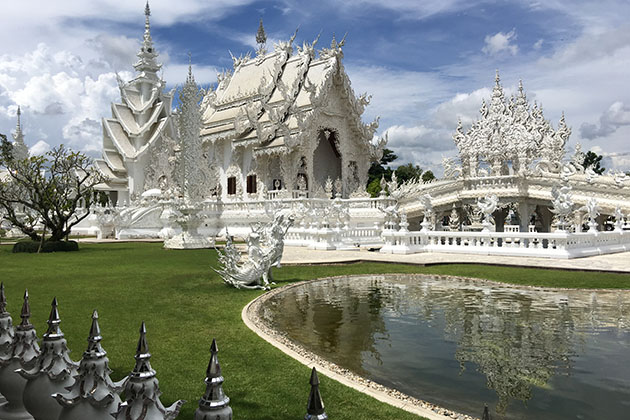 Then make your next visit to the oldest temple in Chiang Rai: Wat Phra Kaew Temple and Rai Mae Fah Luang to witness the antique art of Thailand. We then also make our next visit to Wat Rong Khun, the impressive white and most recognizable temple in Thailand with a fantastic design mirroring the serene lake before making our way to return to Chiang Mai. Overnight in Chiang Mai.
Day 8: Chaing Mai – Mandalay (B)
Today, enjoy your free time at leisure until the driver comes to transfer you to the airport to take an afternoon flight to Mandalay.
Day 9: Mandalay – Mingun Excursion – Amarapura – Sagaing (B, L)
Today is an amazing day that leads you to the sleeping town of Mingun on a morning boat trip. Head to the Mingun Bell to marvel at the world's second-largest intact bronze bell before learning the story of the unfinished Mingun Paya which was intended built as the largest Buddhist pagoda in the past. Next, visit the gorgeous white-washed Hsinbyume pagoda to marvel at the impressive design featured by the wave terraces. Spend your time to saves your best photos.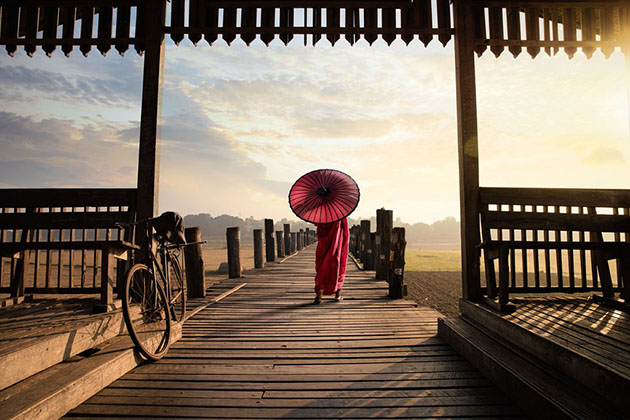 After lunch, head to Amarapura, which is widely known as the city of Immortality. We will make our first visit to Mahagandaryone Monastery and see the daily life of monks. Next, transfer to U Bein Bridge, the longest teak bridge in the world and the most favorite photo stop for visitors coming to Amarapura.
After saving your best photos, drive to Sagaing, another attraction in the region that is far-famed with over 600 Buddhist monasteries which are Buddhist schools, Pay a visit to Swan Oo Pon Nya Shin and U Min Thone Sae Pagoda to discover the unique architecture and the weaving factory.
Continue your sightseeing in Sagaing with a visit to the local market, Silverware Cottage industry, Clay pot making, and Nunery to gain amazing experiences. Finally, your driver will transfer you for the last visit to Mahamuni Pagoda to marvel at the impressive golden Buddha image. Overnight in Mandalay.
Day 10: Mandalay – Day Boat to Bagan (B, L)
Today will be a long day of sailing from Mandalay to Bagan. After breakfast at the hotel, our driver will transfer you to the jetty to embark on a boat trip along the Irrawaddy River to Bagan – a paradise of the sun and old temples. Enjoy your 9-hour cruise along the tranquil river.
Overnight in Bagan.
Day 11: Bagan Discovery (B)
Today is a full day to explore the charming Bagan. We will make our first visit to the Nyaung U Market for a first glimpse at the local life and products.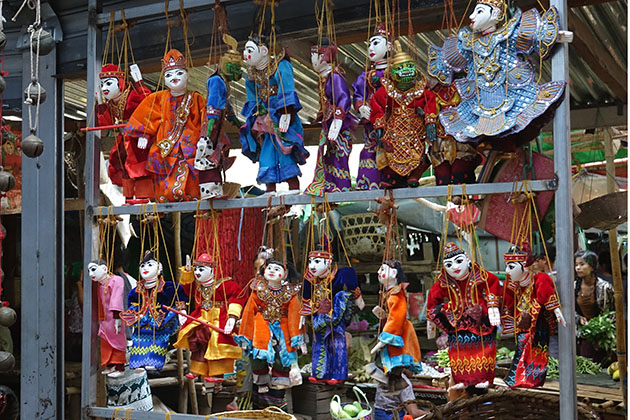 Afterward, transfer to the hotel for check-in and relax for a short time before making our amazing discovery of the highest temple in Bagan to gain a panoramic view of the area. From there, continue visiting the most beautiful temples in the region including Ananda Temple built by King Kyanzittha of the Bagan Dynasty in 1105, the 46 meters high Htilomino temple a mossy tiled temple dating back to the 12 century tipped with a golden sikhara, Dhammayan Gyi Temple the largest temple and Sulamani, an elegant temple.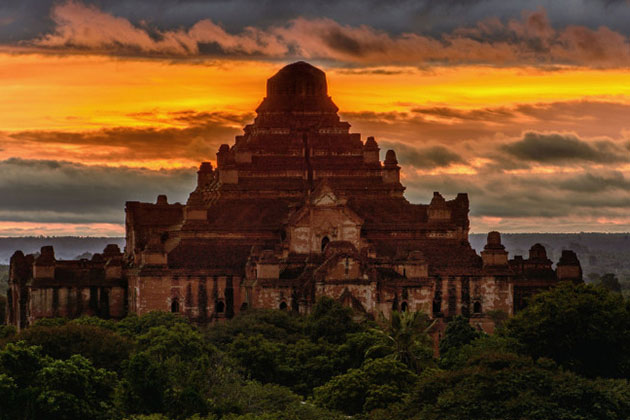 Later, fulfill your trip of the day with a visit to local lacquerware to learn more about the traditional production of beautiful items. Overnight in Bagan.
Day 12: Bagan – Mt Popa – Bagan ( B, L)
Rise before dawn this morning to enjoy the sunrise over Bagan – one of the most exotic sunrises in the world that you have to witness once in your lifetime. Today, make your visit to Mt Popa, the magnificent extinct volcano in the region 1515 meters high. To reach the top you will hike 777 steps that are filled with monkeys. Up to the pagoda on the top of the mountain, enjoy the incredible panoramic view of the area and then your guide will introduce you to the Nat (natural spirit) of Burmese.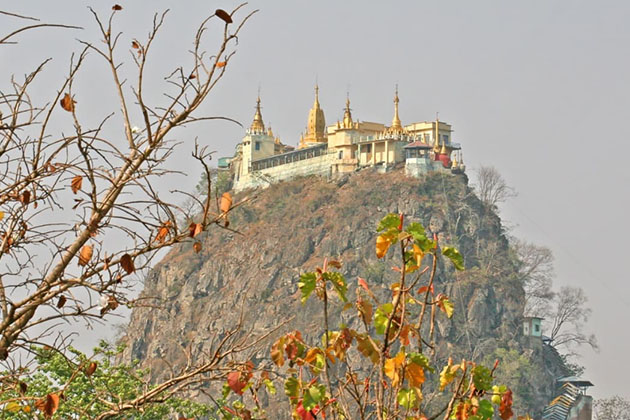 After visiting Mt Popa, make your way return to Bagan and we will make a short visit to the local palm tree plantation and a local village to observe the daily life of the people and learn more about their traditional culture.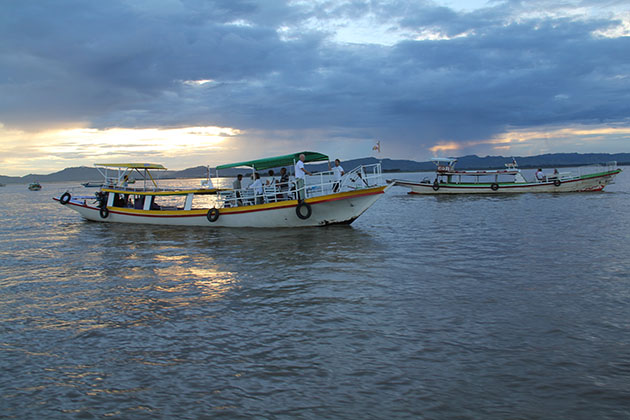 Perhaps a trip to the Irrawaddy River this afternoon is expected to excite your senses as it takes you along the scenic river and gives you a chance to behold the life on the riverside and a gorgeous sunset that you cannot miss when traveling to Bagan. Overnight in Bagan.
Day 13: Bagan – Inle Lake (B, L)
Leave Bagan this morning to board a flight to Heho, the gateway to Inle Lake. Upon Heho, we head directly to Pindaya, a peaceful town where we will spend the time visiting Pindaya cave to admire an impressive limestone cave that used to be pushed by scholars to be one of the inclusions in the UNESCO World Heritage List. Expanding to 490 feet long, the cave is filled with 8000 glittering Buddha statues that have sat there for centuries.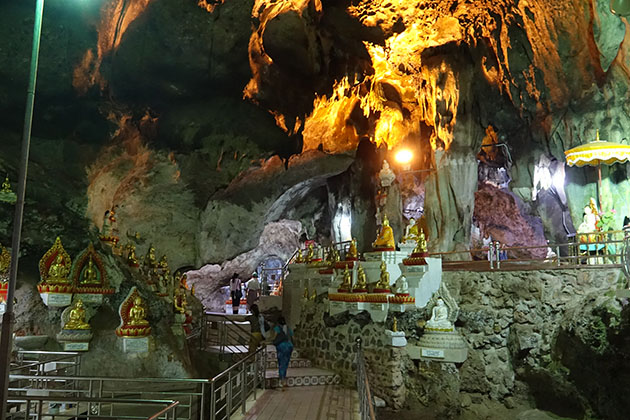 Later, transfer to Nyaungshwe to take a boat trip to Inle Lake. Along the way may include a stop at the 250-year-old Banyan tree for a short visit. Overnight in Inle Lake.
Day 14: Inle Lake – Indein (B, L)
Today gives you a full day to explore the breathtaking Inle Lake a boat to the ancient Indein village. Witness the amazing beauty of Inle which was once described as the "Venice of Asia" as you pass by the endless floating gardens, stilt houses, and monasteries. You first stop at Phaung Daw Oo Pagoda to visit the most sacred religious site in Shan State then marvel at the ancient Shan-style Buddha images in the wooden Nga Phe Chaung Monastery. Afterward, enjoy a local lunch served at a local restaurant on the lake.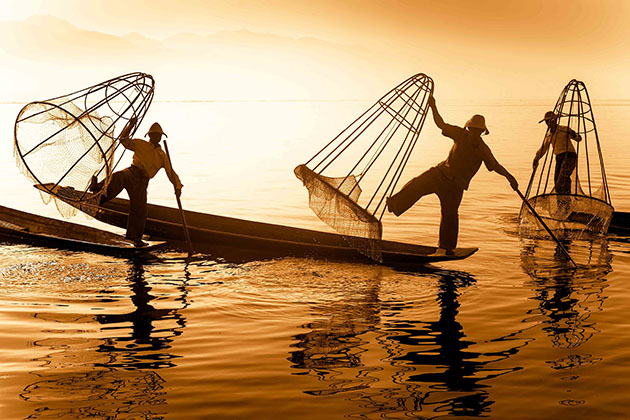 In the afternoon, visit the serene Indein village which is home to the Pa-Oh people. Gaze out at over 1000 ruins of stupas and walk along the colonnade where have many shops selling interesting souvenirs. If time permits, take a stroll to the local school in Indein and hike to the top of the hill to enjoy the cool fresh air. Back to Inle Lake and then it's time you will see the most iconic symbol "leg-rowing" fishermen at twilight. There isn't more fantastic than this moment so don't forget to take your best photos.
Overnight in Inle Lake.
Day 15: Inle Lake – Yangon (B, L)
After breakfast, this morning, say goodbye to Inle Lake and our driver will transfer you to the airport to board a flight to Yangon. Upon arrival, we will spend some time to have a short break before spending the rest of the day exploring outstanding sites and enjoying the hectic pace of life in Yangon.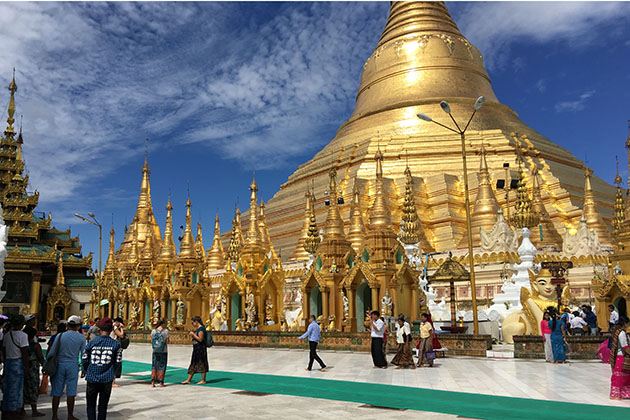 We will make our first visit to Chauk Htat Gyi Pagoda where enshrine the great giant reclining Buddha image. Next, sightseeing at Kandawgyi Park and take awesome photos at Karaweik Hall, a floating barge that is one of the most attractive landmarks in Yangon. Highlight your amazing day with a late visit in the afternoon to Shwedagon Pagoda, an impressive Buddhist pagoda made of 16 tons of pure gold that devotes to Burmese life and Buddhism. Overnight in Yangon.
Day 16: Yangon – Departure (B)
This morning, make your way to Boyoke Market. Being the largest and most lively bazaar in Yangon, you will find a wide range of souvenirs, gems, jewelry, clothing, and many other products in the Bogyoke market.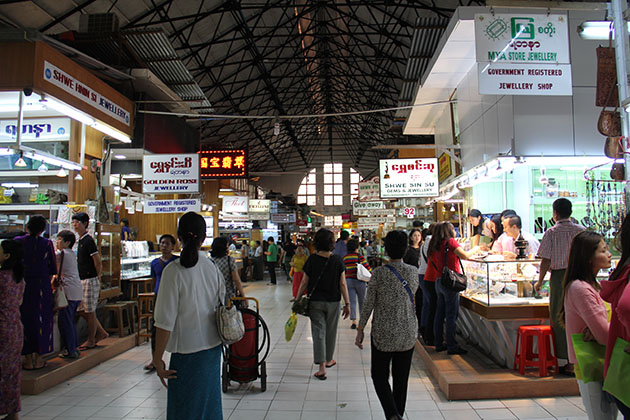 Our driver then will pick you up and transfer you to the airport to take a flight to your departure. Trip ends. We hope you would love this 16-day Thai Land and Myanmar itinerary we offer. Thank you for traveling with us!