Attractions for Myanmar Itinerary 7 Days
Exploring Myanmar is truly an experience of a lifetime since this peculiar yet phenomenal country never ceases to amaze visitors and locals alike. Throughout the amazing landscape, there are so many attractions for 7 days in Myanmar. If you still wonder where you should go, just have a look at this list below to find them out.
Yangon
Iconic Temples and Pagodas
Yangon is always the gateway city to almost trips to Myanmar. In
Myanmar tour packages
, you have a chance to visit Chaukhtatgyi Buddha Temple, which houses the giant 217 foot reclining Buddha. In the pagoda, the sense of scale is overwhelming. It's totally common for you to feel tiny and in awe standing in front of the giant Buddha – an incredible work of man. Shwedagon Pagoda is also a must-visit spot in Myanmar itinerary 7 days while you're in Yangon. Be enchanted by the dazzling beauty in one of the most iconic religious sites in Myanmar. In the evening, you can stroll along the street of China town. Treat yourself with the exotic and mouth-watering taste of food as well as the vibrant atmosphere of the city itself.
Kandawgyi Park
Kandawgyi Park is the next popular destination to visit in Myanmar itinerary 7 days. It is blessed with a calming and peaceful atmosphere. If this is the first time you are in Yangon, that's the perfect place to relax and take beautiful photos of the mirror-like Kandawgy Lake and the magnificent Karaweik Palace.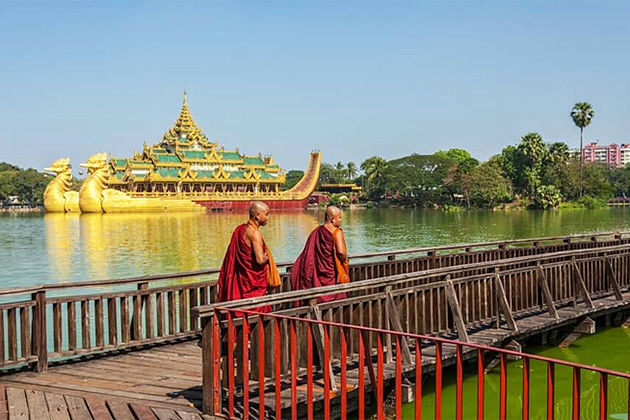 Bustling China town
Located in the center of Downtown Yangon, China town is an exciting place to visit in Myanmar itinerary 7 days. When the night falls, it's even more gorgeous when the whole street transforms into a colorful night market. In China town, getting a taste of exotic food has never been easier. Look at the photo below, you're surrounded by the steaming-hot dishes in the food stalls and various kinds of delicious tropical fruits!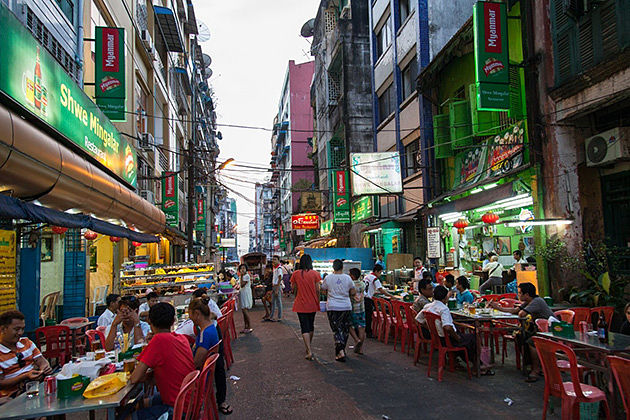 Mandalay - City of Cultural Heritages
One of a kind architecture
Mandalay is the cultural and Buddhist center of Myanmar with a great number of temples and pagodas. Each has a distinct meaning and architecture. And Myanmar itinerary one week will lead you to the Mahamuni Pagoda to admire the image of Buddha. It's famous for a giant Buddha image which is covered with a thick layer of gold leaves. Besides, the Shwenandaw Monastery is also a famous destination to visit in Myanmar itinerary 7 days. Together with sightseeing, you can explore the teak wood carvings of ancient Buddhist myths.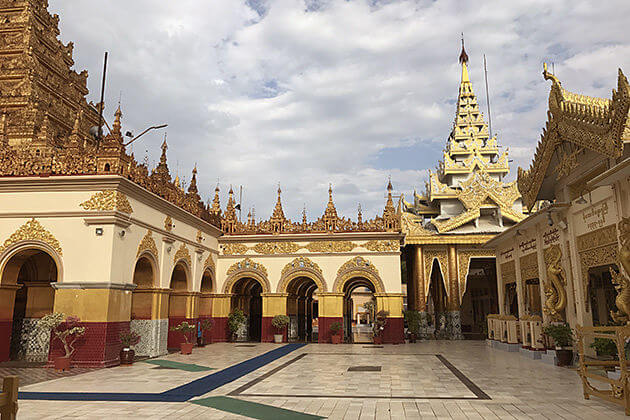 Breath-taking sunset on Mandalay Hill
Mandalay Hill is one of the must-visit destinations in Myanmar itinerary 7 days for a splendid view at sunset. You will find walking up 1729 steps of stairs totally worth it once the view reveals itself. Plus, you get to exercise and enjoy the sight of monasteries and temples along the way to the top.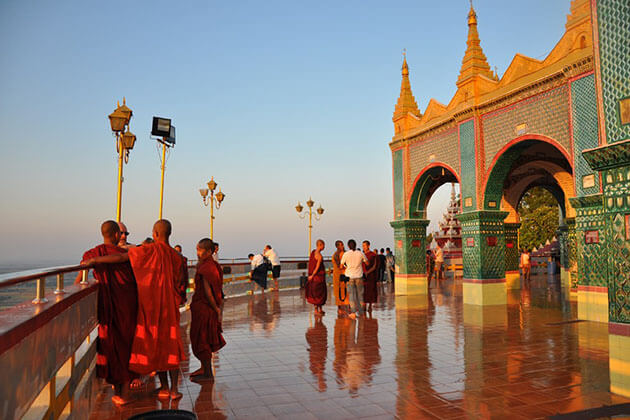 Bagan - A Fascinating Temple Town
With over 2000 pagodas and temples and stunning scenery, Bagan is no doubt a great place to explore in Myanmar itinerary 7 days. Moreover, you can also explore the signature local handicrafts such as lacquerware and bamboo works. You can take a tour around Bagan by many means of transport, whether it is by bike, by car or by horses and carriage. The most exciting and novel way of all is taking a hot-air balloon ride in this city of pagodas as the sun rises from the horizon. Myanmar itinerary 7 days to Bagan also gives you a chance to shopping for local handicrafts such as lacquerware or bamboo works. If you want a little bit of challenge, climbing up 700 steps to visit Mt. Popa to marvel at the magnificent view surrounding.
Inle Lake - Mesmerizing Natural Beauty & Brilliant Cultural Practice
An excursion on Inle Lake in Myanmar itinerary 7 days is an ideal way to enjoy the peaceful and stunning nature of Myanmar. You can take a closer look at local fishermen working and appreciate the view of lotus silk weaving and floating tomatoes farm.