Clients: Mrs. Melissa Moubarak & partner
Pax: 2 pax
Nationality: Lebanese & Canadian
Itinerary: Tailor-made Myanmar tour – 6 Days
This is the first time we used an online local tour operator for our trip and we are very lucky to work with Rebecca, a great travel consultant from Go Myanmar Tours. She spent much time in helping us customize a tour based on our preferred destinations, interests and the amount of time we wanted to spend in Myanmar. She listened to what we wanted and did not want to do for our tour and she delivered exactly what we love! We have been so happy to have a private tour that we could be places that we want to spend time to discover.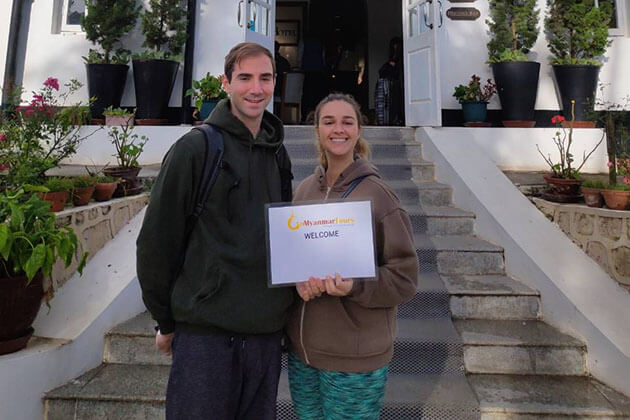 Our local tour guides and driver coordinate perfectly so as we finish one place, our car would be waiting for us with the air condition on and cold water. The assistant always had a cleansing towel ready for us when we returned from visiting a site. I actually asked one of the tour guides that were subcontracted by Go Myanmar Tours and was very pleased when they said that really enjoyed working with Go Myanmar Tours because they can see that Go Myanmar Tours really wants the best for their customers and that to ensure that, they hire the best subcontractors and take care of them also so everyone is happy.
Our whole tour unfolded on time and without a hitch. The highlight of our trip was visiting Bagan and taking the hot air balloon ride to capture the wonderful landscapes of the town from above. We got the chance to enjoy one of the most amazing experiences and we believe that we would never forget for the rest of our lives.
I hope that Go Myanmar Tours and Rebecca prosper and grow larger and there are other places that we want to travel. We definitely would like to use Go Myanmar Tours again and again.
Best regards,