On the road to Sagaing, to the left of the Ava Bridgehead, a track takes you to the Irrawaddy, which you cross by a ferry to get to Ava, the secret Burmese capital in central Myanmar.
After the disintegration of the Kingdom of Pagan, Ava emerged as the capital of the Burmese Kings, having been founded by Thado Minbya in 1364 A.D. It remained as such for over three hundred years, till Bodawpaya switched over to nearby Amarapura. It had another brief spell as the King's City during the reign of Bagyidaw, Bodawpaya's grandson, and, subsequently, enjoyed that status during two brief periods. Ava was on an artificially- created island, an island formed by linking the Irrawaddy and the Myitnge by a canal.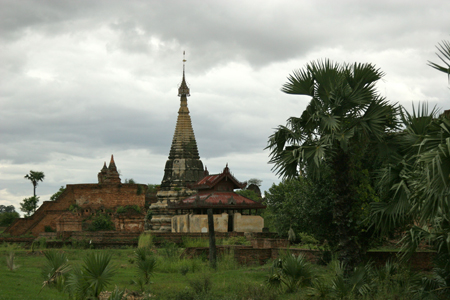 There are mighty tamarind trees everywhere, affording welcome shade and practically embracing the whole area.
Unlike Amarapura, the city walls are still to be seen, in some places defying the ravages of weather and encroachments by man. They are almost intact near the northern gate, opening out on the Irrawaddy, where local tradition has it that the Kings had their hair washed ceremonially – The Gaung Say Daga (the ceremonial hair- washing gate). From this spot, one can have an excellent view of the Ava Bridge and the river itself flowing by the pagoda and Sagaing Hills.
The palace area has all been plowed up for cultivation and there is nothing left save a ninety-foot-high masonry watch-tower, shaken by the earthquake of 1838, and now standing as Burma's Leaning Tower of Pisa.
Nearby, there is an impressive example of Burmese masonry art and architecture, the Maha Aung Mye Bonzan Monastery, specially built in 1818 A.D. by Nanmadaw Me Nu, Bagyidaw's Chief Queen, for her favorite Sayadaw (Abbot), the Nyaunggan Sayadaw. The earthquake, which hurt the Watch Tower, damaged this structure as well as what one sees now is the result of renovation undertaken by the builder's daughter and wife of King Mindon – Sinbyumashin in 1873. It is a dome-like construction, with a seven-tiered spherical tope. Inside there is the room in which the Sayadaw resided and an image of the Buddha on the original glass mosaic pedestal. The flooring, curiously enough, is of teak. Approach steps, two on each side, three in front and one at the back, leading up to the monastery. Outside there is an inscription, giving the name of the monastery and so on and carved figures of a peacock, a hare, the sun and the moon. Usually, such monasteries were built of wood and in this case, here is a solid one, a masonry structure and that is why it is still standing.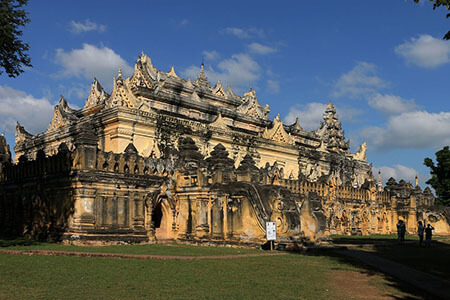 In the vicinity, there is a huge block of white stone on a brick and mortar platform, in an enclosure, marking the site of the Let-Ma-Yoon Prison in which the first American Baptist Missionary, Dr. Adoniram Judson, had been incarcerated during the reign of Bodawpaya. The inscription tablet reads:
" In memory of Rev. Adoniram Judson and his wife Ann Hazeltine, American Baptist Missionaries. In the Prison of Horrors, which stood here, Dr. Judson sustained by his faith in the Lord Jesus Christ and by the devotion of his heroic wife, endured unrecordable sufferings from June 1824 to May 1825. .. "