Clients: Jen Rogers
Pax: 2 pax
Nationality: USA
Itinerary: Myanmar, People & Heritage Tour – 14 Days
Dear Rebecca,
We have come back to our country from our 14 day trip to Myanmar and want to share with you our ideal for the trip. Firstly let me thank you for your extremely helpful and supportive during our stay in Myanmar. The itinerary you created for us was great. It gives us enough time for sightseeing and discovering the temples and people without being rush. The accommodations you chose for us were lovely. They all set in nice locations with a good view of the area.
We had very nice experiences with our local guides in each city we visited. Basically, all of our guides were great, they were helpful, knowledgeable and made our experience very enjoyable. And it even more exciting when we had a chance to explore the region by bike. That made me feel like I was truly a local!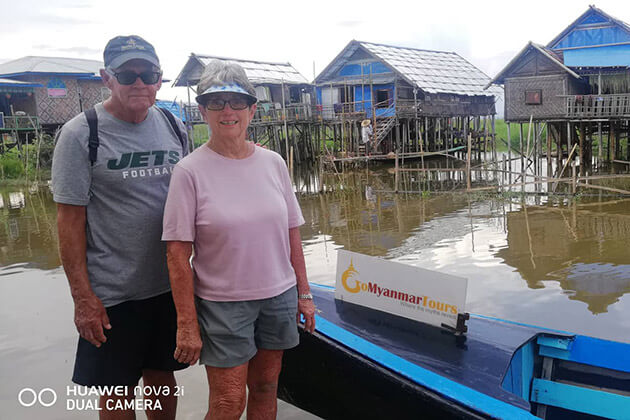 In Yangon, we visited the Shwedagon Pagoda which I personally thought would become one of the best moments of my life. On the 4th day, our guide took us to the countryside where we could see how tranquil Myanmar is. We also talked with the people and had more understanding of their life.
In Bagan, there is no word that can describe the magnificent landscape. The temples and hot air balloons were wonderful. The sunset cocktail is also a highlight. Not because the river is beautiful, but the life along the river was the thing that impressed us the most.
We have to say that it was really lucky for us to stretch our tour to Mandalay. The landscape and the sites were totally beautiful. Mr.Oo told me much interesting knowledge about the sacred statues and pagodas. And please help me to send my warmly thank to the car rental in Mandalay. He assisted me and took care of two of us so good.
Followed your advice, we decided to put Kalaw in our itinerary and it is the right decision. The plantation is incredible! We took many photos there.
Thank you once again, Rebecca. I would definitely recommend you and Gomyanmartours for my friends who want to visit Myanmar in the future.
Yours faithfully,
Jen Rogers