Estimated 11th century
Merit attributed to Manuha dethroned the king of Thaton
The Kalyani inscription of the Mon king Dhammazedi (r. 1470 1492) of Hanthawaddy, now present-day Bago, says that Anawrahta captured king 'Manohor' in 1057.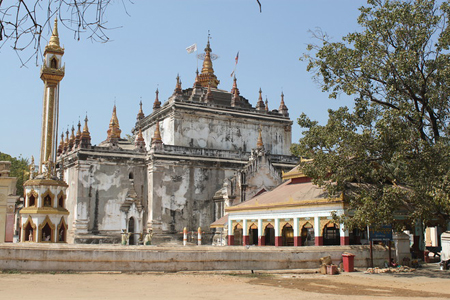 It is said that the royal prisoner Manuha or Makuta or Manohor as variously named – was brought to Bagan in shackles of gold and that he was treated with graciousness by Anawrahta.
According to local lore, he sold a ruby ring which brought him six cartloads of silver. With this he built this temple, with huge images enshrined in smaller niches, to emphasize his restricted state. He had prayed at the temple's dedication that 'wherever he traveled in Samsara the cycle of life, may he never again be a prisoner of another.