Recently, Myeik archipelago has welcomed to the new opening of Awei Pila, an eco-resort on the isolated island. This marks a milestone for the appearance of a new space for relaxation on the untouched Myeik Archipelago. With the slogan "Be the first to discover the Mergui Archipelago", this resort is expected to bring tourists a memorable vacation with amenities and luxury services in Myanmar tours.
Established by Myanmar tourism trailblazing company, Memories Group whose a boutique hotel in Yangon, Loikaw, Hpa An as well as boating and Hot air Balloon in Bagan, the 5-star luxury resort possesses 24 tent villas along the 600 meters long creamy-sand beach. This is the only accommodation on the serene island. General Manager Jon Bourbaud said the opening of the jungle resort aims at providing a unique brand of sustainable luxury for tourists to enjoy a remarkable vacation while maintaining the natural balance of the ecosystem on the island.
The resort featured by rounded yurt-style fabric tents expanding throughout the tropical forest covering almost 60 square meters of private space. Upon here, tourist will be supplied with full of convenient facilities including ceiling fans, hidden air-conditioners, a minibar, and spa. Besides, Awei Pila resort does provide wifi via satellite. For those tourists who love to escape from the busy life, a digital detox is also available. In an attempt to preserve the ecosystem on the archipelago, Awei Pila resort has made a commitment to being a green resort by offering eco-initiatives including solar panels, water supplied from a natural spring, paper straws, and coral reef-friendly sunscreens and lotion.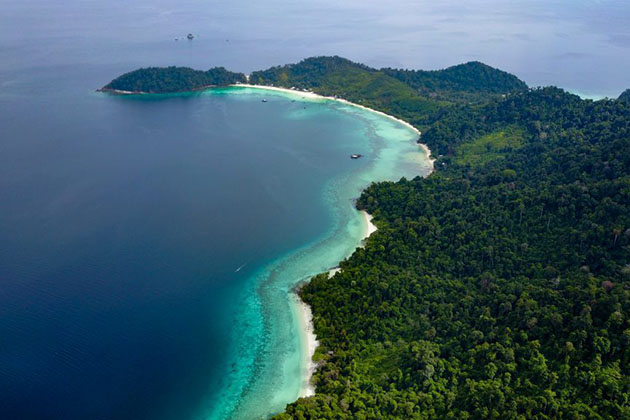 Awei Pila resort opens seasonally from October to May when Myanmar experiences the most pleasant time in the year. There isn't more a fantastic experience than sitting on the lake, nibbling a cocktail and stay in harmony to nature. This is an ideal place for couples, friends, and family who look for a place to stay away from the crowd.
Together with enjoying a breathtaking time in the resort, tourist can join in an array of amazing activities including kayaking, snorkeling, diving, and exploring the jungle. Owning 800 pristine islands, Myeik archipelago is a paradise to observe the wonderful life under the water. A  Myeik Archipelago tour will lead you to the stunning caves, poetic beaches, and colorful coral reef. In addition to the marine life, Myeik Archipelago is also home to the variety of flora and fauna to discover. Due to the restriction of the government in the past, the landscape on Myeik has been almost preserved deep in the jungle such as colorful birds, lizards, pigeons etc.
For more detailed information and booking a tour to Myeik, please contact us to get a free quote and let us bring you to the paradise on Myiek Archipelago.