On the occasion of the 40th anniversary of the establishment of diplomatic relations between Viet Nam and Myanmar, Vietjet Air has opened a Ho Chi Minh City-Yangon (Myanmar) route. This new rout also aims to meet increased demand and boost trade, investment, tourism, and cultural exchanges between Ho Chi Minh City and Yangon.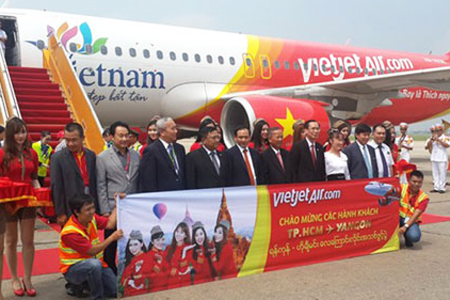 Five round-trip flights which depart from Ho Chi Minh City at 10.25 am and land in Yangon at 12.10 am (local time), return from Yangon at 1pm (local time) and arrive two hours and 13 minutes later in Hanoi on Mondays, Wednesdays, Fridays, Saturdays and Sundays every week.
The tickets were sold on Vietjet Air's official website www.vietjetair.com, smartphone version m.vietjetair.com, and www.facebook.com/vietjetairvietnam.
Vietjet Air will have gifts for the passengers on the first flights.