After a successful five-day balloon festival which was held from 18 to 22 November, Pyin Oo Lwin is preparing a month-long flower decoration festival.
The flower festival will be held at the December Garden and on the Mandalay – Lashio Road from December 18, 2019, to January 18, 2020, according to the garden's founder, U San Hla. With the purpose of giving people space to be happy when visiting the Garden. There will be flowers arranged based on the idea of the management department without any foreign help. The staff will mount the flower decorations on iron frames.
Pyin Oo Lwin flower festival taking place with an aim to encourage people to conserve the environment, promote local tourism, and give the public more options for relaxation, said garden manager U Win Nyunt.
During the festival time, most of the flowers at the festival, which will showcase more than 300,000 flowering plants, will be imported from Thailand, said Daw Thet Thet Khaing, who is in charge of the displays.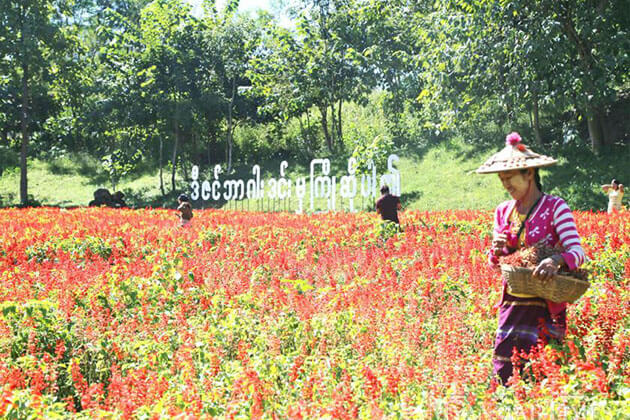 In the past, there were more than 150,000 plants at the festival. This year, nearly 300,000 flowery plants will be showing at the festival. Among them, about 90 percent will be real flowers and 10 percent are artificial flowers at the festival. What's more, there will be more interesting activities are included such as entertainment programs, orchid flower competition, photo contest, and flower arrangement contest. There will be about 69 flower species from home and abroad. During the festival time, flower decorations will be changed daily.
"We plan to add another 5000 local species. We've completed 80 percent of the work," Daw Thet Thet Khaing said.
The festival will cover 20 hectares of 55 hectares in the December Garden. It will include stalls, playgrounds for children, horse riding, boating, cycling, archery, and other games.
"Actors will entertain also. The entrance fee will be K1000 (66 cents) each for locals as well as foreigners, and it will be open from 6 am to 5 pm," U Win Nyunt said.
Traveling to Pyin Oo Lwin with Go Myanmar Tours
We offer Myanmar tour packages for customers who come to visit Pyin Oo Lwin and attend the Pyin Oo Lwin flower festival. Contact us now and let us help you create the finest itinerary.