Shan Noodles is extremely familiar to gastronomes who are fond of Burmese cuisine, the exquisite combination of ingredients from many regional parts.
What is Shan Noodle?
Shan noodle (Shan Kauk Swae), Shan-style noodle salad, loved by most Myanmar people and commonly eaten as lunch or dinner or a kind of snack, is one of the unique Myanmar foods. Shan Kauk Swae is originally from Shan state, the east part of Myanmar which lies next to the borders among China, Thailand, and Laos. Therefore, the Shan noodles recipe become popular in neighboring countries. That is the reason why now you can have it everywhere in the country, even in other countries such as the Chinese Yunnan province and Chiang Mai in Thailand.
Shan Noodle Ingredients
Shan noodles is not a complex dish with simple ingredients.
The dish is the perfect combination of thin rice noodles in a clear peppery broth with marinated chicken or pork, garnished with toasted sesame and garlic oil. More specifically, chicken or pork would be cooked in tomato sauce. It is served with a side of pickled vegetables or chopped peanuts, spring onions, and mustard greens in separate side dishes so diners can adjust the taste to their own liking. Compared with most of the Burmese noodle dishes, it is relatively simple, but it is reassuring comforting and always delicious.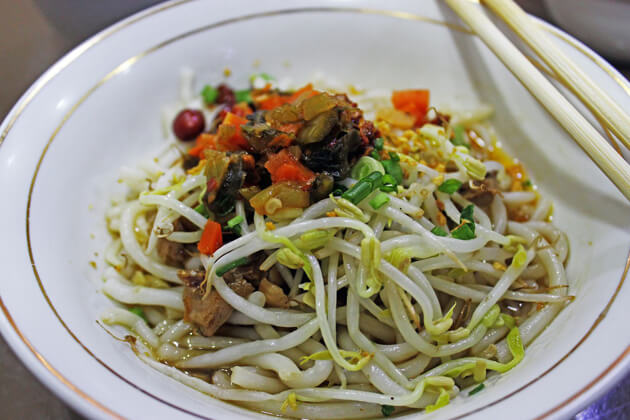 Types of Shan Noodles
A "dry" version, with the broth, served on the side, is also common. In other words, you can have Shan noodles either as a soup or as a salad, and in both cases the sauce is similar. Only the noodles are different. San See noodles are sticky rice and used for the soup. the other one named Yay Sein is round, thin shaped and not sticky. It is used for the salad.
How to Make Shan Noodles
Shan noodles are an easy-to-make Burmese recipe. Soup is the chicken broth. The chicken is removed from the bone and shredded with a fork. Then, the chef put some olive oil in a pan and fry the garlic until it is fragrant, then add the chicken, soy sauce, chili powder, and tomato.
The mixture is cooked until the tomato is soft. In brief, the delicate flavor of Shan noodle (Shan Kauk Swae) will certainly make you satisfied. It can take you less than 30 minutes to be ready, which is commonly known as a breakfast dish.
Recommended Restaurants to Enjoy Shan Noodles
Taking tours to Myanmar right now to have the opportunity to enjoy one of the most exquisite Burmese dishes. If possible, do not forget to visit 999 Shan Noodle House near 34th Street, Aung Mingalar Shan Noodle Restaurant, Happy Noodle Restaurant in Yangon. All of them are ranked as the most ideal places for not only residents but also foreign tourists to relish Shan noodles as these restaurants have a variety of soup/dry noodles, which are absolutely great at reasonable prices.
On top of that, they have nice soup/fried dumplings, different kinds of soups and salads, and fried rice, which are again great and cheap. Besides, the staff is very friendly and smiley, which was a big plus also. Highly recommended!