Emerging as a new tourist attraction for ecotourism in Myanmar, Thandaung Gyi is the perfect place for visitors to escape from a bustling life to blend with the untouched landscape, climb up to the peak of the mountain, behold the incredible beauty, breath the fresh air, and leave all the stress behind. Located in Kayin State, the town used to be restricted to travelers for decades. It was not until 2015 that it was just opened for visitors to overnight. Up to 2016, the Government of Myanmar has issued eight bed and breakfast licenses for Thandaung Gyi. Additionally, the charming mountain town is home to the hospitable community who are always delighted to see visitors. Furthermore, people here are willing to show you the most region's impressive attractions. Hence, be ready to experience one of the most remarkable highlights in your Myanmar tour in this peaceful area.
Thandaung Gyi Attractions
Hike up to the Naw Bu Baw Mountain
Naw Bu Baw Mountain is a beautiful destination lies at 1462 meter height known as the heart of Kayin State. So far, it is not only well-known by the breathtaking vistas but also for the history of Naw Bu Baw for a long time about true love between Naw Bu Baw the daughter of the King of the sea and Saw Thaw Oh Khwa the prince of a mountain kingdom. Since Thandaung Gyi town is still an off the beaten path in Myanmar, the surrounding landscape is remaining unspoiled and offering a spectacular view on the peak of the mountain. Along the hiking route, visitors will catch the opportunity to admire the mix of natural beauty, listen to the rustling in the jungle and the sound of birds, and impressive small prayer rooms set aside the way climb to the mountain. After hiking up 374 steps, you will be captivated by the majestic view of a dramatic church with a Christian cross crowns appear above the drifting clouds.
Trek to Thandaung Waterfall & Enjoy the Hot Spring Water
Immersing in the hot spring water and marvel at the spectacular waterfall are awesome things to do in Thandaung Gyi. To get to the waterfall, visitors have to pass a rugged route. This may be a bit hard to go across the jungle, steeps ad dusty. However, the magnificent view as you get after a 2-hour trek will never fail to impress your soul. Here you can manage to have a picnic and soak into the clear water combine with a short trip to the famous Taw Pyar Gyi hot springs.
Visit Tea Plantations & Tea Factory
Last but not least, a stroll through the picturesque landscape of the tea plantations and a visit to the 100-year-old tea old factory will fulfill your trip to Thandaung Gyi. Here behold the lush tea fields and get an insight into Burmese tea culture.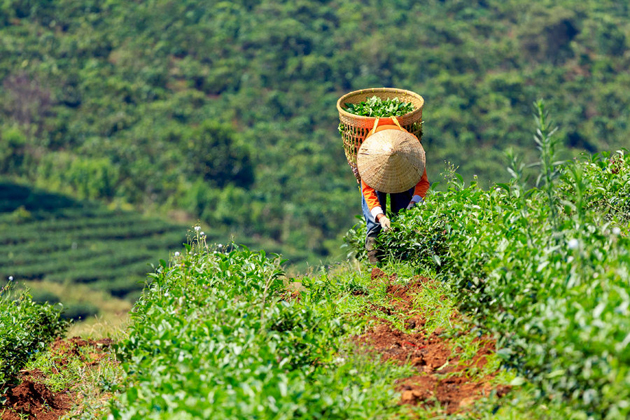 Thandaung Gyi Travel Guides
How to Get to Thandaung Gyi
Located at the end of a road eastward from Taungoo, it is essential to reach Thandaung Gyi from Tangoo. The best way to Thandaung Gyi is by private car but you can also choose to rent a motorbike, and the drive will take about 1.5 hours to transfer. If you depart from other destinations, there are several options for you to travel to Tangoo then transfer to Thandaung Gyi.
You are able to travel from Yangon to Tangoo by car, bus, or by train. It takes about 5-6 hours to travel by car, 4-5 hours to travel by bus and 6 hours to travel by train to Tangoo.
Traveling by car from Mandalay to Tangoo takes about 4-5 hours by cars or bus and 6 hours by train
At a distance of more than 200 km, traveling by car from Naw Pyi Daw to Tangoo takes 4-5 hours, and 3 hours to travel by train.
Recommended Things to Bring in Thandaung Gyi Tours
Whenever you travel for a trip to Thandaung Gyi, remember to take your passport and your visa to present to the military when you pass through checkpoints in the area. Additionally, be sure that you take sufficient cash because there are no ATM's in Thandaung Gyi.
Mobile and internet service is available throughout the area with MPT (Myanmar Posts and Telecommunications). For other providers, access is limited only when selecting spots.
What to Eat in Thandaung Gyi
The best-recommended spot in Thandaung Gyi to enjoy a good meal is Amazing Traditional Foods. Located in the main road in Thandaung Gyi, this place is quite simple cause there is no menu. Upon here, you are welcome with local dishes such as spicy fish sauce with tofu and bamboo shoots. Furthermore, you can buy tea that is grown in adjoining fields.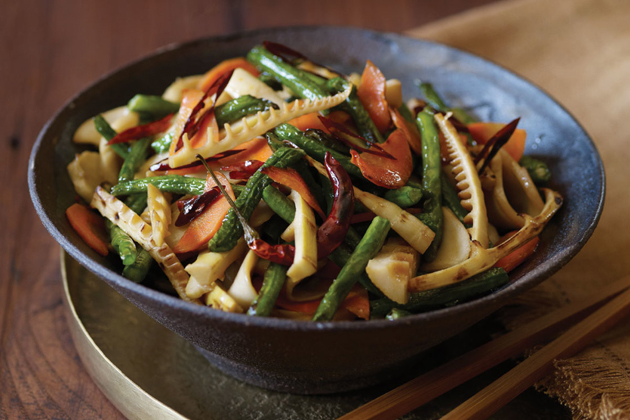 Thandaung Gyi Weather & Best Time to Visit
Thandaung Gyi weather is characterized by 3 seasons: winter, dry, and rainy season. Among them, winter months from November to February is the best time to visit Thandaung Gyi when the weather is pleasant and less rain with the average temperature ranges from 19˚C-33˚C.  This time is perfect for adventures through the jungle.