Myanmar is located in South East Asia with a total land area of 261,228 sq miles (677,000 sq km). The land is so well endowed with a diversity of species, and a variety of natural resources that it is an absolutely wonderful paradise for ecotourism in Myanmar. The national ecosystems are considered to be one of the biological reservoirs in Asia. The forests of Myanmar is the habitat of over 7,000 plants and more than 1,000 endemic species. Besides, it also provides the shelter for 1,000 bird species, 300 mammals, and 350 reptiles as recorded. Therefore, it is the Ministry of Forestry's responsibility to protect and maintain these forests. The general concept of ecotourism is to restrict the number of visitors within the carrying capacity of the ecotourism site. The tolerant sensitivity of the type of forests and their environment decides the number of tourists.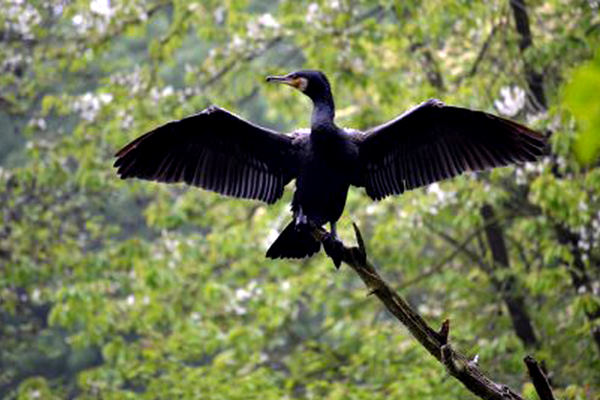 Ecotourism Sites in Myanmar
If you are a nature lover, do not miss your chance to go deep through the jungle to explore the wonderful flora and fauna, behold the colorful bird species as well as set foot on the exceptional landscape in a Myanmar tour. Below are 8 of the best ecotourism sites in Myanmar:
National Kandawgyi Garden
Pyin Oo Lwin, Mandalay is the location of National Kandawgyi Garden with a total area of about 344.81 acres. This Garden was established in 1915, formerly known as National Botanical Garden. It serves as a recreation center for the public and as an ecotourism site for the tourists.
Inside the National Kandawgyi Garden situated a tower built on 11th April 2002 and opened on 18th December 2003. The diameter of the tower is 50 feet and has a height of 215 feet. There are 12 levels, where 10 levels are for viewing the beautiful scenes of the garden. The 11th floor is for the Function Hall.
There are other interesting places to visit in National Kandawgyi Gardens such as Orchid Garden, Children Playground, Pagoda Island, Tea House, Souvenir Center, Cascadean Garden, Rainbow Fountain, Swamp Walkway, Rock Garden, Bamboo Garden, Croton Garden, Pine Forest, Timber Walkways, Rain Forest, Walk-in Aviary and Takin Compound.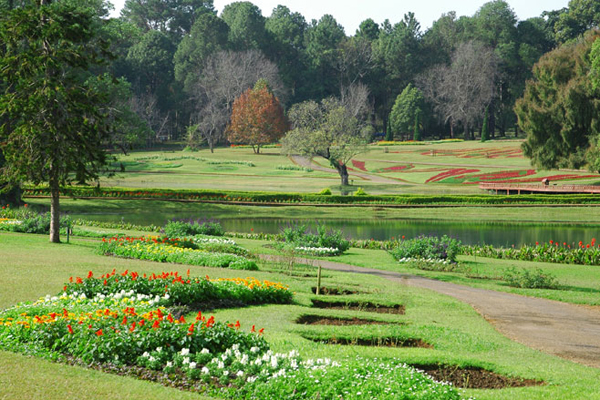 Moeyingyi Wetland Wildlife Sanctuary
Moeyingyi Wetland Wildlife Sanctuary is situated in Waw Township, Bago Division with the total area 40 square miles, This sanctuary was established in 1986 with the purpose of conserving resident and migratory waterbirds and their habitats, conducting scientific research on resident and migratory waterbirds in cooperation with international scientific organizations, and organizing extension programs to educate the public on the importance of wetland ecosystem and public participation in wetland conservation activities.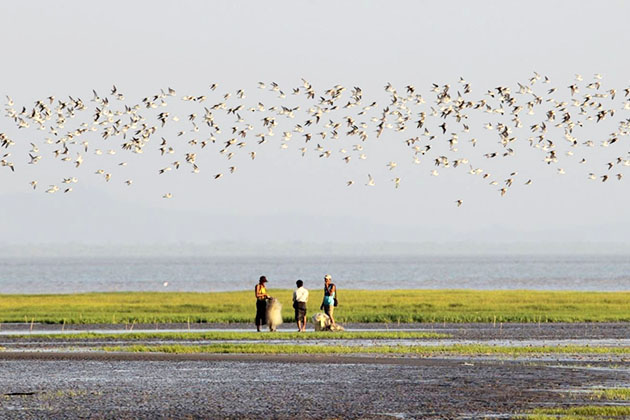 Shwesettaw Wildlife Sanctuary
Shwesettaw Wildlife Sanctuary is located in Minbu, Setote-taya, Saku and Ngapeh Townships of Magwe Division. It was established in 1940, with an area of 213.4 square miles. This sanctuary is to conserve the deer of Myanmar and the dry zone.
Khakaborazi National Park
Naungmung Township of Kachin State located Khakaborazi National Park, which covers an area of 1,472 square miles. This park is to conserve natural forests and wildlife in the northern part of Myanmar, to establish and maintain a national park of high quality and up to the standard of modern environmental conservation policies, to promote the present status to an ecotourism industry of high standard on Kakaborazi, the highest mountain in Myanmar with 29,698 feet in height and other significantly beautiful scenery, conserve watersheds in the area where the Ayeyarwady River originates, and carry out development activities for Himalayan Mountain Region in cooperation with the international organizations.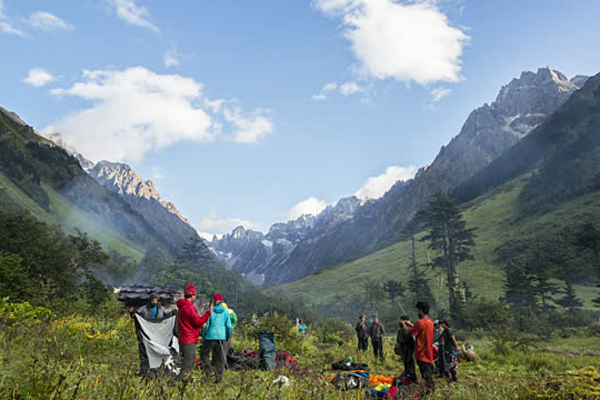 Inle Lake Sanctuary
Inle Lake Sanctuary is a wetland sanctuary and situated in Naung Shwe, Pinlaung and Peh Kon Townships of Southern Shan State. It covers an area of 642.32 square miles and was founded in 1985. This sanctuary is to conserve and protect natural vegetation, wetland birds and freshwater fishes in Inlay sanctuary, conserve geological features and scenic beauty of mountain areas, maintain Inlay watershed and maintain water resource for Law-Pi-Ta hydroelectric power plant, conserve and educate the local people in traditional floating agriculture practiced by "In" lake-dwellers, and upgrade the Sanctuary so as to promote ecotourism.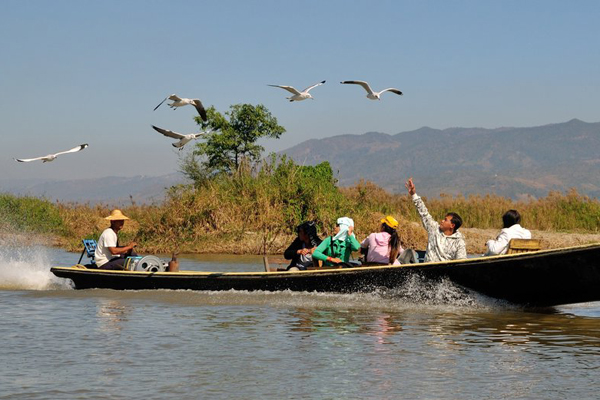 Seint Ye Forest Camp
Seint Ye Forest Camp is situated in Oaktwin Township of the Bago Division and was founded during the year 1996. It covers an area of 102 acres. This forest camp is to observe natural teak forests and teak growing environmental conditions.
Myaing Hay Wun Elephant Camp
Myaing Hay Wun Elephant Camp is located in Taikkyi Township of Yangon Division. It is founded in 1986 and occupies a land 10 of acres. The intention of this Camp is to develop and promote from Elephant Nursing Camp to Myaing Hay Wun Elephant Research Camp.
Nat Ma Taung National Park
Nat Ma Taung National Park is located in Kanpet-let, Mindut and Matupi Townships of Chin State. It was established in 1994 and covers an area of 279 square miles. To conserve the watershed areas of Lemro river, Myitha river, Saw Chaung, Maw Chaung, Salin Chuang, Che Chaung, Yow Chaung, Mon Chaung and the animals in it.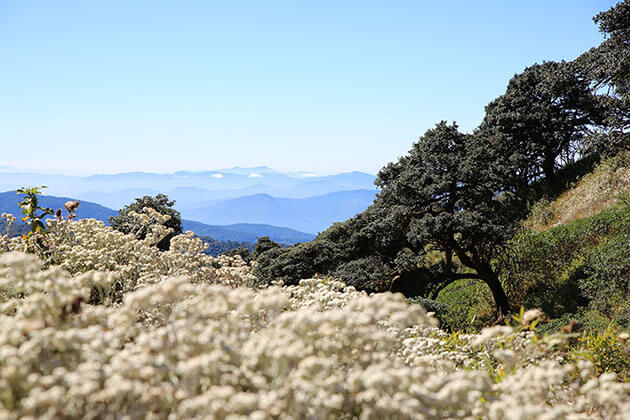 Indawgyi Lake Wildlife Sanctuary
Indawgyi Lake Wildlife Sanctuary is situated in Mohnyin Township of Kachin State. It is 299.32 square miles and was established in 1999. The sanctuary determines to conserve the largest inland lake in Southeast Asia and to protect it's the dwelling birds.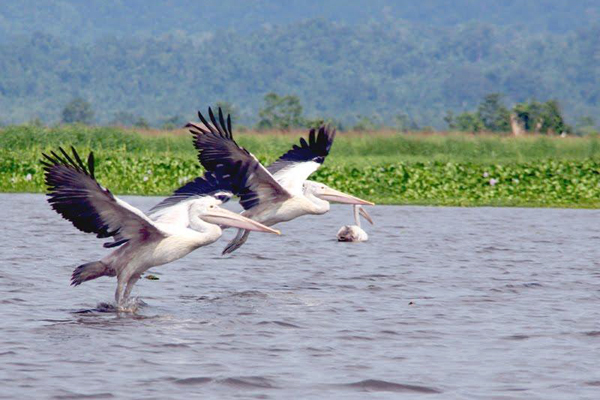 Top Amazing Activities in Myanmar Eco Tours
Take a Bird Watching Tour
Possessing 1062 bird species in 9 main national parks and numerous wildlife sanctuaries, Myanmar is the hot pot for bird-lovers to behold the wonderful avifauna includes the endemic birds, endangered birds, and more. We offer a Myanmar Eco-tour 7 days that delivers you a chance to pass through the pristine forests where exists the world's rare bird species that is only found in Myanmar only. Don't hesitate, the colorful tiny bird species couple with the light wind swaying in the evergreen forest will definitely fulfill your thrill!
Visit the Elephant Camps
Over the past few years, Myanmar has proved itself successfully in the sustainable ecotourism sector by enhancing tourist activities for travelers in the elephant camps throughout the country. According to the statistic, there were 4075 elephants in Myanmar in 1999-2000. Myanmar elephants not only contribute to the country's timber industry but also play a very crucial part of Myanmar culture as well as historical heritage. Learning about nature conservation while taking an elephant ride ensures to bring you unforgettable experiences in your Myanmar eco-tour.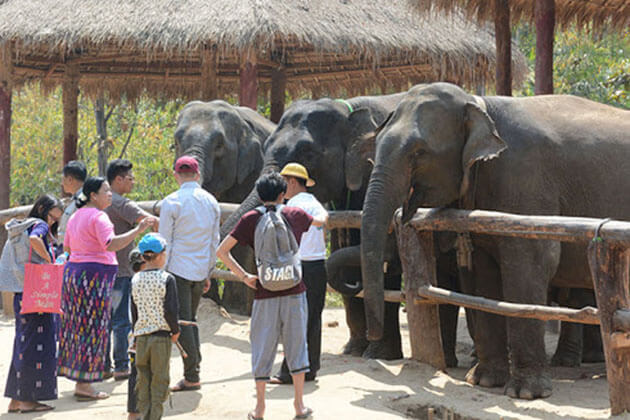 Indulge In The Stunning Diving in the Pristine Myeik Archipelago
Step aside from the rich forest resource, Myanmar also hypnotizes you with the incredible sea life that offers you a dramatic destination for ecotourism in Myanmar. There is not more eye-opening than diving into the emerald water of Myeik Archipelago that we would challenge anyone to be tedious with it. Flecked with 800 islands spreading over 4 million ha, the biodiversity of the marine life in Myeuik Archipelago will excite your senses from 288 impressive coral reef species to 495 colorful fish species. The best time for diving is from October to May when the weather is comfortable and the sea is relatively calm let you enjoy the coolest holiday in Myanmar.