Drinking tea – a British colonial affectation, enthusiastically embraced in thousands of well-known traditional and modern tea houses in Yangon, Bagan, Inle Lake, Mandalay or even any street tea shops in the country, is one of wonderful experiences that tourist should have at least one during Myanmar trip, but possibly several times in life. However, it is likely that you feel overwhelmed by too many kinds of tea available severed, confused about which types of tea to enjoy as well as curious about how to make your own Burmese tea. Don't worry about it. Refer to the following article to get a better insight.
In general, Burmese tea is divided into three main categories.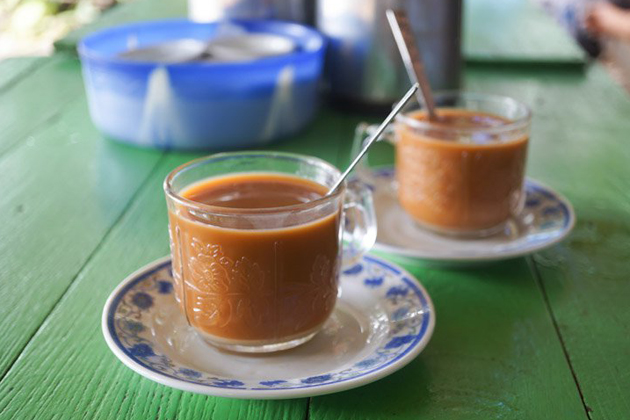 1. Black Tea
There is no perfect substitute for Burmese black tea, rich and malty, with a slight smokiness, one of the best black tea in the world. It has a sweet, almost cocoa-ish background that reminds of a Fujian black. It is full-bodied, with notes that hint at caramel, smoke, tasty nut flavors, and an earthy quality.
Ideally, put about a good tablespoon of the black tea per cup, plus a pinch of oolong tea in the pot, and a very small amount of salt in cold water, and bring to a boil. Boil briefly, and then keep on very low heat, below the simmering point, or let steep for as long as you can wait, but at least 20 minutes.
2. Oolong tea
Dry leaves aroma is intense. Flavor is sweet and floral with savor of berries. It becomes more intense in the warmed gaiwan. Rinsed tea aroma has notes of raspberry and apples and thus reminds me of Da Yu Ling oolong from Taiwan.
Simply, heat water and pre-warm the teapot, measure between 1 teaspoon and 2 tablespoons of tea, and then place the tea leaves in the pot. Remember to pour the water over the tea leaves, place the lid on the teapot, and then steep between 1 to 5 minutes. Leaf-style tea generally infuses more quickly than rolled-style tea. Set a timer for 1 minute. Taste the tea at 1 minute and then every 30 seconds until it is to your liking. As soon as the tea is ready, remove the leaves by lifting out the infuser or pouring the tea through a strainer.
3. Tea-leaf salad
Pickled tea leaves have an odd flavor, it is also pretty strange to be eating them with a heap of very hard accompaniments like lentils fried until they are crispy, and garlic chips. The only way to get quality is to buy the tea and the mixed parts separately and Mandalay is the best place to get the pickled tea.
To make it, mix peanut oil and a fair amount of salt into the tea leaves, and mix thoroughly with your hands. Then get some small cloves of garlic, small green chilliest to taste and mix thoroughly. If you cannot get peanut oil, use a flavorless oil. When they taste good, set that out on a plate with about one-third tea and two-thirds nuts, fried beans, sesame, etc. Eat it with a spoon, taking a bit of tea, and some of the rest.