What are you planning to do for the upcoming New Year Party in Yangon? Have some drinks in a pub or savor a meal in the restaurant to enjoy Myanmar New Year celebration? Forget it, we are gearing to bring you more. In this article, we provide you with the awesome activities to do in this wonderful event if you are planning a  Burma tour to take part in this delightful moment. Be prepared to tie your hair up to indulge in every exciting moment with EDM Festival, countdown party, and more.
New Year Party & Events In Yangon 2019
Blow Your Mind in The Exciting EDM Festival
EDM Festival – The Myanmar Premium Countdown Party in 2019 is sure to be the most expected New Year Celebration in Myanmar in general and Yangon in particular. This year's party welcome the top international DJ including Vini Vici, Dyro, Marlo, Kayo and many others making this event undoubtedly the biggest and most exciting New Year's party in Yangon. You can expect to deeply immerse into the lively and impressive music beating in your heart among thousands of people in this New Year countdown in Yangon. Furthermore, there will be an attractive firework show in the New Year Event. The festival is going to be held in Thuwunnabhumi Event Park from 4:00 pm until midnight. The ticket prices are K35000 (422.65) for the general admission and K80000 ($51.98) for the VIP zone. One more time, we would like to emphasize that do not miss this New Year Eve's Event in Yangon.
Enjoy a Special New Year Celebration in Yangon Famous Hotel
If you prefer the quiet moment rather than the noisy music with full of people around you, celebrate a New Year Eve in Yangon famous restaurant with your special person or loved ones is seemingly the ideal choice. The Melia Hotel in Yangon is where you can have a well-served dinner with $48 per person on a normal day. However, on New Year's Day, meals are available at $35 per person. If you are carrying your children in between 5 and 11 years old, a 50% discount is always available, those children below 4 years old are free of charge.
Welcome The New Year In Style in Yangon Lotte Hotel
Fulfill your New Year party in Yangon at Lotte Hotel is another amazing option for you and your family to expect the fun and surprises with lots of stunning activities. The hotel will hold the New Year's Countdown party with the show named "Rhythm under Moonlight" lasting from 8:00 pm until 12:30 pm on December 31st, 2018 at the Poolside BBQ and Bar Area. The show welcome top famous singers including Nwet Yin Win, Si Thu Lwin, Ye Lay, and Eint Chit with The Ugly Band. Additionally, there will be impressive performances of DJs and other celebs during the countdown party which ensure to delivers you an unforgettable experience in the New Year Eve. Tickets are available at the following prices: $99 per ticket and $299 for overnight including Premier Lake View Room accommodation, breakfast, and 2 tickets for the party.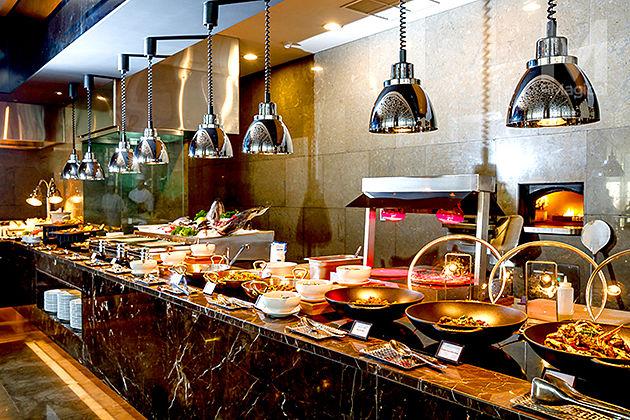 Celebrate New Year Party in Karaweik Palace
Possessing the favored location overlooking at the beautiful Kandawgyi Lake, Karaweik Palace is an ideal place to have a great New Year celebration in Yangon. Take time to stroll around the boardwalk to see how the giant golden barge lit up at night. While waiting for the firework display, you can stop to have some drinks at the waterfront bars and restaurants. Also, art lovers can make a reservation to enjoy a cultural show inside the palace.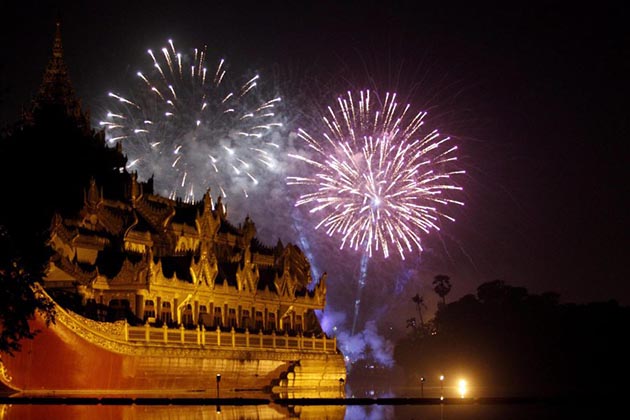 New Year Party in Yangon: Travel Tips
It is great when your Yangon tour falls into this occasion of New Year Eve, but remember to keep these following tips in your mind to help you survive among the crowd.
Due to there are a massive number of people on the street during the New Year Eve, you should avoid bringing sharp objects in order not to hurt yourself and any others.
Do not use drug or stimulants if you take part in the countdown party to protect yourself
It is better when you do not go with your children to the countdown party. Instead, celebrating a new year feast in a restaurant is an appropriate choice.