Kayah State was once an underdeveloped region of Myanmar will today be promoted as Myanmar's new showpiece destination at a major global travel show.
Although some travel restrictions were lifted more than four years ago, few visitors came to Kayah State in their Myanmar trip. A trip to Kayah State will allow you to gain insight into the regional distinct culture and pristine beauty of one of the Southeast Asian remotest corners.
As a part of a three-year US$1.9 million project which puts its focus on two villages in the state, this program is supported by the Netherlands Fund Trust and got underway in June 2014. It is being implemented by the International Trade Centre (ITC) and the Union of Myanmar Travel Association in cooperation with the ministries of hotels and tourism and commerce.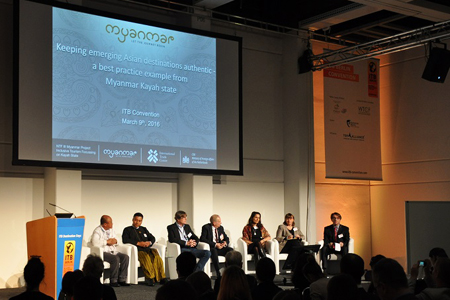 Due to this program, the local will be provided with techniques and knowledge by the ITC, said U Nay Moe Aung, managing director of travel company 9 Generation Force.
These two selected villages under this program are Hta Nee La Leh and Pan Pet. While the former is an ethnic Kayan village situated close to the scenic 7 Lakes, the latter famous for its women who wear bronze neck coils is the nest of members of the Padaung ethnic group.
A short visit to Hta Nee La Leh will introduce visitors to the homes of a local musician and a weaver of traditional clothing. In Pan Pet, travelers could get the opportunity to take a short local guides-led trek and a packed lunch or "jungle picnic". The cost of tours will be valued at $20 per person.
Apart from contemplating the landscaped beauty of the local countryside, holiday-makers would be able to mingle and make friends with residents, enjoy local traditional delicacies, U Nay Moe Aung added.
Aside from building the capacity of residents, the ITC is making its endeavors to keep their traditional culture untouched. They want to prove that the Padaung traditionally inhabited in Kayha State, however, due to the economic problem, they abandoned this place and moved to Inle, Bagan, and Thailand.
As being one of Myanmar's least-developed regions, they still encounter difficulty in electricity and water supply in these villages.
Due to restrictions on staying overnight in the villages, there are currently only day return trips available. It is highly recommended that people should book tour three days in advance so that permission can be arranged with the Kayah State government, said U Nay Moe Aung.
Daw Khin Than, a director at the Ministry of Hotels and Tourism acknowledged that both visitor and local residents will be benefited from the program. While visitors will be fascinated by the beauty of this region, it will be a financial reward for locals.
Taking bullock carts, learning the handicrafts of Padaung women and tasting local foods, there are a number of activities offered to visitors, she said. "We hope that this will bring many job opportunities."
The ITC said in a statement that the program set its objectives to establish a new tourist place in Kayah State with minimal impacts on the local environment and people's daily lifestyle, open the potential for sustainable, community-driven economic development with widely and equitably shared benefits.
Apart from some benefits mentioned above, the establishment of new tourist destinations like Kayah State would help to reduce the burden on more well-known tourist spots, such as Yangon, Bagan, and Inle Lake, and support the long-term development of the tourism industry.