11th century; upper levels added in the late 12th century.
One of the most ancient sites in Bagan to visit in Burma tours, the Kyauk Gu Umin is in three storeys although the top two levels were added at a later date, attributed to Narapati Siithu (r. 1173-1210). The back of the temple is against a cliff wherein tunnels arid meditation cells had been cut.
This is a unique temple, built of a greenish, fine-grained and hard sandstone that was not quarried anywhere around Bagan. The stone was the same material to build the Nanpaya Temple. The ground floor rises 40 ft high and the north-facing facade measures 52 ft. long, richly carved in horizontal decorations.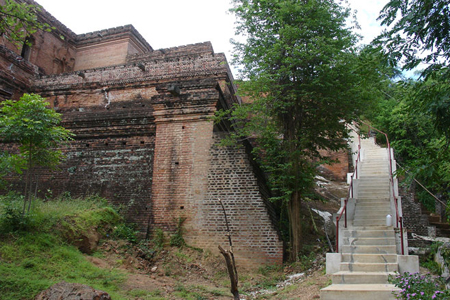 The relief carvings at the bottom edge of the 12 ft-high entrance are intricate and ornate. Here, stone ogres wear loop earrings with elephants dangling in size perhaps to symbolize the gigantic height these beings even if the actual height of the figures is about 2 feet. Nymphs dressed in thin robes – so thin some scholars had mistaken them to in total undress – stand next to them.