The parking at the site was expanded by trustees in order to meet the increasing demand for the safety of the growing number of visitors to Mandalay Hill's pagoda in their Mandalay day tours.
The expansion project of parking for motorcycles is already complemented and it is expected to complete by the end of this month, said U Tun Thein, the head of the pagoda's board of trustees. Meanwhile, there is also an increase in the capacity of parking from 60 to 100 vehicles.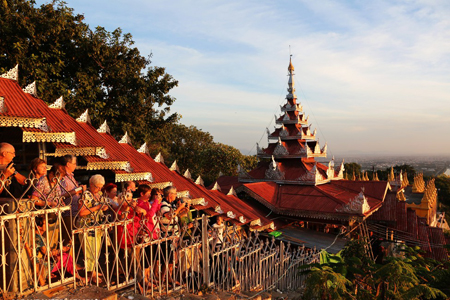 Another car parking is also being built, however, the pagoda's board of trustees did not change the parking fees.
It is expected that the expansion of the car parking lot will promote safety for those on foot.
In the old time, visitors normally parked their cars on the road, making the road narrow. The expansion is believed to offer safety and peacefulness to pilgrims when the innovation of the parking is finished. Those who are planning to take a Mandalay now don't need to worry about this inconvenience anymore. Instead, they could be able to pay homage to the pagodas peacefully.