Passport Requirements to Get Myanmar Visa
A valid 6-month valid passport with Entry Visa is required of all visitors to enjoy a Myanmar vacation. A Myanmar tourist visa allows a stay of 28 days, extendable for an additional 14 days. Ordinary passport holders from the following countries are giving visa exemption. The Visa-free travel (exemption period) is permitted for 14 days including Brunei, Cambodia, Indonesia, Laos, Philippines, Thailand, Vietnam, and the exemption period is 30 days for Singapore. A Myanmar Business visa allows a stay of 28 days, extendable up to 12 months on a case-by-case basis. Visas on Arrival are granted on prior arrangement with the Myanmar Ministry of Hotels and Tourism.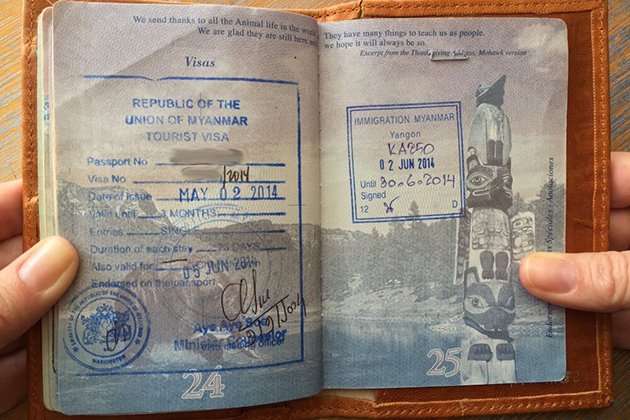 Notes:
We are pleased to inform you that Myanmar E-Visa is now extended to Nay Pyi Taw and Mandalay International Airports. You may use your E-Visa to enter Myanmar through Nay Pyi Taw (new capital) and Mandalay International Airports even if you have chosen Yangon International Airport as the port of entry.
Here are three International Airports in Myanmar accept E-Visa
Nay Pyi Taw International Airports.
Yangon International Airport as the port of entry.
Mandalay International Airports
Myanmar Visa Application
There are 4 kinds of visa services to Myanmar we can offer for you.
Individual visa
E-Visa
Package Tour Visa
Visa On Arrival
1. Individual visa
This visa is issued by a Myanmar Embassies or Consulates. You don't need an invitation letter; usually, it takes 3 to 5 working days to issue this visa.
2. Myanmar E Visa Apply
You can directly apply for a visa by yourself at https://evisa.moip.gov.mm/index.aspx. Please note that: EVisa is only valid for a single entry. Re-entry will require a new visa.
The process of getting eVisa Approval includes 4 Steps:
Step 1: Fill in the secure online eVisa form
An applicant is required to enter all the necessary information in the visa form.
Step 2: Confirm and pay
The applicant needs verifying all the information entered is correct beforehand proceeding to the next step. Make the payment via Credit Card. The applicant will receive the acknowledgment email with the application reference code via email.
Step 3: Get approval letter within 3 days
The approval process may take up to 3 working days. The applicant will receive an eVisa approval letter via email once approved. Print out the "approval letter" and bring along with the passport. The applicant will need to present it upon arrival.
Step 4: Get visa stamped upon arrival
Upon arrival at Myanmar Immigration checkpoint, the applicant presents an e-Visa approval letter and passport to the Immigration officer before getting the passport stamped.
3. Package tour visa
You need to apply by yourself at the Myanmar Embassy in your country. We Go Myanmar Tours pleased to send the package tour confirmation letter for you, ( i ) to Myanmar Embassy in your country. As well as (ii ) to you. For that, we can send the Official Letter Form to You.
4. Visa On Arrival
Visa-on-arrival can arrange by Go Myanmar Tours, in Myanmar And visa on arrival procedure are as follows
For that, you need to confirm with us One month before because it will take three weeks to get a visa-on-arrival.
Please fill up this form and send it back to us as soon as possible.
Myanmar Visa On arrival form:
Name:
Father name:
Sex:
Nationality:
Race:
Religion:
Date of birth:
Passport number:
Date of issue:
Occupation:
Place of birth:
Address (present address):
Purpose of the journey:
Date of entry:
Flight number:
Two copies of passports size photo:
(Scanned them and sending by-mail is fine)
When you received a copy of your visa on arrival, you need to print it out and keep it through your ways to Myanmar (you need to show it at your Airways and Myanmar Immigration counter).
Upon arrival at the Airports (3 International Airports as listed above), Go Myanmar Tours representative will be waiting for you at Myanmar Immigration counter with your names signboard.
When you and Go Myanmar Tours meet each other, we are going to arrange some necessary documents at the Immigration counter in the Yangon, Nay Pyi Taw or Mandalay International Airport. It will be finished within 30 minutes. For that, we need your passport size 2 photos.
Tips for Getting Myanmar Visa
Check the embassy holidays beforehand as they observe your country and Myanmar holidays. It is recommended that you should check the public holidays in Myanmar 2018: https://evisa.moip.gov.mm/public_holiday.aspx
After obtaining your visa, verify it before you leave the embassy to make sure all your information is correct.
You are allowed to cross the border by land when you have a visa in hand, instead of just flying, but verify that the border you intend to cross by land permits it. Specifically, restrictions on entering and exiting Myanmar (Burma) at the same border crossing. For instance, if you enter Myanmar (Burma) through the Tachilek (Burma Shan State), KawThoung (Burma Tanintharyi), Myawaddy (Burma Karen State) or Htee Khee-Sunaron (Burma Dawei District) border crossings you can depart via Yangon or Mandalay International Airport. On the contrary, if you enter Burma via the Muse (Burma Shan State) or Tamu (Burma Chin State) border crossings you must exit at the crossing from which you entered.
If the applicant has children under 7 years old on the same passport, you must put the name of that child, date of birth in the minor section of the application form. Besides, each child over the age of 7 mentioned in the parents' passport must have an individual visa. It is suggested that applicant should bring a copy of the family booklet.
Tourists must stay in registered motels, inns, guest houses, hotels, and resorts during your stay in Myanmar.
The applicant should complete individual personal data whether the passenger is a package tour.