YANGON, 8 March 2016: to help ease congestion at the major international gateway to the country, a new international terminal at Yangon airport is scheduled to start operation this week for tourists starting Myanmar tours from Yangon.
According to Pioneer Aerodrome Services, a subsidiary of Asia World Company, the building contractor said that the terminal will open to the public on 12 March.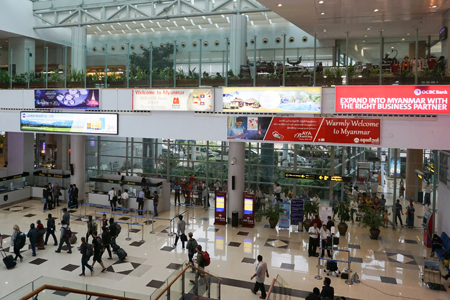 The USD 660 million, three-storey building will house arrival and departure halls as well as a shopping center; a crucial part of the project to earn revenue for the terminal's owner.
While the old terminal was eventually used exclusively for domestic flights while the new terminal will be able to accommodate up to 6 million passengers a year, more than double the present capacity of 2.7 million in the old terminal.
From four shortlisted bidders for the construction of Hanthawady International Airport, Pioneer Aerodrome is the only winning bidder that could sign a contract with the Department of Civil Aviation in 2013 to build and operate the new terminal.
Pioneer Aerodrome Services is operating Yangon and Nay Pyi Taw international airport that opened in 2011.
It is estimated by Myanmar's Ministry of Hotels and Tourism that the number of international visitors will exceed 4.68 million in 2015, a 51.95% growth from 3.08 million in 2014.
According to the ministry's Master Plan for 2013 to 2020, arrivals are projected to hit 7.49 million by 2020.