Completed 1183
Merit of King Narapati Sithu (r. 1173-1210)
A stone inscription in Bamar dates the construction of the temple to 1183. According to legends, Narapati Sithu saw a ruby shining on the ground and here he built the Sulamuni, the Crowning Jewt.
Sulamuni is one of the largest pagodas in Bagan which owns very elegant multi-storey structure dating back to the Bagan period.
The stucco work is in good condition and shows off the skill of the Bagan masons in the traditional motifs, celestial figures and mythical creatures on the exterior walls. Green-glazed plaques line the terrace
Each section of the slender flame pediments that rise upwards are called Rama's fingers in local architectural terms; here the top parts have been set with finger-shaped white-glazed inserts.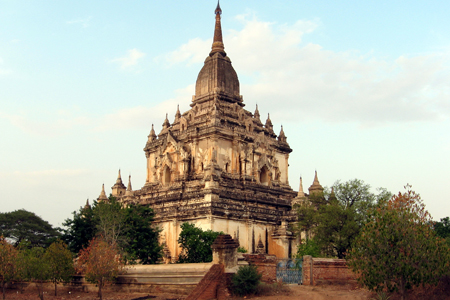 On the interior walls are beautiful paintings in the style of the 18th century, done in a rather free-flowing style which gives them a unique charm. There are celestials, monks, monkeys, a line of pilgrims, elephants and scenes from the Buddha life story in elegant lines and a riot of colors. In the east corridor is written a date, 1778, probably the year the paintings were completed.