Completed 1090
Merit of King Kyansittha (r.1084-1112)
One of the most beautiful temples in Bagan, the Ananda's floor plan is like a Greek cross, with paralleled double corridors. The interior is lit with openings set high on the walls. In your Bagan tour, never miss your chance to visit it!
The four standing images, each 32 ft high, are set around the four faces of the central core.
Three of the Buddhas, in turn, preceded Gautama, the fourth and last. Kakusanda Buddha is on the north, Konnagona on the east, Kassapa on the south and Gautama on the west.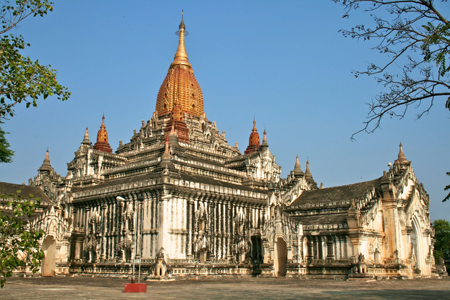 The Kakusanda image was carved from champac (Michelia champaca) wood and is an original. The Konnagona image was original of sandalwood but it burnt down and was replaced with a teak image in the 19th century. The Kassapa image of pine is an original.
The Gautama image is a replacement for one cast out of Pyinsa Lawha, the five-1 metal alloy. The replacements were not replicas. The two original images are in the Mahakarunika Mudra of showing compassion. The replaced image Konnagona show the Buddha in a pose symbolizing flying, with the feet together and each hand lightly holding the flared robes. The Gautama image is in the Abhaya Mudra of giving protection.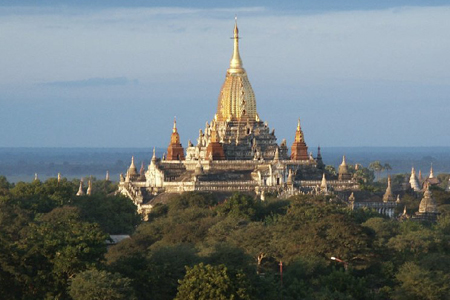 Natural light from small apertures shines directly on the faces. The two originals were carved in such a way that if viewed from below by standing near the front of the image, the faces look stern. If one moves farther away, the lips seem to smile.
The corridors are lined with plaques portraying the Jataka and Buddha's biography. The exterior walls have smaller plaques of Buddhist scenes including the demon armies of Mara. The relief plaques are the best to be seen among all other Bagan pagodas. And only here in the world, is the full biography of Gautama Buddha shown on ancient plaques.