As the perspective of Myanmar tourism development in recent years, the authorities of the Ministry of Hotel and Tourism is aiming to look for the strategies to encourage visitors traveling to the country by cruise ships to boost the tourism industry. That, according to the statistic said by U Khin Maung Soe, the director of the ministry, foreign tourists come to Myanmar mainly by water, overland or by air. However, over the past few years, the number of visitors travel to the country by cruise ships has raised significantly. For instance, since Myanmar enacted the tourist law in 1990, more than 200 cruise ships have carried passengers to visit the country. In 2017, there were 20 cruise ships carrying 20000 people to the country docked at Myanmar terminal and Macleod Island in the beautiful Myeik Archipelago. Up to November 2018, there were totally 23 cruise ships carrying 21700 visitors visited the country.
On December 6th, 2018, Myanmar welcomed to MS Silver Muse – the last cruise ship expected to visit the country this year. The ship carried 425 tourists and 404 crew members, docked at Myanmar International Terminal Thilawa. They celebrated this event by invited some dancers who worn the Burma traditional costumes and performed the traditional graceful dances. All visitors are able to watch the interesting show from their private room on the ship before they were transferred for a Yangon tour. The ship is allowed to stay at the terminal for 5 days 4 nights.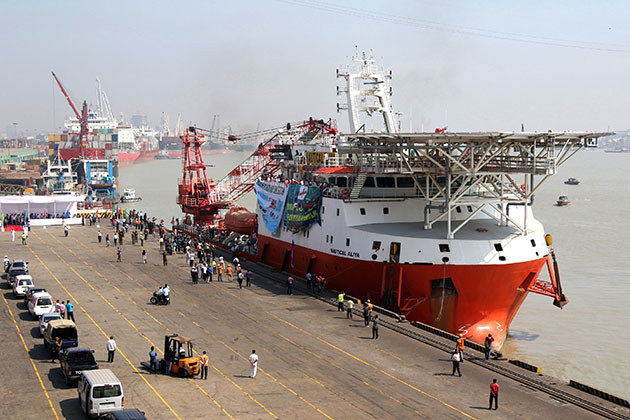 Normally, passengers have to spend a lot of money on the cruises and thus the longer they stay in the country, the more actions the country will make, said by U Thet Lwin Toh, the managing director of Myanmar Voyages International Tourism. For those tourists travel to Myanmar on cruise ships, they only need to pay $30 for a visa on arrival at the Yangon terminal. And, the landing fees of the cruise ship is paid upon its size, weight, length, and the number of days it stays in the port. With the declining number of tourists from Western countries, the authorities strongly believe that encouraging visitors arrival the country from cruise ships will boost the tourism industry of Myanmar. Regardless of the problem that the political opponents and foreign journalists would try to enter the country on the cruise, the government of Myanmar has got rid of these regulations to attract more cruise ships.
Currently, the ministry is discussing to find out the solutions for the lack of port services in Mawlamyine township in Mon State, Ngapali beach in Thandwe township. Also, the managing director of Myanmar Voyages International Tourism said the country is attempting to show its growth to international investors who want to invest in Myanmar to develop Myanmar river cruise.