The majesty of traveling by hot-air-balloon
Together with the camel caravan, rickshaws, tandem bicycle, hot air balloon is ranked among the most comfortable ways to enjoy your vacation. Joseph and his brother, Jacques-Etienne, took the idea that items can be lifted from Earth using hydrogen in September 1783 and filled a large bag with hot air. Three farm animals including a duck, a rooster, and a sheep were lifted in an attached basket and flew three kilometers for eight minutes. French Scientist Jean-Francois Pilatre de Rozier was the first human passenger to rise in a hot air balloon tied down for safety precautions. A month later, Rozier and another man flew over Paris without any snags.
If you once dream about flying like birds without flapping your arms, this is definitely the right opportunity for you. It's also the perfect choice for those who usually struggle in picking a destination. All you have to do is getting in and the wind and of course the pilot will do the rest. The balloon then will take you wherever you want to be without using your foot. What an awesome way of enjoying things!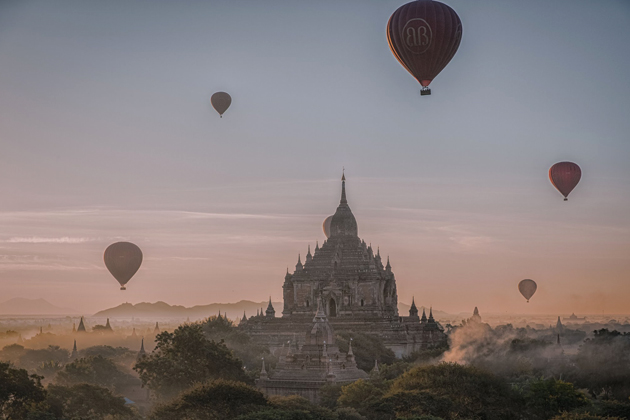 Why is ballooning the best way to explore Bagan, Inle Lake, and Mandalay?
Hot-air balloon over Began was ranked third out of the best hot air balloon rides in the world by Telegraph. Flying hot-air balloons over Bagan is one of the unique experiences of your vacation in Myanmar. The massive scale of the over 3000 temples in Bagan is the reason why you can only truly witness the beauty of the Burma ancient city from the air.
It will definitely be the highlight of your tours in Inle Lake since you can fly all over the lake, villages, and gardens and at the same time you realize that you are airborne and seeing the sunrise. Your eyes capture all that spectacular view with just a gentle look.
Ballooning in Mandalay is a bit different. Some hidden sights and treasures of this Burmese cultural center can only be discovered by watching from above. From the temples, people, river flows, hills over the city to the world's longest teak footbridge called U Bein Bridge, they all appear right after the thin layer of morning mist.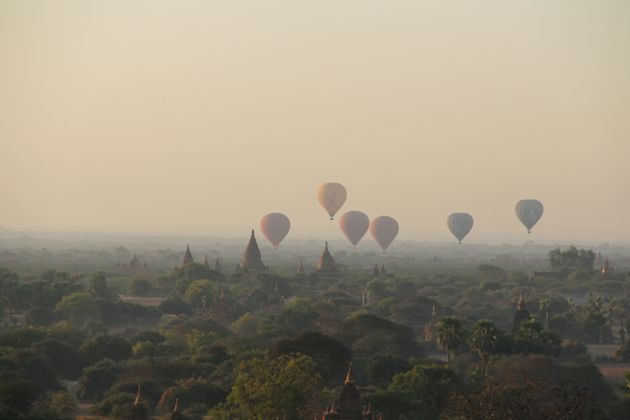 Is it safe when traveling by the hot-air balloon?
All of the pilots are trained overseas, with most of them coming from the UK which would be an assurance for your safe and secure experience. They work there as a seasonal job and turn back to other places for their high season. In addition, the balloons were brought from the best manufacturers in Europe and over 50 local people will be presented to ensure tourists a safe flight.
When the winds are calmer, it's time for Began hot-air balloon season. Typically it runs from mid-October until mid-March. The air balloon only operates when the weather is suitable to fly. Therefore it might, unfortunately, be possible that your flight may be canceled even at the last minute due to poor weather conditions. The balloons will not be allowed to fly and you should be aware of this even when you booked in advance. In the case that the flight is canceled, your money will be refunded but you need to ask the company or travel agent whether they will charge any fee for cancellation due to weather and how you get the money back.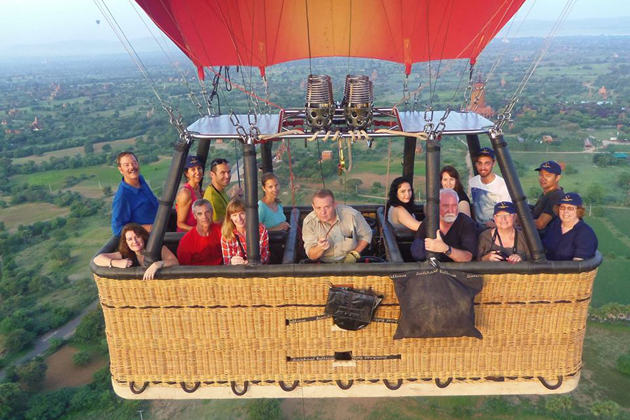 What is the hot-air balloon experience like?
The experience of flying in a hot air balloon can be extraordinary. It does not like flying in a plane, and more like floating in the air or being dragged by the wind. There are absolutely peaceful and tranquil feelings like reaching to heaven. As the balloon lifts the ground, you'll be asked to sit down for safety. Shortly when things work well you are allowed to stand and completely enjoy the outstanding and breathtaking view. Your hair will gently be swayed in the breeze, and your body probably in the weightless condition. Each flight will last about 45 minutes or more and the basket is very stable and comfortable. From the balloon you can look out across the area and see the religious structural masterpieces in Bagan, floating villages and water gardens in Inle lake or monks walking in long lines, people flocking to the central market and water buffalo bathing in the stream in Mandalay. It's said there are more than 4,000 temples over an area of more than 20 square kilometers in Bagan but when you're starting to count, it's hard to give an exact number. All of them converge just in the blink of an eye.
Taking off in the morning before sunrise means that you will wake up early at about 4 am, but believe in me, it's worth your scarifies. When the first thread of light emerged from the skyline, the whole stunning landscape lays on the ground just below your feet. The breezes massage your faces and your eyes close to completely and truly sense the mixture of magic and pleasantness of the surroundings. You are totally lost in wonderland.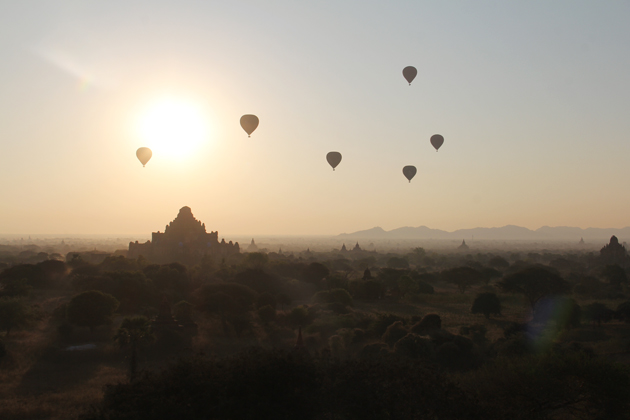 How much does it cost for a hot air balloon ride in Myanmar?
The ballooning price varies depending on the company that you book the air balloon tickets through and the region that the air balloon flies over. Sometimes the prices are subject to change in the heavy demand time such as Christmas and New Year Period. Normally it will cost you about 320 – 390$ for an 8-16 person balloon for 45 minutes of flying. Included in the cost is a pickup from your hotel, a light breakfast with tea, coffee and pastries at the launch site, light champagne breakfast and fruits when landing. They even award signed certificates as proof of your first time flying, in-flight photo and video and maybe a souvenir.
When is the best time to take Burma hot-air balloon flight?
The service will not be available in the summertime in Myanmar due to the weather conditions and temperature. The hot-air balloon season is told to be between October and March but you need to go to the operating company's websites or make an inquiry to know exactly what time they deliver the service. Also, it will be more than exciting when your trips to Myanmar fall in Air Balloon Festival in Taunggyi which is among numerous dynamic traditional festivals in Myanmar.
It is also recommended that you book your flight upon your arrivals as the service is often fully booked and the availability might change rapidly. For those who don't know, Myanmar has opened up for tourism recently; therefore if you plan to book Myanmar tours you should contact the travel agent immediately as booking last minute is seemingly impossible.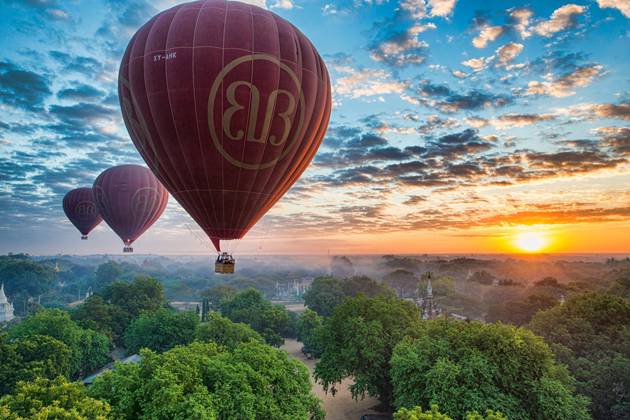 Which company should be picked for your best experience?
For many years, there has been only one company providing the service. Balloons Over Bagan was the first commercial hot air balloon operation in South East Asia and their red balloons can be easily seen in photos of Bagan. However, in 2013, Oriental Ballooning began launching their balloons so that tourists will have another choice. Nowadays, there is an increasing number of hot air balloon operators in Burma. Among the best are Balloons Over Bagan, Oriental Ballooning, Golden Eagle Ballooning. You can visit their websites for more information about price and policy.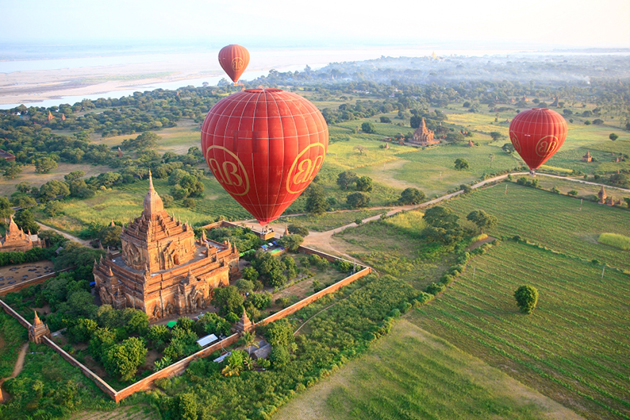 Other things you need to know before your hot air balloon trips
1. General age, height, and weight restriction
Children must be from 8 years old and able to see over the basket.
If your weight is above 125kg/280 pounds you are required to pay the surcharge or refused the flight without refund and alternative flights.
The policy may vary depending on the company.
2. Passengers are recommended to wear long sleeves shirts, long trousers, and covered shoes.
3. Pregnant women or passengers who have any known medical conditions such as epilepsy, recent surgery or other conditions that affect their ability to fly are not allowed to take the trip.
4. Smoking is strictly prohibited at all times near the air balloon.
5. Standby tickets are only available 2 days before departure.